Alberta Street - Alberta Arts Neighborhood Guide
The Alberta Arts District in Northeast Portland is located along NE Alberta Street. It is actually located in the Vernon, Concordia and King neighborhoods. "Alberta" by name, is not technically recognized as a standalone neighborhood, so check the surrounding neighborhood web pages for additional information. Concordia is bordered by the Alameda, Sabin, King, Vernon, Woodlawn, Sunderland, Cully and Beaumont-Wilshire neighborhoods.
Features of Alberta Street in Portland
Northeast Alberta Street is largely residential until it crosses Northeast 14th Avenue and becomes what is known informally as the Alberta Arts District. Although not considered a neighborhood in its own right, it's a unique and dynamic area that attracts people from all over the city.
The Alberta Arts District presents itself in earth-tones and motifs quite distinct from other areas, and reflects Latino, Asian, and African-American sensibilities. That's not surprising, given its history as one of the oldest sections of Portland. Nor should it be surprising that the street and surrounding neighborhood has had its share of growing pains as it has morphed over the decades from a poor area peopled by immigrants and disenfranchised citizens to a thriving and industrious haven for the creative artisans and business owners who work and live there. Although the effects of gentrification are still debated in some quarters, Alberta seems to have become for most residents and visitors a stable, welcoming environment. This is never more apparent than on Last Thursday, a street festival celebrating art, food, and community that takes place on the last Thursday of every month.
To explore the Alberta Arts District, it's best to wear comfortable shoes (or straddle a comfortable bicycle saddle) rather than drive, to appreciate all it has to offer. Start off on an empty stomach, too, because you'll find plenty of diverse and delicious options along the way to fill it. Tin Shed is a popular eating attraction, a great spot for breakfast or brunch or what have you (but you might want to wait until after you try on some cool duds at Frock across the street, thus to avoid post-prandial bulging). Or there's Fuel Cafe a couple of strides down the walk, favored by many for the coffee and breakfast nomz.
On the corner at NE 15th is the Alberta Co-Op Grocery where you can buy locally-produced foods and homeopathic items (and beer and wine!) and support local economy. A bit further you'll find Helser's on Alberta, in case your stamina flags and you regret not eating a few blocks back (happens to the best of us). Of course farther up the street is Halo Thai...
If you brought some avid young readers along for your urban hike, they'll love it when you stop in at Green Bean Books for a riffle through new and used children's books. You'll love it too, when you see what else this great book shop has in store. Books (natch), comix, crafts, story times for the tykes, author readings, and even a deck and garden where you may relax while the youngsters explore. It's not just a kid's place, it's a family place.
For the artsy-craftsy set, nothing beats Collage, a shop where you can find everything your sewing, gluing, pasting, painting, etching, scissor-snipping heart could crave. There are even classes and workshops offered, and nationally-known artists are hosted often.
Turn around, and your eyes are instantly drawn to the mural that covers the entire west-facing side of Community Cycling Center, a bicycling mainstay in Portland since 1994. For many Portland cyclists this is the reason to visit the district. The center stocks great refurbished bikes and frames, and offers repair facilities along with new and used parts and accessories. It's much more than just a bike shop, though. Community Cycling Center provides programs and outreach for both adults and youth, and advocates for the ever-growing cycling community. The volunteer opportunities for both the seasoned cyclist and the neophyte are second to none. Grab a wrench (well, ask politely for one), help build or fix a bike, delight a kid or grown-up in need.
When you're done salivating over a refurb'd Bianchi or tuning a wheel, cross the street for (yet one more) coffee at Barista. These folks know coffee. And taxidermy. Odd combination, but you're in Portland. Or perhaps you'd rather take a few more steps down the walk to Random Order Coffeehouse & Bakery for coffee and sumptuous pie. Who doesn't like pie? Or maybe Petite Provence, for banana french toast? The rest of this urban hike is going to be a waddle.
Should you be looking for a string for your ukelele, a stop at Trade Up Music Co. is recommended before making your way down to The Hilt for cocktails and mediterranean noshes. Then drop in at Screaming Sky Gallery to see and to buy art in styles from cute to brutal and all in between. After you've absorbed some culture there, marinate it in some cocktails and pinball and LOUD MUSIC at the divey-licious The Know right across the street.
Looking for lighter fare? Townsend's Tea Company has the cup you crave. Sit for awhile there, find your calm center, and then run over to get inked at Freaks and Geeks Tattoo Studio (which is just a tad north up NE 24th Avenue) before you lose your nerve.
Halibut's. Fish 'n' chips done right. Ask anyone who has ever willingly put a piece of fish in his or her mouth if this is a great place to go. Then go there.
Binks is a real favorite in the neighborhood for people who like good food and just-right cocktails. It's the hangout of preference for many loyal patrons.
Six Days Art Gallery Co-op is a member-driven art consortium made up of local artists who have brought their colorful and unique work under one roof. They even have a bee hive in the front window! On purpose!
Not last and far from least is the Alberta Rose Theatre, an historic movie house built in 1927 and closed in 1978, then renovated and re-opened as a beautiful entertainment venue where patrons may wine and dine and see local and international musicians. Nothing beats an evening of music and comestibles at the Alberta Rose.
Beyond this point lie even more restaurants and art galleries, but you've got the idea. It's a pretty sure bet that as you leave the Alberta Arts District, you'll already be planning to come back.
NE Alberta Street Listings
Northeast Alberta Street -- http://albertamainst.org/

Last Thursday -- http://www.lastthursdayonalberta.com/

Tin Shed -- http://tinshedgardencafe.com/

Frock -- http://www.frockboutique.com/

Fuel Cafe -- http://www.fuelpdx.com/

Alberta Co-op Grocery -- http://www.albertagrocery.coop/

Helser's -- http://helsersonalberta.com/

Halo Thai -- No business website http://www.urbanspoon.com/r/24/281551/restaurant/Alberta/Halo-Thai-Portland

Green Bean Books -- http://www.greenbeanbookspdx.com/index.html

Collage -- http://collagepdx.blogspot.com/p/about.html

Community Cycling Center -- http://www.communitycyclingcenter.org/

Barista - http://www.baristapdx.com/

Random Order Coffeehouse & Bakery - http://www.randomordercoffee.com/

Petite Provence-- http://www.provencepdx.com/

Trade Up Music Co. - http://tradeupmusic.com/

The Hilt - http://www.thehiltbar.com/

Screaming Sky Gallery - http://www.screamingskygallery.com/

The Know - http://www.theknowpdx.com/

Townsend's Tea Company- http://www.townshendstea.com/

Freaks and Geeks Tattoo Studio - http://www.freaksandgeekstattoo.com/index.html

Halibut's - http://halibuts.squarespace.com/

Binks - http://binksbar.com/

Alberta Rose Theatre - http://albertarosetheatre.com/
Alberta Community Photo Album - Come Upload Your Alberta Photos!
Alberta Street Restaurants
Alberta Street, the main drag through the neighborhood, has many newly renovated retail storefronts and restaurant space. These are mixed in with older businesses that have been there forever. The shopping area can now only be considered trendy. There is a strong focus on indie designers, handcrafted items, and boutique shops.
Most of the shops lining Alberta Street highlight handmade local designer clothing, paper mache' lamps, and imported gifts from afar. Alberta art galleries and shops showcase some fine local work. Smattered throughout are the requisite Portland coffee houses, seemingly one for each counter culture--there are no rules in Portland about having too many coffee shops on one street, and Alberta is no exception. You won't find a Starbucks on Alberta, though, as it just wouldn't seem to fit into the quirky individuality of the place.
At first glance, the name "Alberta Arts District" may seem a little overstated when taking into account the number of galleries on the street. But when one discovers that nearly every business - from restaurants and bars to the finest in dress shops, with very little exception - functions as a gallery with a rotating roster of artists represented on their walls, one begins to understand the full nature of this community's devotion to art. And Last Thursday, as it is simply called, is the designation given to the ever-growing event occurring on the last Thursday of each month when each of these establishments is open late and essentially transformed into the artists' opening night reception. Regardless of its moniker, Portland's Alberta Arts District remains a locus of high-octane change. It's morphing at a rate you can almost hear. There yet remain forces that attempt to counter the growth, but one gets the sense that the gang tagging and intermittent vandalism that occurs resembles flailing death throes more than any real threat to the impending gentrification takeover. Many of the area's proprietors are also its neighbors and have a vested stake in making this district work. hey are aware of their role as settlers claiming what was once wild country. And they know that success in adventure comes with strength in numbers, so they take care of one another. They are patrons in one another's establishments. They recommend one another. In Portland's Alberta neighborhood, businesses clustered together mean the opportunity to thrive, not cut throats.
Fuel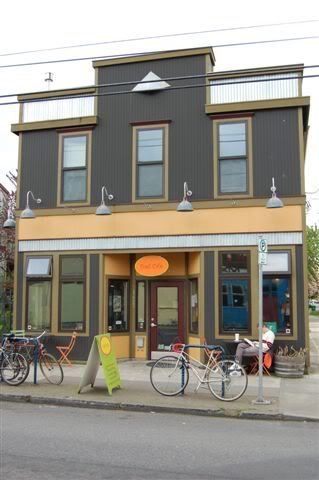 "…For the body, mind, and spirit." Offering a holistic approach to keeping your engine running, Fuel fires up dishes with an emphasis on nutrition and no artificial preservatives as well as several vegan friendly options. Their entire coffee inventory is 100% organic, fair trade, and locally sourced. Fuel's also got books, chess boards, two computers for public use, and WI-FI for all those other cylinders you might be running on.
Fuel
1452 NE Alberta
Portland, OR 97211
(503) 335-FUEL
Halibuts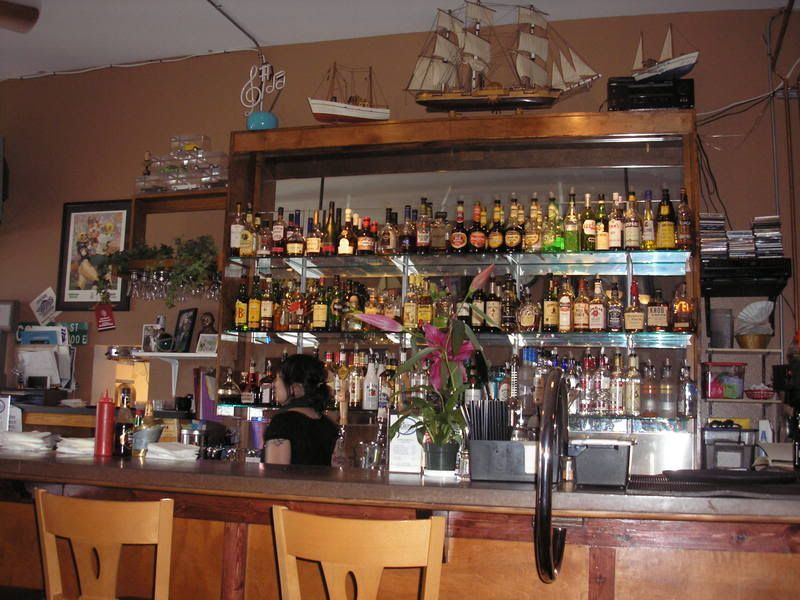 Like they need the press, right? But there's a reason. If you like fish and chips – nay, if you don't like fish and chips – you'll love Halibuts. They just do it right. Anita in the kitchen will make sure the breading is crispy, and the fish is succulent. Don't know how, but the important thing is Anita does, and she'll do it with a side of smiles – a shortage of which you absolutely will not find at Halibuts.
Uber-friendly and unbelievably approachable owner David Mackay runs his ship with a laidback – and grateful – manner that is palpable. And within the few years he's been open for biz, he's seen his operation go from a small fish/chips and chowder restaurant to an Alberta institution. It's so popular and has won so many awards and accolades in its short tenure that David added Halibut's II next door with a full bar and live music six nights a week. Why? Like their menu says, "Just for the halibut."
Halibuts
2525 NE Alberta
Portland, OR 97211
(503) 808-9600
Taqueria Don Pancho
You walk in, and your mouth starts to water. This place screams authentic. So, if you're looking for the corporate-Mexican-by-numbers, balloon-guy-for-the-kids, scream-over-the-mariachis, pass-the-ranch-dressing kinda "taste of Mexico " – walk on by rapidamente. But if you're looking for a menu so authentic it has to be written in pictures 'cause not everyone there is speaking the same language, try Taqueria Don Poncho. Sharing the building with its sister carniceria/grocery store, Don Poncho serves such traditional fare as Mojarra and Sopes as well as gringo hits like fajitas and nachos that are available for dine-in or take out.
Taqueria Don Pancho
2000 NE Alberta
Portland, OR 97211
(503) 459-4247
The Know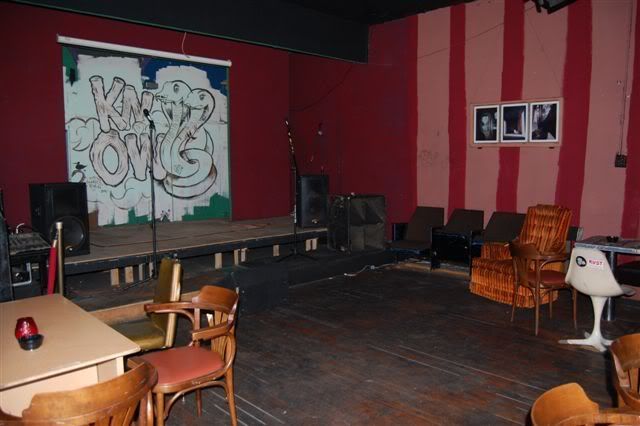 To be in The Know means to hang out in a space where live music, beer, and wine are on tap seven days a week. The music venue portion of the bill appears to be the star though the barstools are filled all afternoon long before the musicians show up. Owned and operated for the last two and a half years by Ryan, Sarah, and Sandwich , The Know does not offer food, but, once again, Vepadoe's Deli around the corner comes to the rescue. Honoring yet another symbiotic relationship on Alberta , Vepadoe's will serve you that tasty sandwich or snack plate to go with your beer at The Know. No problem.
Taqueria Don Pancho
The Know
2026 NE Alberta
Portland, OR 97211
(503) 473-8729
Every Day Wine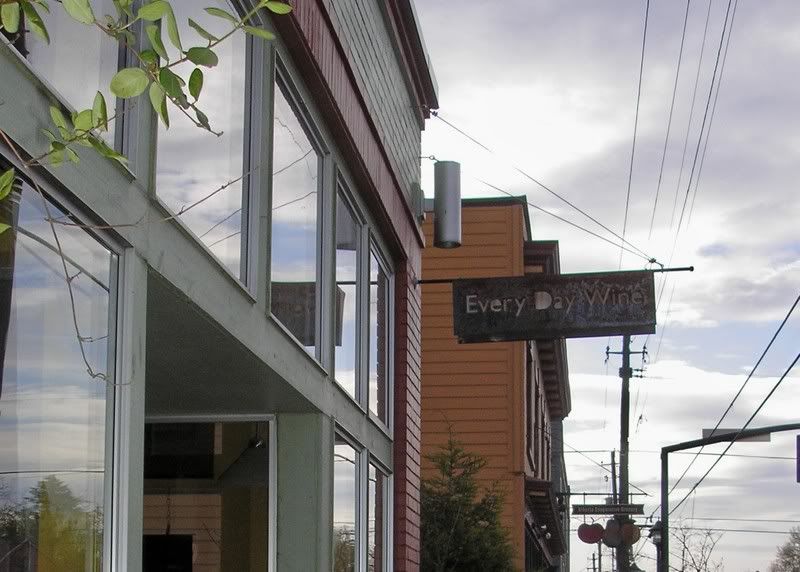 What a great neighborhood wine bar! Come in and say "hi" to proprietor Beth Boston. Of course, you must also greet Porter the shop dog, who sort of rules the place. This is a casual "come as you are" wine bar with a nice comfortable, down-to-earth atmosphere. Kick back with the locals and relax while sampling any one of 400 or so bottles of wine. There's no formal wine list or menu, just browse and pick a bottle from the varied selection lining the shelves, arranged in order by region. Of course you don't have to be a wine expert to find a nice bottle--Beth is happy to supply you with more information or assistance on making your selection. Most bottles are priced in a very reasonable 'every day wine' price range of say $9-15.
Insider's Tip - the shop doesn't sell any food....in order to keep her shop dog-friendly, there is no kitchen. But not to worry--bring your own yummies from any one of the amazing restaurants lining Alberta St., or better yet, do what I did. Right around the corner from Every Day Wine, just a couple doors down is the Vepadoe's Deli and Catering shop. Vepadoe's and Every Day have sort of a symbiotic business relationship--Vepadoe's will make you up a nice deli sandwich or a fine snack plate (bread, cheese, meats and olives) and deliver it right to the wine shop for you!
Friendly people, great service, tasty food, fine wine--and all right here in one of my favorite Portland neighborhoods. What more could I ask for at the end of a long day at work? I'll be back for more! Be sure to sample some new wines at Beth's "Friday Night Flights", usually every Friday night from 5-9pm. Or, plan your next party at Every Day Wine. They hold up to 50 people, just call ahead to plan and schedule your next event.
Every Day Wine
1520 NE Alberta
Portland, OR 97211
(503) 331-7119
Alberta Street Businesses
Alberta Cooperative Grocery
Clearing shelves of big brands and paving the way for a well-nourished neighborhood, Alberta Co-op Grocery is meticulous about their inventory. If a smaller brand is bought out by its larger competitor, it's outta there. If a soda contains high-fructose syrup, it's not allowed to darken the doorway.Stocking "high quality, affordable, and responsibly-produced food," Alberta Co-op cares about what they sell because they are, "owned by our neighbors," and are, "serving our neighbors."
Alberta Cooperative Grocery
1500 NE Alberta
Portland, OR 97211
(503) 287-4333
Parks
There are several local parks nearby. The sixteen acre Alberta Park features a basketball court, an off-leash dog area, paths, picnic tables and playground, as well as a softball field, tennis court and water feature.
More Alberta Area Parks:
Alberta Street Galleries
You just can't miss Alberta's "Last Thursday", which seems a combination art gallery "hop" and neighborhood street fair all rolled into one. It is every last Thursday of the month during the summer. If nothing else, enjoy the swarming crowds, and have fun people watching. You'll also have the opportunity to pick up some local arts (and crafts) work at great prices. Support your neighborhood arts! Don't forget to check our Portland Arts page for the latest event, exhibits, and more information.
Community Resources
Watch our video of the Alberta Street shopping area, and enjoy the quirky, artsy, and fun feel of this fantastic Portland Street! Alberta Community Photo Album - Come Upload Your Alberta Photos!
Moving to Portland? Want to make new Portland friends or ask questions about the Alberta Arts area Portland neighborhoods?

Visit our Portland Social Network & get connected!

Come post your questions on the Portland neighborhood forum and we'll see if we can help!
Post and share your photos of Alberta Arts District Portland on the Portland Photo Album. Your photo could be featured in the blog as Portland Photo of the Week! Post and share videos, too!
Post and share your Alberta Street events on the Portland Events Calendar.
Got some local news to share with your Alberta neighbors? Post it on the Portland Blog.
Also follow us on:
---
Neighborhood Links
Zip Code 97211
Concordia Schools:
Elementary school: Vernon Elementary School
Middle school: Tubman Middle School
High school: Jefferson High School
Neighborhood Demographics and Census Statistics
Portland Public School Boundaries
Portland International Airport
TriMet - Interactive Maps and Schedules for Bus, Max and Streetcar
---
Maps - View Neighborhoods and Boundaries
To locate specific Portland neighborhoods on the map, view one of the links below:

Portland Neighborhood Boundary Map

NOTE:You may need the "Adobe Acrobat Reader" software installed on your computer to read some map files. The Adobe Reader is available free from Adobe. If you cannot view the maps, download and install Adobe Acrobat reader, then try again.
Featured Neighborhood
Boise / Mississippi Avenue
---