Arnold Creek District Neighborhood Guide
Arnold Creek neighborhood is located in Southwest Portland. It is bordered by the West Portland Park, Markham, Marshall Park, and Collins View neighborhoods.
Click the image for a fully searchable Arnold Creek neighborhood map, which includes all homes for sale.
Arnold Creek Neighborhood Features
Arnold Creek sits in a forested area in southwest Portland, and its namesake flows through the neighborhood, adding to its natural, greens pace atmosphere. Arnold Creek truly is the best of both worlds. Nature lovers who live here enjoy peace and quiet, with an abundance of birds and other wildlife, while Downtown Portland is less than 15 minutes away via I-5.
Arnold Creek Neighborhood Parks
Maricara Natural Area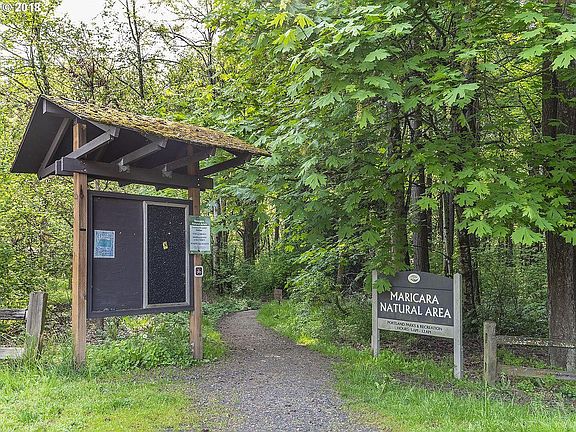 Maricara Natural Area, known as "The Jewel" of southwest Portland, is a mixed evergreen-deciduous forest on the north end of Arnold Creek neighborhood. It includes a wetland, native plants, older second-growth forest, and a protected stream. Visitors enjoy an abundance of wildflowers in the spring.
Maricara Natural Area – SW Trails 5
Tryon Creek State Natural Area
While Tryon Creek State Natural Area technically borders Arnold Creek, a small section of the park flows into the southeast corner of the neighborhood, giving residents easy access to hiking and horse trails, bicycle paths, and more.
Tryon Creek State Natural Area – 11321 SW Terwilliger Blvd
Arnold Creek Community Resources
Arnold Creek Neighborhood Association
Arnold Creek Schools
Elementary school: Stephenson Elementary School
Middle school: Jackson Middle School
High school: Wilson High School
Arnold Creek Neighborhood Vibe
Arnold Creek has a quiet suburban feel with few businesses, nestled in a lush forested area.
Arnold Creek Neighborhood Stats
Zip code 97219
Total Population
Population Density: 2,724.6
Total Population: 6,237
Percent Population Increase Between 2010 and 2020: 10.9
Total Population by Age
Total Population Age 18 and Over: 5,015
Percent Population Age 18 and Over: 80.4
Total Population by Race
Total White alone: 5,147
Percent White alone: 82.5
Total Hispanic or Latino: 173
Percent Hispanic or Latino: 5.8

Housing
Total Housing Units: 2,577
Total Occupied Housing Units: 2,479
Percent Occupied Housing Units: 96.2

Arnold Creek Neighborhood Real Estate and Homes
You'll find a variety of homes in Arnold Creek neighborhood from a few older historic homes to newer homes and many in between from mid-century all the way through the 1980s.
Click here to see all Arnold Creek neighborhood homes for sale.
To learn about the Portland real estate market, we recommend this local Portland-based, top 100 real estate blog in the world.
If you are interested in buying a home in Portland, contact these top 1% Portland buyer's agents, or if you are considering selling a home we recommend these top 1% Portland seller's agents. Visit our Portland Real Estate Page for more information.
Southwest Portland Neighborhood Map
Click any neighborhood.
See the full list of Portland neighborhoods in our Portland Neighborhood Guide.