The Belmont Street Guide
This guide focuses on what some call the Belmont District because is it so packed with history and fantastic shops and restaurants, an area that runs approximately from 31st to 60th Avenues on Belmont Street. The Belmont District is actually located in the Sunnyside bordered on the north by Laurelhurst neighborhood and on the east by Mount Tabor neighborhood.
Click the image for a fully searchable Belmont Street map, including all homes for sale.
Belmont Street Tour
Like the Hawthorne District, Belmont Street is a very popular area in southeast Portland. With a strong sense of individuality, Belmont has many locally-owned coffee shops, markets, boutiques, and restaurants. Belmont Street is a favorite destination for many locals, whether it's for an afternoon at the Avalon or a cup of coffee at one of the different cafes. This area has a nice mix of urban diversity, with a funky feel and local color. You might often hear Belmont Street and Hawthorne Blvd. mentioned in the same breath, and of course, there are similarities shared between them. Belmont, though, looks and feels grittier. It's more boots than sandals. It's diverse and eclectic, and a neighborhood's neighborhood. For many people, the Belmont Area isn't just a shopping and dining destination – it's
home.
Let's begin our walking tour on the west side of the street and work our way east. We'll start on SE 28th ave and finish at SE 49th. Kicking us off is the
Bare Bones Cafe and Bar
, where every day is a new specialty. For example, Tuesdays are for tacos while every first Friday hosts an art showcase. If you're feeling a bit more exotic, we suggest
Mai Thai
, which offers a delectable range of classic Thai dishes. Belmont Street has a lot of history and nowhere is that more on display than at the
Pied Cow Coffeehouse
. Built inside a renovated "painted lady" Victorian, you get a blend of both old and modern Portland vibes. Pied Cow offers two kinds of brew – those for the morning and those for the evening. You can also sample a variety of hookahs while you're there. For those that like more meat with their meal,
Dick's Kitchen
is a mainstay on the boulevard. There are actually two Dicks' restaurants in Portland, with the other specializing in game meats and other exotic fares. Later on in the evening, you will want to check out
Aalto Lounge
, where the decor is as flavorful as the cocktails. The bar is named after Swedish designer Alvar Aalto, and his signature style is all over the place. Our tour isn't just about food and beverage, though. Belmont has plenty of entertainment, both in the form of the
Electric Castle Wunderland
(with five-cent games) and
Movie Madness
. The latter is the largest video rental store in the state, with over 80,000 titles and an integrated movie theater. There is always something to do when you're visiting the Belmont District.
Belmont Street Businesses of Note
There are so many places on this street that it's hard to believe that you're still in the same neighborhood. Belmont is a quirky mixture of historic and urban chic places in Portland. This blend makes it a premier destination for both long-time locals and recent transfers alike. Here are some of the top businesses that we highly recommend visiting while you're here.
Movie Madness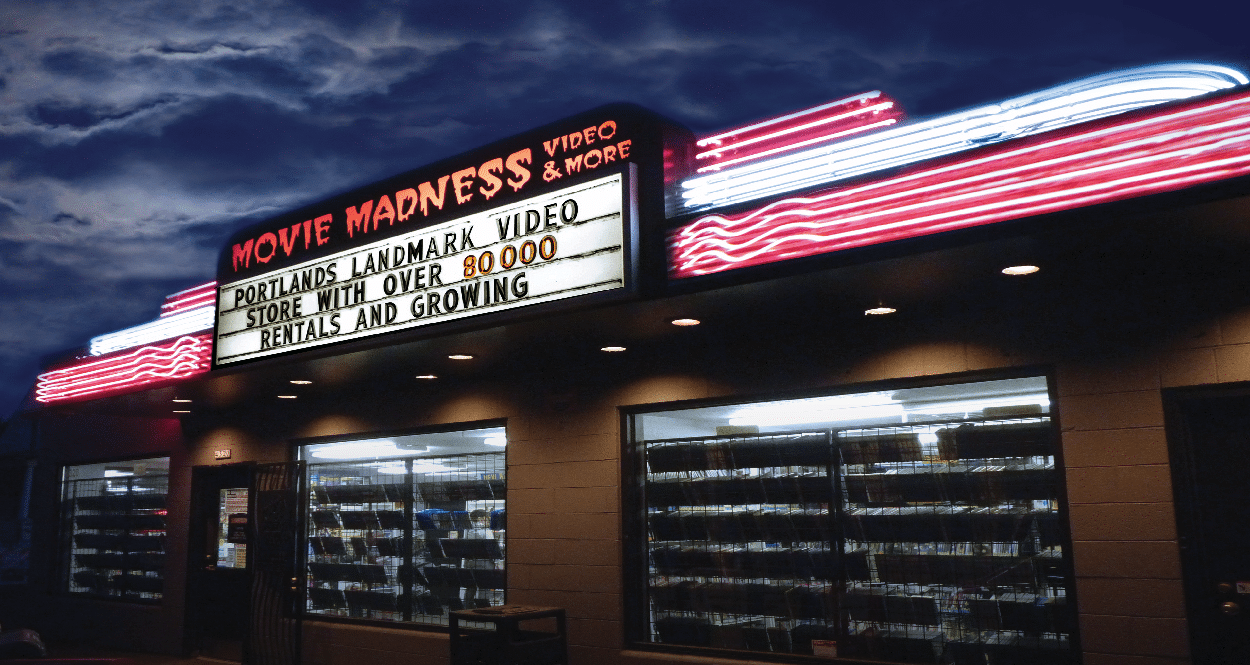 At 33,000 DVD titles and 27,000 VHS titles, if Movie Madness isn't the largest video store in the world, then it's certainly a contender. Officially recognized by the Southern California Motion Picture Council for its outstanding contribution to the entertainment industry, Movie Madness is to movies what Powell's is to books. Akira to Zanuck, we're talking an inventory that is so vast it's divided into categories like Classic Directors, Independent Directors, Psychotronic, and Diane Lane. Overwhelming? Not really. This movie palace provides its own spiffy hands-on software as an usher that will locate a movie by either title or director and then indicate in exactly which room it can be found. Movie Madness also appears to be staffed by more clerks at certain times than you might find in one of those mega-chains. And then there's the museum. Yup, museum. In addition to the rental side of the business, owner Mike Clark – let's just say a character in himself – has accumulated prop and wardrobe memorabilia from some of the biggest blockbusters ever to come out of the 'wood. What this means is that, in the very same store that you're renting your Hitchcock, the knife from "Psycho" awaits you. Or maybe you're more interested in the alien head from "Aliens" or the time machine from "H.G. Wells' The Time Machine." Costumes worn by Barbra Streisand to Diane Keaton to Mike Myers are displayed as are all the lead actors' wardrobes from "West Side Story."
Movie Madness
– 4320 SE Belmont
Khun Pic's Bahn Thai
Pied Cow isn't the only business in a converted Victorian home. Khun Pic's has been the creme-de-la-creme of Thai cuisine on both Belmont and elsewhere in Portland. For over 25 years, this house has been a destination for noodle and curry lovers. If you want to visit, you'll need to plan accordingly. Unfortunately, the restaurant doesn't take reservations, and they are only open from 6:00 to 9:00 p.m., Wednesday through Saturday. You'll likely have to wait in line to get in, but it's well worth it. You know a restaurant is delicious when it makes its patrons jump through hoops to get a taste. Regulars are always eager for more.
Khun Pic's Bahn Thai
– 3429 SE Belmont
Noun
Okay, English 101 refresher. A noun is any word that represents a person, place, or thing. Name a thing, and you've got yourself a noun – and basically you've got Noun. In the business of taking variety to adorable levels, owner Stephanie Sheldon has created a "person's place for things" with no real set of rules but yet with a grammar of its own. Stephanie likes to emphasize that she's not an antique dealer, but the place is full of vintage. Another very strong emphasis is new and local. So, from old typewriters to dishes, jewelry to aprons – Noun is a language of its own. But if you come across something edible in the showroom, interestingly it's not Noun.  It's something much sweeter.
Noun
– 3300 SE Belmont
Saint Cupcakes
Okay, technically a cupcake is a noun – but not at Noun. Confusing? See, at the showroom that is home to both Noun and Saint Cupcake, typewriters and dessert might sound like strange bedfellows, but they make great roommates. Housed behind a wooden counter near the back of this building that has, since the 1800s, been shared over time between the likes of a post office and a trolley stop, a "cupcake boutique" now shares this great old space with the eclectic array that is Noun. And it all makes sense in that Belmont kinda way. You see, Saint Cupcake, the bakery, located on NW 17th is a multi-layered, wedding cake of an operation that met with demands large and lines long. Owner Jami Curl's cupcake runneth over, so she decided to open another location, an outlet boutique selling nothing but her cupcakes, made and delivered fresh daily, ordered by the single or in any number of combo arrangements to take to a party or those pesky PTA meetings.
Saint Cupcake
– 3300 SE Belmont
India Oven
As you can see, Belmont is home to many different styles and flavors. This part of the Sunnyside neighborhood attracts a highly diverse crowd, which is why you can find coffee shops, Thai food, and now Indian food. India Oven has been around for decades, providing a window into the world of curries and the finest Indian spices. Also, because this is Portland, many of the dishes on the menu are either vegan, gluten-free, or both. Visitors and locals alike can find something they love here. The atmosphere is as delectable as the food, as the restaurant is in a reclaimed warehouse space. High ceilings and minimalist decor enhance the dining experience and make this place a top spot for exotic eats.
India Oven
– 3450 SE Belmont
Avalon Theater
Technically speaking, this theater is inside Electric Castle's Wunderland, although you don't have to drop money at the arcade to catch a show. The Avalon is one of Portland's oldest theaters, with three screens and lots of character. What makes this place even better is that it shows second-run movies at cheap prices. So, unless you're itching to see the latest films as soon as they release, you can simply wait a couple of months and then catch them here. That being said, Avalon doesn't run smaller movies or indies, so you can only plan on seeing the latest blockbuster. After the show, be sure to browse the arcade as well. There are two rooms, each filled to the brim with the lights and sounds of laughter and fun. Also, because each machine takes nickels, you don't have to spend a fortune to have a good time. Be aware that none of the games are actually five cents anymore, but your dollar still goes a lot further than it would elsewhere.
Avalon Theater and Electric Castle's Wunderland
– 3451 SE Belmont
Slappy Cakes
These days, the DIY movement is pretty well established. However, for most people, DIY refers to arts and crafts, with the occasional home improvement project. At Slappy Cakes, though, they take this concept to a whole new level. Imagine paying a restaurant for the privilege of mixing and cooking your own pancakes. Trust us, it's not as insane as it sounds. First of all, you get a wide array of both batters and toppings, so you can't pretend that these flapjacks would be as good as homemade. Second, it's a perfect date spot for couples who are both morning people. There is a griddle in the middle of your table, and you make however many pancakes you wish. It's like Korean BBQ for the breakfast crowd. Another element that makes Slappy Cakes more interesting is that this is only the second location in the U.S. The other is in Hawaii, with the brand originating in the Far East. Who knows, DIY pancakes may take the country by storm.
Slappy Cakes
– 4246 SE Belmont
Belmont Parks
As you can imagine, there are no actual parks along Belmont Street. However, since this is Portland, you're never more than a few hundred feet away from a park, which is why we've listed all the ones in the general vicinity. Two of these places are also community gardens, so if you're a local and you want to get the freshest ingredients for your next salad, be sure to join your neighbors.
Colonel Summers Park
Ivon Community Garden
Everett Community Garden
SE Portland Bike and Walk Maps
Belmont District Community Resources
Multnomah County Library – Belmont
Belmont Neighborhood Vibe
As we mentioned, Belmont Street is a mixture of classic Portland and new chic. You'll feel like you stepped back in time, as most of the buildings are original and many of the businesses have been around for decades. This area attracts a lot of the "crunchy" crowd, so if you're vegan, gluten-free, or just a friend of the environment, this street will feel like home. This place is quirky, colorful, eco-friendly, and a perfect encapsulation of the old Portland spirit.
Belmont Street Real Estate
There's lots of character in this neighborhood, and many houses have been restored to their original charm. Homes run the gamut of 20th-century architecture, from classic Bungalow, to Old Portland, to Cape Cod, Four Square and more.  You'll also find new construction condos and apartments smattered about the area.  Homes here will be expensive and buyers will be fiercely competitive, so be on your toes if you really want to live here! Click here to see all
Belmont Street homes for sale.
To learn about the
Portland real estate market
, we recommend this local Portland-based, top 100 real estate blog in the world. If you are interested in buying a home in Portland, we recommend meeting up with these
top 1% Portland buyer's agents
, or if you are considering selling a home we recommend these
top 1% Portland seller's agents
. Visit our
Portland Real Estate Page
for more information. If you are interested in buying or selling a home in this Portland neighborhood, visit our
Portland Real Estate Page
for more information, or visit our Portland Real Estate Map to search the RMLS for neighborhood homes for sale.
Belmont Street: Friends We've Lost
Because this district is so hip, it's been changing radically for the last few years. As you can imagine, businesses come and go as the march of progress continues its path forward. Here we remember the shops that used to grace the sidewalks of Belmont in years past.
Utopia Cafe
–
Breakfast Place
Blue Monk
–
Bar and Lounge
Zupan's Market
–
Upscale Grocery Store
The Zupan's on Belmont is no longer there, but they have locations elsewhere in Portland. Find them online
here
.
Theatre Vertigo
–
Theater Company
Vertigo is still alive and well, but they are no longer operating on Belmont street. Instead, you can catch their performances at the Shoebox Theater, which is on 10th street. Find out more about them
here
.
Southeast Portland Neighborhood Map
Click any neighborhood.