Boise Eliot Neighborhood Guide
The Boise neighborhood is sometimes referred to as "Boise-Eliot" and is located on the east side of the Willamette River. It is bordered by the Overlook, Humboldt, King and Eliot neighborhoods in the very hip and popular North Portland. Boise is in a great location for commuting to downtown Portland and is conveniently close to other major Portland neighborhoods such as Concordia, the Alberta Arts District, and Irvington.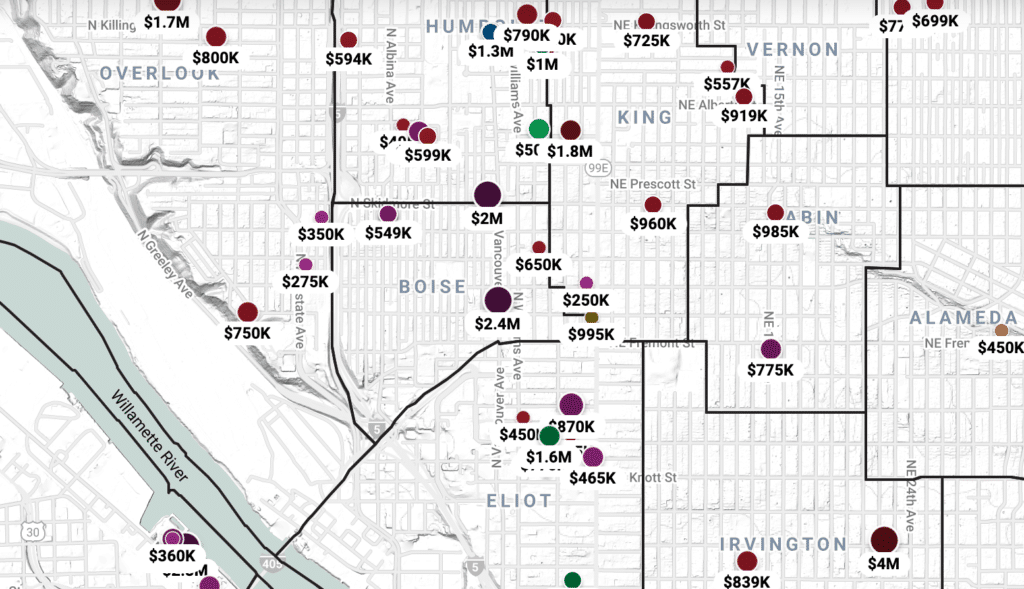 Click the image for a searchable Boise neighborhood map including all homes for sale.
Major freeway ramps located nearby include I-5 and I-84. Drive over the Fremont, Steel or Broadway bridges to get downtown or to the Pearl District, and Old Town/Chinatown in mere minutes. The "MAX" light rail located on Interstate is only minutes away on foot. Downtown by bicycle is about 25 minutes.
The ReBuilding Center

Portland famous location for picking up recycled building materials.
Features of the Boise Neighborhood
Portland's Boise-Eliot neighborhood is one of the most unique and most popular Portland neighborhoods. Most locals know Boise-Eliot by a few names: Williams Avenue and Mississippi Avenue. While technically both part of the same neighborhood proper, these two streets have truly developed their own unique personality and feel with respect to the independent businesses that line their streets and the folks who frequent them.
The area around Mississippi Ave has changed radically in the last 10 years. It is truly unrecognizable: gone are the barren streets, the dilapidated homes and the drug dealer on the corner. A great deal of commercial investment has changed the whole face of the area and while the businesses are largely independent, some of the local flavor and color have been lost. The new condos seem out of place here and the apartment prices are sky-high. It is a hugely popular "destination neighborhood" due to the popularity of the bars, restaurants and retail shops.
The Mississippi Historic District is decidedly young, urban, and hip. The streets are busied with bike traffic, foot-traffic, and busses cruising by every few minutes. Mississippi has just about everything the average urbanite could ever want for – great restaurants, fantastic coffee shops, a recording studio, a live music hall, several bars and pubs, and a ton of retail and boutique shops. Best of all, most of them are independently owned.
Historic Mississippi Ave Street Tour
North Mississippi Avenue, in the Boise neighborhood of North Portland, dashes northward from the clatter and tangle of the interstates, and upon reaching North Fremont Street it sheds its nondescript industrial skin and becomes one of the most popular destinations in the city. It's an area that encourages gatherings; there are very few people strolling the walk alone. Couples and families flock to this part of Portland to shop, to eat, to drink and enjoy each others' company.

It hasn't always been so. Poverty, crime, and violence once marked this area of town as a place not suitable for any law-abiding soul. It wasn't until 1999, when the City of Portland embarked on a mission to improve the neighborhood, that a change began to take place. That change is still ongoing and the effort has given rise to the specter of gentrification, the results of which are not to everyone's taste. The facades of modern condominiums and business complexes are at odds with those of shops and eateries that evolved here organically. Fortunately, those glassy boxes haven't managed to overshadow the street-wise charm and the bazaar-style atmosphere on the sidewalks.

The avenue celebrates art, food, and community in a variety of ways throughout the year. The event known as 2nd Thursdays features artwork by local artists in the neighborhood. The Mississippi Street Fair, held in July each year, gives a healthy boost to businesses and organizations in the area.

To hike North Mississippi Avenue, start at the Albina Yard maintenance building and admire the mural painted as a testament to the neighborhood's spirit. Then climb the sidewalk to ¿Por Que No? Taqueria and have a cerveza and one or four of the tasty taco options. Word is that it's some of the best eating in town. Save room though, because right up the sidewalk is Mississippi Pizza Pub & Atlantis Lounge, where there are hot slices of great pizza (even gluten-free options) waiting for you, along with live music and a fun time with pub quizzes and spelling bees for both kids and alleged grown-ups.

Right across the avenue is The ReBuilding Center of Our United Villages, a nirvana for those who crave DIY and sustainability. Everything you need to furnish your house all Earth-friendly-like, or to pluck it thoughtfully apart for the reuse and recycling of its materials, may be found there. It's the Portland way.

You might want to trot up to Gumbo Gifts & Gallery because you need a hat – or something vintage. Maybe some postcards or coasters or decorative eyewear. You may wander around in there for a long time. Be warned. If you need an excuse to leave, think about Ruby Jewel, an ice cream parlor just a few steps north. There you can glom onto a waffle cone full of some of the best ice cream you can find in town. Don't you dare lay those sticky hands on the treasures to be found at Bridge City Comics, though. Seriously, people have been beaten for less in a comics shop. Wash up first.

Need to pick up some salt? Like, from Antarctica? The Meadow offers that, as well as salts from all over the rest of the world. And chocolate. And bitters and syrups. And shrubs. Lots of stuff.
If you're in the mood for delicious small plates, Radar Restaurant is a great destination for delicious food and drinks, with friendly service. Cocktail lovers will enjoy Sidecar 11 and Moloko, Portland's only coral reef bar and lounge.
Far from finally (because there are plenty more things to see and do and eat on the avenue), there's North Portland Bike Works, one of the highest-rated bike shops in Portland. It's a non-profit, community-focused shop with new and used bikes and a repair space where the staff can fix your bike AND teach you to fix it yourself with their tools and know-how.

North Mississippi Avenue is a "must-visit" stretch of the city, for tourists, guests, and citizens alike.
Boise Neighborhood Businesses of Note
Although we've covered many of the offerings in this neighborhood on our street tour, Boise is chock-full of gems and hidden discoveries. We want to take a deep dive into a few establishments that call this place home, and that residents and visitors alike will enjoy. Get your walking shoes on and take a stroll to these places.
Prost!
No matter where you live, there is an abundance of bars and pubs within walking distance in Portland. However, when it comes to German beer and food, one of the best spots to experience the flavor of the Fatherland is at Prost!. This pub and restaurant is the perfect place to drink from a glass boot, sample some standard German fare – including Bavarian pretzels, bier cheese soup, and bratwurst – and enjoy the company of friends. The seating is all open-style picnic tables, so meeting new people is part of the experience.
What makes Prost! even more inviting is that the place is home to a pod of food carts. So, if you're tired of the same old sauerkraut and sausage, you can sample from a variety of other offerings. Be sure to come during Oktoberfest, as the bar gets even more lively and friendly. However, be aware that you will have to face the massive crowds, so plan accordingly.
Prost! – 4237 N Mississippi Ave
The 1905
If you live in the Boise neighborhood, you have seemingly endless choices for a vibrant nightlife. However, if your tastes skew towards live jazz music, you have to check out the 1905. This turn-of-the-century inspired venue is the perfect place to have a few beers, chat with friends, and enjoy the smooth tunes sashaying to your ears.
The food and beverage menu here is just as eclectic and hip as the bands that perform on stage. The 1905 specializes in Italian dishes, including thin-crust pizzas, pastas, and salads. Also, if you're interested in listening to jazz during the day, this spot offers brunch on the weekends. When it comes to cocktails, the mixologists behind the bar are always experimenting, so you can come back again and again and try something new.
The 1905 Jazz Club – 830 N Shaver st
No Bones Beach Club
Although Portland is not a beach town, you can get a taste of the surfer life by strolling into the No Bones Beach Club. Inside, you'll be greeted with vibrant and colorful decor designed to tease the senses and help you feel like you're in a tropical paradise. Grass skirts, neon colors, coconut cups, and palm fronds as far as the eye can see.
In case you were wondering what the first part of this place's name means, "No Bones" refers to the fact that the whole menu is 100% vegan. No animals were harmed in the making of the decor or any of the food (or beverages). So, when you come down to the beach and indulge in offerings like cauliflower wings, Buffalo tofu salad, or beer-battered avocado tacos, you can feel good about everything that goes into your belly. No Bones also offers traditional beach food with a vegan twist, like "fish" and chips or "crab" cakes. It's certainly a unique experience if you haven't tried vegan dishes before.
No Bones Beach Club – 3928 N Mississippi Ave
The Meadow
When you think of a boutique-style grocery store, you imagine rows of organic vegetables, locally-sourced products on the shelves, and food that you can't find anywhere else. While that's mostly true at The Meadow, you won't be able to cross much off of your shopping list. This store serves a specific set of products, although their selection of each one is incredible.
Interestingly, The Meadow is your one-stop-shop for salt, chocolate, and bitters – that's it. A somewhat bizarre selection to be sure, but if you're in the mood for high-quality ingredients, you can't do any better. Some highlights from their shelves include Hawaiian sea salt, Peruvian dark chocolate, and herbal bitters. Despite carrying only three products, the shop is filled to the brim with decadent varieties. You can also buy gift sets for the person in your life who has everything else already.
The Meadow – 3731 N Mississippi Ave
Ecliptic Brewing
If you had to list the top five things that Portland is known for, one of the items would definitely be "beer." With more craft breweries than any other city in the country, beer lovers can sample a different brew every day of the year and still come up short on time. One of the larger breweries in the city is Ecliptic, which creates a dozen different beers, most of which you can find on store shelves throughout Oregon. As with most places in the Rose City, Ecliptic specializes in IPAs, so if you love that bitter flavor, you'll be in heaven here.
One of the best things about this spot is that you can taste the beer fresh from the vat. The brewpub onsite offers a variety of tasty selections to accompany the brew of your choice. Pair the Carina Peach Sour with a cheese plate or the Meridian Vanilla Stout with a plate of vegan enchiladas. The possibilities are endless – too bad your stomach isn't.
Ecliptic Brewing – 825 N Cook st
Spin Laundry and Lounge
For most people, doing laundry is a chore. However, what if you could knock back a couple of beers or glasses of wine while you wait for your clothes to dry? That's the concept behind Spin – a revolutionary (pun intended) concept that merges a lounge-type atmosphere with your local laundromat. Come for the washers and dryers, stay for the booze and food. Boise neighborhood residents are the envy of all other Portlanders who have to clean their clothes in abject silence, with only the sounds of whirring machinery to accompany them.
As if the menu wasn't enough to bring you in, Spin also makes sure that you can feel good about washing your clothes here. All of the machines and products are eco-friendly, so don't worry about spoiling the environment with toxic chemicals and dyes. Not only that, but Spin goes all the way with programs that donate extra socks to the needy and energy-efficient lightbulbs. When it comes to sustainability, Spin puts most other laundromats to shame.
Spin Laundromat and Lounge – 750 N Fremont St
DIY Bar
In recent years, the DIY movement has skyrocketed, with more people making a wide assortment of things, both practical and decorative. While that's great for cost-efficiency and recycling, why not hone your skills while getting buzzed? That's the thinking behind DIY Bar, the only (for now) place where you can work on arts and crafts while sipping on craft beers. Here you can get a DIY DUI (decorating under the influence), and you don't have to worry about getting a ticket.
The bar provides everything you need to build your project, so all you have to do is bring your thirst for beer and learning. Projects include string art, macrame, painting, and light leatherwork. Whether you're a DIY enthusiast already or you just want something to do while you drink, DIY Bar is the perfect way to spend your time. Also, these projects are always better with friends, so invite your squad out for a night they won't forget. Best of all, everyone gets a souvenir!
DIY Bar – 3522 N Vancouver Ave
A few more standouts on the street are…
Prost! Marketplace– some of the finest food cart fare in Portland, next to one of the best German bars in town
Mississippi Studios– a very intimate music venue reported to have the best sound in Portland.
Lovely's Fifty-Fifty– a fabulous pizza and ice cream shop.
The Crow Bar – a local bar and hangout…think pinball and a pool table.
Stormbreaker Brewing – a local brewer with a wonderful outdoor seating area in all weather conditions.
Gravy– home of the massive breakfast. Get there early or wait for eternity- you have been warned.
The Fresh Pot – one of the first stores on the street and first cafes in the North Portland area.
Pistils Nursery– a wonderful nursery and landscape design store that simply cannot be missed. They offer many classes on goat raising, chicken keeping, composting and more.
Others are Miss Delta, Bar Bar (Part of Mississippi Studios), and much more. Take a trip and enjoy – this is a thriving entrepreneurial district- you won't find a single Starbucks here and locals will see to it that you don't.
Just a few minutes away, Williams Avenue offers even more independent retailers and boutiques. Neighborhood favorites are Eat: an Oyster Bar, HUB – Hopworks Urban Bike Bar, Ink & Peat, and Ristretto Coffee Roasters.
Portland Community College is a major presence in the Boise and Mississippi Ave area as many residents are also students or faculty. Additionally, head about five minutes north to Killingsworth Street for more really great local businesses to choose from such as Saraveza, a wonderful beer bottle shop, The Red E Cafe, E'njoni Ethiopian Cafe, and CoffeeHouse-Five. Down the road on Interstate is a New Seasons Market which is a local area shopping staple and employer.
Overall, Boise-Eliot is a great urban Portland neighborhood that is centrally located and totally self-sustaining. 
Boise Eliot Neighborhood Podcast
Boise-Eliot Real Estate & Rentals
Boise is an urban neighborhood with cultural diversity. Home styles in this area consist of older Victorian cottages, Craftsman, and other older East Portland styles that have historic charm and character you just can't find in the outlying suburbs. A mix of new urban-style lofts are popping up, as well.
Home prices in this area have skyrocketed in the last several years due to the Portland real estate boom. This neighborhood is highly coveted and the real estate prices reflect that. Rentals homes and apartments are on the higher side of what Portland has to offer.
Click here to see all current Boise-Eliot homes for sale.
To learn about the Portland real estate market, we recommend this local Portland-based, top 100 real estate blog in the world.
If you are interested in buying a home in Portland, we recommend meeting up with these top 1% Portland buyer's agents, or if you are considering selling a home we recommend these top 1% Portland seller's agents. Visit our Portland Real Estate Page for more information.
Boise Neighborhood: Friends We've Lost
As with other parts of Portland, some businesses in the Boise area have succumbed to progress and transition. Fortunately, this neighborhood has flourished in recent years, but not everyone gets to enjoy the path forward. Here are some of the establishments that formerly called Boise home.
Manifesto Shoes – a boutique-style shoe store
Lompoc Brewing – a local pub that was on Williams street for 23 years, 1996-2019
Tasty and Sons – this restaurant is still around, but they've moved to Division st. Also, it's now Tasty and Daughters, and you can find them here
Queen Bee – for 24 years, this place hand-crafted wallets, bags, and other accessories
Lodekka Double-Decker Dress Shop – this funky boutique was housed in a double-decker bus
Boise-Eliot Community Garden – as times change, so does the landscape of the neighborhood. This community garden has dried up in recent years.
North Portland Neighborhood Map
Click any neighborhood.