Brentwood Darlington Neighborhood Guide
Brentwood Darlington is a neighborhood in Southeast Portland. It is bordered by the Woodstock, Mount Scott-Arleta, and Lents neighborhoods. It also borders the city of Happy Valley to the south. This is a mostly residential neighborhood.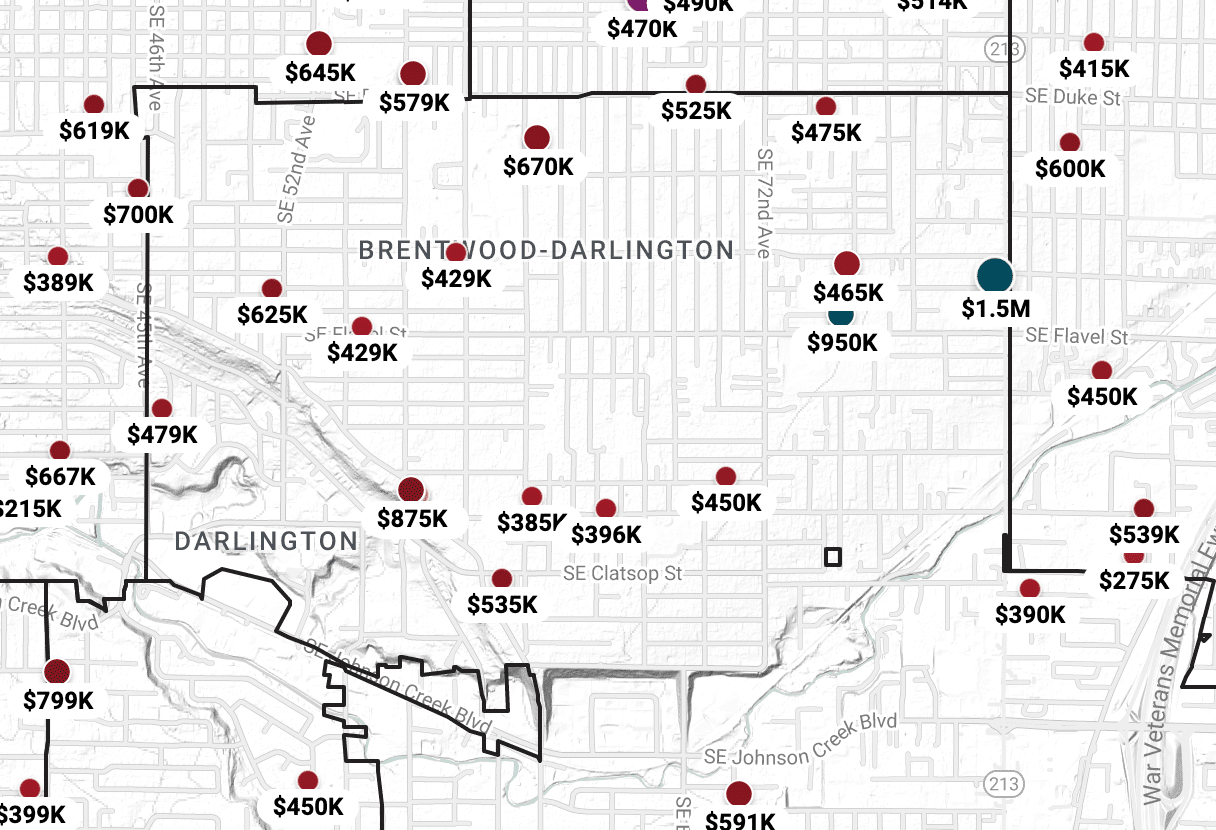 Click the image for a fully searchable Brentwood Darlington neighborhood map, including all homes for sale.
Features of the Brentwood Darlington Neighborhood
Like most neighborhoods in Southeast Portland, Brentwood Darlington is mostly residential with a few major thoroughfares running through it. One of the primary features of this area is its abundance of parks and schools. Within its border, you have five city parks and one baseball field, making it one of the greener neighborhoods in Portland. As far as schools, most of the facilities inside Brentwood Darlington are preschools and elementary. Interestingly, you have to venture far outside the neighborhood for high school, as the nearest one is Grant in North Lents.
On the northwestern border of Brentwood Darlington is the Apostolic Faith Church. What makes this place notable is that it is both a church and a campground. The property spans over six city blocks, making it one of the largest faith congregations in the city. Overall, Brentwood Darlington is very family-friendly; the streets are quiet and you feel a strong sense of community.
Brentwood Darlington Businesses of Note
Since this area is mostly residential, you have to go to its borders to find most of the shops and retailers. The streets marking the northern and eastern sides of Brentwood Darlington are the main hotspots. However, 52nd ave cuts through the west side of the neighborhood, and it has a few gems as well. That's actually where we begin our tour of Brentwood Darlington businesses.
Misdemeanor Meadows
One of the perks of living in Portland is that every neighborhood has its own watering holes. Usually, these are dive bars where you can get good food, affordable drinks, and experience live music. For Brentwood Darlington residents, one of those bars is Misdemeanor Meadows. This spot is relatively new, springing up within the last six years or so. However, thanks to its rotating roster of local musicians, it has become a fixture along 52nd avenue. Beyond music, the bar also hosts various events with topics that range from space to pop culture.
As far as food goes, the Meadows has its share of bar favorites. The primary specialties are the burrito or taco plate, although you can get some pozole (pork and hominy stew) if you want something different. Otherwise, there are quesadillas, nachos, or just some chips and guacamole to keep things simple. You can also rent the space for small parties and gatherings, so gather your friends and knock back a few drinks!
Misdemeanor Meadows – 6920 SE 52nd Ave.
Mehri's Bakery
Just across the street from Misdemeanor Meadows is this quaint bakery and cafe. Mehri's has been around for a long time, straddling the line between Old and New Portland. This place is perfect for breakfast or lunch (particularly since they don't do dinner), as well as getting a pie or cake for a special occasion. Walking into Mehri's, you're greeted with the delectable aroma of pastries and sweets, which will whet your appetite, no matter when you last ate.
For breakfast, you should try one of Mehri's scrambles. They are both hearty and healthy, complete with various vegetables, meats, and cheeses. The signature scramble comes with spinach, ham, mushroom, bacon, and more. Other options include eggs Benedict, waffles, and huevos rancheros. For lunch, Mehri's delivers one of the best meatloaf dishes in town. We also recommend the French Dip, since it can be so hard to find a good one in Portland.
Mehri's Bakery – 6923 SE 52nd Ave.
G.I.R.L.S. Gym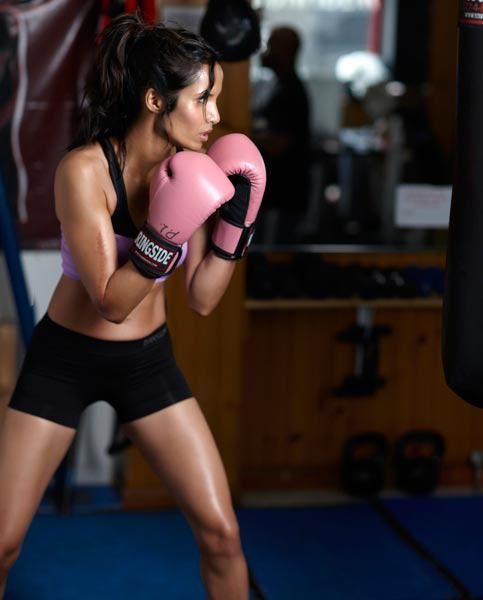 Typically, a trip to the gym involves some cardio and maybe some weight-lifting. You may jog on the treadmill for a while, or use one of the many machines. However, at G.I.R.L.S. Gym, there are no machines in sight. Instead, the gym is focused on MMA, self-defense training, and kickboxing. In that regard, it's almost more of a dojo than a traditional gym.
As the name implies, this gym is female-focused. In fact, according to the website, it's the only one of its kind in Portland. Trainers help women both get in shape and learn how to defend themselves if they're interested. G.I.R.L.S. Gym is mostly class-based, meaning that your membership fees depend on how many classes you want to take and how often. They do have workout equipment on-site to help members get in shape as well. For those who are a bit wary of working out in a group setting, the gym does offer one-on-one classes.
G.I.R.L.S. Gym – 7427 SE 52nd Ave.
Cartlandia
During the food cart boom of 2009/10, cart pods sprang up all over Portland. While the fervor has since died down, some of these pods are still going strong. Cartlandia is one of the largest gatherings, with 32 different carts inside the pod. So, no matter what kind of food you're craving, you're sure to find it here. Along with the carts, there is a permanent seating tent, making it easy to enjoy your meal under cover (helpful during wet months).
While there are too many carts to list here, you can find a mix of the following cuisines: Indian, Mediterranean, Mexican, Thai, Chinese, Salvadorian, boba, soul food, cheesesteaks, shwarma, ramen, and ice cream. You can check out the full list here. During the summer, there is a hosted beer garden with 12 ales on tap, so be sure to check it out while it's up and running. Sometimes, the pod hosts live music as well, making this both a food and music-lovers paradise.
Cartlandia – 8145 SE 82nd Ave.
Rocky's Sports and Spirits
While Misdemeanor Meadows is an excellent local spot for music and Mexican food, Rocky's is the place to visit for sports and burgers. The crowd here is much livelier and boisterous, particularly on game days. When the Blazers are playing, you won't find an empty seat in the house. The beer menu changes regularly, although, like most Portland bars and taprooms, Rocky's specializes in IPAs. Best of all, happy hour happens every day, so you never have to pay too much for a beer.
As far as food goes, Rocky's has a mix of burgers, tacos, and other American eats. The bar has daily specials, such as Taco Mondays, Coney Island Dog Tuesdays, Burger Wednesdays, and Taco Thursdays. The burgers are hefty and juicy, and the tacos are street style, so they come with a lot of flavor. No matter which day you come, be sure to have a healthy appetite.
Rocky's Sports and Spirits – 7610 SE 72nd Ave.
Brentwood Darlington Parks
Brentwood Darlington Community Resources
Brentwood Darlington Neighborhood Association
Schools
Brentwood Darlington Neighborhood Vibe
Brentwood Darlington feels homey, family-focused, community-conscious and hardworking.  This feels like a very run of the mill outer Portland neighborhood and that is a great thing.  It feels good to be normal.
Stats
Brentwood Darlington Zip Code 97206
Brentwood Darlington Real Estate
Homes run the gamut of 20th-century architecture, from classic Bungalow to Old Portland, to Cape Cod, Four Square, and more.  You'll also find new construction condos and apartments smattered about the area.
See all Brentwood Darlington neighborhood homes for sale.
To learn about the Portland real estate market, we recommend this local Portland-based, top 100 real estate blog in the world.
If you are interested in buying a home in Portland, we recommend meeting up with these top 1% Portland buyer's agents, or if you are considering selling a home we recommend these top 1% Portland seller's agents. Visit our Portland Real Estate Page for more information.
Southeast Portland Neighborhood Map
Click any neighborhood.