Brooklyn Neighborhood Guide
The Brooklyn neighborhood is located in southeast Portland and is bordered by the Willamette River,
Hosford-Abernethy
,
Creston-Kenilworth
,
Reed
, and
Sellwood-Moreland
neighborhoods.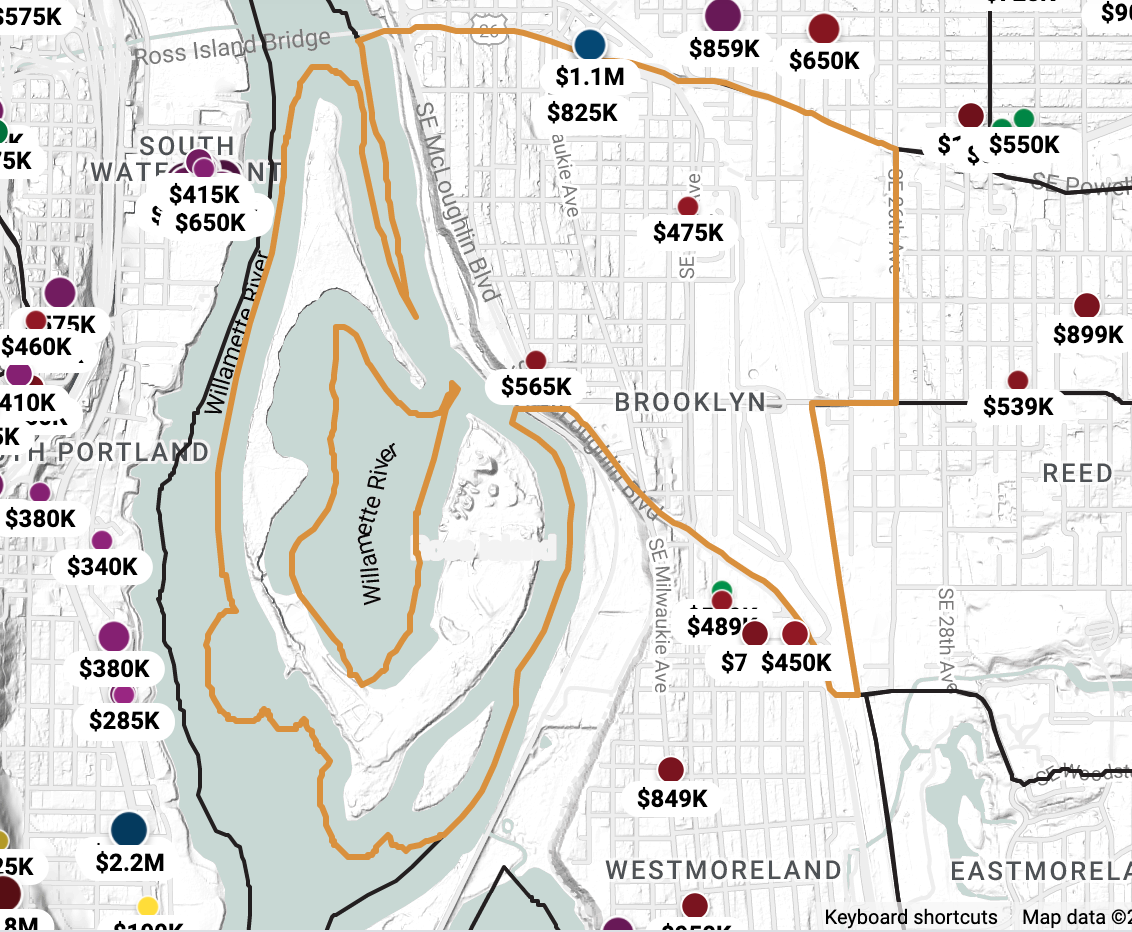 Click the image for a fully searchable Brooklyn neighborhood map, including all homes for sale.
Ross Island off Brooklyn Neighborhood's Shore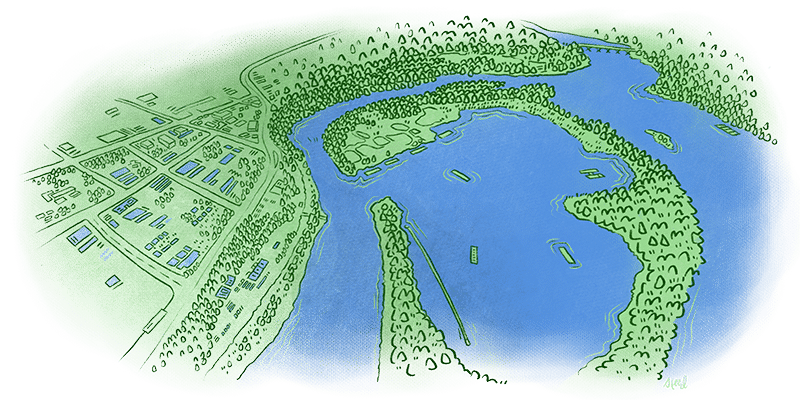 Ross Island is the main island of a four-island cluster in the Willamette River in Portland, Oregon, in the United States. The islands, covering a total of about 400 acres, are owned mainly by Ross Island Sand and Gravel, which mined them extensively between 1926 and 2001 (Wikipedia).
Features of the Brooklyn Neighborhood
Brooklyn is in a great location as it is in close proximity to some of Portland's most hip and popular neighborhoods such as Sellwood, Hawthorne and Clinton. Residents have plenty of coffee, pub and dining options just a stone's throw away in most cases across several adjoining neighborhoods.
Brooklyn is definitely a favorite and in-demand Portland neighborhood and feels very community-friendly, safe and family-focused.  Dog walkers, runners, babes in strollers and people of all sorts busy the streets.  Brooklyn, like most of its close-by sister neighborhoods, is fiercely independent and has a high number of locally owned businesses that thrive due to overwhelming local support.
Brooklyn Neighborhood Businesses of Note
As with other southeast Portland neighborhoods, Brooklyn has a mix of everything. The residential portion is mostly in the northern section, complete with plenty of shops, bars, and restaurants. Once you get further south, however, the neighborhood becomes more industrial. Tri-Met, the local transit authority, is stationed in Brooklyn, as are several industrial trainyards. Brooklyn is also home to one of the oldest train roundhouses on the west coast – a source of pride for the local historical society.
When it comes to places to visit, Brooklyn has a wide variety of options. Let's take a closer look at some of the highlights of this neighborhood.
The Original Hotcake House
As you're driving down Powell blvd, the sign for the Original Hotcake House stands out among the rest of the buildings – it's blue-green and yellow aesthetic a welcome addition to the drab gray and brown surroundings. Since 1935, this diner has been a mainstay of SE Portland, enduring thanks to a mix of delicious food, a welcoming atmosphere, and a 24-hour menu. Also, be sure not to confuse this with the Original Pancake House, yet another Portland institution.
Because this place is open all the time, it receives a mixed blend of customers. Mornings are for retirees and those who haven't gone to bed yet. Lunchtime is for professionals and those visiting Portland for the first time. Evenings and late-night are reserved for partygoers and bar hoppers who need something to soak up the alcohol.
The menu here doesn't look like it's changed much in the last 80 years. Steaks, burgers, chicken, and classic breakfast items are all par for the course. However, you have to try the hotcakes here as they are fabulous – the place is named for them, after all. Burgers are another specialty if you're not in the mood for breakfast.
The Original Hotcake House – 1002 SE Powell Blvd
Aladdin Theater
One of the great things about Portland is that it's home to so many wonderful concert venues. If you're into local music – no matter the genre – you can find a place to experience it. The Aladdin is one of the premier destinations for bands both big and small. The place can get packed, so you want to plan accordingly.
The history of the Aladdin is long and somewhat sordid. The venue opened in 1928, although it was called Geller's Theater at the time. The name changed in 1934 when it started showing movies. For several decades, it was a family-friendly place, until the mid-70s when it took a hard left turn into adult-themed fare. Fortunately, in 1993, the theater underwent another revival to become the music venue it is today.
Next to the Aladdin is the bar and lounge, aptly called The Lamp. Guests are encouraged to imbibe here before shows, as the Lamp is only open on concert nights. You can also get food here – a mix of Mediterranean and Middle-Eastern classics such as hummus, falafel, and labneh.
Aladdin Theater – 3017 SE Milwaukie Ave
Edelweiss Sausage and Deli
If you know where to look, you can find some incredible German spots in Portland. While there isn't a substantial German population here, places like Edelweiss are about as authentic as you can get. The deli opened in the early 80s and has since become one of the premier European-style markets in southeast Portland. The original owner, George Baier, moved to the Pacific Northwest with his skills as a butcher and sausage maker. Edelweiss is still a family-owned business, as George passed on his knowledge to his two sons, Tom and Tony.
Here can find a variety of European products on display, such as Milka bars, Bavarian sauerkraut, and Kinder chocolates. The deli also makes German-style bread in addition to its high-quality sausages. If you're in the mood for sausage, they have everything you could want. Bratwurst, bierschinken, andouille, braunschweiger, and even blood and tongue (for the old-world enthusiasts). They also specialize in black forest turkey and ham, which you can get on a freshly-made sandwich.
Edelweiss Sausage and Delicatessen – 3119 SE 12th ave
The Place
Although Portland is well-known for its craft breweries, the city is also becoming home to more and more cider houses. Thanks to the climate of the Pacific Northwest, growing cider-ready apples and other fruits is relatively easy. The Place is a cozy cider bar tucked away off of Powell blvd. Its minimalist storefront is representative of their offerings – nothing fancy, just authentic.
The Place focuses on hard, dry ciders, so if you're a fan of sweet and bubbly drinks, you might not find what you're looking for. They do offer sweeter varieties, but the vast majority of their ciders are an acquired taste. The Place also sells natural wines – wines that have not been treated with chemicals or other processing techniques. If you want a taste of the old-world, natural wine is an excellent way to do that.
Here you can buy cider and wine by the bottle or get it served to you. The Place also has a limited food menu so you can soak up the alcohol and enhance the flavor of your cider. However, considering that Edelweiss is across the street, you may want to head over there for a bite to eat after drinking.
The Place Cider Bar – 1212-D SE Powell Blvd.
La Carreta Mexican Restaurant
When it comes to Mexican places in the Portland/Metro area, there are two distinct varieties – Americanized Mexican, and traditional. La Carreta is firmly on the Americanized side, which means plates come with flour tortillas, sour cream, and mild spices. However, what sets La Carreta apart from other Mexican restaurants is its atmosphere and music venue. As soon as you enter the restaurant, you're greeted with a warm and friendly vibe. The tables and decor all have a distinctly "hacienda" feel to them, adding to the vibrant motif.
Another reason to stop into La Carreta is its remarkable happy hour. Cheap margaritas and Mexican staples flow from the bar and kitchen, making this a choice destination for friends and family alike. The restaurant has been around for 30 years now and has become a southeast Portland landmark. It's impossible to miss it as you're driving down McLoughlin blvd, so next time you're in the area, be sure to stop in for a drink and a bite.
La Carreta Mexican Restaurant – 4534 SE McLoughlin Blvd
Pizza Doughnais
If you're a pizza lover, then you know that the dough used is just as important as any toppings. Fortunately, you can avoid that "pizza hangover" by stopping into Pizza Doughnais (dough-nay). This pizzeria has only been around for a few years, but it's already making waves thanks to its artisan-crafted dough. The name stems from the owners, Justin and Jessica Donais.
The couple shares a passion for pizza, notably the square-slice style of Sicily and the other Brooklyn neighborhood in New York. What sets their dough apart is that they used freshly milled grains and bake it at peak fermentation. Each slice is soft and delicate without being too chewy or tough. It's hard to describe in writing though, you'll have to try it for yourself. Pizza Doughnais serves the classics, along with specialties like garlic clam and potato bacon pizza.
Pizza Doughnais – 3541 SE Milwaukie Ave
Brooklyn Neighborhood Parks
One of the most notable natural features of the Brooklyn neighborhood is Ross Island. The island isn't open to the public, as it's used as both a nature reserve and a resource for the Ross Island Sand and Gravel Co. The shape of the island is incredible, as it looks more like an atoll, curving around the sides with an inlet in the middle.
Fortunately, Brooklyn residents have access to several parks within the neighborhood's borders. One of the biggest is Powell Park, which sits adjacent to Cleveland High School. The park is used for picnics, sports games, and hiking.
Brooklyn Neighborhood Community Resources
Brooklyn Neighborhood Association
Brooklyn Neighborhood Schools
Brooklyn Neighborhood Vibe
Brooklyn could easily be all things to all people: a laid back family-oriented neighborhood, old trees and kids playing in the streets. From traditional, to modest, to funky, to fun, the Brooklyn neighborhood character is evident nearly everywhere you look.
Stats
Zip Code 97202
Brooklyn Neighborhood Real Estate
Homes run the gamut of 20th-century architecture, from classic Bungalow to Old Portland, to Cape Cod, Four Square and more.  You'll also find new construction condos and apartments scattered around the area.
If you are interested in buying or selling a home in this Portland neighborhood, visit our Portland Real Estate Page for more information, or visit our Portland Real Estate Map to search the RMLS for neighborhood homes for sale.
Click here to search all Brooklyn Neighborhood homes for sale.
To learn about the Portland real estate market, we recommend this local Portland-based, top 100 real estate blog in the world.
If you are interested in buying a home in Portland, we recommend meeting up with these top 1% Portland buyer's agents, or if you are considering selling a home we recommend these top 1% Portland seller's agents. Visit our Portland Real Estate Page for more information.
Southeast Portland Neighborhood Map
Click any neighborhood

Check out more Portland Neighborhoods
Go back to the full list of Portland neighborhoods.