Concordia Neighborhood Guide
Concordia is located in Northeast Portland. It is bordered by the Alameda, Sabin, Vernon, Woodlawn, Sunderland, Cully, and Beaumont-Wilshire neighborhoods.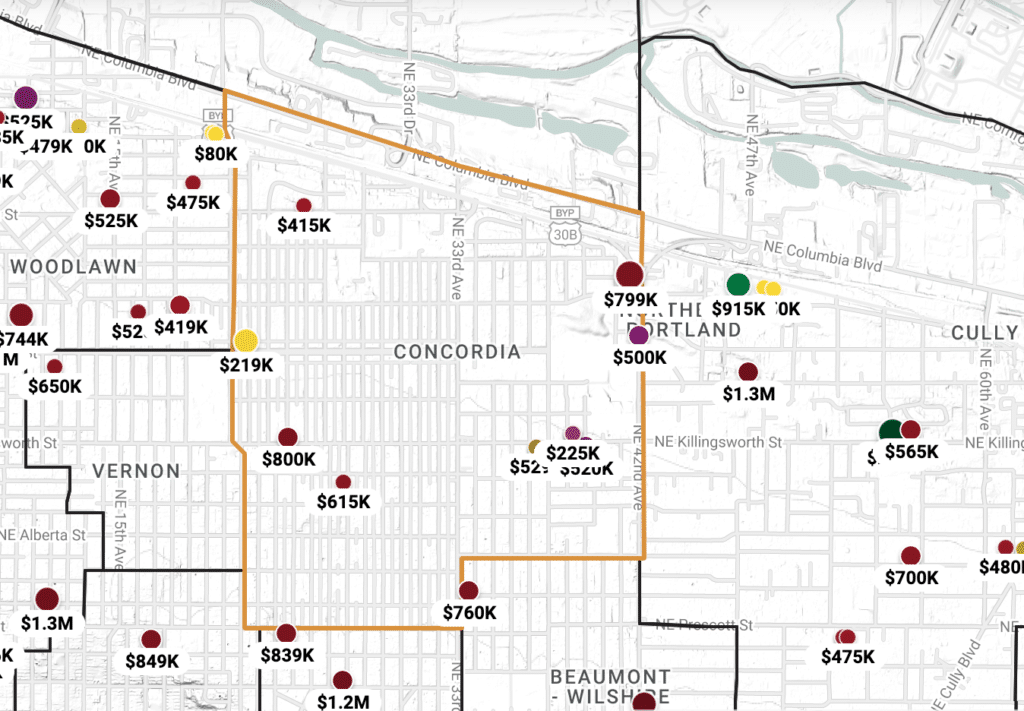 Click the image to see a fully searchable Concordia neighborhood map, including all homes for sale.
Features of the Concordia Neighborhood
Concordia has earned the honor of being one of Portland's most diverse neighborhoods, as well as being a locus for the arts, thanks to the location of Alberta Arts District within its boundaries. Concordia is also home to one of the McMenamins much-loved venues, Kennedy School, and the namesake for the neighborhood was Concordia University, a well-respected liberal arts college, built in 1905.
Concordia University / UO Portland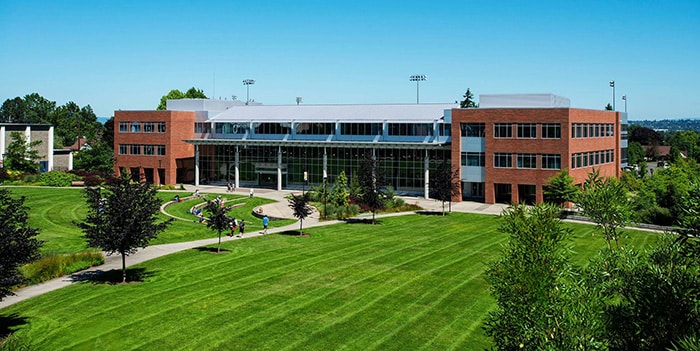 Many of the names of Portland neighborhoods are significant. They can either refer to a founding member of the city's elite, or have a connection to the city's history. In Concordia's case, the neighborhood was named after this university, which was founded in 1905.
In 2020, the university decided to terminate classes permanently. The building and 19-acre campus were bought by the UO and funded by Connie and Steve Ballmer. With plans to open in the fall of 2023, the institution will now be called UO Portland, the new location for a children's behavioral health program.
Alberta Arts District
The Alberta Arts District in Northeast Portland is located along NE Alberta Street and runs through the Concordia neighborhood as well as Vernon and King neighborhoods. "Alberta" by name, is not technically recognized as a standalone neighborhood but is often considered a district.
To check out the wonderful shops and restaurants the Alberta Arts District has to offer, visit our district page by clicking the image below.


Concordia Neighborhood Businesses of Note
Much of the action in the Concordia neighborhood can be found on Alberta Street. However, you'll find plenty of worthy businesses to frequent and support. Here are some of the gems to discover when you visit.
Aladdin's Cafe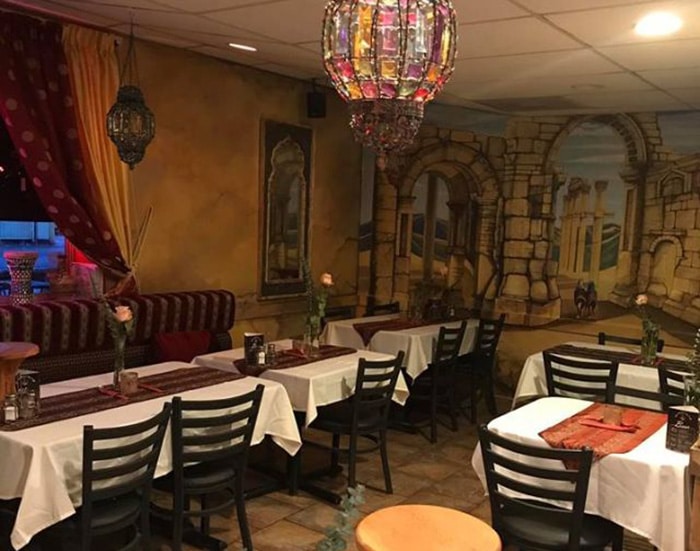 While you might not assume that Portland has much in the way of a Middle-Eastern scene, the ones that do exist boast exceptional quality. This is true for Aladdin's Cafe, which specializes in Syrian, Lebanese, and Mediterranean food. So, you can find plenty of hummus pita bread, and falafel on the menu. Although, there is much to nosh on during your visit, and the selection changes throughout the year.
Aladdin's Cafe mostly serves the classics, including Mezza plates, Baba Ganouj, Tabouli, gyros, Labneh, and more. Everything is fresh and bursting with flavor—you will never have a bland meal here. Aladdin's is also excellent for vegetarians, since there are plenty of options on the menu. This spot is perfect for groups, as the environment is always friendly and accommodating.
Aladdin's Cafe PDX—6310 NE 33rd Ave
McMenamin's Kennedy School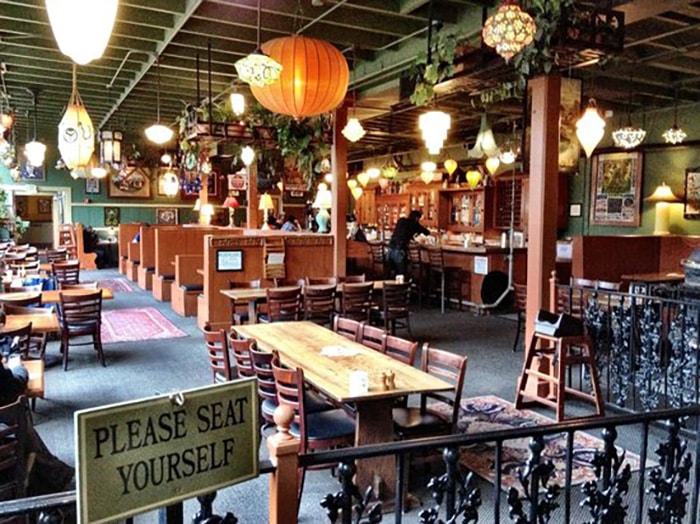 We have written about McMenamin's restaurants extensively in multiple neighborhood guides before, but each one is unique, deserving to be showcased. The Kennedy School is one of the most vibrant and exciting venues in Portland, and it contains a restaurant, movie theater, hotel rooms, and let's not forget the salt water soaking pool.
As the name implies, this McMenamin's used to be a functioning schoolhouse. The structure is still intact, and you get an educational vibe as soon as you enter. The rooms are converted from old classrooms, and the whole place has a lovely historical feel.
Speaking of history, the school opened in 1915. At the time, the area was mostly undeveloped, and the building's location was relatively remote for students (for the time). The first year, only 29 children attended classes.
Over the years, Kennedy became more than a schoolhouse and acted as a town center of sorts. However, during the infamous 70s Slump in Portland, the building had to shut its doors permanently.
Fortunately, McMenamins bought the old structure and renovated it into this funky hotel/restaurant. The new and improved Kennedy School reopened in 1997, and it has been delighting guests ever since.
McMenamin's Kennedy School—5736 NE 33rd Ave
Concordia Ale House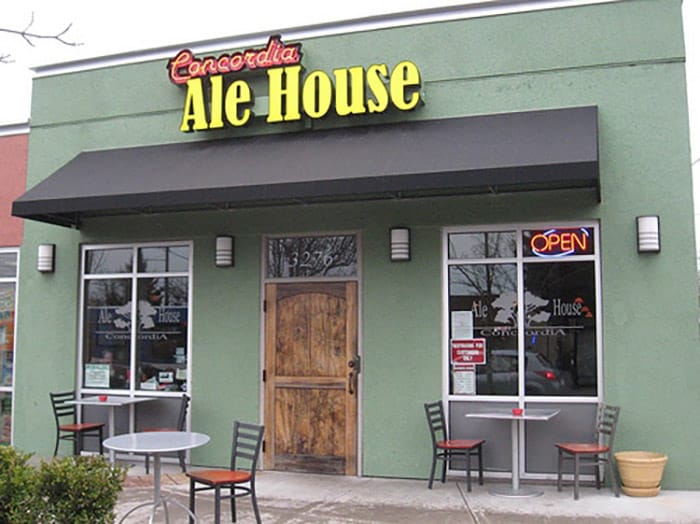 Although every Portland neighborhood has its local watering hole, Concordia is lush with bars, taverns, and taphouses. However, if you want to get away from the Alberta Street crowds, we highly recommend Concordia Ale House. This spot is a classic dive bar (minus the dive part), and it offers a clean, breezy respite from the rigors of everyday life.
As with most bars in Portland, Concordia Ale House is an excellent place to knock a few back with friends and watch a game. The menu here is also above average, with items like street tacos, pulled pork sliders, chicken flautas, and a good list of signature burgers and sandwiches. What helps set Concordia's menu apart is its two-dollar Tuesdays, a great time to head in and sample from their 30 rotating draft beers and 120 bottle beers, all available every day. They also have a full bar which an impressive liquor selection.
Also always on the menu at Ale House is entertainment. More specifically, football, basketball, baseball, and soccer, all from their big screen TVs. They also offer pinball, Keno, video poker, and video games, altogether making this a venue well worth your attention.
Concordia Ale House—3276 NE Killingsworth St
Wilder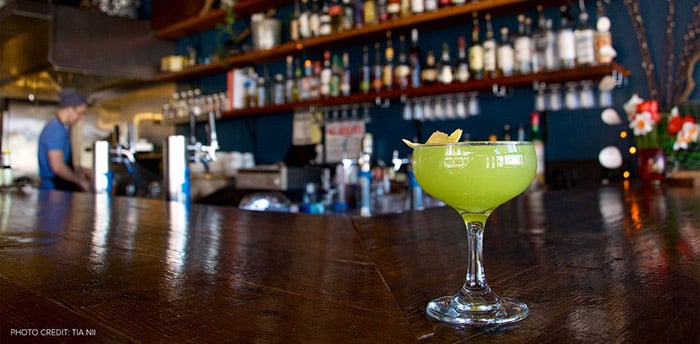 As we mentioned, Concordia has more than its fair share of pubs and ale houses, which run the gamut from hole-in-the-wall to elegant and chic. Almost ironically, Wilder is on the refined end of the spectrum, with its name referring to its menu more than its atmosphere.
When it comes to drinks, the resident mixologists are crafting culinary cocktails that will dance across your tastebuds with glee. The cocktail menu changes regularly, so be sure to come back to see what's new at Wilder.
As far as food goes, you're also in for a delight. Highlights include a beet and citrus salad and chilled soba noodles. The old standby is the Wilder Burger, and there's also a veggie burger for non-meat eaters. Even the appetizer menu is elegant, with seasoned fries and Duck Confit Rillettes, for example. Bon appetite, indeed.
Wilder—5501 NE 30th Ave
Yakuza Lounge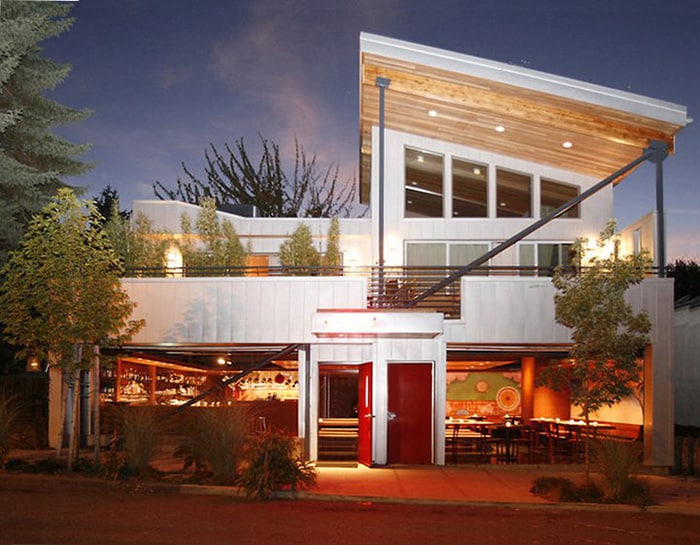 Usually, when someone mentions the Yakuza, images of tattooed gangsters come to mind. However, according to the founders of this venue/restaurant, the Yakuza began as a coalition of outcasts and misfits—perfect for Portland's funkadelic atmosphere.
Things will be changing at Yakuza in the near future. While it will still be in business, the location will change to the old Nonna storefront in the same block, and it will be called Yakuza Ghost. And the menu has changed a bit. In a similar vein, you'll be able to fill up on sushi rolls. You can also choose from the Yakuza Burger, the Yakuza Burger Bowl, and the Chicken Karaage. For libations, you'll have a choice of beer or sake or wine a nice list of inventive craft cocktails.
Beyond the restaurant, Yakuza also (still) rents cozy rooms. There are only a couple to choose from, but they are well-maintained and perfect for couples or individuals. There is even a Japanese garden to help guests find their Zen.
Yakuza Lounge—5515 NE 30th Ave
NEPO 42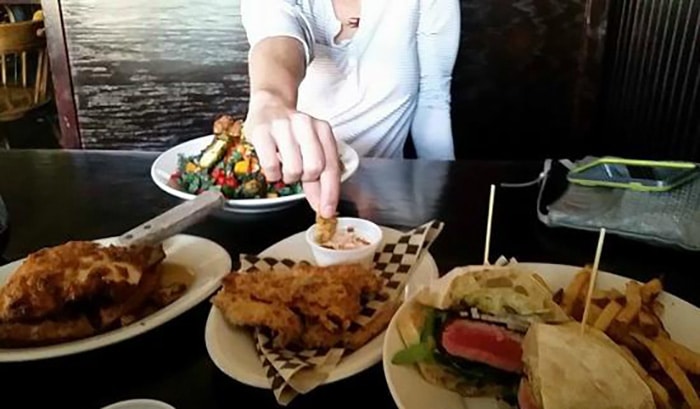 While Concordia Ale House is considered a "taproom," and Wilder could be called a hipster bar, NEPO 42 bills itself as "Northeast Portland's Living Room." In fact, that's where it gets its name, which is a portmanteau of Northeast Portland and 42nd Ave.
The atmosphere here is chill and friendly, with plenty of good vibes to go around. Whether you're flying solo or have a couple of friends in tow, NEPO 42 is an excellent place to drink a pint and relax. The bar also serves plenty of cocktails, including a few signature ones. The happy hour here is decent, and the menu is full of faves. While the selection of food is limited, you're sure to find something that hits the spot. For example, how about some Barnyard Fries with pulled pork and bacon, shrimp tacos, or a piping hot bowl of smoked tomato soup?
NEPO 42—5403 NE 42nd Ave
Oakshire Beer Hall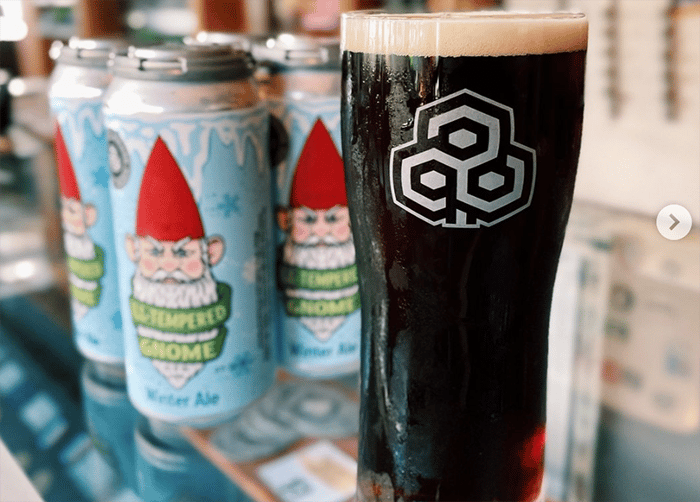 Based in Eugene, Oregon since 2006, Oakshire has a beer hall in Portland! It features 26 taps of their luscious beers, which are made in Eugene and delivered fresh to Portland. The best way to experience what Oakshire Beer Hall has to offer is to come back again and again—some of their brews, you'll only find here at the beer hall.
Oakshire also serves ciders, seltzers, and wines, along with juices, sodas, and kombuchas all from our city and state. And as far as food goes, you'll find personal-sized square pan pizzas, cheesy breadsticks, and fresh salads via Brewfare. You can also order from Sure Shot Burger on the Beer Hall's patio Wednesday-Saturday. Or check out their neighbors, Sorbu Paninoteca (Tuscan comfort food) and Pizza Jerk for even more options. Eat in-house or place an order to go.
Oakshire Beer Hall—5013 NE 42nd Ave
Miss Zumstein Bakery and Coffee Shop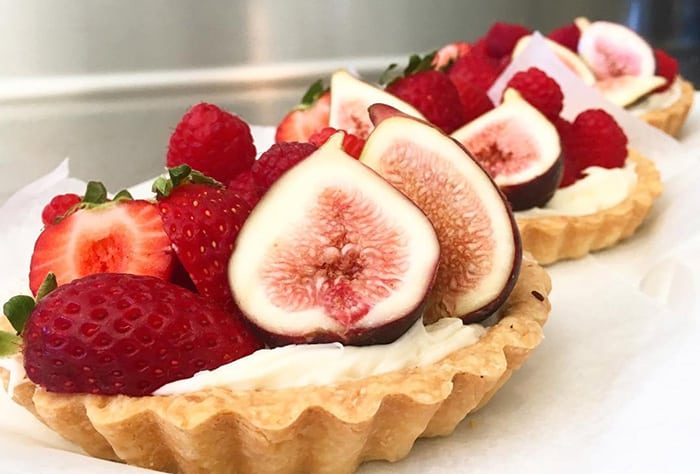 Serving Portland since 2007, Miss Zumstein's creates and vends high-quality classic American recipe seasonal cakes, cookies, and desserts with a twist. Visit their brick-and-mortar location and enjoy sweet and savory treats with satisfying Extracto coffee.
If you have a special occasion coming up, keep Miss Zumstein's in mind. They make a variety of layered cakes sure to satisfy your tastebuds and guests. A few examples to pique your interest: Banana Cream Cake, Lemon Poppy Seed Cake, Hazelnut Sponge Cake, and Chocolate Buttermilk Cake.
And if you're looking for a new hot sauce to try, Miss Zumstein's also has their own: El Ray. And what's the connection between pastries, cakes, and hot sauce you might ask. It's the perfect addition to their breakfast burritos and quiches, or your very own dishes you make at home.
Miss Zumstein Bakery and Coffee Shop—5027 NE 42nd Ave
YUI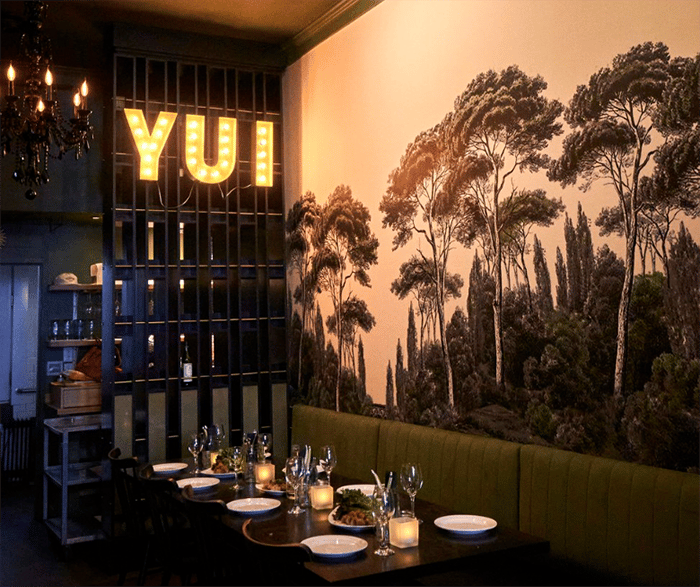 YUI is a nickname the restaurant owner's mother gave her when she was very young. It means "chubby cheeks." A precious and endearing memory from her life with her mother, who helped her learn how to cook many of the delicious fare you'll find here, she folded it into the creation of the restaurant as a reminder.
YUI offers authentic Thai cuisine, using the same ingredients found in Thailand whenever possible. For dishes that require ingredients not available here in Portland, YUI uses alternative options to create unique and delicious recipes. Organic and free-range are also on the menu. Treat yourself to YUI's soothing environment for an experience you won't forget. Start off with an order of Sakoo (a tapioca dumpling filled and drizzled in goodness). Move on to a soup (Tom Yum, made with a lemongrass, galanga, and lime leaf broth) or a salad (Mango Shrimp). Then give the noodle dishes, stir fries, or curries a try. YUI also serves beer, wine, and cocktails.
YUI—5519 NE 30th Ave
Gabbiano's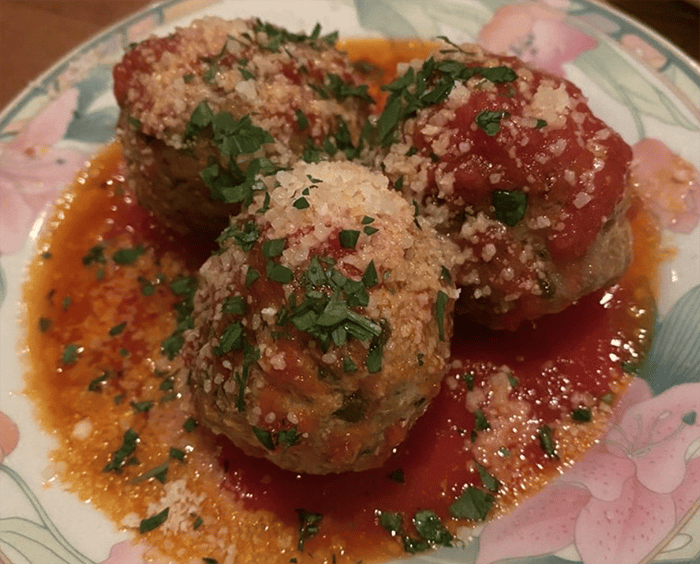 A newcomer to Concordia neighborhood, Gabbiano's serves all their dishes family style, so plan on getting generous portions when you come here to eat.
Starters consist of options like bruschetta, marinated olives, and salad with fennel. Savor some eggplant or chicken parmesan, whitefish piccata, or classic red sauce spaghetti. In terms of drinks to accompany your meal, of course, you'll find wine and beer, as well as zero-proof drinks. If you're feeling adventurous, try a Negroni Caprese—a magical concoction of gin, tomato campari, and basil vermouth; an Old Fashion Italian Suit—a wonderful mixture of rye, amaretto, and orange oil brown sugar syrup; or a Neat-o-Venito—a refreshing combination of aperol, grapefruit liqueur and juice, cherry, white wine, and sparkles.
This popular spot fills up early, and they don't take reservations, so plan, plan, plan! You can always park yourself at the bar and enjoy a drink or two while you wait.
Gabbiano's—5411 NE 30th Ave
Expatriate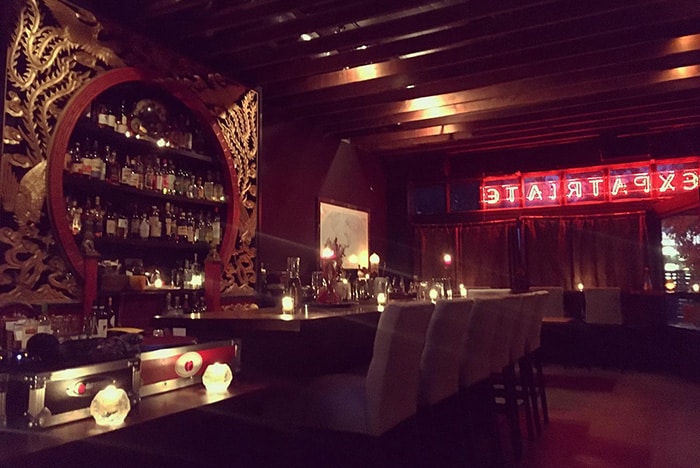 Want a truly unique experience? Check out Expatriate. It's got a hip vibe, with a black walnut bar and Asian touches throughout. Enjoy bites from around the world… The American Standard is a two-burger plate with all the dressings and fries. The Expatriate Nacho features fried wonton chips combined with spicy lemongrass beef, thai chili cheese sauce, and more mouthwatering ingredients. The Shrimp Toast is made with herbs, daikon salad, and ginger soy sauce.
To fully enjoy your food, sample Expatriate's selection of wines, beers, and sakes. Or order from their list of tasty, creative handcrafted cocktails: Zenith, Mirage, Relic, or Vendetta, to name a few.
Feeling the call to wanderlust but can't or don't want to leave the country? A night at Expatriate just might give you what you're looking for.
Expatriate—5424 NE 30th Ave
KISS Coffee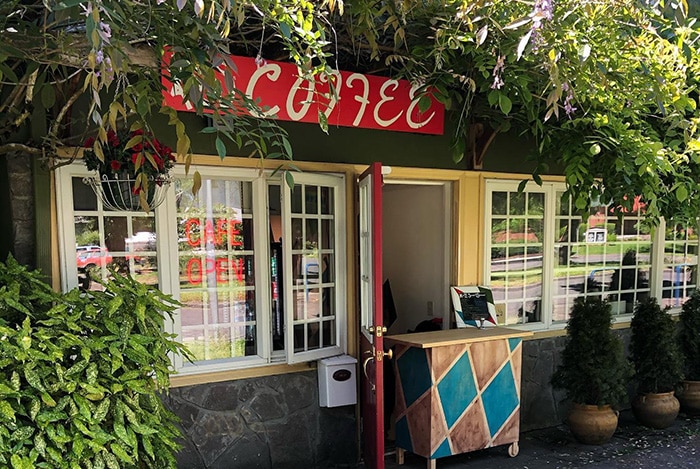 Keep It Sweet and Simple. That's what KISS Coffee is all about. They use fresh, rotating, seasonal ingredients. Opened in 2019, KISS gained a lot of support from the community and has grown from their walk-up ordering cart to a space next door where you can sit and enjoy your food and drinks. They also have outdoor seating for those who want to revel in the fresh air and hang out with their pups.
As you might expect, regular and cold brew is available, along with espresso drinks, teas, milks, and Italian sparkling soda. KISS also offers breakfast and lunch all day long, along with house-made pastries. Omelettes, breakfast burritos, and bagel sandwiches fill the menu. For lunch, grab a grilled panini, and when your sweet tooth needs some attention, dig in to their delicious muffins, scones, and brownies—or how about a vegan pound cake?
KISS Coffee—3016 NE Ainsworth St
Bless Your Heart Burgers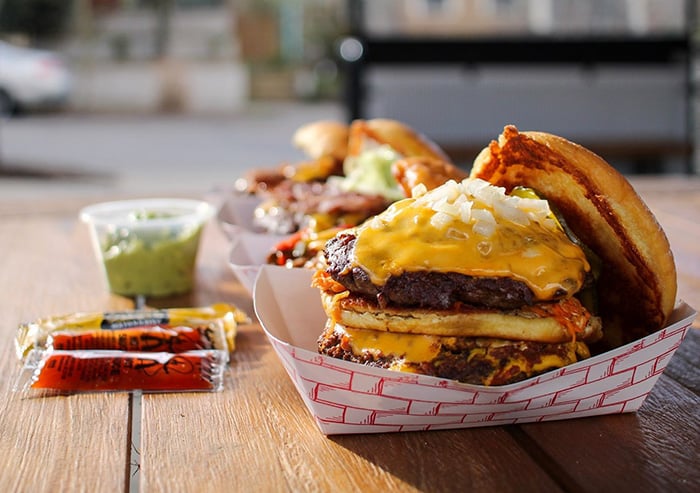 If you're a fan of burgers and hot dogs, you'll want to check out Bless Your Heart Burgers. In Concordia since 2019, this chill eatery dishes up fat stacks of burgers with all the fixings you love and crave, plus a few extras: zucchini pickles, Texas Pete's hot sauce, spicy mayo, and fried jalapenos.
Same goes for Bless your Heart's hot dogs—loads of luscious toppings: peppers, mushrooms, beer cheese sauce, griddled onions, ranch… and more. If you mouth is watering, that's no surprise. And this doesn't even touch on the sides, drinks, and sweets you can get to complement or finish off your meal. The Down and Dirty Fries have a ton of fixings thrown on, and drinks include a good list of soft drinks, beer, and cider. And for dessert, grab a soft serve ice cream, house made brownie, or a soda float.
Bless Your Heart Burgers—5410 NE 33rd Ave
Santo Domingo Taqueria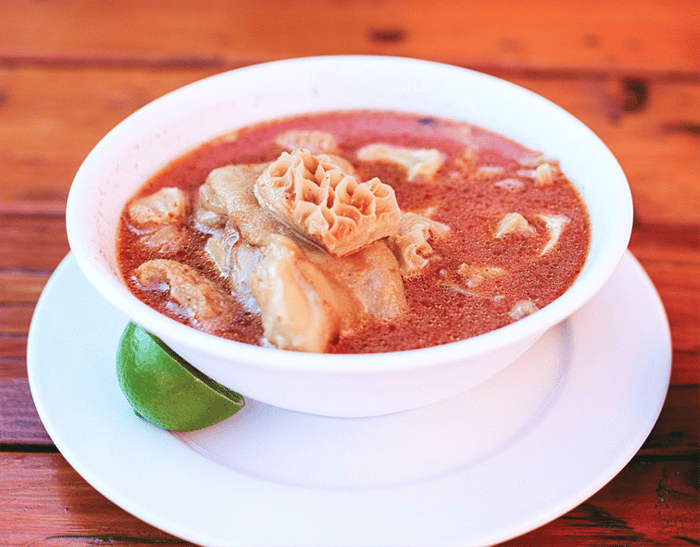 Redefined Mexican cuisine. That's what you'll find at Santo Domingo Taqueria. Owners Gloria and Abraham have been satisfying hungry Portlanders with delicious Oaxacan food since 2006 years after coming to the U.S. to work in housekeeping and the fields of California and Oregon. All for the American Dream and to help their family back home.
The focus at Santo Domingo is to provide high-quality service to go along with their high-quality food, all created with local ingredients and healthy options. Their menu is extensive, which means you'll want to make multiple trips back to sample all their mouthwatering menu items. From breakfast dishes, burritos, tacos, and tortas to quesadillas, nachos, and main dishes—like their wide variety of plates—along with plenty of vegetarian choices, you're sure to find something to satiate your hunger pangs while you sip on a margarita.
Santo Domingo Taqueria—5447 NE 42nd Ave
Other Concordia Neighborhood Businesses of Note
Concordia is full of worthy businesses, many of which were not highlighted above. Between those below and those located in the Alberta Arts District, also located within Concordia neighborhood, you'll never be at a loss for a quality spot to treat yourself to a delicious meal and drinks.
Concordia Neighborhood Parks
Fernhill Park—A 24-acre site offering an off-leash area for dogs, plus picnic tables, a playground, and ball fields.
Alberta Park—While not officially within Concordia neighborhood, Alberta Park runs right up against its western boundary. The park comprises 16 acres of space for picnicking, hiking on paved and unpaved paths, sports fields and a basketball court, and a Nature Patch, featuring forest plantings and a gravel path, with a focus on improving the habitat for birds and other native pollinators.
Concordia Neighborhood Community Resources
Concordia Neighborhood Association
Concordia Neighborhood Schools
K-8—Faubion School
High School—Jefferson High School and Leodis V. McDaniel High School
Concordia Neighborhood Stats
Zip Code 97211
Concordia Neighborhood Vibe
Edgy, fun, and creative, this area of Northeast Portland has seen a resurgence The homes come in many styles, and gentrification has hit this area with a mix of results. Many homes have been revitalized and improved. This is a charming neighborhood with plenty of shopping, dining, and other amenities.
Friends We've Lost (business closures)
Ichiza Kitchen—Asian spot that offered vegan noodle dishes and small plates, plus sake and teas, in cozy, modern surrounds. Moved to SW Portland, now closed permanently.
Concordia Neighborhood Real Estate
Portland bungalows, four square and Craftsman-style homes can be found in this older Northeast neighborhood. The area is being refurbished and many homes are being restored to original character and charm, with many artsy details. The popular shopping and dining strip along Alberta Street makes this an easy neighborhood for convenience and livability.
Click here to search all Concordia neighborhood homes for sale.
To learn about the Portland real estate market, we recommend this local Portland-based, top 100 real estate blog in the world.
If you are interested in buying a home in Portland, we recommend meeting up with these top 1% Portland buyer's agents, or if you are considering selling a home we recommend these top 1% Portland seller's agents. Visit our Portland Real Estate Page for more information.
Northeast Portland Neighborhood Map
Click any neighborhood.

Check Out More Portland Neighborhoods
Go back to the full list of neighborhoods in our Portland Neighborhood Guide.