Concordia Neighborhood Guide
Concordia is located in Northeast Portland. It is bordered by the Alameda, Sabin, Vernon, Woodlawn, Sunderland, Cully, and Beaumont-Wilshire neighborhoods. Also, check out the Alberta page for additional information on this neighborhood.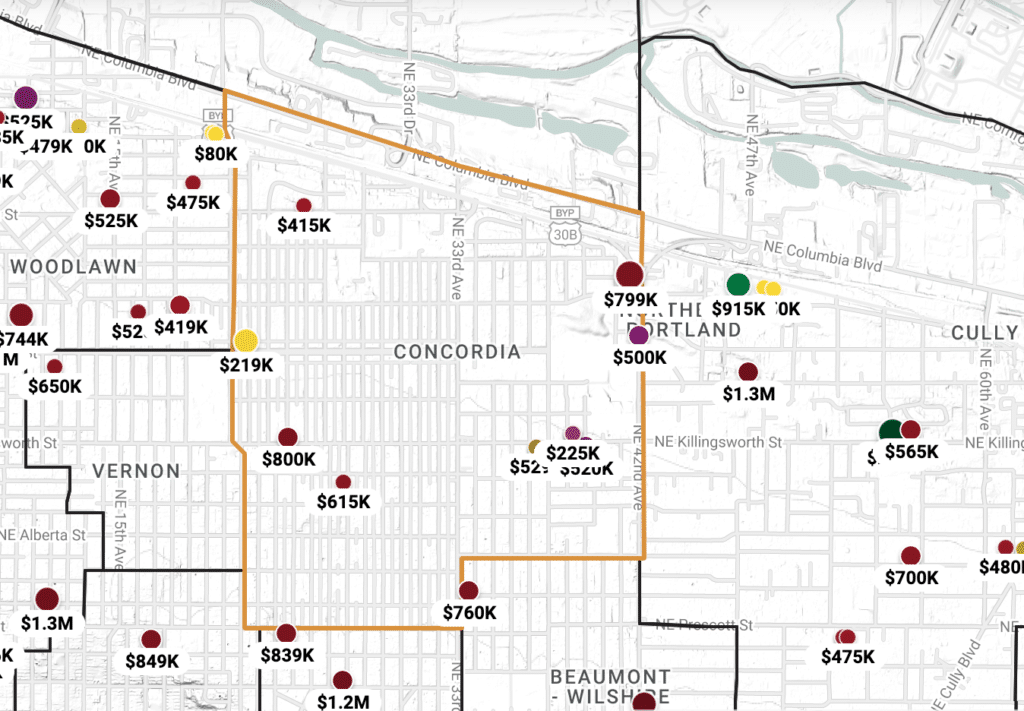 Click the image to see a searchable Concordia Neighborhood Map, including all homes for sale.
Features of the Concordia Neighborhood
Concordia University
Many of the names of Portland neighborhoods are significant. They can either refer to a founding member of the city's elite, or have a connection to a historical aspect. In Concordia's case, the neighborhood was named after this university, which was founded in 1905.
Concordia is a Christian college, which started as a way to teach pastors and teachers for the Lutheran Church-Missouri Synod. Over the decades, it grew into a prestigious university, opening to public students in 1977. Concordia has expanded to another location in Beaverton, as well as one in Boise, Idaho.
Unfortunately, in 2020, the university decided to terminate classes permanently. While the structure is still up for sale, this news marked the end of a century-spanning area. The land reverted back to the Synod, and plans are still being developed for its future.
Alberta Arts District
The Alberta Arts District in Northeast Portland is located along NE Alberta Street and runs through the Concordia neighborhood as well as Vernon and King neighborhoods. "Alberta" by name, is not technically recognized as a standalone neighborhood but is often considered a district.
To check out the wonderful shops and restaurants the Alberta Arts District has to offer, visit our district page by clicking the image.


Concordia Businesses of Note
Technically speaking, all of the action in the Concordia neighborhood can be found on Alberta Street. However, since that area has its own page, we will be looking at some of the other highlights that you can find in this area. The primary hotspots are along 33rd St. and Killingsworth Ave. Even though Alberta gets all of the press, Concordia has plenty more to offer. Here are some of the gems to discover when you visit.
Aladdin's Cafe
For the most part, you wouldn't assume that Portland has much in the way of a Middle-Eastern scene. However, while these restaurants are few and far between, the quality is exceptional at all of them.
Aladdin's Cafe specializes in Syrian, Lebanese, and Mediterranean food. So, you can find plenty of hummus pita bread, and falafel on the menu. Although, there is much to nosh on during your visit, and the selection changes throughout the year.
Aladdin's Cafe mostly serves the classics, including Mezza plates, Baba Ganouj, Tabouli, gyros, Labneh, and more. Everything is fresh and bursting with flavor – you will never have a bland meal here. Aladdin's is also excellent for vegetarians, since there are plenty of options on the menu. This spot is perfect for groups, as the environment is always friendly and accommodating.
Aladdin's Cafe PDX – 6310 NE 33rd Ave.
McMenamin's Kennedy School
We have written about McMenamin's restaurants extensively in multiple neighborhood guides before, but the great thing about these places is that they are all unique. The Kennedy School is one of the most vibrant and exciting venues in Portland, and it contains a restaurant, movie theater, and hotel rooms.
As the name implies, this McMenamin's used to be a functioning schoolhouse. The structure is still intact, and you get an educational vibe as soon as you enter. The rooms are converted from old classrooms, and the whole place has a historical feel to it.
Speaking of history, the school opened in 1915. At the time, the area was mostly undeveloped, and the building's location was relatively remote for students (for the time). The first year, only 29 children attended classes.
Over the years, Kennedy became more than a schoolhouse and acted as a town center of sorts. However, during the infamous 70s Slump in Portland, the building had to shut its doors permanently.
Fortunately, McMenamins bought the old structure and renovated it into this funky hotel/restaurant. The new and improved Kennedy School reopened in 1997, and it has been delighting guests ever since.
McMenamin's Kennedy School – 5736 NE 33rd Ave.
Concordia Ale House
Although every Portland neighborhood has its local watering hole, Concordia is lush with bars, taverns, and taphouses. However, if you want to get away from the Alberta Street crowds, we highly recommend Concordia Ale House. This spot is a classic dive bar (minus the dive part), and it offers a clean, breezy respite from the rigors of everyday life.
As with most bars in Portland, Concordia Ale House is an excellent place to knock a few back with friends and watch a game. The menu here is also above average, with items like street tacos, spicy cheese curds, Korean-style popcorn shrimp, loaded fries, and fish and chips.
What helps set Concordia's menu apart is its dollar menu, which is offered everyday from 5 to 8 p.m. You can get a burrito, chili dog, burger, or taco, all for a buck (individually, that is). The bar has daily specials, and it hosts a happy hour every weekday. What else do you need?
Concordia Ale House – 3276 NE Killingsworth St.
Ichiza Kitchen
If you are a vegan, then you should already know that Portland is a paradise for anyone who avoids meat and animal products. Part of what makes the city so great for vegans is that they have plenty of options when choosing cuisine. Ichiza Kitchen offers pan-Asian dishes that are both succulent and completely animal (and GMO) free.
The menu is relatively limited, with a selection of buns, wontons, and bowls. Each dish is delicious enough that a meat-eater likely won't know the difference or care. Beyond food, Ichiza also offers a unique selection of teas and sake to help sate your thirst.
Ichiza Kitchen – 5411 NE 30th ave
Wilder
As we mentioned, Concordia has more than its fair share of pubs and ale houses, which run the gamut from hole in the wall to elegant and chic. Almost ironically, Wilder is on the refined end of the spectrum, with its name referring to its menu more than its atmosphere.
When it comes to drinks, the resident mixologists are crafting culinary cocktails that will dance across your tastebuds with glee. The cocktail menu changes regularly, so be sure to come back to see what's new at Wilder.
As far as food goes, you're also in for a delight. Highlights include Basque fried chicken and braised pork frites. The old standby is the Smash Burger, which can come with or without meat. Even the appetizer menu is elegant, with seasoned fries and crudités available for noshing. Bon appetite, indeed.
Wilder – 5501 NE 30th Ave.
Yakuza Lounge
Usually, when someone mentions the Yakuza, images of tattooed gangsters come to mind. However, according to the founders of this venue/restaurant, the Yakuza began as a coalition of outcasts and misfits – perfect for Portland's funkadelic atmosphere.
Although Yakuza has been around for several years, it recently changed hands to become part of Ichiza Kitchen. Yakuza isn't adopting Ichiza's all-vegan menu, however, so fans of sushi and other meat dishes can breathe a sigh of relief.
Beyond the restaurant, Yakuza also rents cozy rooms. There are only a couple to choose from, but they are well-maintained and perfect for couples or individuals. There is even a Japanese garden to help guests find their Zen.
Yakuza Lounge – 5515 NE 30th Ave.
NEPO 42
While Concordia Ale House is considered a "taproom," and Wilder could be called a hipster bar, NEPO 42 bills itself as "Northeast Portland's Living Room." In fact, that's where it gets its name, which is a portmanteau of Northeast Portland and 42nd Ave.
The atmosphere here is chill and friendly, with plenty of good vibes to go around. Whether you're flying solo or have a couple of friends in tow, NEPO 42 is an excellent place to drink a pint and relax. The bar also serves plenty of cocktails, including a few signature ones. The happy hour here is decent, and the menu is full of faves. While the selection of food is limited, you're sure to find something that hits the spot.
NEPO 42 – 5403 NE 42nd Ave.
Concordia Parks
Concordia Community Resources
Concordia Neighborhood Association
Schools
Stats
Zip Code 97211
Neighborhood Vibe
Edgy, fun, and creative, this area of Northeast Portland is seeing a resurgence The homes come in many styles, and gentrification has hit this area with a mix of results. Many homes have been revitalized and improved and this is a charming neighborhood with plenty of shopping, dining, and other amenities in the area.
Concordia Real Estate
Portland bungalows, four square and Craftsman-style homes can be found in this older Northeast neighborhood. The area is being refurbished and many homes are being restored to original character and charm, with many artsy details. The popular shopping and dining strip along Alberta Street makes this an easy neighborhood for convenience and livability.
Click here to search all Concordia Neighborhood homes for sale.
To learn about the Portland real estate market, we recommend this local Portland-based, top 100 real estate blog in the world.
If you are interested in buying a home in Portland, we recommend meeting up with these top 1% Portland buyer's agents, or if you are considering selling a home we recommend these top 1% Portland seller's agents. Visit our Portland Real Estate Page for more information.
Northeast Portland Neighborhood Map
Click any neighborhood.

Check Out More Portland Neighborhoods
Go back to the full list of neighborhoods in our Portland Neighborhood Guide