Creston Kenilworth Neighborhood
The Creston Kenilworth neighborhood is located in Southeast Portland. It is bordered by the Brooklyn, Hosford-Abernethy, Richmond, Foster-Powell, Woodstock, and Reed neighborhoods.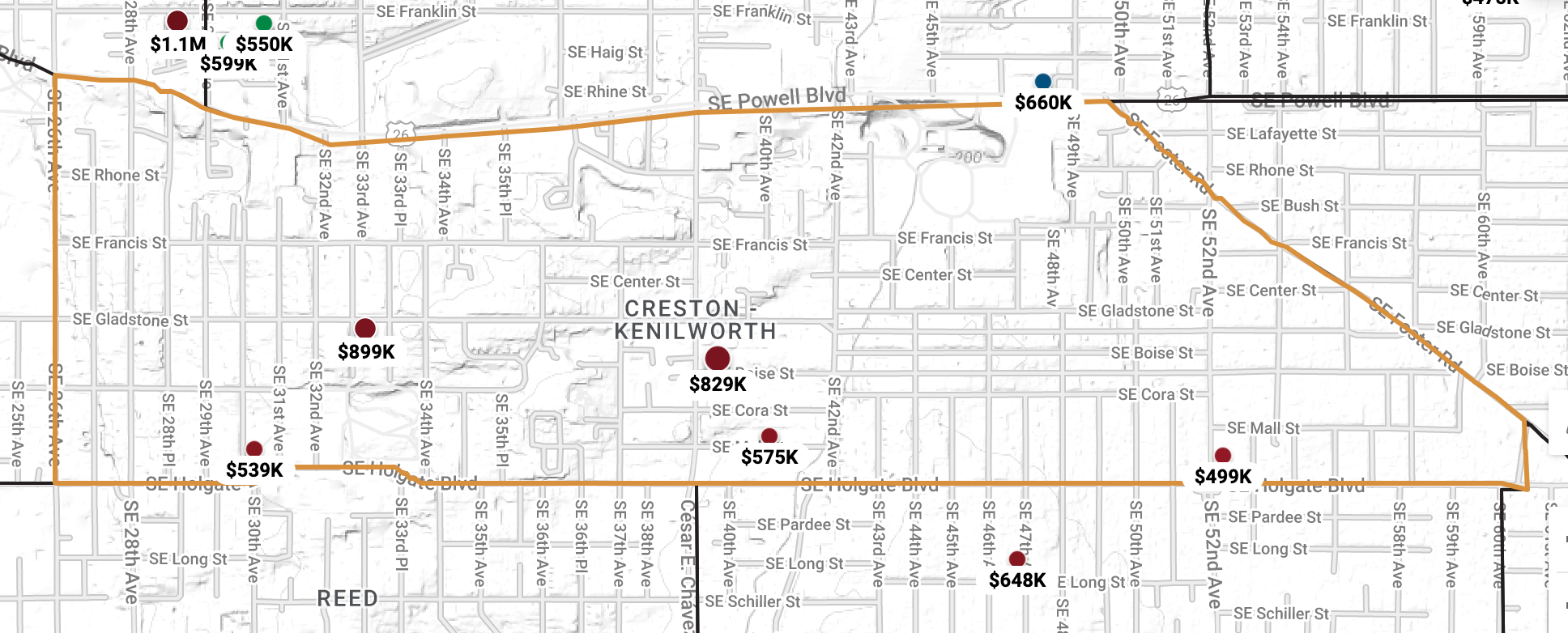 Click the image for a fully searchable Creston Kenilworth neighborhood map, including all homes for sale.
Features of the Creston Kenilworth Neighborhood
The Creston Kenilworth neighborhood is located about a mile east of the Willamette River, in inner southeast Portland adjacent to what is referred to as the Brooklyn Yard. This is one of the oldest areas of Portland and is in a state of constant evolution. The neighborhood is primarily residential with some streetcar-era commercial buildings holding strong and functional.
The Original
Since 1960, if you were to drive down Powell Blvd., you would see the sprawling restaurant called The Original Taco House. Over the decades, this Mexican eatery became something of a landmark in SE Portland, a mainstay that seemed to transcend time and shifting markets. In late 2017, however, the family-owned business shuttered this location for good. No clear reason was given, other than the family not having the spirit to keep it running.
Today, the Original Taco House is now a new development, complete with a marketplace and a food truck pod. The site is lovingly called The Original, as an homage to its former roots. In due time, memories of the Taco House will fade as the presence of New Portland continues its expansion and domination.
John's Marketplace
Oregon residents know that the state has strict laws regarding the sale of liquor. Fortunately, those who like to imbibe have no shortage of places to buy beer and wine. One of the best options is John's Marketplace, which bills itself as a "Portland's Beer and Wine Mecca." With such a vast selection of beverages and brands, you're sure to find one that you'll enjoy. We highly recommend trying some new flavors if you're feeling adventurous. You can easily spend hours browsing the aisles if you're not careful, but fortunately, the knowledgeable staff can help you find what you need.
John's Marketplace – 3560 SE Powell Blvd.
Penny Cakes
When you visit The Original, you'll want to sample the various food trucks that reside on location. However, once you've had your fill of lunch or dinner, you'll need to grab some dessert. Penny Cakes offers a wide selection of triple-tiered cakes, including decadent treats like French almond, Madeline, and Tiramisu. The chef, Penny FitzMaurice, specializes in French baking, so you know that each cake is going to be fluffy and delicious. Penny Cakes also does catering and custom orders, so no matter what you're celebrating, be sure to give her a call.
Penny Cakes – 3582 SE Powell Blvd.
Creston Kenilworth Businesses of Note
Beyond The Original, there are many different places to visit along Powell Blvd. If you go deeper into the neighborhood, Gladstone is another main thoroughfare to find some hidden gems. Although Creston Kenilworth isn't as trendy or hip as other areas, it's up-and-coming. Be sure to keep an eye on this neighborhood and its transformation.
Hopworks Urban Brewery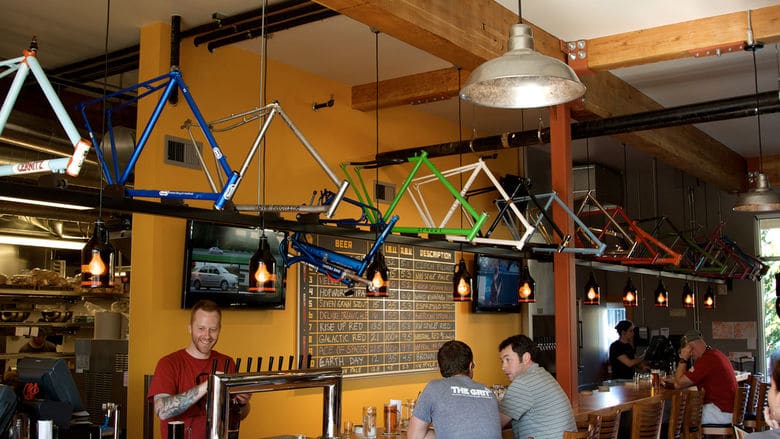 If you live in Portland, you know that sustainability is a significant part of the fabric of the city. Like many other businesses, Hopworks Urban Brewery (or HUB if you're into the whole brevity thing) is committed to living that green life. With a deconstructed building, locally-sourced ingredients, and the first salmon-safe certification, Hopworks certainly has an authentic claim on sustainability.
The Powell pub began in 2007 with brewmaster Christian Ettinger. Ettinger cut his teeth at the Eugene City Brewery and completed courses about brewing, science, and engineering. He's even been awarded the World Beer Cup Champion Brewmaster. So, the pedigree of Hopworks is pretty excellent. This location was the first, and the brewery has since expanded into Vancouver, PDX Airport, and Williams St., although that last location is mostly a beer tent.
As with most other Portland-area breweries, Hopworks specializes in IPAs. The company does seasonal flavors throughout the year, incorporating natural ingredients from the Pacific Northwest. A tasting flight here is like drinking the spirit of Oregon.
Hopworks Urban Brewery – 2944 SE Powell Blvd.
DeNicolas Italian Ristorante
Even as the New Portland wave stretches deep into SE, some businesses are holding onto their roots. Case in point is DeNicolas Italian restaurant, which has been on Powell Blvd. for decades, with no signs of slowing down. While other Italian eateries try to be trendy, DeNicolas maintains that old-school charm. Once you walk in the door, you feel like you just entered a 70s mob movie, but in a good way.
In true Italian fashion, the restaurant is run by the DeNicola family. Recipes have been handed down for generations, and it's apparent in every dish. Whether or not you hail from the old country, eating at DeNicolas is about as close as you're going to get. The decor, the ambiance, the food – they all blend together perfectly. Plus, the menu is a whos-who of Italian favorites, from spaghetti and meatballs to ravioli to lasagna. Each dish is a delight, and they keep you coming back for more.
DeNicolas Italian Ristorante – 3520 SE Powell Blvd.
Favela Brazilian Cafe
Because Portland is such a modern metropolis, you can find all sorts of cuisine here. The city has everything from Chinese to Mexican to Jamaican to Peruvian. However, if you're into Brazilian food, there are only a few spots, and most of them specialize in barbecue. For a different take on Brazilian culture, we recommend the Favela Cafe. This place is more than just a coffee house and eatery – it's a full-service experience.
Beyond eating, Favela celebrates Brazil in various ways. Here you can learn a bit of Portuguese, take some dancing lessons, and hear traditional Brazilian music. This is not a spot to grab and go. Instead, you're encouraged to sit back, relax, and stay awhile. You can partake in a cup of Brazilian coffee, nosh on some snacks (we recommend the fried chicken cone or cheese bread), or grab a cocktail. It wouldn't be a taste of Brazil without a cool caipirinha in your hand.
Favela Brazilian Cafe – 5300 SE Foster Rd.
Unicorn Bake Shop
When it comes to sweets, Unicorn Bake Shop believes that everyone should be able to enjoy them. This new bakery on Gladstone is a testament to Portland's commitment to inclusiveness. When you walk in, you'll be greeted by a delicious aroma of pastries, many of which are vegan and/or gluten-free. Some highlights from the menu include macarons, molasses ginger sandwiches with cinnamon buttercream filling, and the titular unicorn cheesecake cupcake. Even if an item isn't vegan or gluten-free, the bakers are more than happy to whip up a batch on demand.
The selection of cupcakes and macarons changes regularly, so you'll have to come through often to see what's new. The Unicorn Bake Shop also adds a little creativity to each item. For example, the Mermaid Magic cupcake has a mermaid tail coming out, and each Unicorn cupcake comes complete with ears and a horn. Even the macarons are decorated to match the flavor, making them just a little more magical.
Unicorn Bake Shop – 2824 SE Gladstone St.
Gladstone Street Pub
One of the great things about Portland neighborhoods is that most of them have at least one local watering hole. It's always nice to have that one bar you can go to where everyone knows your name, or at least your drink order. The Gladstone Street Pub (aka, The Stone) is that place for Creston Kenilworth residents.
Here is where you can cheer on your favorite team, no matter the season. The Stone is open every day of the year except Christmas, meaning that you could presumably celebrate every holiday, every game, and every celebration here. The beer and food menus are excellent, and Mondays are trivia night. Beyond the chill atmosphere and TVs, The Stone also has cornhole and a dartboard. What more could you ask for?
The Stone Pub – 3737 SE Gladstone St.
Hapa PDX Ramen
In the last few years, Portland has become something of a hot spot for ramen restaurants. While these places are still few and far between, the ones that have arrived are as good as you can find anywhere else. Ramen, in general, is having a bit of a moment right now, as it has come a long way from the food of choice for broke college students.
At Hapa PDX, you can enjoy some of the best ramen bowls this side of the Willamette. What makes ramen special is the broth, and Hapa makes theirs with careful attention to detail. The broth blends with the house-made noodles and other ingredients to create a flavor sensation in your mouth. One bowl might not be enough as you'll be begging for more. As far as menu highlights, we recommend Hapa's signature Tsukemen ramen or the fried chicken curry rice bowl.
Hapa PDX Ramen and Whiskey – 3848 SE Gladstone St.
Parks in the Creston Kenilworth Neighborhood
Creston Kenilworth Community Resources
Schools
Grout Elementary School, Creston Elementary School
Creston Kenilworth Neighborhood Vibe
Creston Kenilworth could easily be all things to all people.  A laid back neighborhood, old trees, and kids playing in the streets. From traditional, to modest to funky and fun; the Creston Kenilworth character is evident nearly everywhere you look.
Stats
Zip Code 97202
Creston Kenilworth Real Estate
This area features classic older East Portland home styles with Old Portland Foursquare, Craftsman, Victorian, and other wonderful designs.
Click here to see Creston Kenilworth Homes for Sale.
To learn about the Portland real estate market, we recommend this local Portland-based, top 100 real estate blog in the world.
If you are interested in buying a home in Portland, we recommend meeting up with these top 1% Portland buyer's agents, or if you are considering selling a home we recommend these top 1% Portland seller's agents. Visit our Portland Real Estate Page for more information.
Southeast Portland Neighborhood Map
Click any neighborhood.