Division and Clinton District Neighborhood Guide
Technically speaking, this area is not a neighborhood per se. However, it's such a diverse and eclectic part of Portland that it deserves its own page. The Division/Clinton district runs through the Richmond and Hosford-Abernethy neighborhoods, but it has a charm all its own. While the borders of this district are not officially marked, they run from 10th avenue on the west side to about 50th ave on the east. As the name implies, SE Division St and SE Clinton St make up its northern and southern border, respectively.

Click the image for a fully searchable Division and Clinton map including all homes for sale.
Division and Clinton Reviews
[wp-review]
Want to add your voice to the reviews? Leave a review.
Features of the Division Clinton District and Street Tour
First and foremost, this district is really long, so don't try to cover all of it in one day. Not only will it be too tiring, but you won't get to enjoy all of the various shops and boutiques along the way. Division is home to most of the notable places on this tour, but Clinton St has a few golden nuggets as well.
Let's begin our tour on the western side of the district, on 10th st. Here is where you'll find a new Portland landmark – Pine State Biscuits. Breakfast is best served on a warm, freshly-baked biscuit, and nowhere is that more apparent than Pine State. Since you'll want to get there early (around 7 am) to avoid the lines, it's the perfect beginning of our tour.
Heading east, we'll run into Apex and Double Dragon, both across the street from each other. You can wet your whistle at Apex with over 50 different beers (cash only, though), and then chow down on a Vietnamese sandwich at Double Dragon. Then it's off to Double Barrel Tavern for some hair of the dog. We'll hook right down to Clinton St, where we'll get a couple of scoops at Fifty Licks Ice Cream. Staying on Clinton for a while, we'll run into Broder Cafe, a Scandinavian eatery. Across from the cafe is the Clinton St Theater, where you can catch the Rocky Horror Picture Show, which has been playing for decades here. Moving back to Division St, we'll come across the Reel M Inn, which, despite the name, is well-known for fried chicken and jojos.
Once we cross 30th street, Division becomes a paradise for Portlanders and visitors alike. We have the Bollywood Theater (actually a delicious restaurant/storefront showing Bollywood films on the wall), Pok Pok, and Blue Star Donuts. Winos will love the next few blocks, as we have the Division Winemaking Company, Oui Wine Bar, and Division Wines, all within a block of each other.
Toward the end of the district (close to 50th ave), we have a mixture of different eateries and shops. Trade-Up Music is an awesome place to find your favorite record. For coffee-lovers, there's Stumptown and Good Coffee. You can follow up your cup of Joe with some tasty treats at Petite Provence Bakery down the road. Rounding out this area is a Japanese Steakhouse and a tattoo parlor – everything you need to make your travels complete.
Division/Clinton District Businesses of Note
It may seem like we covered all of the main points of interest in this district, but the fact is that there is plenty more to discuss. This is one of the most vibrant and diverse areas of Portland, so every corner has something new to discover. So, with that in mind, here are some of the businesses you should focus on when visiting.
Genie's Cafe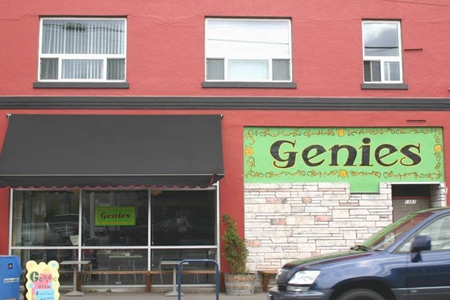 Although Pine State Biscuits gets all of the attention, Genie's is a bit more versatile for breakfast. Namely, if you're looking for a world-class bloody mary, this is the place to visit. Genie's has several signature varieties, including the Carolina Bloody Mary and the Scorpion Bloody, which uses the world's hottest pepper for its mix. These drinks are not for the faint of heart.
If drinking isn't your bag, the cafe has plenty of good eats, such as corned beef hash and a Denver omelette. Genie's serves food all morning and all day, so feel free to stop in whenever you're getting a hankering for some diner specialties.
Genie's Cafe – 1101 SE Division St
Biketown
If you're new to Portland, you may notice that there are orange bikes everywhere. These are courtesy of Nike, which has a world headquarters in the city. These bikes are for rent, meaning that you can explore the city the European way. Best of all, each bike comes with a built-in metal basket so that you can bring your souvenirs along for the ride. This location is the main hub for Biketown's staff, so if you like riding the bikes, maybe give them a shoutout.
Biketown – 2454 SE Elliot ave
Bar Avignon
When most people think of Portland, world-class wine bars don't necessarily come to mind. However, Bar Avignon has become a landmark for the wine connoisseurs in the area. Owners Randy Goodman and wife Nancy Hunt offer a wide selection of both local and international wines, so feel free to sample to your heart's delight. The stock rotates throughout the year, thanks to the Bar's resident sommelier, who seems to have a knack for picking the best vintages around.
When it comes to food, the selection is as decadent as the wine. Menu items range from oysters on the half shell to pate to chicken liver mousse. You don't come to Bar Avignon to eat healthily, you come here to eat well.
Bar Avignon – 2138 SE Division St.
Bollywood Theater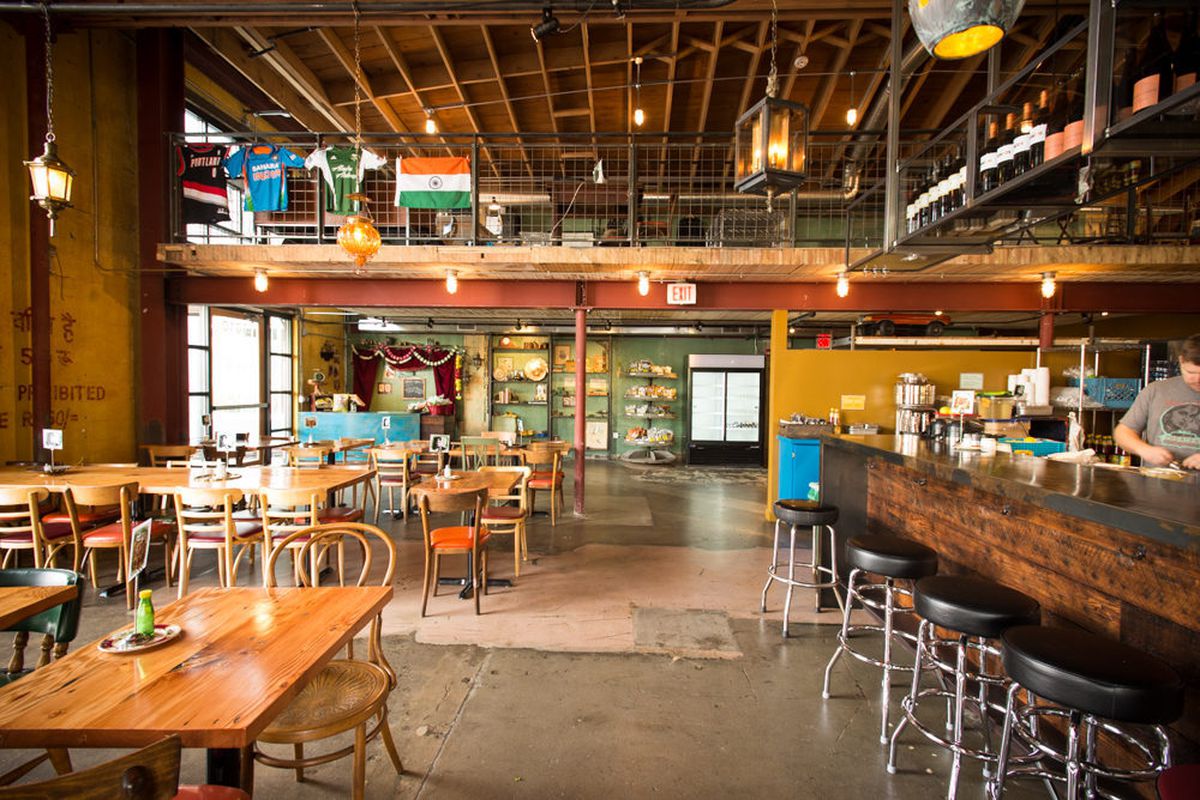 Although its name may conjure up images of an eccentric local theater showing Bollywood favorites, the fact is that this is one of the best Indian restaurants in the city. The space is very practical, as the place also doubles as a market. The name comes from the movies that play on the wall, so you do get some entertainment with your meal.
If you're craving high-quality Indian dishes like Tikka Masala and Vindaloo, you've come to the right place. The flavors are extraordinary, and the atmosphere is decidedly more subdued. It's peak Portland.
Bollywood Theater – 3010 SE Division St
Pok Pok Thai
Pok Pok, With the plethora of Thai options available in Portland, one thing that definitely can set a restaurant apart is its offering of outdoor seating space. In the case of Pok Pok, they've taken it a step further. As theirs is located in front and to the side of the establishment, which itself is a converted house, there is something playful about the look and feel, like a block party about to go into high gear.
The food is served from a small, satellite structure in what would be the driveway and is comprised of options like the lemongrass, garlic, pepper, and cilantro stuffed charcoal roasted game hen and the Carlton Farms pork loin skewers with peanut sauce.
Pok Pok Thai – 3226 SE Division
Division / Clinton District Parks
Although this district is not very wide, it does encompass two distinct green spaces. First, there is Piccolo City Park, and then the Clinton Community Garden, which is a cooperative initiative by the residents on Clinton St by 18th ave. However, just walking down the street is a natural experience, thanks to the trees and other shrubberies that pokes out from homes and businesses along the avenues.
Division Clinton Community Resources
Division Clinton Business Association
Division/Clinton District Schools
Division/Clinton Neighborhood Vibe
As you can imagine, living in this district means that there is always something going on. However, while there is an abundance of visitors, both local and from out of town, the area still maintains a neighborly vibe. That being said, this district leans pretty heavy on the liberal side, so there are plenty of eccentric locals, including those that love to partake in Portland's legal weed culture. Overall, the Division/Clinton district is ideal for hipsters and young professionals who want a heavy helping of the "Portland vibe."
Division Clinton District Stats
Division / Clinton Zip Code
Census – since this district isn't an "official" neighborhood, you will need to check out census data for Richmond and Hosford Abernethy Neighborhoods instead.
Division Clinton Real Estate
Most of the homes in this district are original, meaning that you get a lot of history and personality when you buy a home here. There is also a strong sense of community, as shown with the Clinton Community Garden. Residents take pride in getting to know each other and contributing to local businesses and causes. Also, many of the homes here come with plenty of greenery, so nature-lovers will like it here.
Click here to search all Division Clinton neighborhood homes for sale.
To learn about the Portland real estate market, we recommend this local Portland-based, top 100 real estate blog in the world.
If you are interested in buying a home in Portland, we recommend meeting up with these top 1% Portland buyer's agents, or if you are considering selling a home we recommend these top 1% Portland seller's agents. Visit our Portland Real Estate Page for more information.
Southeast Portland Neighborhood Map
Click any neighborhood.
Check out more Portland Neighborhoods
Go to the full list of neighborhoods in our Portland Neighborhood Guide.