Downtown Portland Neighborhood Guide
The Downtown Portland neighborhood is located in Central Portland and is bordered by the Goose Hollow, Northwest, Pearl District, Southwest Hills, and Corbett Terwilliger neighborhoods, and the Willamette River.
Click the image for a fully searchable map of Downtown Portland neighborhood, including all homes for sale.
---
Downtown Portland Reviews
[wp-review]
Want to add your voice to the reviews? Leave a review.
Features of Downtown Portland
Downtown Portland is one of those downtowns that not everyone who works there wants to flee when it's quitting time. The shops, the parks and other emenities, and the architecture are enough to attract both long-time citizens and newcomers, and inspire the desire to stroll, shop, and linger. This is no artificial canyon piled high with anonymous glass-and-concrete towers; this is a thriving community with a unique aesthetic and quite a lot of old-world charm.

Find more photos like this on PortlandNeighborhood.com


There are so many things and activities on offer in downtown Portland that almost any street corner will provide what you seek. Everyone is searching for the best place to eat in Downtown Portland. Fortunately, finding a place to eat is dead easy; what's not is finding the discipline not to sample every eatery you pass.

What's whispering to you? Lebanese? Habibi is considered by loyal patrons to be the best in Portland. Steak? El Gaucho makes meat mavens marvel! Fancy fish instead? Jake's Famous Crawfish, The Fish Grotto, or Ringside Fish House it is. Or, since it's the thing these days to put on a bird on it, Little Bird can accommodate in proper French fashion.

Indian, Thai, and Chinese cuisines are well-represented too; try East India Co., Baan Thai, and Nong's Khao Man Gai, respectively (Yes! That last one is a food cart! Much of the excellent food to be had is provided by food stands, carts, and trucks, adding to the variety of tasty options). There are food carts spread throughout Downtown Portland.

More local stand-outs for a delicious dining experience include Higgins, Tasty n Alder, and Park Kitchen, just to name a few. It is actually hard to get a bad meal in Downtown Portland, because we've become something of a hot bed for local foodies and new restaurant up and comers: so if you can't bring your A-game, you likely won't make it in this town!

If you're just looking for a pint and more simple fare, Bailey's Taproom is a good choice. Or go underground for the The Jack London Bar. Coffee options abound, of course. Lauretta Jean's jazzes and satisfies a loyal clientele, and Spella Caffé pleases with Italian charm and gusto.

After feeding the body, perhaps you'd like to pamper it. There are salons and spas throughout downtown where you may treat your flesh and your soul. All Ways Well is a step toward rejuvenation, and About Face and More would like nothing more than to treat your skin as you'd like it to be treated. Mosaic Salon will top you off with any cut, style, and color for your luscious locks that you may imagine.

You'll want to be discerning when it comes to clothing your newly scrubbed, buffed, and coiffed person. Frances May and Michael Allen's will make you happy. If you're feeling retro, pay a visit to Living Threads Vintage where the swell guys and gals go.

The shops, restaurants, and pubs are obviously enough to warrant a visit to downtown Portland, but do yourself a great favor and take in the sights as well. The architecture found here is simply knockout; many of the buildings were constructed in the late 1800s and early 1900s, their stately solidity contrasting with the newer glassy-glossy specimens inevitably included in our modern cityscapes. There's more than a little whimsy on display as well, as evidenced by the sculpture and statuary found throughout the district. Pedestrians share the sidewalks with seals and beavers, an elk grandly greets traffic on SW Main, the giant spirit of Portlandia beckons from above the doors of the Portland Building, and everywhere gargoyles and cherubim and other other-worldlies cast their stony gazes down upon humanity.

The anchor, if a neighborhood can be said to have an anchor, is Pioneer Courthouse Square, often referred to as Portland's Living Room. You may not want to invite some of the people you see here to your own personal living room, but this is perhaps the prime spot for people-watching, noshing and sipping food cart offerengs, and listening to the live music often provided. It's never boring, ever.

There are several churches located in the downtown area, each one worthy of your attention for their quiet presences among the hither-thither of modern urban rush. First Presbyterian Church, First Baptist Church, First Unitarian Church – everybody always wants to be first! – and St. Stephen's Episcopal Church are each one beautiful examples of church architecture. The Old Church is too, but is no longer a church; it's now a popular non-profit events space.

And then there are the many greenspaces. Portland seems never to forgo opportunities to lavish greenery wherever it may be accommodated, and in the downtown area you're never far from a park with trees and grass and water. The North Park Blocks alone extend for twelve contiguous blocks, from SW Jackson at the southernmost boundary to SW Salmon. Skip only a block northward and you'll be at Director Park, which provides a fountain and ample seating for weary shoppers. Keller Fountain Park is a beautiful urban oasis all by itself with its cascading waterfall feature.

Other parks range from the huge – over 36 acres! – Governor Tom McCall Waterfront Park (home to such annual events as the Waterfront Blues Festival and the Oregon Brewers Festival) to the patently ridiculous Mill Ends Park which resides in a circle a mere two feet across (the smallest park in the world, according to the Guiness Book of World Records; it also resides in the median of very busy SW Naito Parkway, so be sure to look both ways before crossing the road with your picnic basket and blanket).

Any downtown area can be intimidating for newcomers, so one of the best ways to show people around is via a tour. Portland Walking Tours has a variety of ways to show you and your guests the sights, and Urban Tour Group is a great way to introduce kids to the environment. Want to try sight-seeing on two wheels? Go to Kerr Bikes and rent a bicycle! You're in Portland, after all.

Go see.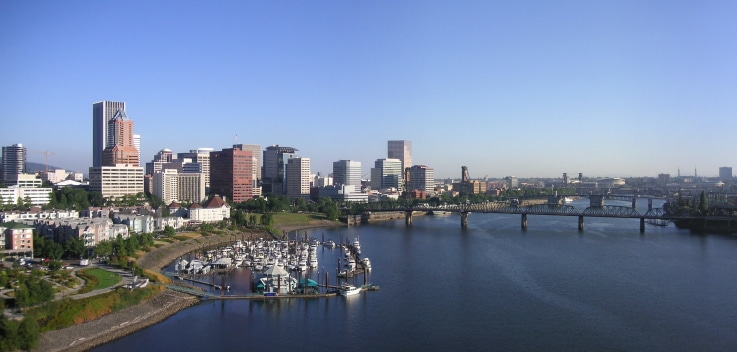 Downtown Portland, Photo by Erich
Portland offers one of the most beautiful downtowns of any city, anywhere. Portland's downtown area is vibrant and alive. Neighborhood concerns are focused on improvements to the downtown area while maintaining a balance of quality urban living space, a thriving business community, unique shopping, and natural beauty offered along the riverfront, in the Park Blocks, and other integrated green spaces.
Downtown Portland, North Park Blocks, Photo by Michael Barton
"Portland's Living Room", Pioneer Courthouse Square, is a centralized community hangout where millions visit annually.
Pioneer Courthouse Square, Photo by Lorri Ely
Downtown is home to the Portland Saturday Market, where local artisans sell a variety of arts and crafts. Portland State University is Oregon's largest, most diverse, and only urban university. Don't miss the Portland Farmer's Markets located throughout Portland. The largest one is at the South Park Blocks and is also known as the "PSU Farmer's Market". It's not to be missed!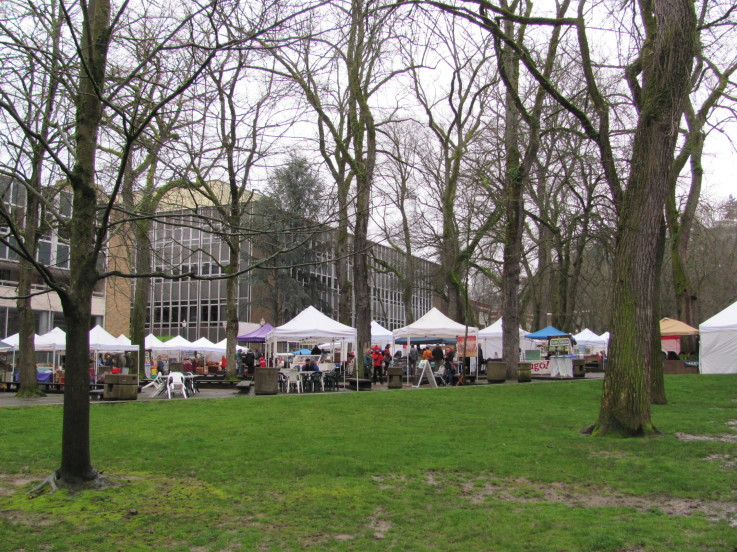 PSU Portland Farmer's Market, Photo by Michael Barton
Downtown Portland, Photo by Michael Barton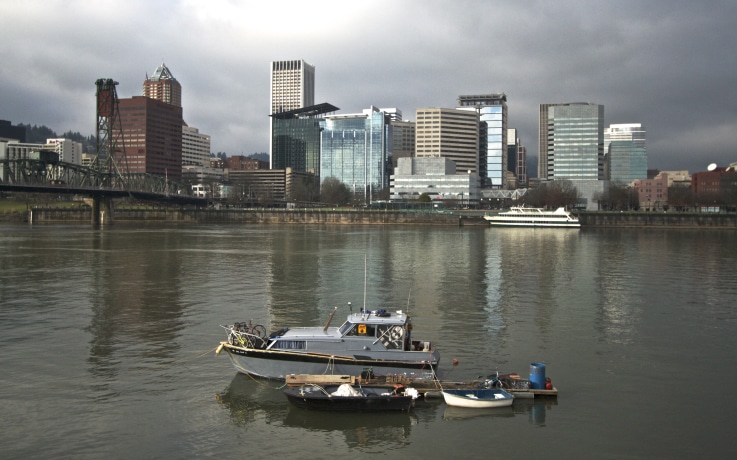 Downtown Portland Waterfront, Photo by Julie Lynn Kelley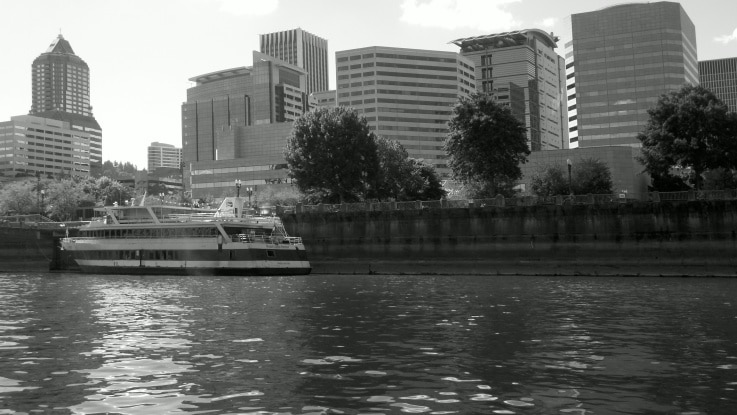 Cruising on the River Downtown, Photo by Angela Higgins
---
Neighborhood Schools
Portland schoolsOregon schoolsI want this widget for my site


---
Downtown Portland Real Estate – Homes
Downtown Portland is an urban neighborhood, with many older buildings, apartments, and loft style condominiums. Downtown Portland Oregon is alive and well, and unlike many downtown areas in other cities, remains active and vibrant after the business workday ends. There are many beautiful parks to enjoy, as well as numerous theatre, music, and entertainment events Downtown. This is an urban city environment, so single-family houses are pretty much found only surrounding Downtown to the NW and South (e.g. Lair Hill, South Portland), Nob Hill, Alphabet District, or Goose Hollow and Forest Park areas. But there are plenty of lofts, especially new ones on the South Waterfront and in the Pearl District, as well as others near the Museum/Cultural District (central Downtown), and multi-tenant buildings near PSU.
If you are interested in buying or selling a home in this Portland neighborhood, visit our Portland Real Estate Page for more information, or visit our Portland Real Estate Map to search the RMLS for neighborhood homes for sale.
Enjoy our video with images of Downtown Portland!
---
Downtown Portland Neighborhood Information
Downtown Neighborhood Association
Historic Preservation League of Oregon
Portland Public School Information
Portland International Airport
Portland Classifieds on Craigslist.com
Tri Met – Interactive Maps and Schedules for Bus, Max and Streetcar
Downtown
Walker's Paradise
Walk Score®
96
out of 100
Downtown is the 1st most walkable neighborhood in Portland.
Find Downtown apartments on Walk Score
---
Downtown Right Now on Twitter
Tweets from @pdxneighborhood/downtown-portland
More Downtown Portland Places
The Heathman Restaurant and Bar
A touch of class never hurt nobody, capiche? But if it did, you'd want to steer clear of The Heathman, or things could get a little rough, if you know what I mean. Housed in the lobby of what Travel & Leisure named one of the "500 Best Hotels in the World," the Heathman features Executive Chef Phillipe Boulot, the 2001 James Beard Award for Excellence.
Let's put it this way, this is the kind of place that has a menu just for cheese.
Not to be outdone by curds and whey, the dinner menu may include, depending on the season, Wild Sturgeon Vallee d'Auge, Anderson Ranch Willamette Valley Lamb, Oregon Sand Dabs, or Alaskan Halibut Confit as examples. Or stop by their Happy Hour, featuring such items as Smoked Salmon and Endive, Crab Deviled Eggs, Grilled Short Ribs, and Grilled Lamb Tongue, to name just a few.
But don't overlook the cocktail menu while you're stuffing your face. After all, they've gone to the trouble to break down the offerings by era. Yeah, you read that right. Era. Simply put, if you make it through this particular menu – divided into "Early Days and Golden Years (1806-1920)," "Prohibition and Beyond (1920-Today)," and "Modern Cocktail Creations" – you'll be history.
www.heathmanrestaurantandbar.com
Park Avenue Café
Been thinking about taking a few courses? Well, must say we were schooled recently on exactly what it takes to make the prerequisite, college scene coffee shop work. Answer: Don't just cater to college kids, and don't just serve coffee. Located where the South Park Blocks meet Market, and therefore the gateway to Portland State University, this place screams college hangout. And it is. But it's so much more.
On any given visit, there are the students who, if not in public, would be freebasing their caffeine. But this genteel atmosphere requires that they sip it from bowl-sized cups instead, eyes on their laptops as their professors sit nearby arguing the merits of a maintenance versus prevention oriented society. Next to them might be the retired couple who rents in the adjacent building complex, seated near a yuppie condo type who is "working from home."
Park Avenue Café draws them all. And sometimes several at once as evidenced in the line that regularly forms at the register. But a queue is not a problem here. Service is quick, and, besides, was it Confucius or my grandfather who said, "A line just means there must be something worth waiting for." And there certainly is. Owner/proprietor Essam Buker and his staff have composed a menu that, from paninis to wraps, salads to spanokopita, visits several locations on the world map and all over your palate. In other words, any college vocabulary will define this place yummy as hell. So, with three homemade soups made daily as well as two different types of quiche and plenty of tempting dessert on the offering, this menu will speak to everyone in your crowd whether they carry a backpack or billfold and ride a bike or a Benz.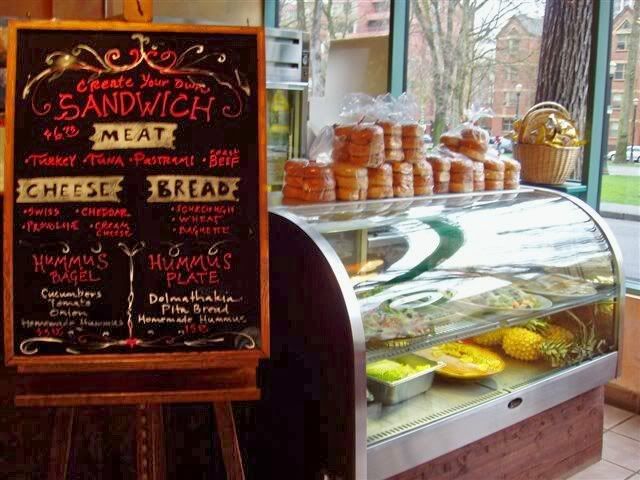 Pazzo Ristorante
Located adjacent to Hotel Vintage Plaza, Pazzo is simply a wonderful night out. This past Valentine's Day, in fact, was spent sitting with my squeeze at the dining bar overlooking the kitchen at the back of the restaurant. (Said squeeze has it out for Hallmark Holidays and didn't even hint that he would deign to deliver on dinner goods until well after dark. Hence, no reservations.) But they had a couple seats open at the dinner bar – and we had a flippin' blast! Dinner was awesome. Service was very friendly, and frankly it was just so dang interesting to watch a professional kitchen at work on a night that should represent utter mayhem. But there wasn't a chance of that with Executive Chef John Eisenhart at the helm. Cool Cucumber, that man policed an operation that came off like butter. (Said squeeze was so impressed, he even shook the chef's hand and congratulated him at the end of the evening.)
Personal favorites on the menu include the Cinghale, which is a pork leg braised in duck fat and herbs with savoy cabbage, green apple, celery, and horseradish – in other words, Italian for delicious. I've never been to Pazzo that somebody didn't order the Gnocchi and love it. Handmade, of course, these little potato pillows are mingled with a beef shortrib ragu and pecorino sfizio – obviously more words for delicious. Will they never run out?
Pazzo also has and is its own bakery. One can simply buy loafs of Beer Walnut Bread, Raisin Bread, Ciabatta or waltz in and order a pizza by the slice on homemade crust.
West Café
What's in a weekend brunch, I ask you? After all, eggs, potatoes, meat portion of some kind – what's the big deal? Sadly, dear reader, this is not the first of my forays into gross naiveté. But it does explain why when something fresh and exciting is offered up for morning dining, I for one take notice. And that, my friends, is what we have going on at West Café. Me, taking notice. 'Cause this stuff's good. Two poached eggs on Dungeness crab corn fritters and wilted greens (I prefer to order my greens on a separate plate,) served with soy mustard sauce and the best home fries I've ever tasted. I kid you not, the best home fries ever. Or try your eggs on homemade black bean cakes with cheddar, salsa, and sour cream. Delish.
Located on SW 12th and Jefferson, West Café offers everything from Tarragon Egg Salad sandwiches to Pan-Seared Cumin Rubbed Salmon and a slew of clever sounding martinis in between. And from the chic décor sporting uniquely formatted photos of local flare to the friendly and informed staff, including bar manager, Christopher, and servers who won't let you be seated without asking to take your coat – this place also serves up a slice of Portland that we're oh so glad that owners Sean Concannon and Douglas B. Smith decided to share with us.
Powell's City of Books
Yup, check this one off the list right away – and then check it again. This is a must-do, must-see place if your destination is anywhere in the state. But fuggetaboutit if you're in downtown Portland – or in the Pearl District as Powell's actually sits on the border. If you haven't been here, you haven't done downtown or the Pearl.
Even if you don't consider yourself much of a reader. Let's say you hate to read. Not sure what you're doing reading this then, but all of that doesn't matter. This isn't your grandma's bookstore. This thing's on 'roids. A full city block of new and used books covering sixty distinct sections between nine color coded rooms on four floors – Powell's comes with its own map. And it's a good thing it does because this place has got to be seen to be believed. All of it.
Learn more about Powells Books
The Northwest Film Center
Right in our own backyard we have an organization completely devoted to the art of the moving image. A component of the Portland Museum of Art, the Northwest Film Center provides education, exhibition, and outreach.
The Outreach Program provides opportunities and support for media artists while the School of film includes a curriculum in filmmaking, video production as well as animation. Enrollment options cover non-credit, transferable college credit through Portland State University, a certificate program, and cooperative degree options.
But if you just want to watch really interesting, hard-to-lay-your-hands-on movies, the Center offers an incredibly comprehensive exhibition program covering foreign, classic, experimental, and independent films. Screenings typically take place at the Whitsell Auditorium, located in the Portland Art Museum. The Northwest Film Center also plays host to unique rooftop screenings during the summer and an assortment of festivals, including the prestigious Portland International Film Festival, which screen at various locations.
If you're into movies, and who isn't right, drop by and pick up a schedule of events or check them out at www.nwfilm.org.
Fox Tower 10
For some reason, and we can regale you with several, Portland is the destination city for a tremendous percentage of indie films that might open in just a handful of other locations. When money is scarce, distributors will often decide to shell out just for a few target markets. Typically those markets will sound something like Los Angeles, New York, Chicago, San Francisco, and very likely – you guessed it – Portland.
The Fox Tower 10 is simply devoted to art house and foreign fare. And versus those theaters that jump on the bandwagon after awards' season has proclaimed the winners, you can nearly set your Academy Award watch by Fox Tower ahead of time. If it plays at Fox Tower, it's got a good chance to be courted by Oscar.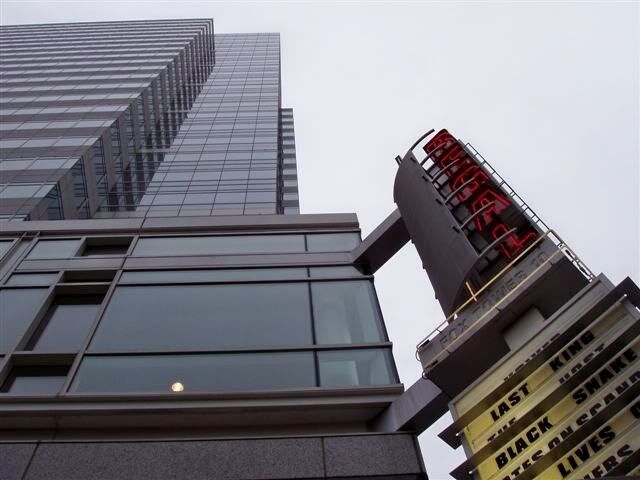 Portland Center for the Performing Arts
Boy, that back yard of ours must be huge! Better to bedazzle with, my dear. And that's just what Portland Center for the Performing Arts aims to do. Nationally recognized as one of the top ten performing art centers in the country, PCPA is comprised of five different venues – yup, all located in downtown – offering over 900 performances annually ranging from plays and concerts to ballet, lectures, stand-up, Broadway shows – I could go on.
Originally built in 1917 and known as the Civic Auditorium, the Keller Auditorium is the largest of the venues with a seating capacity of 2,992. With two balconies and a very large stage, this is a save-the-ticket-stub kind of theater, regardless of show. In house companies include Portland Opera, the Oregon Ballet Theatre, and the Oregon Children's Theatre.
Side note: Across the street from Keller Auditorium is the Keller Fountain, an enormous series of flowing pools that is so popular during the summer that if Pioneer Courthouse Square is considered Portland's living room, then Keller Fountain is its bathtub.
Overlooking Keller Fountain, the Keller Café on the second floor of the Auditorium offers dinner, drinks, and dessert before the show.
The next oldest venue is also next largest. Built in 1928, the Arlene Schnitzer Concert Hall is an opulent affair with 2,776 seats, an orchestra pit, and a choir loft. Its iconic "Portland" sign out front heralds a theater that is home to the Oregon Symphony, White Bird Dance Company, Portland Arts and Lectures, and a host of others.
Located inside the stunning Antoinette Hatfield Hall, which is now to be renamed The New Theatre Building are three different venues: the Newmark Theatre with 880 seats, the Dolores Winningstad Theatre with 292 seats, and Brunish Hall at 200 seats. With all this under one roof, one would think that there would be noise crossover or at the very least patron congestion issues. Such is not the case. This place is a well-oiled machine. Speaking from experience, audience members are completely oblivious to any other theater than the one they are attending.
The spacious lobby features a five-story rotunda above which is an art-glass "Spectral Light Dome" skylight. Overlooking the lobby are three levels of balconies that are designed like box seats. It's fun to grab a martini and relax in one of these box seats while people watching theatergoers in the lobby below. This particular theatergoer has spent many an afternoon working on the old laptop in this very lobby. A public space, the lobby is open to all during the day.
The building is also home to the ArtBar & Bistro, serving northwest cuisine, appetizers, and pre-performance cocktails.