Eastmoreland Neighborhood Guide
The Eastmoreland neighborhood is located in Southeast Portland and is bordered by the Sellwood, Reed, and Woodstock neighborhoods. Eastmoreland is a highly coveted and is considered an upscale, more traditional neighborhood (in that there is no commercial district within it).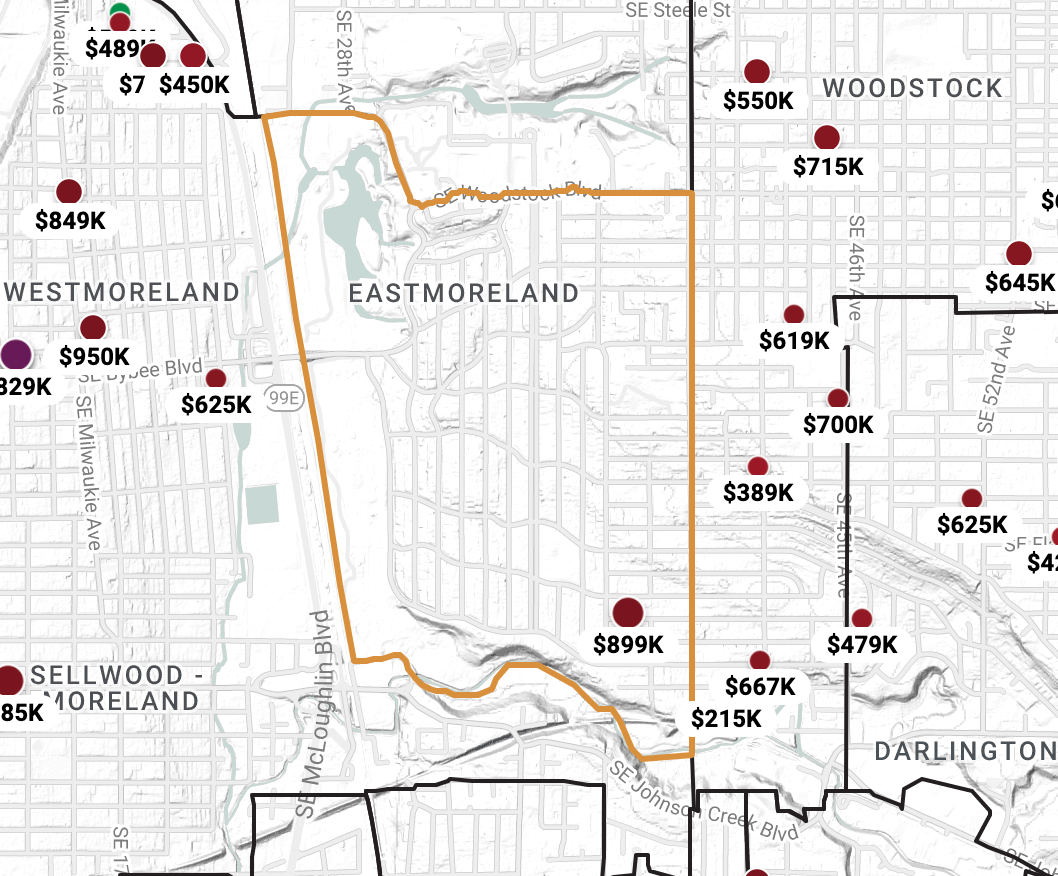 Click the image to see a fully searchable Eastmoreland neighborhood map, including all homes for sale.
Moreland is technically divided into two neighborhoods, Westmoreland (considered a part of the Sellwood Moreland neighborhood by the City of Portland) and Eastmoreland. Eastmoreland features sprawling homes set back from the street on expansive lawns, with beautiful gardens. A canopy of mature trees lining the streets makes this an inviting and serene area to live.
What you'll notice about Eastmoreland is that the roads are curved and winding. So, if you take a drive through the neighborhood, you'll get to see many of the gorgeous houses and greenery that permeate the area. As one of the most upscale neighborhoods in Portland, Eastmoreland has more than its fair share of high-end residences.
Unlike other Portland neighborhoods, Eastmoreland is almost entirely residential. You won't find major thoroughfares with shops and restaurants here. Instead, the area feels quiet and secluded, almost as if it's a gated community. Residents take pride in maintaining well-manicured lawns and clean streets. Overall, Eastmoreland is one of the best places to live in Portland.
Eastmoreland Golf Course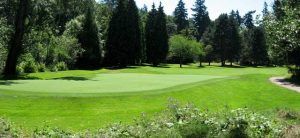 Since Eastmoreland is one of the more upscale neighborhoods, it makes sense that it would have its own golf course. What makes this place unique, however, is that it's open to the public all year round. While you can buy a membership, the club is not exclusive. You can book a tee time online and play with friends or family whenever you like.
Eastmoreland Golf Course is over 100 years old, having been built in 1917. The course was the vision of founders James O. Conville and T. Morris Dunne. Conville used to be the superintendent of Parks in Portland, and Dunne helped found another historic landmark, the Multnomah Athletic Club. Both men wanted Portland to have more public golf courses, so they set aside 160 acres and raised money to make it happen. To get a glimpse into the nature of inflation, the duo only needed around $3000 to start building the course. The land itself was donated by the Ladd Estate Company.
If you choose to golf here, you'll be amazed at how beautiful it is. In the center is Crystal Springs Lake, which attracts a wide array of waterfowl throughout the year, including ducks, swans, and blue herons. No matter the time of year, Eastmoreland Golf Course is always a sight to behold. Every year since it opened, the club hosts the Portland City Championships. You can also book your own tournament if you like.
Eastmoreland Golf Course – 2425 SE Bybee Blvd.
Crystal Springs Rhododendron Garden
Although most Portlanders are familiar with the International Rose Test Garden in Washington Park, the Crystal Springs Rhododendron Garden is something of a best-kept secret. This garden isn't as sprawling and doesn't have views of the city, but with the lake as a backdrop, it's one of the best natural spaces in Portland.
As with the golf course, the land originally belonged to William Ladd, the former mayor of Portland. Back in the early 1910s, the area was called Crystal Springs Farm. Although it didn't become a rhododendron garden for another 30-plus years, some plants that are currently on display were planted in 1917.
In 1950, the Portland chapter of the American Rhododendron Society wanted a place to grow and cultivate various species of the flower. Originally, Sam Jackson, who owned the Oregon Journal, had donated land off of Terwilliger Blvd. However, because the terrain was so steep, it wouldn't suffice for the Society's needs.
At the time, Crystal Springs Farm had been abandoned and overgrown. Despite being in a state of disrepair, the Society managed to clean it up and turn it into a fully functioning test garden. The first flowers were planted in 1950, and the first official showing was in 1956. It wasn't until 1964 that the area became the Crystal Springs Rhododendron Garden.
Over the years, the Garden has been developed and landscaped by various architects, making it more beautiful and accommodating. The site is popular for weddings, thanks to the lake and its abundance of wildlife.
Crystal Springs Rhododendron Garden – 5801 SE 28th Ave.
Rose City Futsal
While soccer still hasn't garnered as much attention in the United States as other countries, Portland is becoming more and more of a soccer city. The Portland Timbers have a growing legion of fans, and there are plenty of local soccer clubs and groups that play throughout the city. Still, you'd be forgiven for not knowing about Futsal, a variation of the game that is gaining traction.
Rose City Futsal was founded in 2013 and has since expanded to another location in Tigard. For the uninitiated, futsal is played on a hardwood court, similar to basketball. Since the ground is harder, players are forced to rely on footwork and skill to score points. The ball itself is heavier to help facilitate this style of play.
The game originated in the 1930s in Uruguay but quickly spread throughout South America, becoming most popular in Brazil. While the sport hasn't become as world-famous as regular soccer, many of the top soccer players in the world have played it. Legends like Cristiano Ronaldo and Lionel Messi say that futsal helped them develop their skills, illustrating how challenging the game can be. Rose City Futsal hosts various games and tournaments throughout the year, and they have leagues open to all age groups.
Rose City Futsal – 3015 SE Berkeley Pl.
Parks in Eastmoreland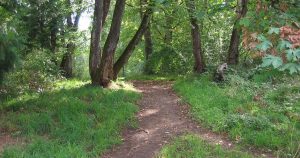 Even though Eastmoreland has plenty of greenery throughout the neighborhood, it also has some incredible parks. The Golf Course extends down into the neighborhood, reaching its southern border by Tacoma Blvd. There you can find Johnson Creek, which runs through the Tideman Johnson Natural Area. If you're unfamiliar with the term, natural areas are mostly undeveloped, with only a few footpaths. So, if you want to explore the creek and get a glimpse of local wildlife, Tideman is the best place to do it.
By comparison, Berkeley Park is an excellent location for recreational activities. It has a horseshoe pit, tennis courts, baseball field, soccer field, and playground. Best of all, the tennis courts are lighted so that you can play at night if you like.
Another unique feature of Eastmoreland is the Reed College Parkway. If you drive down Reed College Place, you'll notice that it's a divided street. In the middle is a series of trees and landscaped areas that reach all the way down Eastmoreland. While the Parkway isn't as developed as the Park Blocks in downtown Portland, it is still a gorgeous part of the neighborhood.
Finally, Westmoreland Park is just across McLoughlin Blvd, and it has more than enough features and amenities for groups of all sizes. No matter what you're into, Eastmoreland has you covered.
Crystal Springs Rhododendron Garden
Reed College Parkway
Community Resources
Eastmoreland Neighborhood Association
Schools
Eastmoreland Neighborhood Vibe
Eastmoreland feels a bit east coast with the larger colonial homes.  There is a definite family-friendly feel here.  People seem active and community-conscious here.  Dog walkers, babes in strollers and bicyclers abound…
Stats
Zip Code 97202
Eastmoreland Real Estate
Eastmoreland features many classic grand homes with expansive lawns and beautiful gardens. Eastmoreland is full of larger classic homes built in the 1930s-1940s including many Tudor and Colonial styles of homes.
Click here to see Eastmoreland Homes for Sale.
To learn about the Portland real estate market, we recommend this local Portland-based, top 100 real estate blog in the world.
If you are interested in buying a home in Portland, we recommend meeting up with these top 1% Portland buyer's agents, or if you are considering selling a home we recommend these top 1% Portland seller's agents. Visit our Portland Real Estate Page for more information.
Southeast Portland Neighborhood Map
Click any neighborhood.