Goose Hollow Neighborhood Guide
Goose Hollow is a charming neighborhood with a delightful mix of old and new homes and community spaces. Bordering Downtown Portland, Goose Hollow is one of the original neighborhoods of "Old Portland" and is in close proximity to popular Forest Park, Nob Hill, and Arlington Heights neighborhoods.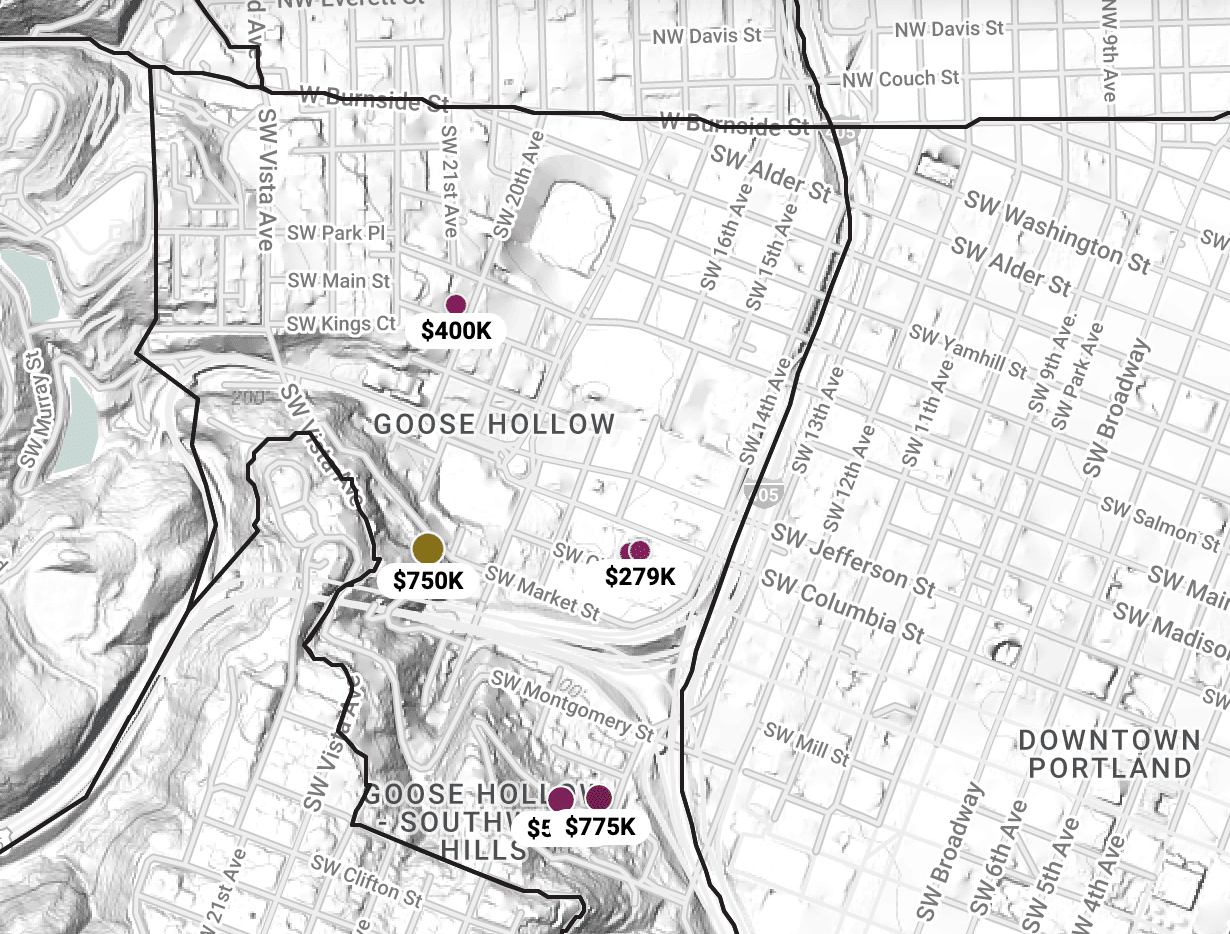 Click the image for a fully searchable Goose Hollow neighborhood map, including all homes for sale.
Portland Timbers Stadium
Goose Hollow Neighborhood Podcast
Goose Hollow Street Tour
Goose Hollow shares the best attributes of both a city's downtown district and an established historic residential neighborhood. It's one of Portland's original neighborhoods. In fact, it was established in 1845! Lincoln High School, which was erected in 1869 and is the oldest high school in the Northwest, is in this neighborhood. The high school was recently rebuilt in 2021-2022 and now stands where the football/track field once was. The old building is being demolished to make room for the high school's new sports field.
The best parts of this area in Portland (though Timbers fans may dissemble as they point to Providence Park) are the residential portions that feature some of the best examples of this city's architecture, both old and new. Turning a corner is like time travel as you pass under balconies of modern apartment buildings then find yourself in the shadow of a 100-year-old Portland four-square. Many of these great old houses have been smartly maintained as residences, and others now bear the names of commercial concerns, but all stand ready for your appreciation on shaded, tree-lined streets. Walking is by far the best way to see this neighborhood, so park the car and go wander. Whatever you do, don't pass up the views from Vista Avenue Viaduct (most of us just call it Vista Bridge).
After you've whetted your appetite striding through the streets, there are a number of fine eateries nearby to tempt and fortify you, like Kingston Bar & Grill. (See "Goose Hollow Businesses of Note" below for more details.)
The arts are well-represented here too. Artists Repertory Theatre is never short of edgy and ground-breaking programs, and it can make you feel like the suave and cultured person you are.
Goose Hollow Features
Goose Hollow's streets are lined with older, many upscale, Portland homes dating from the turn of the last century. Some former homes have been converted into law offices, coffee shops, and other businesses, making this area a mix of residential and commercial. Goose Hollow is also home to some of Portland's oldest dining establishments, such as the locally famous Goose Hollow Inn (best Reuben sandwiches in town) and the Leaky Roof (with the largest selection of Irish whiskey in Portland). Drop by and spend an afternoon hanging out with the locals and get a taste of some Portland history.
Many of the hilly streets of Goose Hollow afford wonderful views, and for the fitness buffs, this is a great place to walk and run. Climb the stairs or walk the streets through the neighborhood and within minutes you can transport yourself to some of Portland's most beautiful areas. On the Western border up the hill, you'll find Portland's amazing Washington Park, Portland International Rose Test Garden, Portland Japanese Garden, the Vista Bridge, and a panoramic view of downtown Portland. Providence Park and the Multnomah Athletic Club are also in this area. A trip to the Multnomah County Central Library is a very short commute and only a few Max light rail stops away.
Goose Hollow Businesses of Note
We've already touched upon some of the landmarks you can find while walking through Goose Hollow, but let's stop into a few places and see what they're all about. Whether you decide to move here or you're just visiting, be sure to check out the following businesses.
Goose Hollow Inn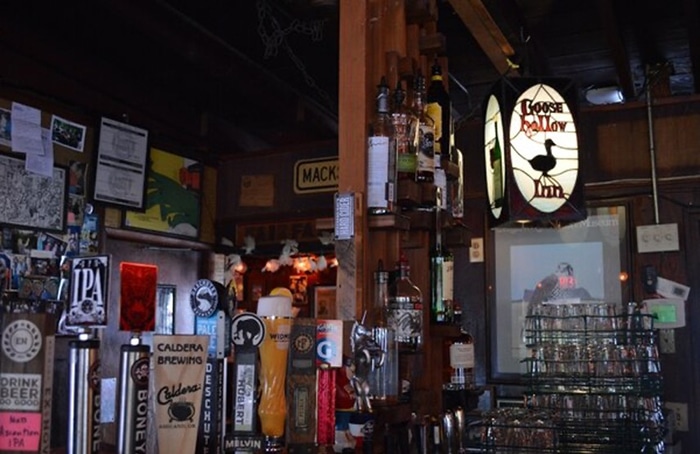 Considering that this is the place that helped give the neighborhood its name back, we have to position it front and center on our list. Bud Clark was one of Portland's most notable and well-respected citizens—and the mayor at one point, no less—and he opened the Inn in 1967. Despite its name though, Goose Hollow Inn doesn't have any rooms for rent—it's a "traditional" tavern, not a hotel.
The site was originally called Ann's Tavern, named after its proprietor, Ann Fairfax. She happened to be retiring in 1967, which is when Bud lost his old tavern, the Spatenhaus, to renovations. He moved in, changed the name, and history was made.
Goose Hollow Inn is the perfect place to watch sports and connect with your fellow Portlanders while knocking back one of the 18 beers on tap. Also, according to their website, the Inn serves the best Reuben sandwiches in the world, so be sure to put their claim to the test while you're here. There is also a deck (added in the early 90s) to enjoy some of that beautiful Portland weather.
Goose Hollow Inn—1927 SW Jefferson St
Leaky Roof Gastro Pub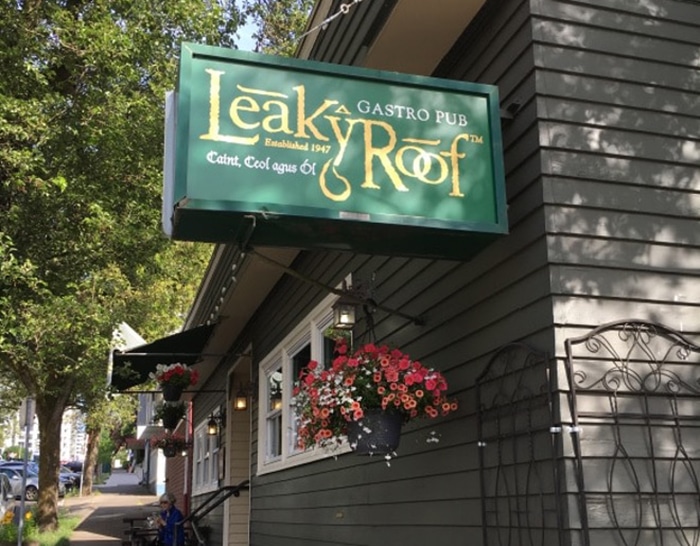 Irish pubs are relatively scarce in the Portland area, so you have to cherish any you come across. Fortunately, the Leaky Roof Gastro Pub is one of the oldest bars in the city, so celebrating its heritage is not too difficult. Established in 1947, it's one of the first notable businesses to take residence in Goose Hollow.
According to local legend, the Leaky Roof isn't just a clever name. Guests would comment regularly that "if you were tall enough to reach a full bucket of water from the leaking roof, it was your job to dump it in the street." Fortunately, that's no longer a requirement these days, so tall patrons needn't worry.
Although this gastropub is historic, it's kept up with modern times as well. The owners are committed to providing organic, local, and sustainable ingredients, from Portland area craft beers to an organic bistro inside. It's the perfect blend of traditional and new Portland chic, making it a must-stop for all travelers.
Leaky Roof Gastro Pub—1538 SW Jefferson St
Providence Park
This outdoor stadium has undergone numerous name changes over the years. When the park was built in 1893, it was called Multnomah Field. Then, in 1926, they upgraded the name to the more modern-sounding Multnomah Stadium. In 1966, it became the Civic Stadium, and in 2001, it changed again to PGE Park. After that, it was Jeld-Wen Field, until finally, it's now Providence Park (named after the healthcare provider).
Regardless of the name, this stadium has a lot of history in it. Back when it was Multnomah Field, the site was mostly open-air, with a few grandstands. In 1926, they built the main stadium structure, which is also why they changed the name. After that, Multnomah Stadium was home to many football games, including the ever-popular Civil War game between OSU and U of O. They also used to do greyhound races here, before Portland Meadows existed.
If you become a member of the exclusive Multnomah Athletic Club (the MAC), you'll get incredible views of the stadium, as it's part of the building. There are also box seats for club members on game days. The MAC used to own the property, until they sold it to the city in 1966.
Today, Providence Park is home of the Portland Timbers, although the Thorns and the PSU Vikings also call the stadium home. During Timbers matches, the area around Providence Park gets pretty rowdy, so be sure to plan accordingly.
Providence Park—1844 SW Morrison St
Vtopia Vegan Cheese and Deli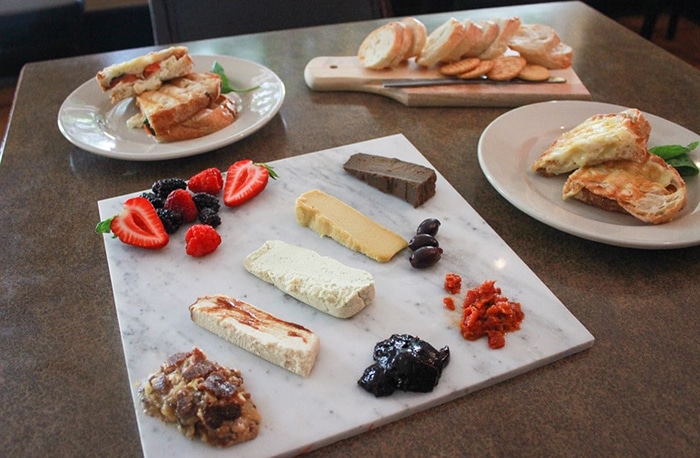 As you probably already know, Portland is home to many vegans and organic food enthusiasts. However, it's tough being a vegan and a cheese lover. Or, it was, until Vtopia came along. This is Portland's first vegan-only cheesery and deli, making it both delicious and wholly unique.
Before diving into the menu selections, we highly recommend ordering a cheese plate first so that you can sample the various offerings and see which ones tickle your fancy the most. From there, one of the best choices for hot food is their signature mac and cheese, because come on. Vtopia also serves sandwiches and soups, as well as signature crafted salads and toasted cheese baguettes.
Whether you're in the mood for a meal or you just want to pick up some cheese on the way home, Vtopia is a paradise for vegans. One can only assume that it will be a trailblazing endeavor, paving the way for future vegan eateries, both in Goose Hollow and beyond.
Vtopia Deli—1628 SW Jefferson St
Zupan's Market
Grocery shopping in Portland is less of a chore and more of an experience. That is, if you visit one of our numerous specialty stores like Zupan's Market. Like Whole Foods or New Seasons, Zupan's specializes in organic and sustainable food options. Browsing the aisles, you don't have to worry about too many preservatives or high fructose corn syrup. All of the products here are good for you (and tasty to boot).
The Market in Goose Hollow is actually the flagship store for Zupan's, which has multiple locations around the Portland Metro area. Originally, the site belonged to Kienow's Grocery when it was built in the 1940s.
Some of the notable features of this Zupan's location include a poke bar, an organic juice and smoothie bar, and a built-in wine cellar. Come to shop, eat, and relax.
Zupan's Market—2340 W Burnside St
Gilda's Italian Restaurant
Grandma Gilda's legendary cooking and her belief that food is love lives on in the restaurant named after her. With her grandson Marco serving as chef, the fare at Gilda's is a reflection of the exposure he received from her cooking, and later, from his training in Italy where he went to culinary school and worked in restaurants in Tuscany and Sicily. Embracing the belief that simply prepared food is best, Marco uses the best local organic ingredients and like Gilda, makes each dish with love.
Offering lunch, lounge, and dinner menus, Gilda's serves mouthwatering traditional fare like rigatoni, spaghetti, risotto, and pappardelle with a variety of sauces and meats. There's also a rotating daily special on the menu, as well as a vegetarian/vegan special for non-carnivores. While you wait for your delicious entree to be delivered to your table, savor an antipasto, a caprese salad with burrata, or the fritto misto, a delectable mix of prawns, scallops, and calamari, served with lemon and remoulade. Pair your food with the perfect wine or beer from their lengthy list, or sip on a handcrafted cocktail, like the Gilda's martini or the blackberry lemon drop.
Gilda's Italian Restaurant—1601 SW Morrison St
Kingston Bar & Grill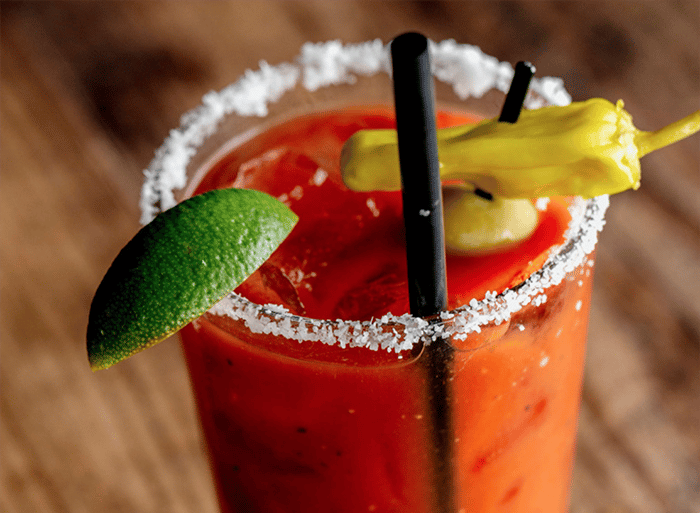 Low-brow and divey, yes. But Kingston Bar & Grill is not just another sports bar. A Portland staple since 1982, Kingston serves up breakfast all day long and has twenty-four taps, along with killer lunch, happy hour, and dinner menus, all mere steps from Providence Park and Portland Timbers games.
Catering to all ages, Kingston serves up burgers, sandwiches, soups, and salads, as well as plates, sliders, fries, tacos, and more. They're also not short on special events, like National Wine and Cheese Day, National Scotch Day, National Chicken Wing Day, and National IPA Day, to name a few.
Whether you choose to sit in the front room filled with booths or in the bar area just a few steps up, you won't be short on screens—25 HD widescreen televisions with full sports channel packages on DirecTV and Comcast—to watch your favorite teams. The walls are adorned with photos of sports greats, like Willy Mays and Joe DiMaggio—not to mention the OSU Beavers and UO Ducks—and there's free WiFi. All this and the full bar make Kingston a great place to chill and while away an afternoon.
Kingston Bar & Grill—2021 SW Morrison St
The 19th Hole
The 19th Hole is an outdoor pop-up beer garden, located across the street from the Deluxe Hotel. Stop by to refresh on a hot summer day with a cold brew, fill up on tasty American fare from the rotating menu, and work in a game of putt putt golf, corn hole, or giant Jenga. Don't drag your heels finding your way there, though—The 19th Hole is only open in the spring and summer.
The 19th Hole—795 SW 15th Ave
Super Joy Coffee Lab / Roasters
Striving to raise coffee standards, not just in Portland but across the U.S., Super Joy Coffee Lab / Roasters embraces coffee as an aesthetic drink—one that doesn't just wake you up, but that also brings beauty to life as a sensorial experience.
Step inside, and you'll see that this cozy little spot is a place for experimentation. You can buy bags of their thoughtfully roasted coffee beans, or grab your drink of choice from the menu. The mocha is especially tasty, especially when you keep in mind the thought, intention, and care that goes into Super Joy beans.
Super Joy Coffee Lab / Roasters—1401 SW Yamhill St
The Cheerful Bullpen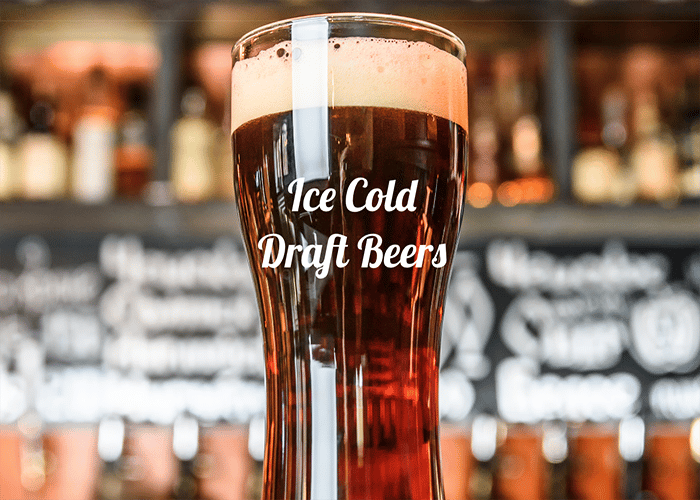 Looking for a no-frills sports bar with a TV in every booth so you can root for your team while downing cold beers and classics like nachos, quesadillas, and chicken fingers? Yes? Then The Cheerful Bullpen is for you! Of course, you'll also have a selection of tasty scratch-made burgers, healthy salads, pounds and pounds of chicken wings, and sandwiches, like the Chicken Philly and Club House.
You can also join the Cheerful Bullpen's Members Only club and get your very own key fob for game days, unless you're a Buffalo Bills fan, in which case, all you have to do it show up to be welcomed into the fold.
The Cheerful Bullpen—1730 SW Taylor St
Kinara Thai Bistro
If you're in Goose Hollow and have a craving for quality Thai cuisine, Kinara Thai Bistro will satiate the craving with their consistently prepared dishes, like Holy Crab, Basil Belly, and Cashew Nut Delight. They, of course, also have a plentiful selection of curries, vegetable dishes, and fried rice options, as well as yummy appetizers (crispy rolls, dumplings, and blue crab wontons). Also look for new, seasonal items, like the Asparagus Salad and Pad Kabocha Squash. Gluten-free choices are also available.
When your sweet tooth needs some attention, give the fried bananas and vanilla ice cream a try. Pair it with a side of sticky rice for an even more complex taste and texture experience.
No matter what you get at Kinara Thai, you can trust the quality. The dishes are authentic, and the establishment has been in business since about 2007.
Kinara Thai Bistro—1126 SW 18th Ave
Goose Hollow Neighborhood Parks
Jefferson Street City Park
Goose Hollow Neighborhood Resources
Goose Hollow Neighborhood Association
Goose Hollow Neighborhood Schools
Goose Hollow is home to some of the best schools in the city, including alternative selections that are outside of the Portland Public School System. Northwest Academy is one notable option, which offers both middle and high school educations.
Elementary Schools—The Emerson School and Chapman Elementary
Middle School—West Sylvan Middle School and Northwest Academy
High School—Lincoln High School
Goose Hollow Neighborhood Stats
Goose Hollow Zip Code 97204, 97205
Goose Hollow Neighborhood Vibe
A unique urban neighborhood located on the fringe of Downtown Portland, Goose Hollow has a mix of well-heeled neighbors who enjoy the close proximity to city life, as well as taking advantage of some of the best city parks in the country. In 2007, Goose Hollow was featured in a "Best Places to Retire" article on CNNMoney.com. Although statistically speaking, this area is full of people aged 20-40, and many singletons and renters enjoy this lovely community as well. Live here if you want an easy commute to Downtown Portland and want to enjoy the convenience of living in a close-knit neighborhood with plenty of amenities nearby.
Goose Hollow Neighborhood History
When Goose Hollow was officially founded, it was still mostly wild, undeveloped terrain. The first house ever built in Goose Hollow was in 1845 and belonged to Daniel Lownsdale as part of his land claim. The area, located in the neighborhood's lower sections on the north side, was called "The Hollow." Lownsdale's land claim was later bought by Amos King, and Lownsdale bought land along the Willamette River previously owned by Francis Pettygrove.
What we now know as the Multnomah Athletic Club and Providence Park stadium sit where Lownsdale built his tannery, along what would eventually be called Tanner Creek.
Parts of the Goose Hollow was utilized as farm land in the 1870s. Fresh produce was provided to many of Portland's settlers and delivered by the Chinese who farmed in the area. They went door to door, balancing poles across their shoulders with baskets hanging off each end, full of vegetables. The first of these gardens covered twenty-one acres of land in Goose Hollow, some where the Multnomah Athletic Club now stands.
The land the Chinese were granted for farming was situated in a flood plane that experienced freshets—powerful rain waters that rose above creek banks and flooded—causing lost property for many. Most of the Chinese in the area lived in shanties near 20th and Salmon. Also in the 1870s, Irish laborers came to Portland for dock and railway work. Many also worked on sewer and road construction in the city and lived in a section of Goose Hollow.
In 1871, the City of Portland purchased over 40 acres from Amos King, which would become the first City Park, now Washington Park. Additions to the park came in 1922 when the County Poor Farm was introduced, the land now occupied by the Oregon Zoo, World Forestry Center, Vietnam Veteran's Memorial, Oregon Holocaust Memorial, Hoyt Arboretum, and Portland Children's Museum.
By the early 1900s, residential development boomed in the King's Hill area of Goose Hollow. The Gander Ridge area also filled in with homes, and by 1912, the lower areas of the neighborhood saw the construction of many cottages. Many of the homes built during this time still stand, although some were replaced in the 1970s with apartment buildings.
The transition to more apartments and automobiles started around 1910 and continued through the 1930s, bringing the opening of businesses, reconfiguring of streets, and building of bridges, like the Vista Bridge, built in 1925.
A few older apartment buildings still stand, like the Envoy Apartments, built in 1929 and located at 2336 SW Osage St., now occupied as condos, and the Gleneagles Apartments, built in 1936 at 912 SW Vista Ave. Other still-standing original buildings in the neighborhood are The Deluxe Hotel at 729 SW 15th Ave. (formerly the Mallory Hotel, built in 1912), the Tiffany Center at 1410 SW Morrison St (headquarters for the Neighbors of Woodcraft, originally the Women of Woodcraft, formed in 1897), and Portland Actors Conservatory (housed in an old firehouse building at 1436 Southwest Montgomery St., to name a few.
How Goose Hollow Got Its Name
Considering that much of the area around Tanner Creek was flood basin, geese raising was a common activity for many local women who harvested feathers for down. Disputes broke out between the women when flocks started to integrate, which sometimes meant involving the police. The problem became so present that it wound up in court, and Judge J.F. McCoy threatened to jail the next woman who started a fight over the geese. When the Oregonian reported about the incidents, it referred to the area as "Goose Hollow."
Over the course of decades as the area became further developed, the name receded but was brought back in 1967 when Bud Clark, former Portland mayor, opened the Goose Hollow Inn. Spats over geese are a thing of the past, but when you walk through the neighborhood, look for references to and images of geese—a reminder of Goose Hollow's past.
Goose Hollow Transportation
Cable cars were the first form of mass transit to Goose Hollow, completed in 1891. Prior to cable car access and due to the steep grade of the area, land was cheap. After, land was in high demand, and prices rose. The first cable car line ran to the end of Jefferson St. and up to City Park, now Washington Park. Its existence was short-lived, though, after subtle and slow landslides bent the cable car tracks, leading, in part, to its demolition in 1904.
What finished off the cable car line was the introduction of the streetcar in 1903. A wooden bridge was built across Ford Street to accommodate streetcars crossing Tanner Creek Canyon. Streetcars were a hit and transported millions of passengers to the Lewis and Clark Expo at Guild's Lake, which was located in northwest Portland near Balch Creek. The entrance to the Expo was at NW 26th & Upshur.
After the Expo, Portland experienced a tourism boom, and observation cars became common, carting people to northwest Portland neighborhoods and sights, like Portland Heights, King's Hill, and Council Crest.
The MAX Blue line (opened in 1986) and the MAX Red line (opened in 2001) both currently run through Goose Hollow neighborhood, taking passengers as far east as Gresham and as far west as Beaverton. Trimet bus lines 15, 20, 45, 58, and 6 also currently serve the Goose Hollow neighborhood.
For more on Goose Hollow's history, visit the neighborhood association page here.
Goose Hollow: Friends We've Lost
Although this neighborhood has plenty of historic charm, its close proximity to the heart of the city means that its undergone significant changes in past years. Here are some of the businesses that used to call Goose Hollow home.
Kiwan Cafe Rio—Mexican and health food
Tributes East Coast Sandwiches and Pizza—East-Coast style eatery and pub
Polaris Dance Theater—Modern Dance Theater. Polaris moved to an area north of Goose Hollow. You can check them out here.
Goose Hollow Real Estate
Goose Hollow's hilly streets feature many older Portland homes full of charm and character. Goose Hollow is tucked away just west of downtown, a few-minutes commute away. Conveniently located along major transportation lines and close to many popular shops and restaurants, this is a great area to live. The MAX light rail train runs right through Goose Hollow, making it a breeze to get downtown, and runs east to west in the city and beyond. New construction has changed the face of Goose Hollow, so in addition to historic homes, you now have a choice of loft-style, condominium, and apartment living, with the modern conveniences of a coffee shop, pizza joint, and market right next door.
See all Goose Hollow neighborhood homes for sale.
To learn about the Portland real estate market, we recommend this local Portland-based, top 100 real estate blog in the world.
If you are interested in buying a home in Portland, we recommend meeting up with these top 1% Portland buyer's agents, or if you are considering selling a home we recommend these top 1% Portland seller's agents. Visit our Portland Real Estate Page for more information.
Southwest Portland Neighborhood Map
Click any neighborhood.
Check out more Portland Neighborhoods
Go back to the full list of Portland neighborhoods.
Sources
Goose Hollow. Goose Hollow History. Blog. Accessed July 20, 2022.
Oregon History Project, The. OregonHistoryProject.com. Accessed July 21, 2022.
Prince, Tracy J. Portland's Goose Hollow. Arcadia Publishing, Charleston, SC: 2011.