Goose Hollow Neighborhood Guide
Goose Hollow is a charming neighborhood with a delightful mix of old and new homes and community spaces. Bordering downtown Portland, Goose Hollow is one of the original neighborhoods of "Old Portland" and is in close proximity to popular Forest Park, Nob Hill, and Arlington Heights neighborhoods.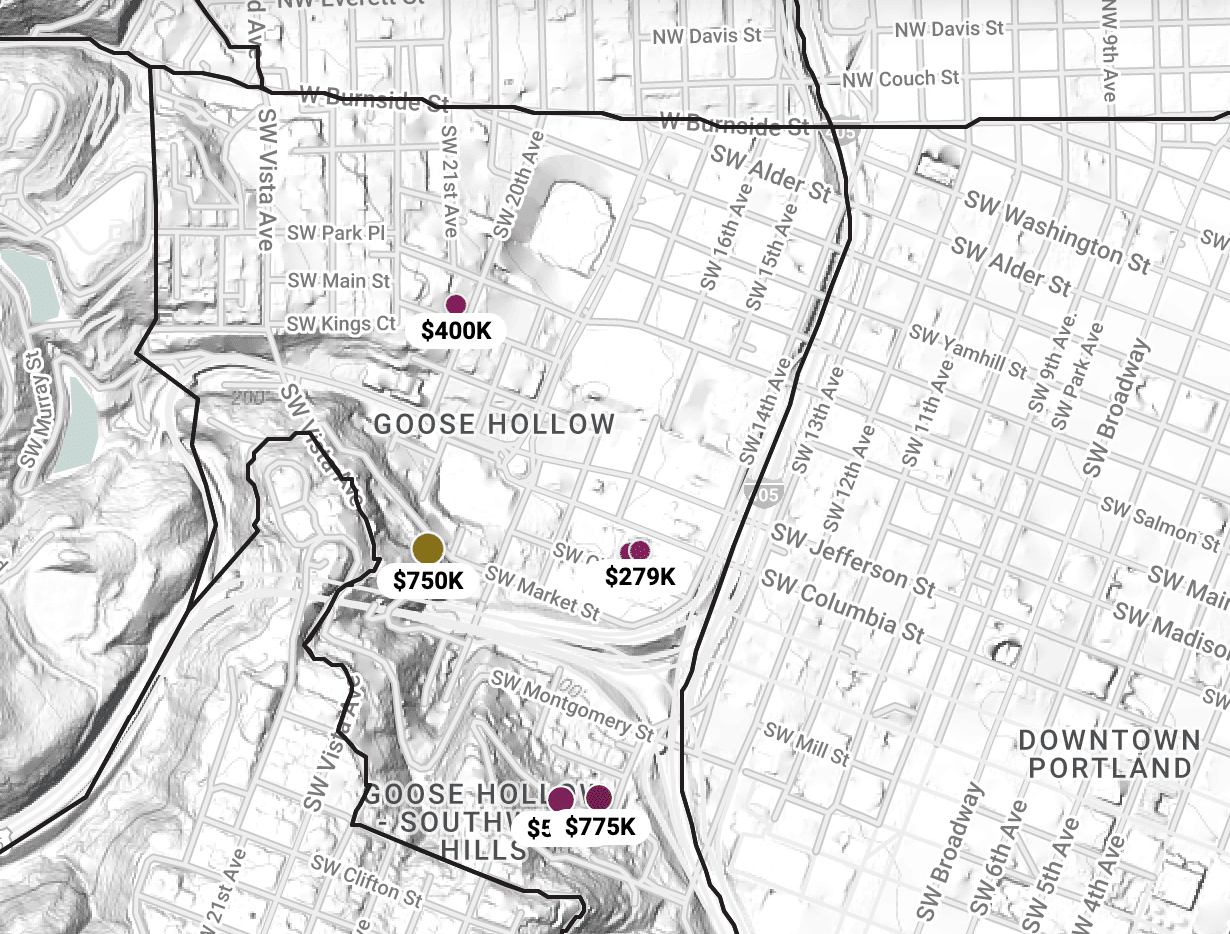 Click the image for a fully searchable map that includes all Goose Hollow homes for sale.
Portland Timbers Stadium
Goose Hollow Neighborhood Podcast

Prefer to listen? We've got you covered. The Portland Neighborhood Podcast will cover every single Portland neighborhood, one neighborhood per episode. Join us on this exclusive audio journey and discover each 95+ colorful and unique Portland 'hoods.


Goose Hollow History and Street Tour
Goose Hollow shares the best attributes of both a city's downtown district and an established historic residential neighborhood. It's one of Portland's original neighborhoods. In fact, it was established in 1845! Lincoln High School, which was erected in 1869 and is the oldest high school in the Northwest, is in this neighborhood.
The name Goose Hollow also has an interesting bit of history. When the neighborhood was founded, much of it was undeveloped and wild. The area surrounding Tanner Creek was a flood basin, so many of the local women took to raising geese there. Over time, individual flocks would start to co-mingle, leading to disputes among owners. The police even had to be called to dispel some of the kerfluffles. For most of its history, however, the neighborhood wouldn't be known as Goose Hollow. It wasn't until former mayor Bud Clark opened the Goose Hollow Inn that the name stuck. For more on Goose Hollow's history, visit the neighborhood association page here. 
The best parts of this area of Portland (though Timbers fans may dissemble as they point to Providence Park) are the residential portions that feature some of the best examples of this city's architecture, both old and new. Turning a corner is like time travel, as you pass under balconies of modern apartment buildings and find yourself in the shadow of a 100-year-old Portland four-square. Many of these great old houses have been smartly maintained as residences, and others now bear the names of commercial concerns, but all stand ready for your appreciation on shaded, tree-lined streets. Walking is by far the best way to see this neighborhood, so park the car and go wander. Whatever you do, don't pass up the views from Vista Avenue Viaduct (most of us just call it Vista Bridge).
After you've whetted your appetite striding through the streets, there are a number of fine eateries nearby to tempt and fortify you. Kingston Sports Bar & Grill is mere steps away too, for beers, sports on the tube(s), and team spirit. For some of the best Italian food in the city, the romantic surrounds of Gilda's Italian Restaurant are a must for date night.
The arts are well-represented here too. Artists Repertory Theatre is never short of edgy and ground-breaking programs, and it can make you feel like the suave and cultured person you are.
Goose Hollow Features
Goose Hollow's streets are lined with older, many upscale, Portland homes dating from the turn of the last century. Some former homes have been converted into law offices, coffee shops and other businesses, making this area a mix of residential and commercial. Goose Hollow is also home to some of Portland's oldest dining establishments, such as the locally famous Goose Hollow Inn (best Reuben sandwiches in town) and the Leaky Roof (with the largest selection of Irish whiskey in Portland). Drop by and spend an afternoon hanging out with the locals and get a taste of some Portland history.
Many of the hilly streets of Goose Hollow afford wonderful views, and for the fitness buffs, this is a great place to walk and run. Climb the stairs or walk the streets through the neighborhood and within minutes you can transport yourself to some of Portland's most beautiful areas. On the Western border up the hill, you'll find Portland's amazing Washington Park, Portland International Rose Test Garden, Portland Japanese Garden, the Vista Bridge, and a panoramic view of downtown Portland. Providence Park and the Multnomah Athletic Club are also in this area. A trip to the Multnomah County Library is a very short commute and only a few Max light rail stops away.
Goose Hollow is also home to the neighborhood known as Historic King's Hill. Located just south of Burnside and Northwest 23rd Avenue, to King Avenue. Gorgeous historic homes, many registered with the National Historic Register, can be found here. We noted several historic plaques, with homes built from 1890 through the early 1900s. Additional historic areas in or near Goose Hollow include Vista Ridge, Gander Ridge, and Lownsdale. If you want to tour the area, we recommend walking as opposed to driving, so you can really appreciate the architectural details and beautiful yards and gardens of these special homes.
Goose Hollow Businesses of Note
We've already touched upon some of the landmarks you can find while walking through Goose Hollow, but let's stop into a few places and see what they're all about. Whether you decide to move here or you're just visiting, be sure to check out the following businesses.
Goose Hollow Inn
Considering that this is the place that helped give the neighborhood its name back, we have to position it front and center on our list. Bud Clark was one of Portland's most notable and well-respected citizens, and he opened the Inn in 1967. Despite its name though, Goose Hollow Inn doesn't have any rooms for rent – it's a "traditional" tavern, not a motel.
The site was originally called Ann's Tavern, named after its proprietor, Ann Fairfax. She happened to be retiring in 1967, which is when Bud lost his old tavern, the Spatenhaus, to renovations. He moved in, changed the name, and history was made.
Goose Hollow Inn is the perfect place to watch sports and connect with your fellow Portlanders while knocking back one of the 18 beers on tap. Also, according to their website, the Inn serves the best Reuben sandwiches in the world, so be sure to put their claim to the test while you're here. There is also a deck (added in the early 90s) to enjoy some of that beautiful Portland weather.
Goose Hollow Inn – 1927 SW Jefferson st
Leaky Roof Gastro Pub
Irish pubs are relatively scarce in the Portland area, so you have to cherish any you come across. Fortunately, the Leaky Roof Gastro Pub is one of the oldest bars in the city, so celebrating its heritage is not too difficult. Established in 1947, it's one of the first notable businesses to take residence in Goose Hollow.
According to local legend, the Leaky Roof isn't just a clever name. Guests would comment regularly that "if you were tall enough to reach a full bucket of water from the leaking roof, it was your job to dump it in the street." Fortunately, that's no longer a requirement these days, so tall patrons needn't worry.
Although this gastropub is historic, it's kept up with modern times as well. The owners are committed to providing organic, local, and sustainable ingredients, from Portland area craft beers to an organic bistro inside. It's the perfect blend of traditional and new Portland chic, making it a must-stop for all travelers.
Leaky Roof – 1538 SW Jefferson st
Providence Park
This outdoor stadium has undergone numerous name changes over the years. When the park was built in 1893, it was called Multnomah Field. Then, in 1926, they upgraded the name to the more modern-sounding Multnomah Stadium. In 1966, it became the Civic Stadium, and in 2001, it changed again to PGE Park. After that, it was Jeld-Wen Field, until finally, it's now Providence Park (named after the healthcare provider).
Regardless of the name, this stadium has a lot of history in it. Back when it was Multnomah Field, the site was mostly open-air, with a few grandstands. In 1926, they built the main stadium structure, which is also why they changed the name. After that, Multnomah Stadium was home to many football games, including the ever-popular Civil War game between OSU and UofO. They also used to do greyhound races here, before Portland Meadows existed.
If you become a member of the exclusive Multnomah Athletic Club (the MAC), you'll get incredible views of the stadium, as it's part of the building. There are also box seats for club members on game days. The MAC used to own the property, until they sold it to the city in 1966.
Today, Providence Park is home of the Portland Timbers, although the Thorns and the PSU Vikings also call the stadium home. During Timbers matches, the area around Providence Park gets pretty rowdy, so be sure to plan accordingly.
Providence Park – 1844 SW Morrison st
Vtopia Vegan Cheese and Deli
As you probably already know, Portland is home to many vegans and organic food enthusiasts. However, it's tough being a vegan and a cheese lover. Or, it was, until Vtopia came along. This is Portland's first vegan-only cheesery and deli, making it both delicious and wholly unique.
Before diving into the menu selections, we highly recommend ordering a cheese plate first so that you can sample the various offerings and see which ones tickle your fancy the most. From there, one of the best choices for hot food is their signature mac and cheese, because come on. Vtopia also serves sandwiches and soups, as well as signature crafted salads and toasted cheese baguettes.
Whether you're in the mood for a meal or you just want to pick up some cheese on the way home, Vtopia is a paradise for vegans. One can only assume that it will be a trailblazing endeavor, paving the way for future vegan eateries, both in Goose Hollow and beyond.
Vtopia Deli – 1628 SW Jefferson st
Zupan's Market
Grocery shopping in Portland is less of a chore and more of an experience. That is, if you visit one of our numerous specialty stores like Zupan's Market. Like Whole Foods or New Seasons, Zupan's specializes in organic and sustainable food options. Browsing the aisles, you don't have to worry about too many preservatives or high fructose corn syrup. All of the products here are good for you (and tasty to boot).
The Market in Goose Hollow is actually the flagship store for Zupan's, which has multiple locations around the Portland Metro area. Originally, the site belonged to Kienow's Grocery when it was built in the 1940s.
Some of the notable features of this Zupan's location include a poke bar, an organic juice and smoothie bar, and a built-in wine cellar. Come to shop, eat, and relax.
Zupan's Market – 2340 W Burnside st
Goose Hollow Parks
Although Goose Hollow is home to plenty of greenery, there are no official parks within its borders. That is unless you count Jefferson Street City Park, which is technically just a roundabout, but it counts as a park (although Portland Parks and Recreation doesn't recognize it officially). Otherwise, you'll want to visit Washington Park next door, which has some of the best views in the city, as well as fabulous hiking trails and our world-famous International Rose Garden.
Portland International Rose Test Garden
Goose Hollow Community Resources
Multnomah County Library – Northwest Portland
Goose Hollow Neighborhood Association
Goose Hollow Neighborhood Schools
Goose Hollow is home to some of the best schools in the city, including alternative selections that are outside of the Portland Public School System. Northwest Academy is one notable option, which offers both middle and high school educations.
The Emerson School – Elementary School
Ainsworth Elementary – Elementary School
Northwest Academy – Middle School
Lincoln High – High School
Goose Hollow Neighborhood Vibe
A unique urban neighborhood located on the fringe of Downtown Portland, Goose Hollow has a mix of well-heeled neighbors who enjoy the close proximity to city life, as well as taking advantage of some of the best city parks in the country. In 2007, Goose Hollow was featured in a "Best Places to Retire" article on CNNMoney.com. Although statistically speaking, this area is full of people aged 20-40, and many singletons and renters enjoy this lovely community as well. Live here if you want an easy commute to downtown Portland, and want to enjoy the convenience of living in a close-knit neighborhood with plenty of amenities nearby.
Goose Hollow Neighborhood Stats
Goose Hollow Zip Code 97204, 97205
Goose Hollow Real Estate
Goose Hollow's hilly streets feature many older Portland homes full of charm and character. Goose Hollow is tucked away just west of downtown, just a few minutes commute away. Conveniently located along major transportation lines and close to many popular shops and restaurants, this is a great area to live. The MAX light rail train runs right through Goose Hollow, making it a breeze to get downtown, and points east and west of the city. New construction has changed the face of Goose Hollow, so in addition to historic homes, you now have a choice of loft-style, condominium and apartment living, with the modern conveniences of a coffee shop, pizza joint, and market right next door.
Click here to search all Goose Hollow Neighborhood homes for sale.
To learn about the Portland real estate market, we recommend this local Portland-based, top 100 real estate blog in the world.
If you are interested in buying a home in Portland, we recommend meeting up with these top 1% Portland buyer's agents, or if you are considering selling a home we recommend these top 1% Portland seller's agents. Visit our Portland Real Estate Page for more information.
Goose Hollow: Friends We've Lost
Although this neighborhood has plenty of historic charm, its close proximity to the heart of the city means that it's undergone significant changes in the past few years. Here are some of the businesses that used to call Goose Hollow home.
Kiwan Cafe Rio – Mexican and health food
Tributes East Coast Sandwiches and Pizza – East-Coast style eatery and pub
Polaris Dance Theater – Modern Dance Theater
Polaris has actually moved to an area north of Goose Hollow. You can check them out here.
Southwest Portland Neighborhood Map
Click any neighborhood.

Check out more Portland Neighborhoods
Go back to the full list of Portland neighborhoods.