Hawthorne District Neighborhood Guide
The Hawthorne District is located in Southeast Portland and runs along Hawthorne Avenue from about 11th to 55th Avenue. Hawthorne District is bordered by Buckman, Ladd's Addition, Hosford-Abernathy, and Sunnyside neighborhoods. Hawthorne is not recognized as a neighborhood itself but primarily lies within the Richmond and Mt. Tabor neighborhoods. However, even though this street is not officially a neighborhood, it has a charm and wonders that you won't find anywhere else in Portland.


Click the image for a fully searchable map of the Hawthorne District including all homes for sale.
Historic Bagdad Theater and Pub
Features of the Hawthorne Neighborhood and Street Tour
Portlanders entertaining family and friends from out of town are sure to make Hawthorne Boulevard one of their first stops as they proudly show off the city. Hawthorne is so chock-full of great eateries and shops that they literally spill out onto the sidewalk, endangering your shins. On sunny weekends especially, the boulevard is a swarm of shoppers and those who love to watch them come and go, to and fro, from behind a foamy
glass.
The Hawthorne "district" actually extends through the Southeast Portland neighborhoods of Buckman, Ladd's Addition, Hosford-Abernathy,
Sunnyside, Mt. Tabor, and Richmond. It runs along Hawthorne Boulevard from 11th to 55th Avenues.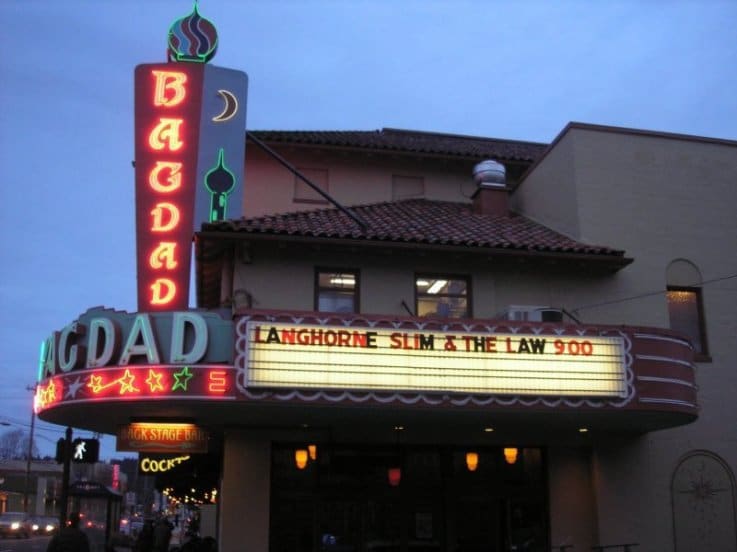 If your exploration begins nearer the lower digits, the first inkling that you're in for a good time is at Southeast 20th. Why? Because that's where Cinemagic is, a 1940s-era movie theater that still shows first-run films (although you may have to wait a bit) and offers you popcorn with real butter and a comfy (and maybe a little squeaky) seat. No beer here; Cinemagic isn't a view 'n' brew, and it's a cash-only affair. So what? After the movie starts, you won't care. Enjoy the show, for cheap.
After the movie, find that beer you missed at the flick, or some other comfortably-numbing liquid and some seriously good bar eats, at Hawthorne Hideaway a couple blocks up the numerals, or cross the street for a scrumptious carb-fest and a very nice coffee at Grand Central Baking Co. Farther up is Excalibur Books and Comics, where you'll find such a huge cache of illustrated goodness that your inner Sheldon Cooper might suffer a case of the vapors! Take some bread crumbs. No, don't, the management would just make you sweep it up. Just let yourself get lost in there.
Nibble your way further up the boulevard; Cup & Saucer Cafe and Bread and Ink Cafe are both favored for breakfast if you're an early rambler, and Nick's Famous Coney Island for some awesome hot doggage, Ben & Jerry's ice cream…
…and here you are at the thrumming heart of Hawthorne. Southeast 37th makes the X that marks the spot. Across Hawthorne is Powell's Books for Home and Garden, a satellite for Powell's monster-massive Burnside book emporium. And then Lo! Bagdad Theater & Pub (McMenamins Bagdad Theater & Pub, if we have to be pedantic) anchors its corner, always girded about by faithful movie-goers and ale-quaffers.
3 Doors Down is an ever-popular hang-out for Italian influenced dishes served by attentive wait staff and an owner that is eager to ensure the customer's complete satisfaction. Enjoy a bottle of vino and some delicious appetizers and pasta dishes, in a warm and cozy atmosphere. And everywhere people and more people, window-shopping, eating, drinking, watching, admiring, enjoying.
That's Hawthorne: Clothes, food, beer, books, folks, and interesting juxtapositions.
Hawthorne Neighborhood Podcast

Prefer to listen? We've got you covered. The Portland Neighborhood Podcast will cover every single Portland neighborhood, one neighborhood per episode, until we have covered all 95+ colorful and unique Portland 'hoods. Join us on this exclusive audio journey and discover all that Rose City has to offer!
Hawthorne Neighborhood Businesses of Note
We've covered a lot of funky places along Hawthorne Blvd, but the fact is that we've barely scratched the surface. This neighborhood has so much going on that you'll need to spend a few days walking the streets to be able to drink it all in (sometimes, literally). So, with that in mind, here are some additional highlights you'll need to visit while you're here.
Sapphire Hotel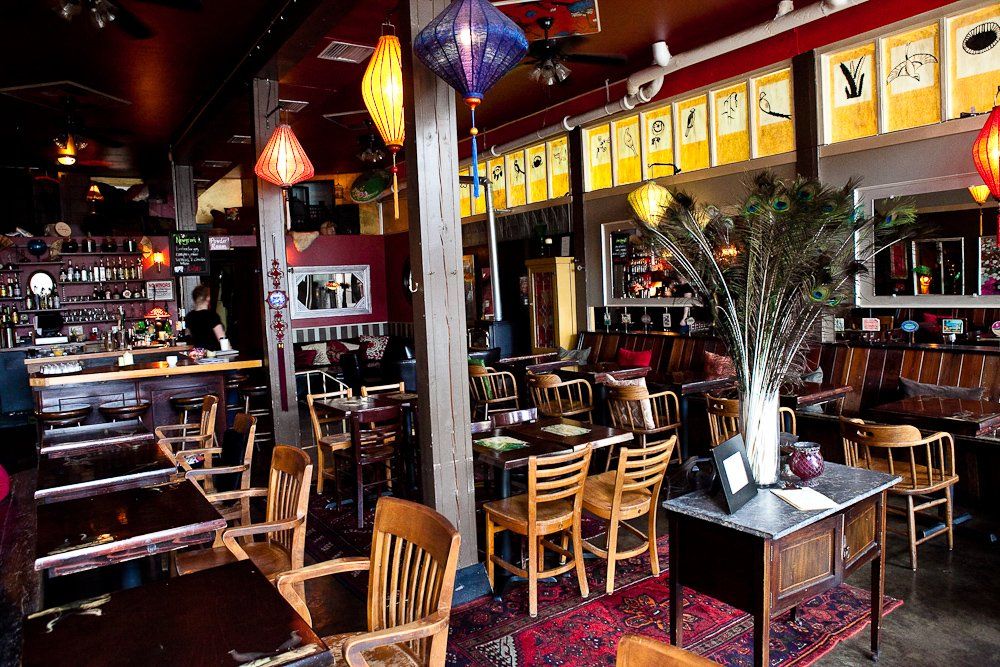 Based on the name of this place, you might assume that you could rent a room. However, while the Sapphire started as a regular hotel and tavern, it has since become a restaurant only. The name is only a callback to the building's seedy past, where sailors and drunkards would use the place as an unofficial brothel.
According to history, the Sapphire was a house of ill-repute starting in the early 1900s, but it was actually the ladies of the night who turned it around. As the money flowed in, the residents of the hotel started building other businesses in the area, until finally the Sapphire was able to break free from its sordid beginnings.
Now, you can sample a delectable rotating menu, with items like chicken liver mousse and Moroccan lamb meatballs. The Sapphire is also renowned for its signature cocktails, so be sure to imbibe while visiting.
Sapphire Hotel – 5008 SE Hawthorne Blvd
Quarterworld Arcade
If you long for the days of spending your time in the arcade, pumping quarters into pinball machines and classic games like Battletoads and Contra, then Quarterworld is for you. This is one of a few retro-style arcades in the Portland area, although it's better than most of the competition. They house over 30 pinball machines and 60 video games, so there is sure to be something for everyone.
Best of all, Quarterworld takes things up a notch by offering craft pizza and brews while you play. This is the adult version of gaming, and it's so much better than begging your mom for some change so you can stay busy for an afternoon.
Be sure to bring your friends, as the arcade has banquet rooms for parties. However, whether you're having a box social or you just want a cool place to hang, Quarterworld takes all kinds.
Quarterworld Arcade – 4811 SE Hawthorne Blvd
Common Grounds Coffeehouse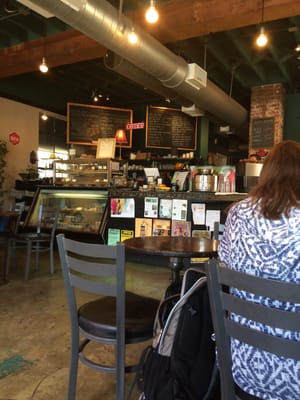 No matter where you turn, it seems that you're never too far from a local coffee shop in Portland. Hawthorne is home to many varieties – too many to list on this page. However, Common Grounds is one of the oldest in Hawthorne, and they've been serving cups of java for over 25 years. The area has changed a lot since the business began, but no matter what, everyone loves a good cup of coffee.
Here you can find many different specialty brews, along with locally-made baked goods and other snacks. The interior has a quirky and "Old Portland" vibe to it, meaning that it's the perfect place to relax and hang out for a while.
Common Grounds Coffee – 4321 SE Hawthorne Blvd
Next Level Burger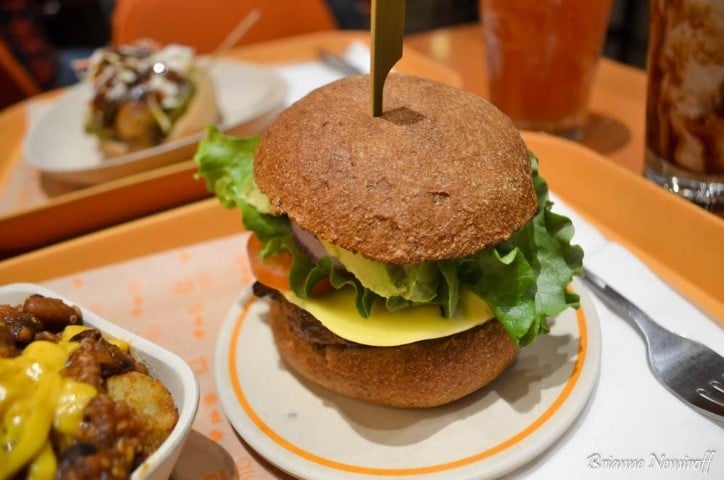 Much like coffee houses, there are plenty of high-quality burger joints, both in Portland and Hawthorne alone. However, none of them are as unique as Next Level. You may ask yourself, what is the "next level" they're referring to? Well, it's vegan hamburgers. Yes, Portland continues to be a Mecca for vegans and vegetarians, thanks to places like this.
Never miss out on a craving again, thanks to options like the Mexicali Burger, the Bleu BBQ Burger, and the All-American. Not only are all menu items vegan, but they use fresh, organic ingredients as well. Usually, going out for burgers means that you're breaking your diet. Fortunately, that's not the case at Next Level. Feast with impunity.
Next Level Burger – 4121 SE Hawthorne Blvd
Bagdad Theater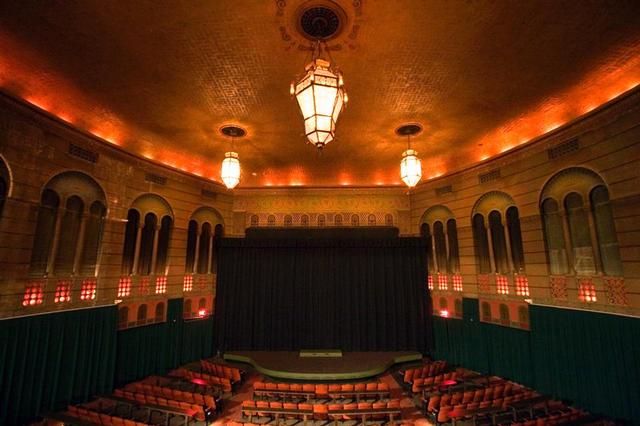 Yes, we mentioned it in our walking tour, but the fact is that the Bagdad is such an integral part of the Hawthorne neighborhood that we have to dive into it even more. When people think of Hawthorne Blvd, the Bagdad immediately comes to mind. It's like the Eiffel Tower in Paris or the Space Needle in Seattle. It's a landmark that you have to see for yourself when you're in the area.
Since the theater opened in 1927, it has been delighting local Portlanders. The opening gala was the big to-do of its day, and the company that built this place spared no expense. Lavish faux middle-eastern decorations, roomy accommodations – the Bagdad has always been one of the best theaters in Portland. When McMenamin's bought it in 1991, the building had fallen into some disrepair, but they brought it back to its former glory in no time.
McMenamin's Bagdad Theater – 3702 SE Hawthorne Blvd.

Toadstool Cupcakes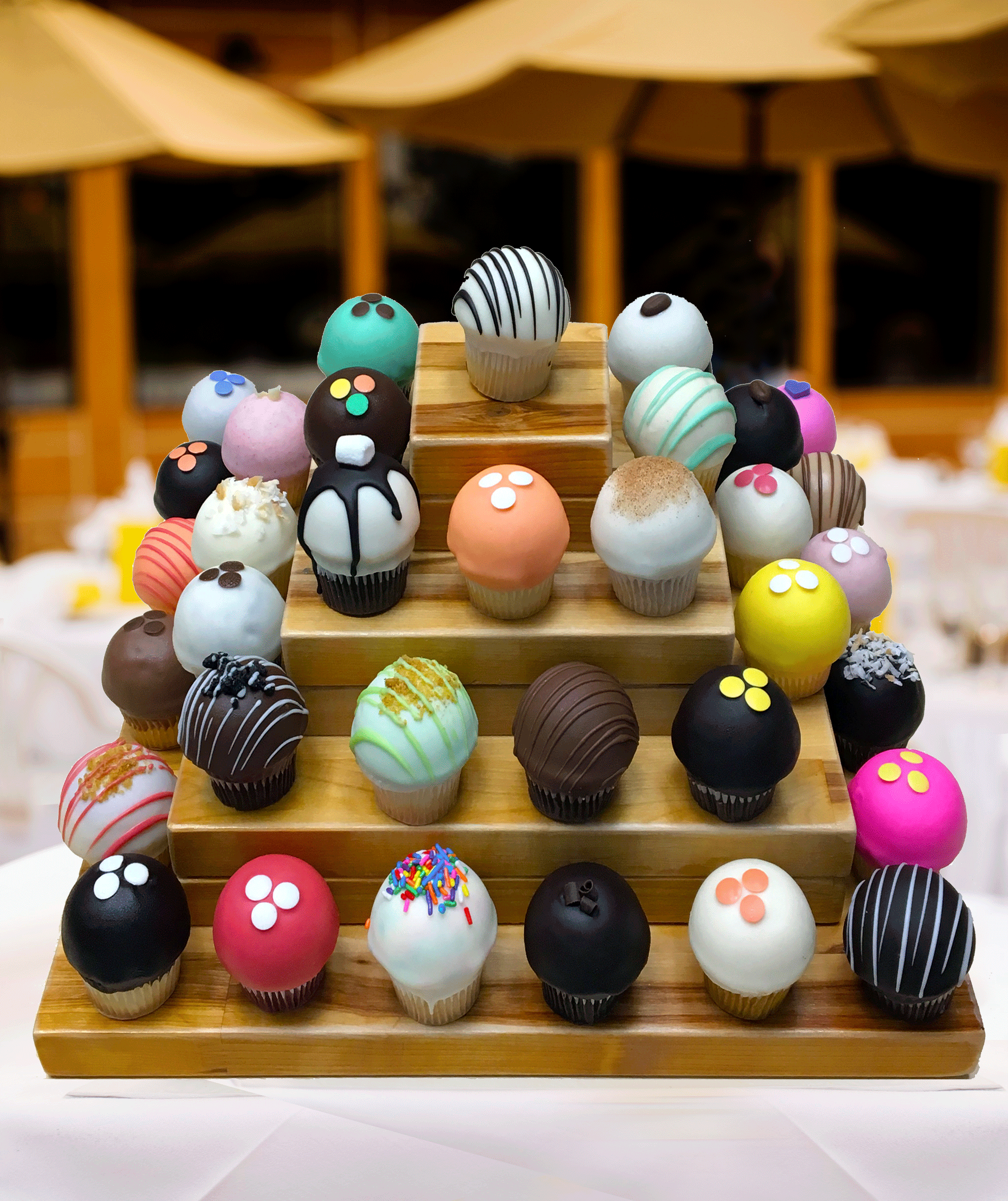 In addition to beer, coffee, and pizza, Portland is also home to some of the best sweet shops around. If you love cupcakes, then you'll adore Toadstool. They make cupcakes a little differently here, with an emphasis on "little." Each cupcake is smaller than average, but the flavors are incredible, and they rotate regularly. No matter what, though, you'll see 24 options on the menu when you walk in.
One of the signature moves that helps elevate Toadstool is the addition of a chocolate ganache icing on top. Rather than whipped cream or messy frosting, the ganache holds its shape much better, ensuring that you get a mouthful of flavor without the added cleanup. Order some to go and share with your friends (if you want).
Toadstool Cupcakes – 3557 SE Hawthorne Blvd
House of Vintage
Finishing out our list is one of the largest and most notable vintage thrift shops in the city. Hawthorne is home to many different stores like this, making it a paradise for anyone who loves vintage or retro style fashion.
Part of what makes House of Vintage so unique is that the store has proprietary dealers that go out to find the best clothing and accessories. This isn't like a Goodwill or other donation center. Each piece has been carefully curated to fit specific criteria, meaning that you can shop with confidence every day.
House of Vintage – 3315 SE Hawthorne Blvd
Hawthorne Neighborhood Parks
There aren't actually any parks along Hawthorne Blvd, although there are a few in the surrounding neighborhoods of Richmond and Hosford-Abernethy. You're never too far from green spaces in Portland, which is part of the reason why it's such an excellent place to live.
Hawthorne Neighborhood Community Resources
Hawthorne Business Association Website
Restore Oregon (Formerly Historic Preservation League of Oregon)
Tri-Met Interactive Maps and Schedules
Hawthorne Neighborhood Schools
Residents of the Hawthorne area have a plethora of schools for their kids. However, be sure to pay attention to the exact neighborhood border you're in, as that could affect where your little one can attend. Nonetheless, there are some excellent options around here.
Hawthorne Neighborhood Vibe
Undoubtedly, Hawthorne is one of the most unique, and most popular areas in Southeast Portland. The area is known for its wonderfully restored Old Portland homes, liberal residents, and fun and funky feel. The street is lined with unique restaurants and shops and has a definite Portland-local flair.
There are a lot of words you could use to describe the locals who live in the Hawthorne District; activist, environmentalist, educated, opinionated, hippie, hipster, Gen X-er, entrepreneur…and more. However you choose to describe it, though, this neighborhood is fun, friendly, and worth a visit.
Hawthorne Neighborhood Stats
Hawthorne Zip Code 97214
Census – Hawthorne isn't officially recognized as a neighborhood, so there is no specific census data for it. You'll need to look at Richmond, Sunnyside, and Hosford-Abernethy neighborhoods for this information.
Hawthorne Real Estate
This area features older East Portland homes full of charm and character, from Craftsman Bungalows to Old Portland Four-square styles, and the
occasional Victorian mixed in.  This is an older Portland neighborhood, so many homes come with hardwood floors, built-ins, and other charming details.
Click here to search all Hawthorne Neighborhood homes for sale, or fill in your custom criteria below.

To learn about the Portland real estate market, we recommend this local Portland-based, top 100 real estate blog in the world.
If you are interested in buying a home in Portland, we recommend meeting up with these top 1% Portland buyer's agents, or if you are considering selling a home we recommend these top 1% Portland seller's agents. Visit our Portland Real Estate Page for more information.
Hawthorne Neighborhood: Friend's We've Lost
Crossroads Music – Vinyl Record Store
Crossroads may be gone from Hawthorne, but it's still kicking around on Foster Ave. Check them out here.
Naked City Clothing – Clothing Retailer
A few steps down the sidewalk is Naked City Clothing where you can find something hip and stylish to shrug out of come the next World Naked Bike Ride. Although it's no longer on Hawthorne, you can find some threads over on Belmont St, which is nearby.
Peet's Coffee and Tea – Coffeehouse
There was a time when Peet's was directly across the street from Starbucks on Hawthorne and 37th. However, it appears this chain blinked, and now they are no longer at that location. Still, you can get your Peet's fix elsewhere in Portland, so don't worry.
Southeast Portland Neighborhood Map
Click any neighborhood.
Check out more Portland Neighborhoods
Go to the full list of neighborhoods in our Portland Neighborhood Guide.