Hayden Island Neighborhood
Hayden Island, which includes Tomahawk Island, is located in North Portland. It is surrounded by the North Portland Harbor and the Columbia River with St. Johns, Kenton, Bridgeton, and East Columbia neighborhoods on the island's southern border.
Click the image for a fully searchable Hayden Island neighborhood map, including all homes for sale.
Features of Hayden Island Neighborhood
Hayden Island, Portland's only island community, is located in the middle of the Columbia River where I-5, the neighborhood's only roadway connection to the city, crosses between Oregon and Washington.
Jantzen Beach Shopping Center serves residents and visitors with a range of shopping options, and people who live here have unmatched access to outdoor recreation options in the Columbia River Gorge Recreation.
Hayden Island Businesses of Note
La Quebrada Taqueria
If classic Mexican street eats are in your repertoire, La Quebrada Taqueria is for you. This relaxed open-air eatery offers tacos, tortas, quesadillas, burritos, plates, and bowls.
La Quebrada Taqueria—11980 N Jantzen Dr
Anchor Bar
Anchor Bar is Hayden Island's neighborhood sports bar. It serves up great burgers and other big bites, along with cold brews. One of the few local establishments on Hayden Island, this spot is a local's favorite.
It features several screens, and an all-you-can-eat Taco Tuesday. To top it all off, word has it that they serve up large, cold beers, and the staff is super friendly, too.
Anchor Bar—11915 N Center Ave
Jantzen Beach Bar and Grill
Jantzen Beach Bar & Grill features flavors of the Pacific Northwest, including seafood, steak, and burgers, along with local and regional beers, wines, and cocktails. This is a spot to gather with friends and family for a quality casual meal out or to celebrate a special occasion.
Whether you come for breakfast, lunch, or dinner, you can enjoy American classics with a modern twist, like their buttermilk pancakes with Marionberry syrup, Boursin cheese fries, Northwest Cobb Salad, or Cod Fish and Chips with Sweet Citrus Slaw. They also have a Happy Hour with good discounts and tasty bar eats.
Jantzen Beach Bar and Grill—909 N Hayden Island Dr
Hidden Bay Cafe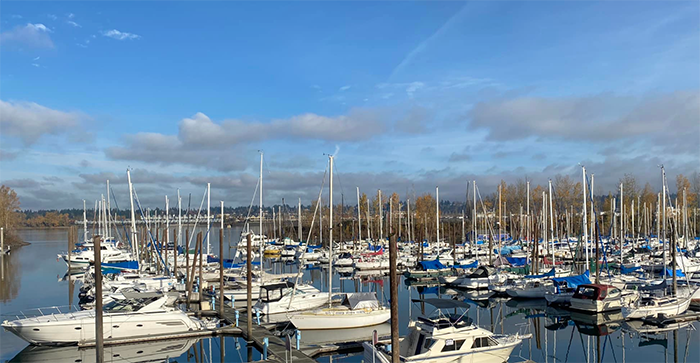 Hidden Bay Cafe is a nautical-themed eatery serving a selection of sandwiches with outdoor tables overlooking the marina.
Hidden Bay Cafe—515 NE Tomahawk Island Dr #105
Hayden Island Neighborhood Park
Lotus Isle Park—a 1.65-acre park located on the neck between Hayden Island and Tomahawk Island offering a play area, picnic table, and paved walking paths.
Hayden Island Neighborhood Vibe
Hayden Island is a marine community where most residents can drop their canoes, kayaks, and boats in the water for river adventures right from their back yards. The vibe here is outdoorsy and active but relatively quiet and close-knit, a mix of young and old, blue and white collars, and entrepreneurs, too.
Hayden Island Neighborhood Schools
While there are no schools within the neighborhood's boundaries, kids on Hayden Island are served by the following schools.

K-8—Faubion School
High School—Roosevelt High School and Jefferson High School
Hayden Island Neighborhood Stats
Hayden Island Zip Code—97217
Hayden Island Neighborhood History
The island was discovered in 1792 by Lieutenant William Robert Broughton, commander of the HMS Chatham.
How did Hayden Island Get its Name?
The neighborhood underwent multiple name changes before it became Hayden Island. Broughton originally named it Menzies after the ship's botanist. When Lewis and Clark came along in 1805, they renamed it Image Canoe Island after spotting the emergence of a large canoe at the other side of the island, carved with images of animals and men. The Hudson's Bay Company would later call it Vancouver Island, and after the land was bought by Colonel W. Shaw, it was named Shaw Island. It wasn't until 1851 that the name Hayden Island became the area's final moniker, its namesake being Oregon pioneers Gay and Mary Jane Hayden and their children, following the Donation Land Claim Act.
After the development of the area (see below) and during the construction of I-5, the land masses of Hayden Island and Tomahawk Island were joined using materials excavated during that construction. As development continued, the Hayden side would become mostly commercial with a few eventual condos and apartments and the Tomahawk side becoming mostly residential.
Business and Commerce
Jantzen Beach Amusement Park
One of Hayden Island's biggest draws in its early days was the Jantzen Beach Amusement Park, touted as the largest one in the nation when it opened in 1928. It is said to have had an annual turnout of around three-quarters of a million people who came to enjoy the roller coaster, carousel, swimming pool, and train rides. (As a side note, neighboring competitor Lotus Isle, technically located on Tomahawk Island, shut down permanently in 1932 after a series of tragedies and ultimate bankruptcy.)
Attendance declined at Jantzen Beach Amusement Park in the 1950s, and by 1970, it closed permanently, paving the way for construction of the Jantzen Beach Mall. The original design of the mall included space for the amusement park's carousel, however, the updated 2012 design did not. Concerned citizens and preservationists protested the potential loss of the carousel. Since then, it has been restored and sits in storage on the mall's property waiting for a permanent home.
Jantzen Beach Center
Originally built in 1971 as the Jantzen Beach Mall, the Jantzen Beach Center is located west of I-5 on the island. Much of the neighborhood's available shopping is located in the Center with a few shops and service providers located on each half of the island's total footprint.
Transportation
For years, the only means of transport to and from the island was by a ferry service that offered round trips between Vancouver and Hayden Island. After the first Interstate Bridge was built in 1917, streetcar service came to the neighborhood largely to provide access to the highly successful amusement park development, which occupied the island's eastern section. In the 1950s, the Interstate Bridge was incorporated into the I-5 freeway.
Today, the MAX Yellow and Green Lines and Trimet bus #6 also serve the neighborhood.
Hayden Island Real Estate and Homes for Sale
The types of homes you'll find on Hayden Island consist of house boats and floating homes, townhomes, condos, and some up-scale apartments. While Hayden Island's lifestyle might seem distantly removed from downtown Portland urban living, it's only about 15-minutes away by car along I-5 and about the same distance from the Portland International Airport. If you've always dreamed about a waterfront lifestyle but still want access to all the modern conveniences you need, Hayden Island might be just the place for you.
Click here to see all Hayden Island homes for sale.
To learn about the Portland real estate market, we recommend this local Portland-based, top 100 real estate blog in the world.
If you are interested in buying a home in Portland, we recommend meeting up with these top 1% Portland buyer's agents, or if you are considering selling a home we recommend these top 1% Portland seller's agents. Visit our Portland Real Estate Page for more information.
North Portland Neighborhood Map
Click any neighborhood.
See the full list of Portland neighborhoods in our Portland Neighborhood Guide.