Hazelwood Neighborhood Guide
The Hazelwood neighborhood is located in East Portland. It is bordered by the Montavilla, Parkrose Heights, Russell, Wilkes, Glenfair, Centennial, Mill Park, and Powellhurst-Gilbert Neighborhoods.

Click the image for a searchable Hazelwood neighborhood map including all homes for sale.
Features of the Hazelwood Neighborhood
Hazelwood offers, quiet, tree-lined residential streets in the midst of several busy Portland roads, such as Burnside Ave and 122nd Ave. The TriMet MAX line runs through the area, making this a fairly easy commute for those residents riding the train. Hazelwood does have a mix of residential and commercial areas. The largest employer in the neighborhood is Adventist Hospital, and there are many medical-related businesses in the area. You'll also find Mall 205 and the Gateway Shopping Center, retailers, and some autobody shops and car dealerships, which are mostly along 122nd.
Because Hazelwood is not located close to downtown Portland, homes here are still more affordable than many other parts of the city. This may also be a good area to check if you are looking for a starter home. Once the neighborhood is fully developed with improvements (both aesthetic and nature-friendly), property values will likely rise. The presence of mass transit and the proximity to I-205 also contribute to Hazelwood's appeal.
Much of the current renovation and development, including townhouses, apartments, and multi-story condos, are thanks to Portland Metro designating this neighborhood as a Regional Center. This means that Hazelwood has to have a density similar to the Pearl District or Lloyd Center. This designation doesn't cover all of Hazelwood, though. It runs from the Gateway Shopping Center to Mall 205.
Glendoveer Golf Course
Although Portland may not seem like much of a golfing town, there are multiple world-class courses within the city limits. In Hazelwood, the Glendoveer Golf Course takes up the entire northeast corner of the neighborhood, thanks to its two 18-hole courses. According to management, the Western course is the easiest, thanks to its generous spacing of fairways and bunkers. So, if you want more of a challenge, try the East Course instead.
Like most of the golf resorts in Portland, Glendoveer was established during the early days of Portland (when golf was a much bigger deal). The founder and designer, John Stenzel, created the East Course in 1926. Two years later, he added the West Course. Since then, Glendoveer has become an attraction for both serious and casual golfers – even families are welcome on the grounds. There are tennis courts by the clubhouse as well, so you can practice both of your swings while you're here.
Once you're done playing, you can hop over to the Von Ebert Brewery, which is conveniently located next to the clubhouse. This brewpub isn't owned and operated by Glendoveer – it's a separate entity. Von Ebert is an award-winning brewpub, earning the Best Brewers title in 2019 and Innovator of the Year Award in 2020. The food here is just as tasty as the beers, with a selection of rotisserie-smoked meats and scratch-made dishes. The perfect way to end a day on the course.
Glendoveer Golf Course – 14015 NE Glisan St.
Hazelwood Businesses of Note
Because Hazelwood has two major shopping centers within its borders, you can find tons of shops and retailers without having to travel far. While most of the options are chain stores, there are more than a few locally-owned establishments as well. If you're ever in the area, be sure to check these places out.
El Indio
One of the best things about Mexican restaurants is that they often have an extensive menu. While more authentic taco places may tone it down a bit, eateries like El Indio will never leave you wanting for more. If anything, the menu can be a bit overwhelming when looking through it, so be sure to have some idea of what you want before coming.
El Indio is a perfect example of an American success story. Two brothers opened the first restaurant in 1988, and it has since become a fixture of the neighborhood. With such a spacious and inviting space, El Indio is perfect for individuals, couples, families, and large groups.
When talking about the food, this place offers flavorful plates that will always satisfy. You can find everything you need here, from seafood to steak to chicken to burritos and tacos. All of the ingredients are impeccably prepared – this is one restaurant that successfully merges the atmosphere and the flavor, rather than focusing on one or the other.
El Indio Mexican Cuisine – 11114 NE Halsey St.
Birrieria La Plaza
While El Indio is a full-service Mexican experience, Birrieria La Plaza is a much more informal affair. Since this is a food truck, you won't find any decor or background music – just delicious food. So good, in fact, that there is usually a small crowd hovering outside, waiting to order. Be sure to plan accordingly, since there may be a bit of a wait.
Fortunately, the food is worth it. If you're not familiar with birria, it is marinated meat. Although it can be made from goat meat, birria is often beef, as is the case here. Once you've tried this succulent and flavorful dish, you'll want more. The whole menu is comprised of birria, from tacos to quesadillas to tostadas. You won't find other meats here, but it doesn't matter. We recommend getting the sampler plate so that you can try the meat four different ways.
The cart began in 2019 as the culmination of a lifetime of cooking for owner and founder Dona Sofia. She grew up making traditional Mexican dishes, and has refined her skills over the past 40+ years. With such a delicious menu and dedicated following, we're sure that La Plaza will keep going strong for a long time.
Birrieria La Plaza – 600 SE 46th Ave.
Falco's Pub
With so many brewpubs in Portland, you are never wanting for a drink. Sometimes, it seems that one pops up on every street corner, just like a 7-Eleven or Starbucks. Most of these places are relatively recent, but Falco's Pub has been around for a little while. Founded in 2009, Falco's has made a place for itself within the Hazelwood neighborhood.
As far as bars go, Falco's doesn't try to reinvent the wheel. This means you can get good drinks, tasty food, and a relaxed atmosphere (at least on non-game days). The menu has changed over the years, with a focus on sandwiches and lighter fare. Before, you could come for a steak dinner, but it seems that the owners want to keep it simple. On Monday nights, Falco's hosts a local comedy night, and Thursdays are for karaoke. So, grab your friends and come on down for some laughs (on either day).
Falco's Pub – 9950 SE Stark St.
Sayler's Country Kitchen
Depending on where you go in Portland, most of the establishments are either relatively new (circa 2010 or later), or have been around since the 80s or 90s. It can be quite difficult to find a business that has been around for more than three or four decades, thanks to Portland's transformation. Sayler's Old Country Kitchen, however, is an outlier. Founded in 1946, this steakhouse has become legendary, thanks to its excellent service, even better food, and its signature steak challenge.
During the halcyon days of the 60s and 70s, Saylers was one of the most popular steak houses in Portland. These days, while steak isn't as trendy as it used to be, the restaurant still packs them in. This is one of the few places where you get a full-course meal, including salad, bread, side dishes, and ice cream for dessert; just like it was in the golden days.
If your appetite is gargantuan, you can attempt Sayler's steak challenge. You get 72 ounces of delicious meat, along with all of the trimmings (olives, potato, carrot sticks, salad, and pickles). You have one hour to finish everything. If you do, the whole meal is free! Even if you don't, there's plenty to go around, so feel free to share in the spoils. For those who don't want so much meat, there are tons of other, smaller steak options as well.
Like a true country kitchen, Sayler's also serves chicken, seafood, pasta, and pork. Every dish is made to perfection, and you'll always leave satisfied.
Sayler's Country Kitchen – 10519 SE Stark St.
Forge Parkour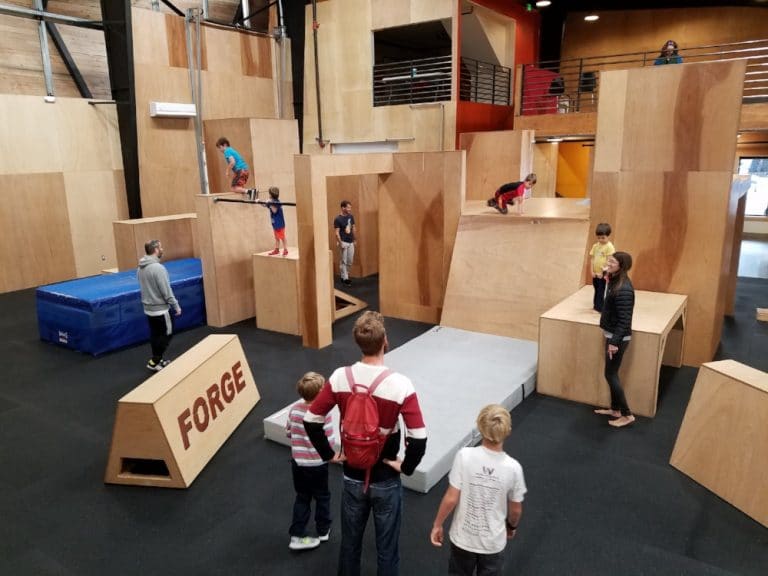 Have you ever wanted to move around the city like a ninja, jumping from surface to surface with no loss of momentum or speed? If so, then you'll be interested in Parkour. For the uninitiated, Parkour is a style of movement where individuals jump, dive, and run on all kinds of structures and surfaces. The term became popular in the early 2000s, thanks to French enthusiasts who made it look super cool. You may be familiar with it from that one episode of "The Office."
Forge Parkour makes it easy to hone your skills without any of the risks. Attempting to jump between buildings can end in disaster, so why not try it in a safe environment where soft mats can cushion your fall? This facility has over 8,000 square feet of space, and it's perfect for both beginners and veterans. They'll even show you how to move as the pros do. Shouting "parkour" while doing it is optional, though.
Forge Parkour – 311 SE 97th Ave
Parks in Hazelwood
---
Community Resources
Hazelwood Neighborhood Association
Schools
Menlo Park Elementary, Lincoln Park Elementary, Ventura Park Elementary
Hazelwood Neighborhood Vibe
Family-friendly, with a great mix of suburban and urban areas. This neighborhood has easy access to shopping, dining, and public transportation. This is one of the most diversely developed areas in East Portland.
Hazelwood Stats
Zip Code 97216
Hazelwood Real Estate
This area features modest family homes, with many ranch-style and cape-cod houses. These properties were generally built in the 1950s and 60s. There are a few original older homes mixed throughout the neighborhood, as well as some new development, such as row and townhouses.
Click here to search all Hazelwood Neighborhood homes for sale.
To learn about the Portland real estate market, we recommend this local Portland-based, top 100 real estate blog in the world.
If you are interested in buying a home in Portland, we recommend meeting up with these top 1% Portland buyer's agents, or if you are considering selling a home we recommend these top 1% Portland seller's agents. Visit our Portland Real Estate Page for more information.
Southeast Portland Neighborhood Map
Click any neighborhood.