Hollywood Neighborhood Guide
Portland's Hollywood neighborhood is one of the smallest in the city, encompassing a square of less than a fifth of a mile. It is located just North of I-84, and it is bordered by Sullivan's Gulch, Rose City Park, and Grant Park neighborhoods.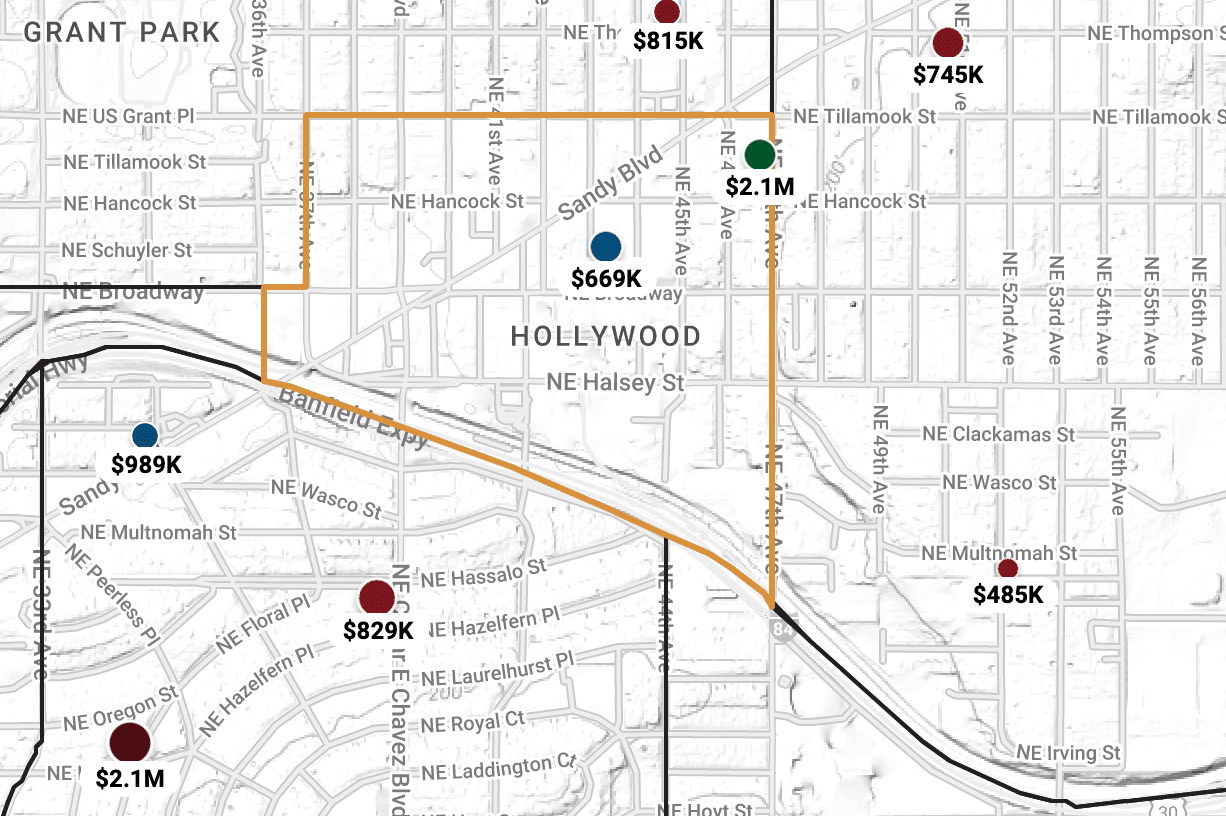 Click the image for a searchable map of Hollywood neighborhood, including all homes for sale.
Historic Hollywood Theater
Hollywood District Portland Podcast
Prefer to listen? We've got you covered. The Portland Neighborhood Podcast will cover every single Portland neighborhood, one neighborhood per episode, until we have covered all 95+ colorful and unique Portland 'hoods. Join us on this exclusive audio journey and discover all that Rose City has to offer!
Features of Hollywood Neighborhood
Although you might think that this neighborhood gets its name from the more famous Hollywood in California, the fact is that, until 1926, it was known as "Hollyrood." It wasn't until the Hollywood Theatre opened on Sandy blvd opened that the neighborhood decided to change its name.
Despite being next to the freeway and having two main thoroughfares cutting through it, Hollywood is ideal for both pedestrians and vehicles alike. Also, since it's so small, you can easily traverse the whole place in a few hours, depending on how many stops you take.
While Portland's Hollywood isn't packed with celebrities, superheroes, and throngs of tourists, it's still a worthy place to visit for both visitors and locals alike.
Hollywood Street Tour

Despite the fact that the sidewalks along the streets of Hollywood aren't paved with stars, there is still plenty to see. We'll begin our walking tour from the southwest corner, where you'll notice a historic building – the old Steigerwald Dairy Company. When Steigerwald was still in business, the sign on top was a milk jug. Later, it was changed to a 7up bottle, which stayed for many years. Afterward, it became a Budweiser sign, and now it represents a mortgage loan company. Lots of history wrapped up in one piece of advertising.
Should you have a yen (oops, make that a yuan) for Northern Chinese cuisine, stroll or briskly stride up 37th Avenue and hang a right onto NE Broadway to Shandong Restaurant and have a steaming bowl of Dragon in the Garden soup and potstickers. Sushi more your style? Then the Bluefin Sushi Bar is right for you. Bluefin is also on Broadway but you'll have to go back south to Sandy Blvd. and then head east and look for the Sandy/Broadway split just the other side of NE 39th; part of the Hollywood District's "charm" is it's wacky street dynamics.
If a street can have a lighthouse, then Sandy Boulevard's is the venerable Hollywood Theatre, a showcase for cinematic fare both classic and contemporary. A non-profit organization manages the renovation and improvements to the grand old lady. They also have volunteer opportunities and internships available for those with a mind to contribute. While you're enjoying a pint and a show, be sure to inquire about volunteering.
From this point you may take the crosswalk to the Magnolia Bar across the street from the theater to enjoy a glass (or a bottle) of wine. Or take a left on 42nd Avenue and trot up to The Moon and Sixpence for a taste of Old Blighty. Cheers!
Quick! Run into TigerLily Tattoo and Designworks and get that ink done that you've always wanted to dare yourself to get. Once you're finished getting inked, you can refresh yourself with either a slice of pie from local pizza chain Hotlips Pizza or a burger from Killer Burger. Both of these restaurants are next door, making them even more convenient. 
If all you really want after all is a nice walk through a neighborhood with beautiful greenery and lovely homes, just turn north. The residential areas of the Hollywood District are quiet and calm under leaf-laden trees, a very pleasant surcease after experiencing the rush and roar of the big streets. They inspire a wish to wander. And so you should.
Hollywood Businesses of Note
Our quick street tour isn't enough to help you understand the nature of this neighborhood. Let's take a closer look at some of the restaurants and businesses that help make Hollywood unique.
Shandong Restaurant
Since 2010, Henry Liu has been cooking up quite a feast at Shandong. It has become something of an institution in the area, particularly for its remarkable happy hour offerings. Be sure to come and wet your whistle (and your tastebuds) from 4 to 6 p.m. daily. However, even if you don't come for that, the menu is a tasty selection of traditional northern Chinese dishes.
Some of the most notable selections you can find here include the Dragons in the Garden Soup, a vegan menu (for hardcore Portlanders), and house-made fresh noodles. If you haven't had freshly-prepared noodles before, you are in for quite the treat.
Shandong – 3724 NE Broadway
Chin's Kitchen
Hollywood is home to many tantalizing Far East restaurants, including Chin's Kitchen. Like Shandong, this space specializes in dishes from northern China. However, this food is considered Dongbei, which means that most of the items are noodles, shortbreads, and steamed buns. Since Chin's recent renovations, it's become one of Portland's top 40 eateries, and it's currently the only Dongbei-style restaurant in the state.
Although Chin's has become more noticeable in recent years, the kitchen has been in operation for almost 70 years. The chefs have had plenty of time to practice their dumpling techniques, which is why they are so delicious. We highly recommend that you try them all, as each version has its own blend of flavors and seasonings.
Chin's Kitchen – 4126 NE Broadway

Hollywood Theatre
We can't discuss notable businesses in this neighborhood without mentioning its crown jewel, the Hollywood Theatre. After all, it was such a sensation that the whole area was renamed after it.
This theater opened its doors on July 17th, 1926. The inaugural feature was the silent movie More Pay, Less Work. At the time, the Hollywood Theatre was the last building built to be both a vaudeville and film space. Over the years, the theater has had numerous renovations, including some structural work in the '70s to retrofit the interior space. The current layout was furnished in 1975.
In 1983, the Hollywood Theatre was listed in the National Register of Historic Places, but shortly thereafter, it fell into disrepair. It wasn't until 1997 that the organization Film Action Oregon bought the space and renovated it to its former glory. Even today, FAO continues to maintain the theater and ensure that it will stand for future generations.
These days, you can find limited runs of both contemporary and classic films, and the theater also hosts themed nights, such as Queer Horror and Kung Fu Theater. You can discover more about its history here.
Hollywood Theatre – 4122 NE Sandy Blvd.
The Moon and Sixpence
For those wanting a taste of the Old World, the Moon and Sixpence Pub is one of the best places to visit. It's not as flashy as some of the other British-style pubs in the area, but its quiet charm is more than suitable for regulars and first-timers alike.
If you're curious about the establishment's name, it likely comes from a novel written by William Somerset Maugham. It's not clear what the novel and pub have in common, but it's possible that the owners just liked the way it sounded.
Unfortunately, The Moon and Sixpence doesn't offer any happy hour specials, but you can find darts along the wall and plenty of people to bend an ear. The vibe of this place is fairly serene, and because the Hollywood district isn't well-known for a rowdy nightlife, you can sit back and relax pretty much any time, day or night. We highly recommend trying the pasties or the fish and chips to complement your beverage of choice.
The Moon and Sixpence – 2014 NE 42nd Ave.
Tiger Lilly Tatto
Although there are numerous places in Portland to get tatted, the Tiger Lilly is one of the most respected. This parlor was founded in 1998 by artist Matt Reed, who cut his teeth and apprenticed at Portland's oldest tattoo shop, The Sea Tramp Tattoo. Matt brings his own artistic flair to each design, making this one of the top spots for ink enthusiasts.
The inside of Tiger Lilly is as colorful and funkadelic as the art they put on your skin, so you are sure to get inspired as soon as you walk in. Although Matt doesn't currently manage the place, he still dabbles in ink and spends most of his time here. His family runs the operation, he just works there.
Tiger Lilly Tattoo – 4620 NE Sandy Blvd.
---
Hollywood Neighborhood Vibe
Looking at some of the businesses we've listed, it's easy to assume that this is a hip, trendy spot to check out with friends. While some of these places are perfect for a group outing, the neighborhood is pretty quiet after dark. Unless you're catching a show at the Theatre or knocking back a couple of pints at The Moon and Sixpence, there's not much in the way of nightlife.
Instead, Hollywood shines during the day. Its history and modern renovations are on full display, and it's marvelous. It's a relaxed and tight-knit neighborhood, and it's easy to find your way. Also, because it's so small, Hollywood is the ideal place to stretch your legs and explore on foot. You never know what you'll discover around the corner.
---
Hollywood Neighborhood Community Information
Hollywood zip code 97213
Hollywood Schools
Although there are no schools within the boundaries of the Hollywood neighborhood, there are high-quality options close by. You can see the Portland Public Schools district map here.
Elementary School – Laurelhurst School
Middle School – Beverly Cleary K-8 (formerly Fernwood)
High School – Grant High
---
Hollywood Neighborhood Real Estate
This area features many older Portland homes full of character and charm. Tree-lined streets, covered porches, and families taking a stroll. The Hollywood neighborhood is conveniently located along major streets for easy commuting (NE Broadway and Sandy Blvd., as well as I-84). With neighborhood shops, restaurants, a theater, and stores within walking distance from each other, Hollywood is the quintessential Portland lifestyle.
Click here to search all Hollywood Neighborhood homes for sale.
To learn about the Portland real estate market, we recommend this local Portland-based, top 100 real estate blog in the world.
If you are interested in buying a home in Portland, we recommend meeting up with these top 1% Portland buyer's agents, or if you are considering selling a home we recommend these top 1% Portland seller's agents. Visit our Portland Real Estate Page for more information.
Hollywood District: Friend's We've Lost
A neighborhood doesn't stick around for almost a century without a little turnover. Here are the businesses that used to call Hollywood home, but have since vacated the area.
Tony's Starlight Supper Club and Lounge – Bar and Lounge
If your tour starts as you cross over I-84, two unusual places – well, they would be unusual if this wasn't Portland – flank you on either side of Sandy Blvd. as you enter the district via its southeast corner. To your right is Tony Starlight's Supperclub and Lounge, where you may enjoy cocktails and smoky jazz and blues with the rest of the swells. A reason to bust your swanky finery out of the closet!
Although Tony's isn't in Hollywood anymore, he relocated to the Buckman neighborhood, where the venue is currently called the Tony Starlight Showroom.
Mountain Shop and Rip City Skate – Outdoor Accessories
To the left across the street is the bottle-shaped facade of what was originally Steigerwald Dairy Company in the 1920s (the bottle was later reshaped to represent 7-Up, and today it bears the Budweiser logo). This building houses two shops that appeal to the outdoor adventurer: Mountain Shop, for all things skiing, snowboarding, and climbing, and Rip City Skate, for longboards and skateboards and accessories (where you can try out the goods on their ramp in the back!).
Interestingly, Mountain Shop may have moved out of the hold Steigerwald building, but they are still on Sandy Blvd. Today, you'll find your skiing and snowboarding gear just a mile down the road, on the corner of Sullivan and Sandy. Rip City Skate, however, has officially fulfilled the first part of its name: RIP.
Aliviar Coffeehouse – Coffee Shop
Pal's Shanty Tavern – Pub
Northeast Portland Neighborhood Map
Click any neighborhood.

Check Out More Portland Neighborhoods
Go back to the full list of neighborhoods in our Portland Neighborhood Guide