Kerns Neighborhood Portland
The Kerns neighborhood is located in both central and southeast Portland, just on the east side of the Willamette River, north of Burnside Street. It is bordered by the Buckman, Lloyd, Sullivan's Gulch, Laurelhurst and Sunnyside neighborhoods.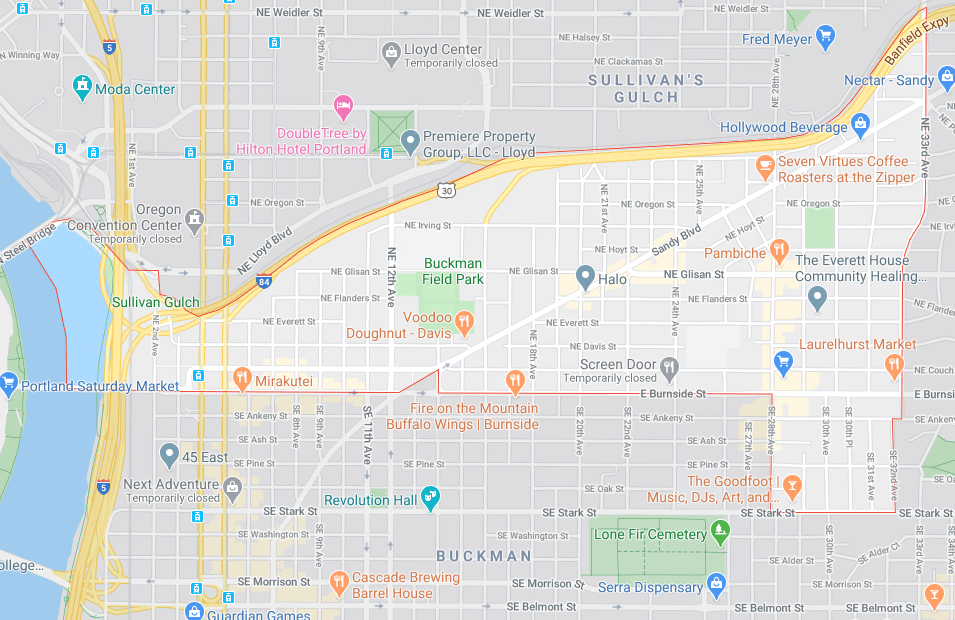 Kerns Neighborhood Features
Kerns, being relatively close-in to downtown Portland, is in a fairly urban area and a result, is a heavy mix of commercial and residential.  As Kerns covers a fairly small urban area, there is not a lot of residential property within Kerns, but what there is consists of older east Portland homes–beautiful large, substantial homes with period charm and detail, many of which have been converted over the years into multi-family units and multiplexes.  Portland four-squares and large Craftsman style bungalows line the streets, tucked into the more commercial areas.
Kerns has many popular Portland restaurants and locally owned businesses, making this a  fun neighborhood to visit.  The Buckman – Kerns shops, bars, and restaurants along Burnside and 28th Avenue are some of the best in town. The Laurelhurst Theater is a great old classic theater for catching a movie.
Buckman and Kerns neighborhoods are also home to some of Portland's finest micro breweries:
Buckman Brewing
Migration Brewing
Coalition Brewing
Burnside Brewing
Lucky Labrador Brewing
Natian Brewing
Cascade Brewing
Kerns Neighborhood Parks
Kerns Neighborhood Community Resources
Kerns Neighborhood Vibe
Kerns is considered to be urban, artsy, bike-friendly, green and eco-conscious.  This is a neighborhood of families, singles, and urbanites. 
Betty Rides – Portland Women's Snowboarding Gear
NE 28th Avenue Mural
Beulahland Coffee and Alehouse – NE 28th Ave, Kerns Neighborhood Portland
Laurelhurst Theater – 28th Avenue and Burnside, Kerns
Kerns Neighborhood Stats
Kerns Zip Code 97214
Kerns Real Estate
Many of the Kerns homes are old style Portland homes such as Foursquares, Old Portland, Bungalows and more East Portland classic styles. There are a few east coast style apartment buildings in Kerns, and some newer in-fill condos and urban style buildings, too.
If you are interested in buying or selling a home in this Portland neighborhood, visit our Portland Real Estate Page for more information, or visit our Portland Real Estate Map to search the RMLS for neighborhood homes for sale.
Northeast Portland Neighborhood Map
Click any neighborhood.

Check Out More Portland Neighborhoods
Go back to the full list of neighborhoods in our Portland Neighborhood Guide
Schools

Safety

Shopping

Entertainment

Parks

Community