Kerns Neighborhood Portland
The Kerns neighborhood is located in both central and southeast Portland, just on the east side of the Willamette River, north of Burnside Street. It is bordered by the Buckman, Lloyd, Sullivan's Gulch, Laurelhurst, and Sunnyside neighborhoods.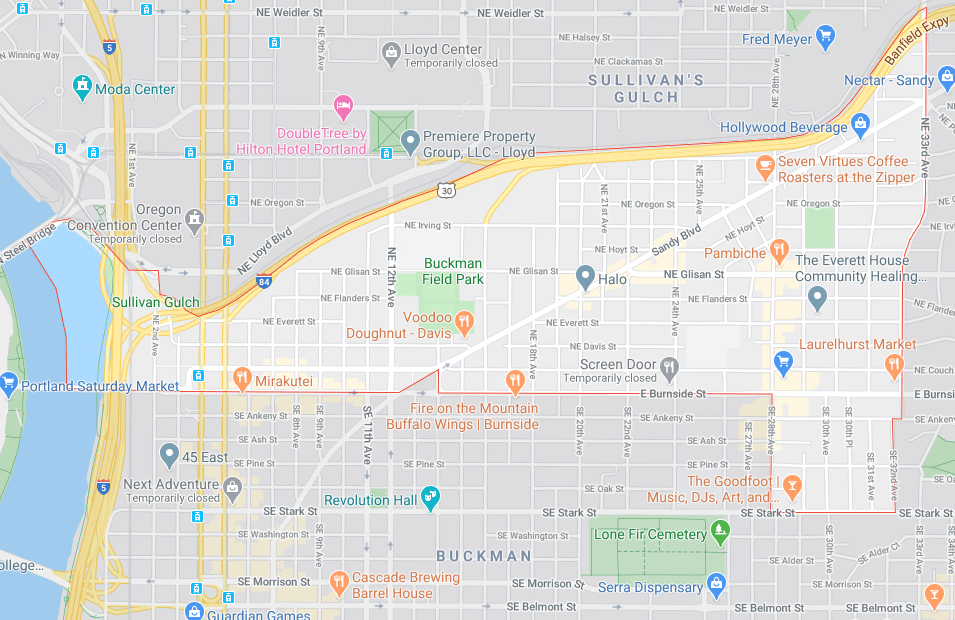 Kerns Neighborhood Features
Kerns, being relatively close-in to downtown Portland, is in a fairly urban area and a result is a heavy mix of commercial and residential. Since Kerns covers a fairly small urban area, there is not a lot of residential property within the neighborhood, but what is there consists of older east Portland homes. These are beautiful, large, substantial homes with period charm and detail, many of which have been converted over the years into multi-family units and multiplexes. Portland four-squares and large Craftsman-style bungalows line the streets, tucked into the more commercial areas.
Kerns has many popular Portland restaurants and locally-owned businesses, making this a fun neighborhood to visit. The Buckman – Kerns shops, bars, and restaurants along Burnside and 28th Avenue are some of the best in town. The Laurelhurst Theater is a great old classic theater for catching a movie.
The Buckman and Kerns neighborhoods are also home to some of Portland's finest microbreweries, including Migration Brewing, Lucky Labrador, Natian Brewery, Culmination Brewing, and the Cascade Brewing Barrel House. Both of these areas are perfect for a pub crawl since there are so many places from which to choose.
Kerns Neighborhood Businesses of Note
Kerns is one of the most densely-packed neighborhoods in terms of restaurants and retailers. Residents here don't have to travel far to experience world-class food, excellent atmosphere, and a taste of Portland life. Although there are far too many gems to list here, we've curated this list to be as diverse and representative as possible. Once you've tried these places, be sure to go out and explore the rest of Kerns.
Gravy
As the saying goes, breakfast is the most important meal of the day. Fortunately, Gravy serves it all day long, so no matter if you're an early bird or a night owl, you can still enjoy classic staples like bacon and eggs, waffles, and of course, biscuits and gravy. This restaurant is purely focused on breakfast, although you can get a hefty lunch on weekdays as well.
The menu is extensive and delicious, with highlights like mixed scrambles, fruit bowls, fried chicken, and scratch-made pancakes. Virtually every morning dish is served here, and each meal is made with fresh and locally-sourced ingredients. The atmosphere at Gravy is like that of an old-fashioned country diner, but with a Portland twist. Definitely an excellent place to meet friends and share a bite.
Gravy – 3101 NE Sandy Blvd.
Music Millennium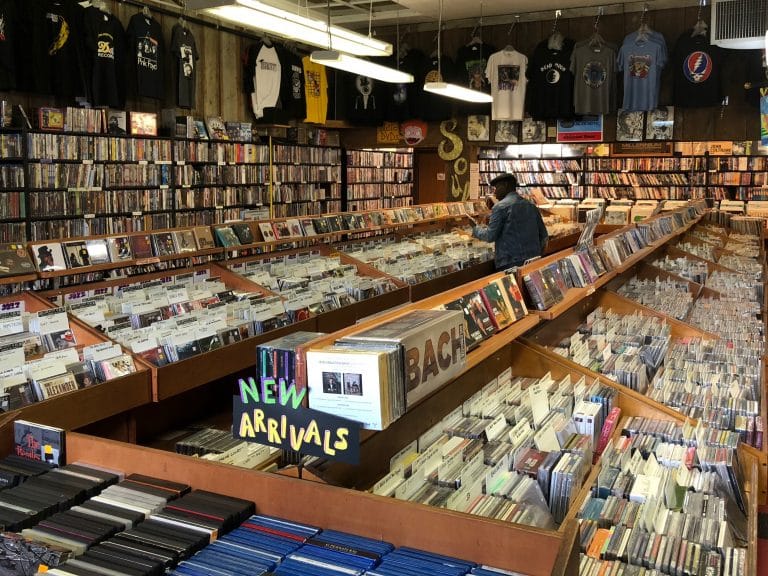 These days, the very concept of a record store can seem somewhat antiquated. The idea of having to go to a physical place and browse through a music selection by hand is so last-century. However, while other record stores have gone the way of the dodo, Music Millennium is still going strong. Its success is due to a few factors: brand-recognition, a resurgence in vinyl appreciation, and the fact that the retailer is an excellent music venue for local artists.
It's fitting that Music Millennium's start began in the "summer of love" in 1969. The 60s were a transcendent period for music, and this store still reflects the counter-culture vibe of the decade, even 50+ years later. When you shop here, you get a sense that the employees are passionate about music, both old and new. Here is not a place for purists to scoff at your choices, at Music Millennium, all tastes are welcome. They even carry albums from around the world for a truly eclectic palate.
Music Millennium – 3158 E Burnside St.
The Sudra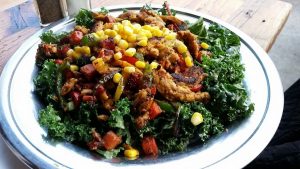 Living in Portland makes it easy to be a vegan. Unlike other cities in the country, Portland has embraced the no-meat lifestyle, which means that there are tons of vegan and vegan-friendly restaurants in town. Kerns actually has more than its fair share of eateries, but one of the best is The Sudra. As an Indian restaurant, you can find a lot of delicious and mouthwatering dishes that you can't get anywhere else. Even if you're a meat-lover, you will appreciate the mixture of flavors and aromas that The Sudra has to offer.
Highlights from the menu include tamarind beets, turmeric Brussel sprouts, deep-fried cauliflower (with chutney and coconut yogurt), kofta, dosa, and soy chicken with noodles. However, beyond the "chicken," The Sudra doesn't spend much time trying to trick your brain into thinking that you're eating meat. Instead, the chefs work hard to blend vegetables with scratch-made spices for an experience unlike any other. If you're thinking of becoming a vegan, this restaurant will be an excellent introduction (although it might spoil you).
The Sudra – 28 NE 28th Ave.
Laurelhurst Theater
While Portland is well-known for having tons of funky and local brewpubs, it also has plenty of locally-run movie theaters. We've written about them before, including the Bagdad in Hawthorne and the Hollywood Theater in Hollywood. Kerns has its own centerpiece, the Laurelhurst. This cinema originally opened in 1923 and had a single screen for up to 650 people. At the time, Art Deco style was in full swing, so the exterior has a definitive "roaring 20s" vibe.
Over the years, additional theaters have been added to the building, so now the Laurelhurst can show up to four movies simultaneously. For a long time, the only refreshments served here were standard fare (i.e., soda and popcorn), but that all changed in 2001. Since then, Laurelhurst has become like almost every cinema in Portland – a great place to relax and have a beer while watching the show. The menu hasn't changed that much, but now you can buy vegan pizza and a Ceasar salad, so that's something.
Laurelhurst Theater – 2735 E Burnside St.
Screen Door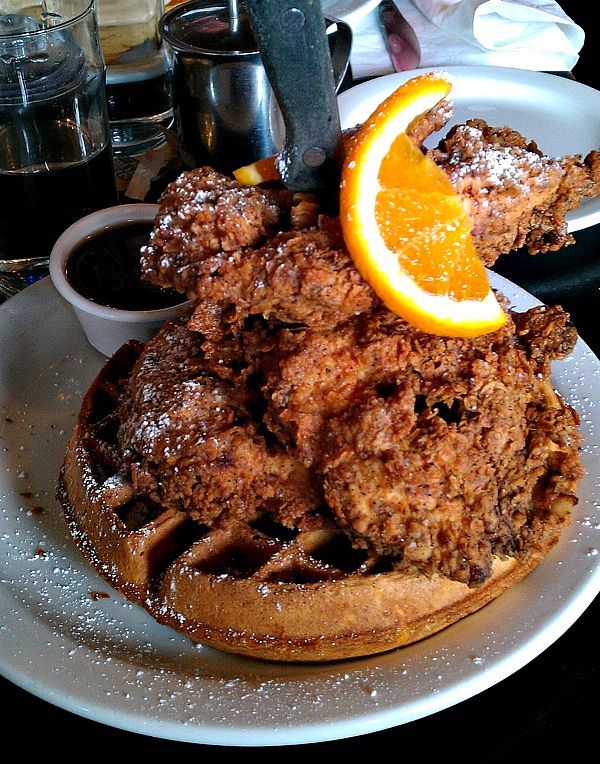 Although Portland is about as far from the South as you can get – both physically and spiritually, it does have some top-notch restaurants that specialize in Southern comfort food. One of the best is Screen Door, which offers both delicious eats and a relaxed, comfortable atmosphere. When you're here, you feel like you're at home. Best of all, the place serves family-style meals, which are perfect for sharing with relatives and/or friends.
The best times to come here are for brunch and dinner, as the menus are spectacular. You can find dishes like biscuits and gravy, fried green tomatoes, cornmeal-dusted catfish, and fried chicken and waffles. And that's just the brunch menu. For dinner, you can indulge in some of the best mac n' cheese this side of the Mississippi, as well as tender and succulent brisket. Everything here is definitely finger-licking good. However, be sure to leave room for Screen Door's signature cheesecake or berry crumble.
Screen Door – 2337 E Burnside St.
Voodoo Doughnut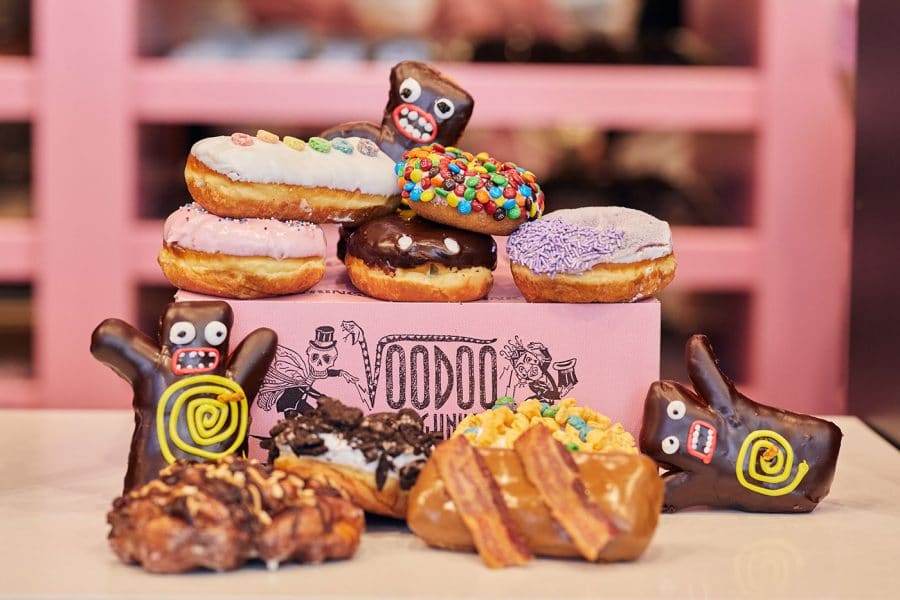 There was a time when Portland didn't have any world-famous donut shops. However, ever since Voodoo Doughnuts got its fifteen minutes of fame, the city has become a doughnut-lovers paradise. From its humble beginnings, Voodoo Doughnuts is on track to take over the country, with storefronts spreading out to Texas, California, Florida, and beyond.
However, for those who want to sample the goods locally, the Davis street location is a prime spot to visit. While downtown is mobbed by tourists day and night, this shop is slightly less busy, so you get to enjoy your doughnuts that much faster. One of the reasons Voodoo became such a hit was its unique and original flavors. The chefs are still at it, with new doughnuts coming out all the time. However, you can't go wrong with the original cream-filled Voodoo Doughnut, crafted to look like your enemies (provided that your enemies are covered in chocolate frosting). Revenge never tasted so sweet.
Voodoo Doughnut – 1501 NE Davis St.
Nomad.PDX
For the most part, Portland restaurants are a nice blend of modern chic without too much pretentiousness. Here is where you can get a world-class meal without feeling like people are silently judging you for not experiencing it the right way. Nomad PDX is a quintessential example of this vibe, as it is a fine-dining establishment that focuses just as much on friendship and community as it does the food.
If you haven't had a communal dining experience yet, Nomad is an excellent place to start. Guests are encouraged to get to know each other as the multi-course meal is delivered and shared. Each dish is lovingly crafted with the freshest and tastiest ingredients, meaning that you will love every bite. Chef Ryan Fox is constantly trying to outdo himself, and it shows. For those who just want a quick bite, Nomad also has a speakeasy-style bar. The cocktails are as unique and flavorful as the menu, so be adventurous when you visit.
Nomad.PDX – 575 NE 24th Ave.
Pie Spot
When it comes to dessert, nothing beats a good slice of old-fashioned pie. Fortunately, if you come to the Pie Spot, you won't have to worry about missing out on a specific flavor – they have them all. As the name implies, pie is specialty here, so don't try to find anything else on the menu. Fortunately, the Pie Spot does both sweet and savory, so you can get a full meal when you visit.
As far as sweet pies, this place has both the classics and some fresh takes. Key lime, banana cream, chocolate, pecan, and peach are all par for the course. Best of all, you can get yours in a personal size so that you don't have to share. They're called "cupcake pies," and they're perfect.
When moving to the savory menu, it's far more than just variations of chicken pot pie. The Pie Spot has cheeseburger pies, sausage and cheese pies, mushroom gruyere pies, and more.
Pie Spot – 521 NE 24th Ave.
Kerns Neighborhood Parks
Kerns Neighborhood Community Resources
Kerns Neighborhood Association
Schools
Buckman Elementary School, Irvington Elementary School
Kerns Neighborhood Vibe
Kerns is considered to be urban, artsy, bike-friendly, green, and eco-conscious. This is a neighborhood of families, singles, and urbanites.
Kerns Neighborhood Stats
Zip Code 97214
Kerns Real Estate
Many of the Kerns homes are old-style Portland homes such as Foursquares, Old Portland, Bungalows, and more East Portland classic styles. There are a few east coast style apartment buildings in Kerns, and some newer in-fill condos and urban style buildings, too.
Click here to search all Kerns Neighborhood homes for sale.
To learn about the Portland real estate market, we recommend this local Portland-based, top 100 real estate blog in the world.
If you are interested in buying a home in Portland, we recommend meeting up with these top 1% Portland buyer's agents, or if you are considering selling a home we recommend these top 1% Portland seller's agents. Visit our Portland Real Estate Page for more information.
Northeast Portland Neighborhood Map
Click any neighborhood.

Check Out More Portland Neighborhoods
Go back to the full list of neighborhoods in our Portland Neighborhood Guide
Kerns Neighborhood: Friends We've Lost
Buckman Botanical Brewery – A brewpub that specialized in organic and botanical-infused beers
Coalition Brewing – A brewpub that specialized in CBD-infused beers
Burnside Brewing – A brewpub that had unique and funky IPAs and ales