Marshall Park Neighborhood Guide
Marshall Park is located in Southwest Portland. It is bordered by the West Portland Park, Markham, South Burlingame, Collins View, and Arnold Creek Neighborhoods. This area is full of parks and natural areas, making it a pristine neighborhood for nature lovers. Homes here are exquisitely built, and the tree-lined streets make it hard to believe that you're next door a major metropolitan city. 

Click the image for a fully searchable Marshall Park neighborhood map, including all homes for sale.
Marshall Park Rock Bridge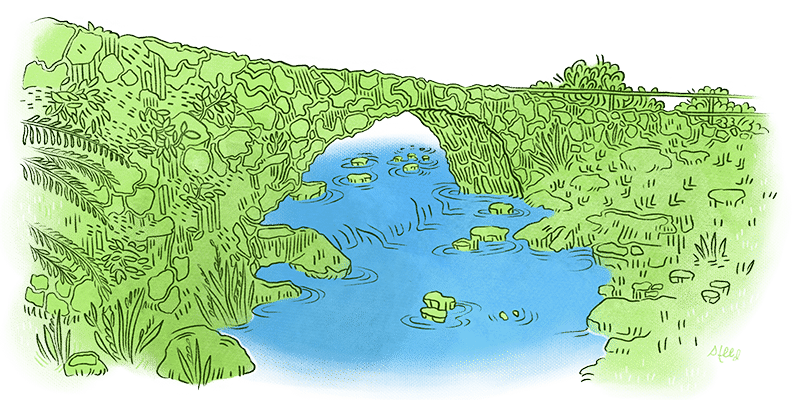 Marshall Park features extensive beautiful forest trails with Tyron Creek bubbling by and a playground for community fun.

Features of the Marshall Park Neighborhood
Like many of the Southwest Portland neighborhoods, Marshall Park has a more suburban feeling than communities located closer to the city. One of the most notable features of this area is Marshall Park, which takes up almost half of the neighborhood. Tryon Creek also runs through it, leading to the Tryon Creek State Natural Area to the southwest.
Marshall Park is an excellent place for families, retirees, and nature lovers of all ages. Hiking the trails is one of the best ways to pass the time, and you can get some incredible views. While other nature-centric parts of Portland are upscale and pricey, Marshall Park offers a more affordable way to get out of the city without leaving its boundaries.
Marshall Park Neighborhood Parks
One thing you'll notice about this neighborhood is that most of the parks and green spaces are referred to as "natural areas." Part of the reason for this distinction is because residents feel that they are sharing their homes with nature, rather than corralling it into a designated square or section. Marshall Park itself is a dominating presence, offering plenty of hiking trails and natural beauty. Those who live here cherish these natural spaces, particularly Tryon Creek. Having a home next to the creek is a unique experience and it's something that gives many residents pride. 
This park gets its name from the original landowners, F.C. and Addie Marshall. They were huge nature lovers and dedicated their golden years to turning this formerly abandoned quarry into something much more beautiful. The park was granted to the city officially in 1951, and the Portland Parks Dept. added acreage to it several years later. Marshall Park also has a 400-foot-wide canyon running through it, which gives it a much more impressive appearance.
Tryon Creek State Natural Area
Although this natural area isn't within Marshall Park's borders, it's just a hop, skip, and a jump away in an unclaimed section of Portland. Tryon Creek is a state-run park, full of trails and campgrounds. This place is perfect for families, including those with dogs. Spend the night in one of the cabins located on the grounds, or pitch a tent and sleep under the stars. Overall, the Natural Area covers over 650 acres.
Community Resources
Marshall Park Neighborhood Information
Neighborhood Association Website
Marshall Park Neighborhood Podcast
Prefer to listen? We've got you covered. The
Portland Neighborhood Podcast
will cover every single Portland neighborhood, one neighborhood per episode.
Join us
on this exclusive audio journey and discover each 95+ colorful and unique Portland 'hoods.
Marshall Park Schools
Elementary school: Rieke Elementary School
Middle school: Jackson Middle School
High school: Wilson High School, Riverdale High School
Neighborhood Vibe
Laid-back with a more residential and relaxed feel than more urban neighborhoods. Located relatively close in, with a variety of home styles, this is a neighborhood that will appeal to families and others who prefer a less urban and more rural feeling neighborhood. Anyone who loves nature and hiking will appreciate Marshall Park's intimately natural feel. Because this area is entirely residential (there are no shops around, nor is there a "main drag"), it's less hectic than other parts of Portland. Living here means that you like to take things a little slower.
---
Stats
Zip Code 97219
Marshall Park Neighborhood Real Estate
Most residents of Marshall Park own their homes, giving a much greater sense of community and pride of ownership. This also means that most people living here have been around for years or decades, making the average demographic skew up. The homes that are for rent or sale are gorgeously designed, with a blend of old and new construction.
Click here to search all Marshall Park Neighborhood homes for sale.
To learn about the Portland real estate market, we recommend this local Portland-based, top 100 real estate blog in the world.
If you are interested in buying a home in Portland, we recommend meeting up with these top 1% Portland buyer's agents, or if you are considering selling a home we recommend these top 1% Portland seller's agents. Visit our Portland Real Estate Page for more information.
Southwest Portland Neighborhood Map
Click any neighborhood.