Old Town Chinatown Portland
Old Town Chinatown is located in Central Portland. It is bordered by the Pearl District and Downtown neighborhoods, and the Willamette River.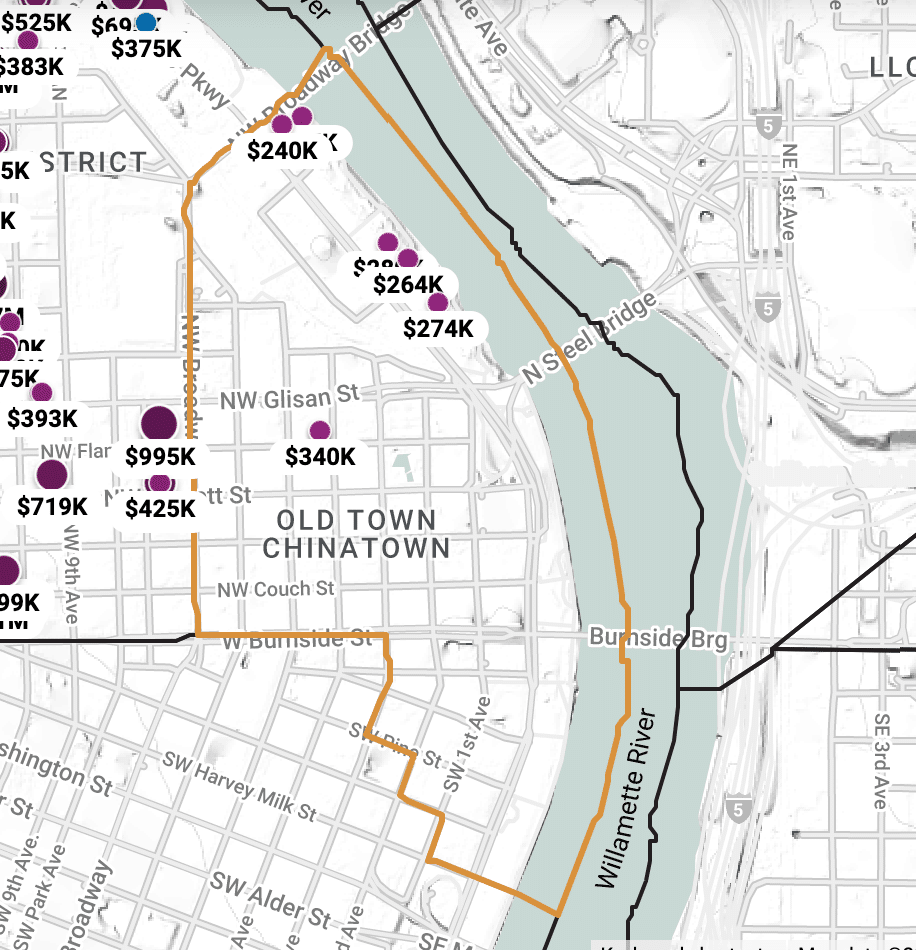 Click the image for a fully searchable Old Town Chinatown neighborhood map, including all homes for sale.
Old Town Portland Water Tower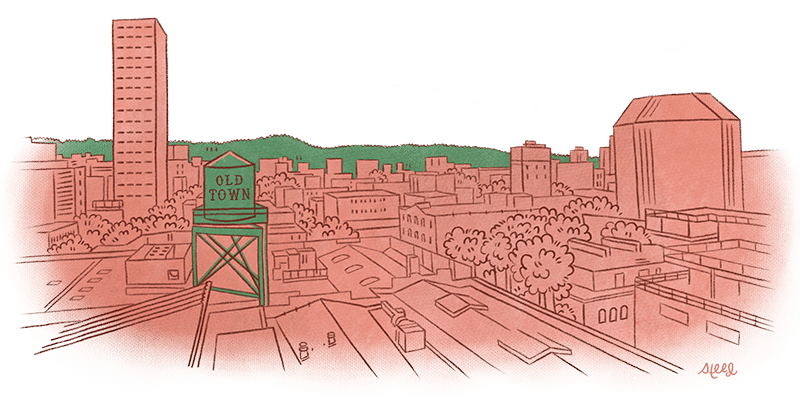 The water tower designates the Old Town Historic District, which was formed in 1975, when developer Bill Naito changed the name of the area north of Burnside from Skid Road to Old Town by painting the words "Old Town" on a rooftop water tower above one of his buildings next to the Burnside bridge. His idea caught on and it changed the area from downtown backwater to a major commercial district. In 1979, Old Town officially became a historic district. ~ Credit pdxwatertowers.blogspot.com

Features of Old Town Chinatown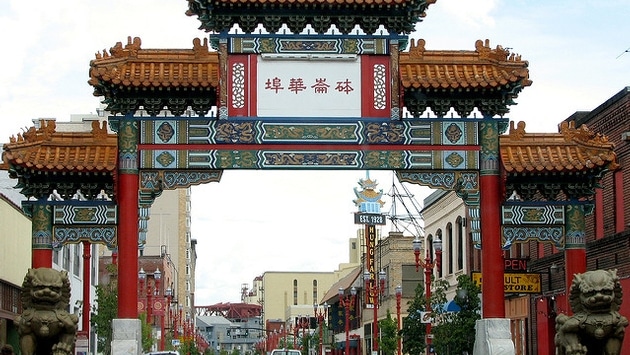 Old Town/Chinatown is a mix: commercial office space, popular bars, nightclubs, and restaurants. Most folks know Oldtown and Chinatown for three reasons: the Portland Saturday Market and the Classical Chinese Garden, as well as world-famous Portland Voodoo Doughnut. Oldtown Portland is also home to some beautiful old classical cast-iron buildings. The "Portland Oregon" sign is also in Oldtown. The neighborhood is rich with history and is a fantastic location in north Downtown Portland near the riverfront. Old Town is popular with tourists and those seeking downtown Portland nightlife.
When it comes to nightlife, there are plenty of options around here. From Ground Kontrol, an arcade/bar, to Darcelle XV, a drag burlesque show, you can explore plenty of places to drink and have a good time. Best of all, each spot is within walking distance, so feel free to do a pub crawl and see how many you can hit in a single night.
If you're looking for one of the most unique tours of the city, check out the Shanghai Tunnels Tour. It takes you beneath the bowels of Old Town to show one of the darker elements of Portland's past. You can take the historical or haunted tour (or both!), depending on your mood.
This area also used to be home to Japantown in Portland. Learn more about Old Town Chinatown. Old Town Chinatown is also conveniently situated on the TriMet MAX light rail train line and bus routes for easy commutes in and around the city.
Weekends are crazy busy with hundreds (if not more) of people milling about enjoying local artist's crafts and amazing local food, most with an ethnic flair. Don't forget that Saturday Market is open on Sundays too! Portland Saturday Market is in Old Town along the waterfront.
The Classical Chinese Garden is an authentic Suzhou-style garden and is simply incredible. Photographers– bring your cameras! I am relaxed simply by walking through and enjoying the sights and smells (hmmm…jasmine in the summer!). Do yourself a favor and visit!
History of Old Town
Like most major metropolitan centers, Portland's Old Town district was the original downtown of the city. When Portland incorporated in 1851, the area was already a hub of activity, as businesses set up shop to take advantage of the city's industrial trade boom. At the time, many of the buildings were made of cast iron, and some of them remain today. Portland has one of the largest collection of cast-iron buildings, with several recognized as historic landmarks.
Because of the need for cheap labor, Old Town was a haven for Chinese and Japanese immigrants, along with Irish, German, Scandanavian, and other ethnic groups. Thanks to the Chinese Exclusion Act of 1882, these groups were heavily restricted regarding where they could live and work. Nonetheless, they created a tight-knit community. Chinatown exists as an homage to these immigrants, and the area used to be home to Japantown until World War 2 when it was dismantled. The city has multiple Japanese heritage sites, including the Japanese American Historical Plaza, to commemorate these early pioneers.
Chinatown was added to the Old Town neighborhood in the 1980s. Unfortunately, due to rising rent costs and property values, the mostly Asian population had to vacate the area. SE 82nd became the new home of the unofficial Chinatown, and it continues to have a large population of Chinese, Japanese, and Vietnamese residents. The Chinatown Gate was erected in 1986 to signify the change, and Chinatown still has numerous restaurants and sculptures to honor the area's heritage.
From its inception, Old Town has gone by many different names. It started as The North End, but became known as White Chapel, Burnside, and Skid Road before becoming Old Town. The Skid Road moniker was coined because of the area's large population of homeless people. When Old Town was listed in the National Register in 1975, it was run down and destitute. A Portland developer named Bill Naito helped spur recovery in Old Town by buying buildings and renovating them. Naito Parkway, formerly Front St, runs the length of the neighborhood and continues further south.
Old Town/Chinatown still has many homeless, but the neighborhood has been experiencing a lot of changes in recent years. As the "New Portland" vibe takes hold, shops and businesses in the area are becoming more open and friendly. Old Town/Chinatown is an excellent place to get a sense of Portland's history, as well as where it's heading in the future.
To learn more about Old Town/Chinatown visit the community page here.
Old Town/Chinatown Landmarks
Because this area has been around since Portland's inception, it has multiple landmarks that help make the city what it is today. Here are a few of the top spots you have to visit while you're here.
Lan Su Chinese Garden
Nestled within the most vibrant center of Portland's downtown is a tranquil paradise. The Lan Su Chinese Garden was founded in 2000, as a result of a partnership between the city of Portland and Suzhou, its sister city in China. Even though the garden isn't overly large, it feels like stepping into another world. It's easy to forget that you're in the middle of the city – the sounds of urban life are all but nonexistent within the garden's walls.
Exploring the garden is a treat. It's complete with many ponds, pagodas, and greenery that you can't find anywhere else in Portland. In fact, Lan Su is one of the most authentic Chinese gardens outside of China. The developers took great care in infusing tradition and culture into every piece of the garden. True to its name, Lan Su means "Garden of Awakening Orchids." When these flowers bloom, the whole place takes on an even more transcendent appearance.
Lan Su Chinese Garden – 239 NW Everett st
Union Station
As Portland grew and developed in the late 1800s, it needed a quick and efficient way to transport goods to and from the city. When railroad tycoon Ben Holladay moved to Portland in 1868, he started building railroads almost immediately. However, there had to be a central station from which the trains could arrive and depart.
The original design for Union Station would have made it the largest one on the West Coast. Due to the prohibitive timeframe and cost of such a development, the city approved a smaller design in 1885. Construction began in 1890, and the station was complete and open for service in 1896, on valentine's day, no less.
Union Station is remarkable for its Romanesque clock tower, which stands out against the Old Town skyline. Currently, Amtrak runs the trains out of Union, and there are offices and other businesses within the building. Wilf's Bar and Lounge is another highlight, where passengers can stop for a drink before they depart the city.
Union Station was listed in the National Register of Historic Places in 1975, along with the rest of Old Town.
Union Station – 800 NW 6th ave
White Stag/Portland Oregon Sign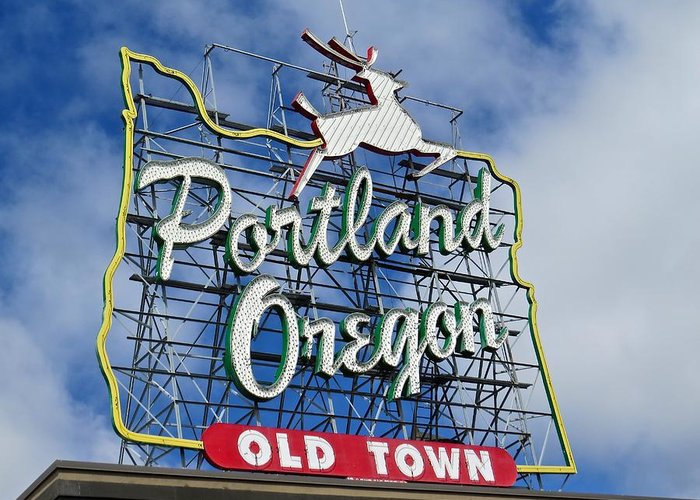 If you're driving west on the Burnside bridge, it's impossible to miss the Portland, Oregon sign, complete with a white stag on the top and an outline of the state around it. However, the story of this sign is quite incredible, as it was almost torn down multiple times in its history. Whereas Los Angeles has the Hollywood sign, Portland has the White Stag.
The original sign was erected in 1940, made by Ramsay Sign Co. They put it up as a way of advertising White Satin Sugar. In 1950, the sign was set up to show sugar pouring into the outline of the state. By 1957, the sign changed to White Stag, an apparel manufacturer that had owned the building since 1924. They removed the sugar, changed the name, and added the stag to the top.
1959 marked the first Christmas season when a red nose was added to the stag to mimic Rudolph the red-nosed reindeer. This would become a tradition that continues to this day.
When White Stag moved out of the building in 1986, there was some dispute over who would manage its maintenance and upkeep. Bill Naito wound up stepping in and keeping the sign running with its White Stag writing. When he died in 1996, the sign changed again to Made in Oregon, a retail company owned by Bill and his family.
In 2008, the University of Oregon moved into the building and proposed changing the sign to the college's name. There was an outcry, and they agreed to have just the word Oregon instead. The next year, Ramsay Sign Co, who had been paying for maintenance since its erection, decided to stop, and threatened to dismantle it. The city stepped in and took over ownership in 2010, and the sign was again changed to Portland, Oregon.
Since then, it's become a symbol of the city, as well as a Christmas tradition.
Saturday Market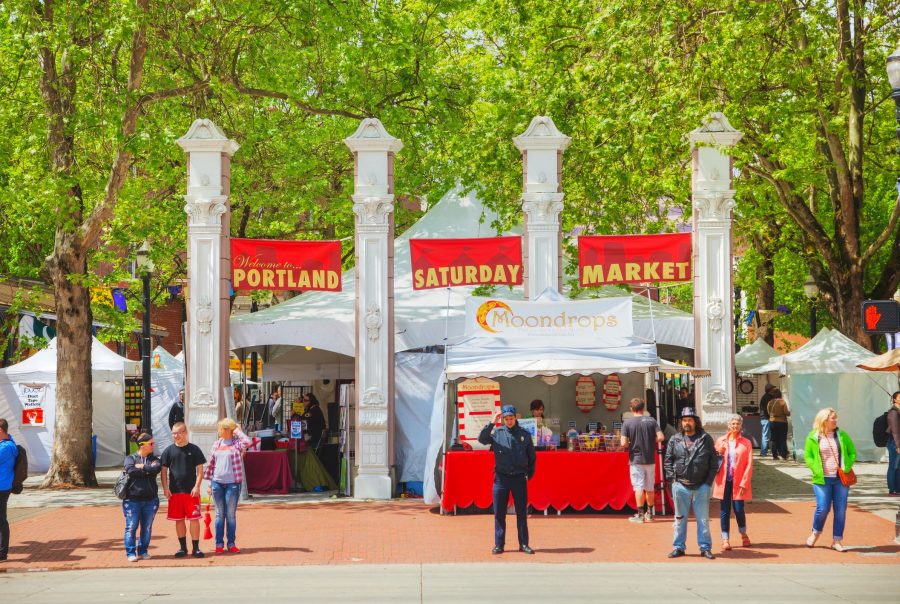 Portland has always valued local businesses and craftsmen, and the Saturday Market is one of the oldest and most widely respected markets in the Pacific Northwest. It began as the brainchild of two artists who convinced their friends to open the market in 1973. From there, it grew and expanded to become a cornerstone of the Old Town scenery.
The Market operates from March to Christmas every year, and it's open every Saturday and Sunday. For many years, it stayed underneath the Burnside Bridge, until the redevelopment of Old Town in 2006 changed that. A permanent spot was created in Waterfront Park, and the Market moved in 2009. Currently, it has over 350 members, each of whom set up shop and sell to throngs of people every weekend. If you want to see the best that Portland has to offer, you need to come down to the Market.
Portland Saturday Market – 2 NW Naito Pkwy
Old Town/Chinatown Businesses of Note
Beyond its landmarks and historical status, this neighborhood is teeming with culture. From a slew of Chinese restaurants to high concentrations of bars and pubs, you can find anything you need in Old Town. It's impossible to cover them all here, so we'll just talk about a few choice highlights.
Dan and Louis Oyster Bar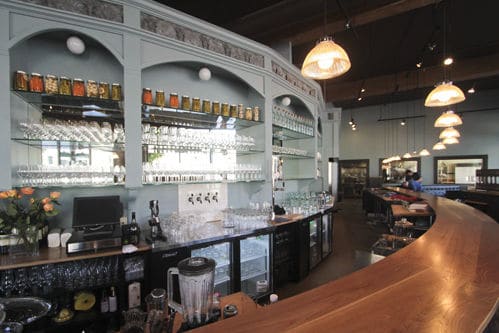 If you want a taste of Portland's history, then you need to come and have a drink and a few oysters at Dan and Louis Oyster Bar. This place has been around since 1907, making it one of the oldest running establishments in Portland. Originally, the bar was a stand selling live seafood, both fresh and cooked. It was called the City Oyster Co. at the time.
Over the years, the family that owned it developed the spot into the oyster bar it is today. Louis Wachsmuth began the business with his partner Roland Mills. By the 1920s, Louis realized that the best way to make money was to control the supply chain, and he bought an oyster bed in Yaquina Bay. Then, he started selling hot oyster stew, as well as oysters on the half shell. For a long time, he called the place the Oregon Oyster Co., until the newspaper coined it as Dan and Louis Oyster bar, as Louis' son Dan was always there working.
Today, the bar is a throwback to a simpler time. Over the years, Louis collected plates and steins – many of which are on display. This is one of the best places for happy hour, and, of course, you have to try the oysters. Louis would be so proud of you.
Dan and Louis Oyster Bar – 208 SW Ankeny st
Voodoo Doughnut
If Dan and Louis is a taste of Old Portland, Voodoo Doughnuts is a taste of New Portland. Although this doughnut shop has been around since 2003, it didn't blow up until it was featured on the hit show "The Amazing Race" in 2009. It was one of the final destinations, which helped it become a landmark almost immediately. Before, it was a small hole-in-the-wall, but the proprietors Kenneth and Tres offered a wide array of both traditional and eclectic doughnuts. The titular "voodoo doughnut" is a creme-filled pastry in the shape of a person. Another staple was the bacon maple bar, which tastes a lot better than it sounds.
Thanks to an influx of customers, Voodoo had to expand its operations, and the new storefront is chic and modern. However, if you come, expect to wait in line for a while. Over the years, the Voodoo brand has expanded throughout the US, with nine locations in five states. There is also another storefront on Sandy blvd, although it still attracts a crowd.
Voodoo Doughnut – 22 SW 3rd ave
Kells Irish Pub
While going to one of Portland's many trendy bars and lounges can be fun, sometimes you just need an old-fashioned pub experience. One of the best options for that is Kells, which has been serving up drinks and Irish culture for 30 years. The place opened its doors in 1990, and Old Town hasn't been the same since.
Every year, Kells acts as the epicenter for Portland's St. Patrick's Day festivities, so if you're planning on celebrating in style, you have to start here. Throughout the rest of the year, you can expect excellent food and drink service in a quiet, old-school venue. Whether you want some traditional Irish grub (their corned beef is amazing) or something a bit more modern, Kells is always a treat. Best of all, the top floor is an event space, so if you want to add some luck o' the Irish to your next get-together, be sure to make a reservation.
Kells Irish Restaurant Pub – 112 SW 2nd ave
Roseland Theater
In addition to bars and lounges, Portland is home to a variety of eclectic concert and event venues. One of the most funkadelic is the Roseland Theater, nestled in the central heart of Old Town. Since 1982, this spot has hosted some of the top musicians of the past few decades, including Foghat, Prince, Bob Dylan, and Pearl Jam.
The site was originally an Apostolic Faith church, built in 1922. By the 80s, church membership had dwindled, and the congregation didn't like the vibe of the area. So, the church vacated and it was converted into a music venue called Starry Night in 1982. The name changed to the Roseland for a somewhat disturbing reason. In 1990, the owner of the club murdered his publicity agent on the premises and was arrested and convicted. Because of that, he had to sell it, and the new owners, wanting to avoid bad publicity, changed it to the Roseland Theater.
This venue is unique both because of its history and its setup. It's a standing-room-only venue, although there is a smaller, more intimate space upstairs. The theater hosts about 150-180 events every year.
Roseland Theater – 8 NW 6th ave
Chinatown Restaurants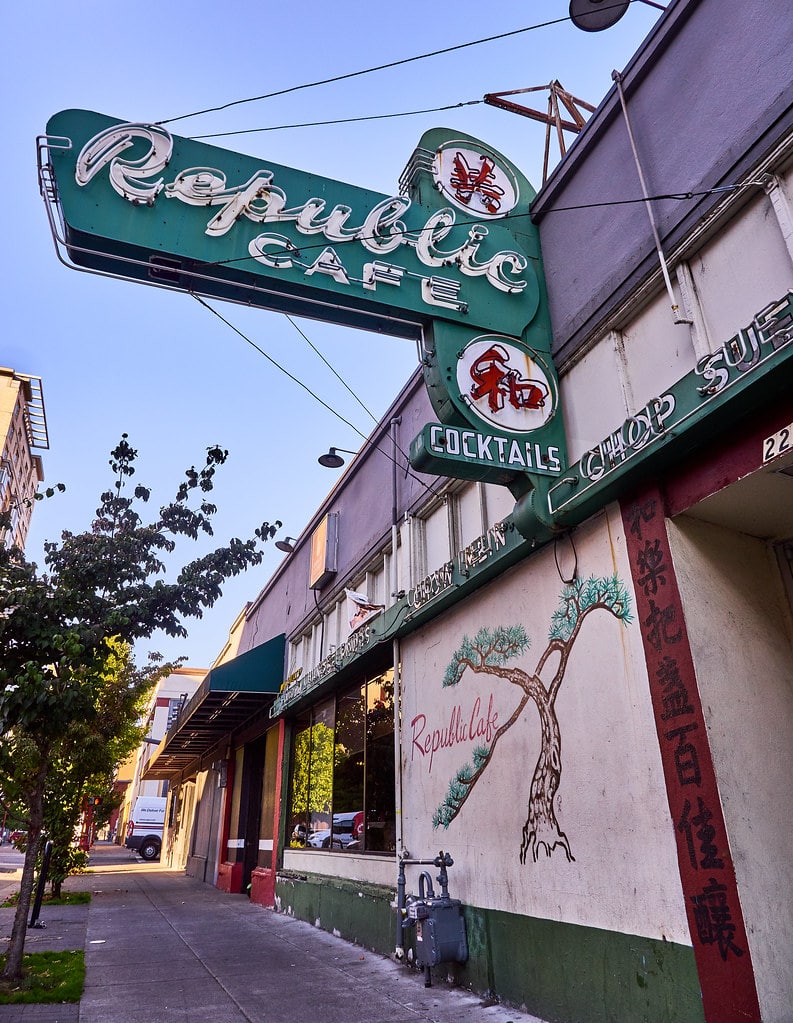 When Chinatown was first developed, it housed over two-dozen unique restaurants. Over the years, as more of the Chinese population moved to the Jade District on 82nd, most of these places closed. However, if you know where to look, you can still find incredible eats. Our top picks include:
Republic Cafe and Ming Lounge – this is the oldest Chinese restaurant in the area, founded in 1922. During the 70s, it was infamous for attracting a rough and rowdy crowd, but it's calmed down in recent years. The Ming Lounge is separate from the restaurant if you just want to stop in for a drink.
Chen's Good Taste – if you love meat, then you'll love Chen's. Here you can find a broad range of Chinese meat dishes, from succulent BBQ duck to roasted pork and salt and pepper prawns. They also specialize in dumplings and soups, so you'll want to bring some friends so you can share.
Red Robe Tea House – tea is an essential part of Chinese cuisine, and here is where you can get more than just a kettle and some cups. The tea house is relatively recent, opening its doors in 2011. However, it's a delightful experience, and the only other place you can get authentic teas like this is at Lan Su (down the street).
Republic Cafe – 222 NW 4th ave
Chen's Good Taste – 18 NW 4th ave
Red Robe Tea House – 310 NW Davis St
Old Town/Chinatown Neighborhood Parks
Old Town/Chinatown Neighborhood Information
Old Town Community Association (OTCA)
Old Town/Chinatown Schools
Elementary school: Chapman Elementary School
Middle school: Harriet Tubman Middle School
High school: Lincoln High School
Stats
Zip Code 97209
Old Town/Chinatown Real Estate
Old Town & Chinatown Portland is an urban neighborhood, with many older buildings, apartments, and loft-style condominiums. Home of the Portland Chinese Garden, this area has been on the rise with new construction and a revitalization effort.
Click here to search all Old Town Neighborhood homes for sale.
To learn about the Portland real estate market, we recommend this local Portland-based, top 100 real estate blog in the world.
If you are interested in buying a home in Portland, we recommend meeting up with these top 1% Portland buyer's agents, or if you are considering selling a home we recommend these top 1% Portland seller's agents. Visit our Portland Real Estate Page for more information.