Overlook Neighborhood Portland
Overlook is located in North Portland and is bordered by the popular University Park, Arbor Lodge, Humboldt, Boise, and Eliot neighborhoods. Overlook also includes what is known as Swan Island, a mostly industrial area with an active recreational boat launch and port.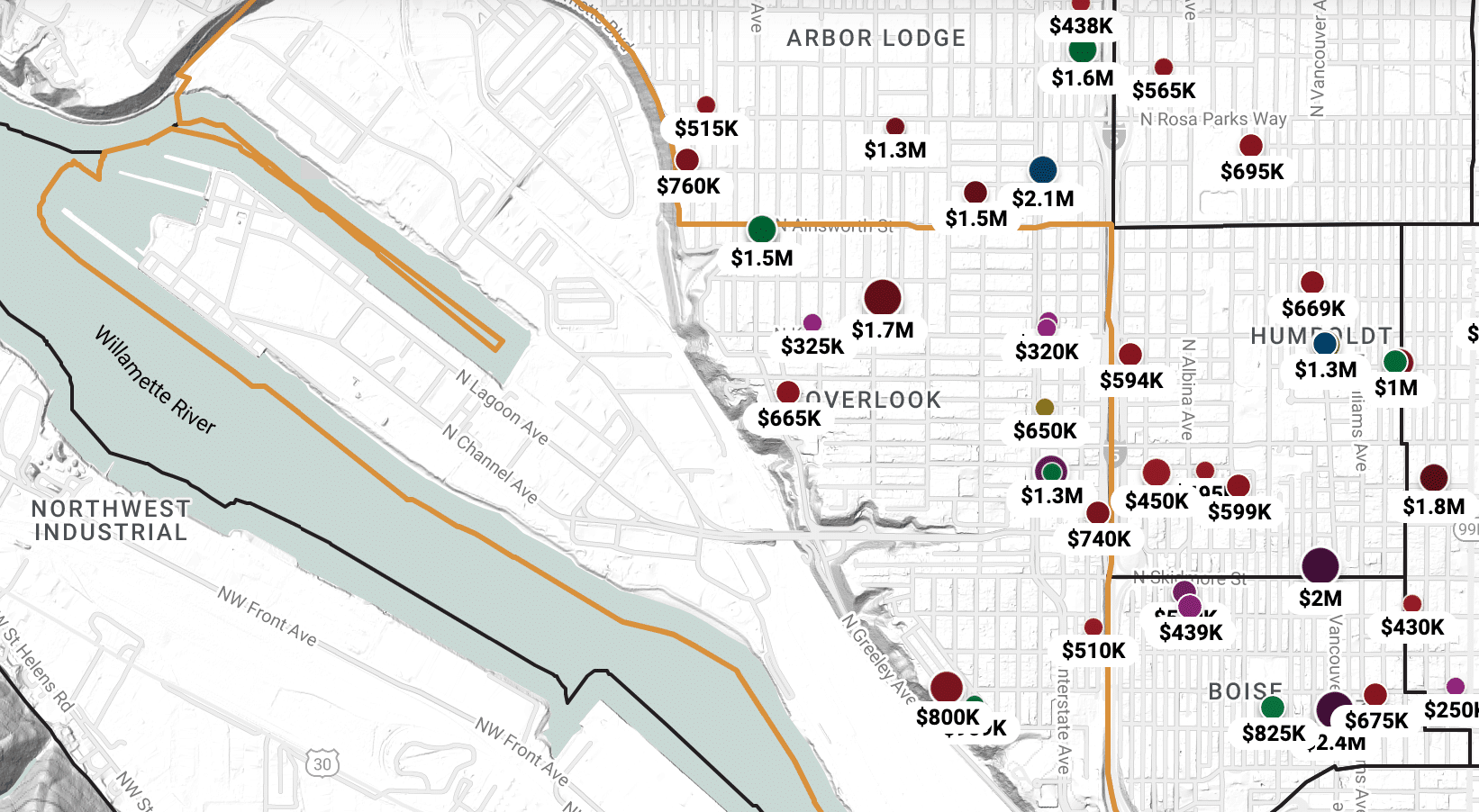 Click the image for a fully searchable Overlook neighborhood map, including all homes for sale.
Overlook Neighborhood Features
As a result of the Portland real estate market boom and like many other Portland neighborhoods, Overlook has seen an influx of new residents to the area. As one might imagine, Overlook has some wonderful areas with beautifully improved homes and neighborhoods, and some still in transition.
This area feels a bit secluded, as it's on the "other side" of Interstate Ave., but offers convenient access to other local neighborhoods, and the Max light rail train. Local businesses thrive here—a few standouts are the wacky and ever-popular Alibi Bar, Fire on the Mountain, and the Historic Overlook House. Locals shop at New Seasons Market and Fred Meyer and also enjoy the retail and restaurant offerings in the nearby Kenton, St. Johns, and Mississippi Ave. neighborhoods.
While it feels less urban than its neighbors, Overlook offers very "bikeable" access to downtown Portland, great mass transit options via light rail and bus, and is about a 5-minute drive to downtown Portland. If you prefer walking, be sure to wear your Adidas running shoes. Don't have any? Well, the Adidas North American headquarters are right here in Overlook, and the flagship store is inside the Montgomery Park Building in NW Portland.
Overlook Neighborhood Businesses of Note
Like the neighborhoods surrounding it, Overlook is home to some of the best restaurants, bars, and hotspots in Portland. The two best places to stroll are Interstate Ave. and Killingsworth St. We highly recommend taking a walking or bike tour of the area to see what hidden gems pop out at you. However, for those who want to plan their itinerary, we've listed some of our top picks below.
Pinky's Pizzeria
Alibi Tiki Bar & Lounge
Alibi Tiki Bar & Lounge—4024 N Interstate Ave
Satellite Tavern
Spitz
The Stacks Coffee House
Portlander's love their coffee. And books, too. At The Stacks Coffee House, you can have both! Along with your java, you can enjoy pastries and other nibbles while surrounding yourself with walls of books, all provided with kind service from a friendly staff.
And the best part: their library actually allows for lending, so if you crack open a book you just can't put down, take it home until you're finished. No pressure-filled due dates here. They accept donations, too, so when it's time to clear out or refresh your home library, keep The Stacks in mind.
The Stacks Coffee House—1831 N Killingsworth St
Killingsworth Station Food Cart Pod
Portland also loves, loves, loves its food cart pods! Overlook neighborhood has one right on Killingsworth filled with tasty options. Take your pick from V3 (vegan food + seasonal options), Euro Dish (blintzes, dumplings, sauerkraut salad, and more), Thai Bungalow PDX (curry, stir fry, fried rice, and more), La Tehuana (enchiladas, tacos, and burriots), Mardi Gras (beignets and coffee), and Love a Bowl (bowls made scrumptious, hearty fixings).
There's a sit-down, covered area where you can take a break and enjoy your food. Or grab-and-go if you're in a rush. Give the Rose Bowl at Love a Bowl a try—a combination of rice, quinoa, black beans, tomatoes, corn, and other tasty ingredients. Healthy, delicious, and filling!
Killingsworth Station Food Cart Pod—1331 N Killingsworth St
Historic Overlook House
The original home was built by the Ravens, who owned a successful creamery in the city—Raven Creamery. The land was bought by the Overlook Land Company, which had some specific rules regarding what could be built there. According to the original deed, any structure couldn't cost less than $2,000 (roughly $30,000 in today's money), nor could it sit less than 20 feet away from the street.
Since its inception, the Overlook House has been part of the community, serving as the headquarters for the Overlook Women's Club. To show how civically engaged the Ravens were, Elvira sold the house to the city for $1.00 with the stipulation that it serve the Overlook Community. She did this after her husband, Herman, died while out teaching dairymen in Oregon best practices for milk processing. (He was nationally known for his expertise and participated in Dairy conventions across the country.) On that day, his car got stuck in the mud, and he succumbed to a heart attack while trying to push the car out.
Historic Overlook House—3839 N Melrose Dr
Milk Glass Mrkt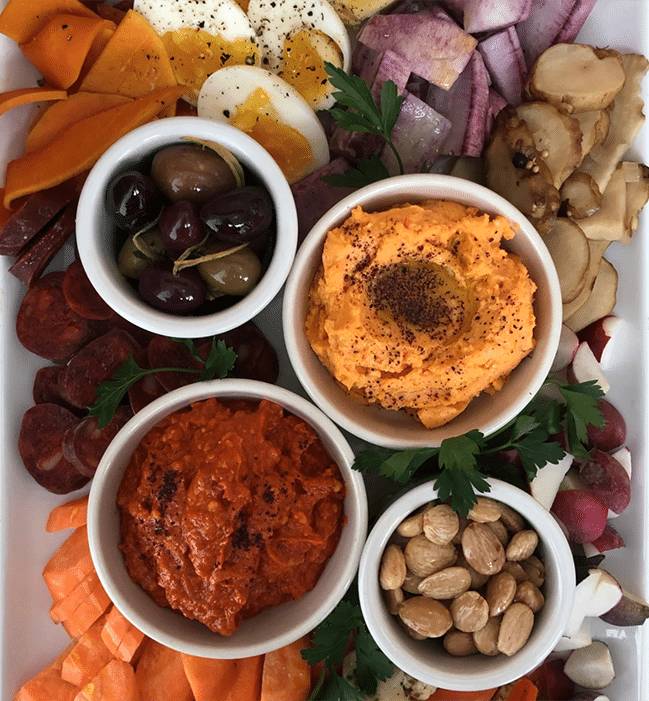 Hobbies Unlimited
Overlook Neighborhood Parks
Madrona Park—Basketball court, playground, and paved and unpaved paths
Beach Community Garden—Neighborhood garden
Patton Square Park and Community Garden—Picnic tables, garden, and playground
Overlook Park—Dog off-leash area, baseball field, basketball court, playground, soccer field, softball field, track, volleyball court
Mocks Crest Park—Simple park on a hill offering tree-shaded areas, grassy open spaces, and Willamette River views
Pittman Addition Hydropark—Hydropark with picnic tables, benches, and sculptures
Overlook Neighborhood Community Resources
Overlook Neighborhood Association
Interstate Firehouse Cultural Center
Overlook Neighborhood Schools
K-5th—Beach Elementary School
Middle School—Ockley Green Middle School
High School—Jefferson High School and Roosevelt High School
Overlook Neighborhood Vibe
Community conscious, family-friendly, bicycles everywhere, walkers, dog-friendly, babies in strollers. Overlook feels like a good place to raise a family and it feels less urban than its surrounding neighborhoods. Most of the homes are well-kept and cared for with landscaped yards and gardens.
Overlook Neighborhood Stats
Overlook Zip Code 97217 and 97227
Overlook Neighborhood History
Overlook is comprised of several of Portland's original land claims, designated as such in the 1840s to Phillip T. Smith, Josiah Atkinson, and Evander Howe (north of N Killingsworth); Frederick Proebstel, George Darch, and Jonathan Gerow (south of N. Killingsworth); and James Thompson, who had a farmhouse below N. Going St. Four others were located on the river's flood plain, and Lemuel Hendrickson's was all of Swan Island. After a years-long legal dispute, Overlook was surveyed for development in 1905.
Overlook is unusual in that under half of the neighborhood's area is residential. A large portion of its footprint is comprised of Swan Island, Mock's Bottom industrial area, and the Union Pacific rail yards. The reason being that in the 1970s when boundaries were drawn, there was concern about I-5 traffic disrupting the quality of life in residential areas.
Before becoming part of Portland, Overlook was within the city of Albina. This changed in 1891 when Albina became incorporated with Portland and East Portland and expanded north to the Columbia River. Despite its new classification as "within city limits," it remained rural for quite a while with only a few Victorian-style farmhouses.
How Did Overlook Get its Name?
The neighborhood was named for one of its additions, the area west of N. Interstate Ave. and south of N. Skidmore.
Who was Henry Weme?
One man said to be highly instrumental in Overlook's development was German businessman, Henry Wemme, who came to the U.S. to avoid forced enrollment to the German army. The 18-year-old Wemme made his way to Portland and began his career in 1883, first with a business called Willamette Tent & Awning, which supplied tents to those involved in the Klondike Gold Rush.
Wemme is also credited with owning the first automobile in the state of Oregon, a Stanley Steamer he bought in 1889. He brought other automobiles to Portland and became president of the Portland Automobile Association.
In 1906, Wemme sold his tent business to Max S. Hirsch (who sold his Meier & Frank stock to finance the purchase of Wemme's business). The business was newly named Hirsch-Weis and later became White Stag.
As Wemme amassed wealth, he invested most of it in downtown Portland real estate. He also became a known advocate for the Columbia River Highway construction project.
Furthering his contribution to Oregon's early development, Wemme bought the Barlow Toll Road for $5,400 in 1912, built bridges, and made other improvements worth $25,000, then gifted it to the people of Oregon as a free highway. The small, unincorporated community of Wemme, Oregon, is named after him.
Word has it that even when Wemme had wealth, he never showed it, usually dressing like a "poverty-stricken laborer."
Wemme eventually made his way to a suburb of Los Angeles, where he died. He was buried in Riverview Cemetery in Portland. Henry's will caused a lengthy debate and was ultimately deemed null and void, leaving his estate, "appraised at more than a million dollars…," as written by his brother, August, up in the air.
Henry's will stipulated that half of his estate go to the Christian Science Church and half to his German heirs. The legal battle found its way to the Oregon Supreme Court, then all the way to the United States Supreme Court before funds were divided between heirs in both Germany and the U.S. Half of his estate went to fund and support a home for "wayward girls," now known as the Salvation Army White Shield Home in Northwest Portland, which houses and assists pregnant teens and young mothers in the foster system, most of them due to being in violent and abusive families.
Swan Island
Part of Overlook neighborhood, yet an entity all on its own, Swan Island has an interesting history separate from and in relation to the neighborhood as a whole. Swan Island was once home to a moonshine still, created by Richard McCrary, James Connor, and Hi Straight in 1899. It was also the site of Swan Island Municipal Airport, Portland's first, dedicated by Charles Lindbergh. It operated until the early 1940s and became the site for Bess Kaiser Hospital in 1959. The island was eventually repurposed to serve as a tank construction site and shipbuilding yard for World War II. Swan Island is now solely an industrial area with a small beach named Lindbergh's Beach.
Lindbergh Beach is a long, sandy beach with an excellent view of Fremont Bridge. It's a great place to hang out and enjoy the quiet of nature right in the middle of the city any time of year. Late July is best, though. That's when the river tends to be lower, giving you more sand to lounge and play in!
Transportation
As land claims were subdivided into smaller segments and deemed pastures, woodlots, farms, and other smaller lots, roads began to appear on the bluff that overlook the Willamette River. The Willamette Bridge Railway created a steam-powered railroad for passenger transportation through Overlook in 1890. It was ultimately electrified and merged with the original streetcar system, which peaked in 1912.
To accommodate the increasing use of the automobile, Interstate Ave. was constructed in 1916 as part of Pacific Highway #1. It joined the north end of Patton Ave. and the south end of Maryland Ave. What was left of Patton, south of Prescott, was renamed Massachusetts Ave.
Currently, the MAX Yellow Line serves the neighborhood at three stations: Overlook Park, North Prescott, and North Killingsworth. Portland Trimet bus lines 24, 35, and 4 also service the neighborhood.
Housing and Real Estate Development
Residential development first started on Overlook's south and east ends, fully platted and with streets established by 1897. A housing boom ensued after the Lewis & Clark Centennial Exhibition in 1905, but that didn't disrupt the rural vibe at the time with cattle still occasionally straying into the neighborhood. By 1907 most of the streets that make up the neighborhood today were in place.
Today, the neighborhood is comprised of twenty-three additions or tracts. Madronna Hill lies along N. Greeley. Nutgrove is five blocks long and one lot deep, located on the neighborhood's east side between N. Killingsworth and Ainsworth. Five of Overlook's additions— North Albina, First and Second Patton, Multnomah, and Cooks—were split by the I-5 construction in the early 1960s, with some homes in these areas moved to prevent demolition. Nestled within the three-block-long Pittiger's Addition is the Beach Community Garden.
Many of the homes and other sights seen today in the neighborhood came in the 1930s, shortly after the housing boom in the 1920s, which filled most of the remaining vacant lots.
The freeway addition had the most adverse effect on the neighborhood's development and the quality of life for its residents. While many homes were moved during the I-5 construction, completed in 1963, most were torn down. The new thoroughfare also significantly decreased traffic counts in the area, which led to a decline in possibilities for successful commerce, along with an increase in crime and vandalism, and increased traffic from industrial Swan Island. To address the issues, the Overlook Neighborhood Association was formed in the early 1970s.
Overlook experienced a revitalization in the years that followed and has become one of Portland's most close-knit, close-in communities.
Business and Commerce
Billboards and auto shops came to Overlook after the installation of Interstate Ave. Most of the neighborhood's shops and businesses were located along N. Killingsworth, Interstate, and Mississippi Aves. Being part of Highway #99, Interstate Ave. had an abundance of service stations and motels for people passing through.
While not technically businesses, other neighborhood resources sprung up: Beach Elementary School, Overlook Park (located on land that had originally been used as a dump), St. Stanislaus Church, and the Interstate Firehouse.
With the increase in business, more homes, and a booming industrial area, Overlook was a noisy place to live. Steam locomotive whistles, boats and ships chugging along the river, Electras circling overhead to make their landings at the new airport on Swan Island, and the din of streetcars rattling by all filled the once-peaceful air in Overlook.
Then came World War II, which only increased the noise. Eventually, the airport required more space and was replaced by the Kaiser Swan Island shipyard. Laborers built tankers, night and day, every day, under glaring light towers said to be visible for miles. Many homeowners in Overlook at the time housed the increase of laborers. New trolleys carted workers and residents to work and back home. In 1959, the Bess Kaiser Hospital was built on the bluff where the Kaiser Swan Island shipyard had once been.
After the disintegration of the neighborhood, a revitalization brought Overlook back. Its residents now enjoy a farmer's market, a great selection of eateries, bars, and shops. Adidas' corporate headquarters is housed in the renovated Bess Kaiser hospital. Overlook is also the proud home to several quality community resources and gathering places, like the Interstate Fire House Cultural Center, Overlook House, and Kaiser Town Hall.
Overlook Neighborhood: Friends We've Lost
Miho Izakaya – Japanese Pub featuring tapas and cocktails in a converted house
Beaterville Cafe and Bar – Old-school diner featuring auto memorabilia and breakfast favorites
Pause Kitchen and Bar – American restaurant with a relaxed, chill atmosphere
DiPrima Dolci Italian Bakery – An old-world style bakery serving traditional Italian and American treats
Overlook Neighborhood Real Estate and Homes for Sale
Overlook homes range from condos, Bungalows, some Victorians, Foursquare, and even a few ranch style homes. This area is very pretty, feels safe, and has old-growth trees that line many of the streets.
Click here to see all current Overlook neighborhood homes for sale.
To learn about the Portland real estate market, we recommend this local Portland-based, top 100 real estate blog in the world.
If you are interested in buying a home in Portland, we recommend meeting up with these top 1% Portland buyer's agents, or if you are considering selling a home we recommend these top 1% Portland seller's agents. Visit our Portland Real Estate Page for more information.
North Portland Neighborhood Map
Click any neighborhood
Check out More Portland Neighborhoods
Go back to the full list of Portland neighborhoods.
Sources
Haneckow, Dan. Café Unknown. Blog. June 20, 2006.
Wikipedia. E. Henry Weme.
Wikipedia. Overlook, Portland.