Parkrose Neighborhood Guide
The Parkrose neighborhood is in East Portland. It is bordered by the Sumner, Argay, and Parkrose Heights neighborhoods, as well as the Columbia River to the North. Its western border is the I-205 freeway, which crosses the river to Vancouver, WA.

Click the image for a fully searchable Parkrose neighborhood map including all homes for sale.
Features of the Parkrose Neighborhood
When you think of historic places in Portland, most of the neighborhoods that come to mind are closer to the city center. However, while Parkrose doesn't get as much attention, it has a long and proud tradition. The area was founded in 1911 with the Parkrose Plat. For a little while, the neighborhood was mostly agricultural – the current site of Rossi Farms is a testament to its history. However, because Parkrose was next to the Columbia River, as well as major thoroughfares like Sandy Blvd, it quickly grew in the 1920s and 30s. The Oregon Journal named it "one of the most progressive and promising commuting districts on the eastern border of [Portland]."
These days, Parkrose is similar to other East Portland neighborhoods, in that it's not quite as nice as those areas closer to downtown. However, Parkrose is notable for a few reasons. First, it's highly accessible, since two freeways mark its borders. Second, it's one of the few neighborhoods to have its own school district, complete with an elementary, middle, and high school. Finally, because of its proximity to the airport, Parkrose has one of the highest concentrations of hotels within its borders. If you have relatives coming to stay, there are tons of options nearby.
As Portland continues to develop, Parkrose is also making changes for the better. Multiple organizations are committed to revitalizing the area, so it's in a much better position than other eastern neighborhoods.
Parkrose Neighborhood Businesses of Note
If you're traveling through Parkrose, you'll notice that it has a vibrant blend of industrial and commercial businesses, mostly north of Sandy Blvd. While many of these places are franchise stores and restaurants, there are several gems hidden around here as well. These are the highlights of the Parkrose neighborhood.
Rossi Farms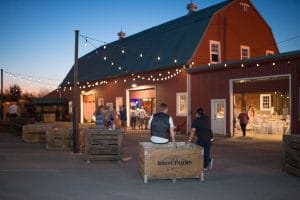 Further adding to the history of Parkrose, Rossi Farms has been around for almost 150 years. The land has been owned by the Rossi family since 1880, making it one of the oldest operating farms in the Pacific Northwest. While the farm does grow vegetables and house various animals, the family has stopped selling directly to the consumer. The Rossi Farms stand was in operation until 2015. These days, you can take a tour of the site if you make an appointment.
The primary purpose of the farm today is as an event venue. The signature red barn is perfect for western-themed soirees, and during the summer months, the adjacent courtyard is ideal for entertaining. The farm hosts many events throughout the year, including weddings, fundraisers, and corporate events. It feels like you're out in the country, even though you're just a few miles from the city center.
Rossi Farms – 3839 NE 122nd ave
Antojitos Mexicanos Taqueria
When it comes to Mexican food in Portland, many of the restaurants can be hit or miss. For the most part, it can be challenging to find authentic dishes, particularly street tacos. While there's nothing wrong with an "Americanized" taco, it pales in comparison to the real deal. Fortunately, you can get both options here at Antojitos.
Billed as a "Hole in the Wall," Antojitos is the quintessential Mexican restaurant. It's not fancy or over the top, but the food is delicious and will keep you coming back for more. Best of all, everything is made in-house, including a wide assortment of salsas. Antojitos mixes things up a bit by crafting unique flavors that you wouldn't find in most taquerias. For example, their house peanut sauce is a crowd favorite. Overall, you can find everything here from tostadas and tacos to huaraches (like a Mexican gyro) and sopes.
Antojitos Mexicanos Taqueria – 11516 NE Sandy Blvd
USA Furniture and Leather Outlet
Typically, furniture stores aren't necessarily something to write home about. However, what makes USA Furniture and Leather unique is that everything in the store is made by Amish Mennonites. Considering that the Amish are well-known for making high-quality pieces that last a lifetime, you know that you can enjoy your furniture for years. You can even pass it along to your kids – it's that good.
Also, even though the Amish are famous for rejecting modern technology, many of these pieces are made for the average household. Entertainment centers and TV stands are par for the course along with traditional offerings like tables, chairs, and bed frames. Once you compare the quality of the furniture here, you'll understand why it's such a gem.
USA Furniture and Leather – 10750 NE Sandy Blvd
Sidelines Restaurant and Sports Bar
Sports bars in Portland are an excellent place to kick back with friends and enjoy a few drinks while watching a game. However, while beer and sports are the primary attractions, some places are also well-known for their crave-able menu options. Sidelines is one of those, with tasty treats that will bring you in every day of the week, not just for Monday Night Football.
Barbecue is the name of the game here, with succulent pulled pork, tri-tip, and brisket available. You can get these meats in a sandwich or as a plate, depending on how much of a mess you want to make. They also serve short ribs if you're really looking for some finger-licking goodness. However, don't fret if you're more of a healthy eater. Sidelines has an array of excellent salads, including Cobb, Tex-Mex, and Caesar.
Sidelines Restaurant and Sports Bar – 6801 NE Win Sivers Dr A
Jim Dandy Drive-In Restaurant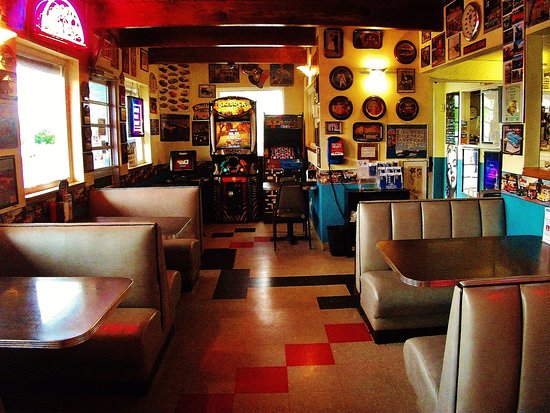 For those looking for a blast from the past, Jim Dandy is about as old-school as you can get. This burger joint has been on Sandy Blvd since 1937, meaning that it's seen more than its fair share of Portland history. Apparently, Jim Dandy was the place to show off your hot rod back in the day, and the restaurant even hosted (illegal) drag races. While the racing is no longer happening, the restaurant still has vintage car shows for anyone who wants to relive the glory days.
At first, you might assume that Jim Dandy is all about that meat and potatoes life. While high-class burgers, fries, and shakes comprise most of the menu, the restaurant has gotten with the times to cater to all Portlanders. They do offer vegan dishes and substitutions, so although the decor is old-fashioned, the menu isn't.
Jim Dandy Drive-In – 9626 NE Sandy Blvd
Bill's Steakhouse and Silver Buckle Lounge
For another walk down memory lane, Sandy Blvd is also home to Bill's Steakhouse and Lounge. While Bill's hasn't been around as long as Jim Dandy, it exemplifies the standards of Old Portland. Bill's serves as a local watering hole, as well as one of the best places to get a decent steak dinner on the east side. Steakhouses, in general, seem like a dying breed, which makes this place all the more alluring.
If you come to Bill's, you'll become fast friends with most of the locals who eat here regularly. They not only come for the company, but the dishes are quite tasty. Besides getting a NY or top sirloin steak, you can feast upon a classic roast beef dinner, baby back ribs, and fresh clams (complete with drawn butter). Nothing hip or chic about Bill's – just good old-fashioned grub.
Bill's Steakhouse and Silver Buckle Lounge – 10227 NE Sandy Blvd
Parkrose Neighborhood Parks
Johnson Lake Property
Argay City Park
Community Resources
Parkrose Neighborhood Association
Historic Parkrose Prosperity Initiative
Parkrose Neighborhood Schools
---
Parkrose Neighborhood Vibe
Depending on where you are in Parkrose, the vibe is different. Along Sandy Blvd is a host of funky restaurants and stores, which brings in locals and visitors alike. On the north end of the neighborhood, there are tons of hotels, so you'll mostly find out-of-towners looking for something to do (and eat). Parkrose is a mix of industrial and residential, but the overall vibe is laid-back and traditional. This neighborhood still has much of the Old Portland charm, for better or worse.
Stats
Zip Code 97220
Parkrose Real Estate
Because this neighborhood is farther from the city center, homes in this area may be more affordable than some located closer in. Also, as with other East Portland neighborhoods, you have a mix of residential and commercial areas, giving Parkrose a more distinct vibe. Some homes are nicer than others, depending on which section of the neighborhood you look in.
Click here to see all current Parkrose homes for sale.
To learn about the Portland real estate market, we recommend this local Portland-based, top 100 real estate blog in the world.
If you are interested in buying a home in Portland, we recommend meeting up with these top 1% Portland buyer's agents, or if you are considering selling a home we recommend these top 1% Portland seller's agents. Visit our Portland Real Estate Page for more
Northeast Portland Neighborhood Map
Click any neighborhood

Check out more Portland Neighborhoods
Go back to the full list of Portland neighborhoods.