Piedmont Neighborhood Portland
The Piedmont neighborhood is the ideal urban village boasting easy access to other popular Portland neighborhoods such as Humboldt, Alberta, Arbor Lodge, Boise, Eliot, and Kenton, to name a few. Piedmont runs alongside the Max light rail line allowing for convenient commuting to downtown Portland. Downtown by car is less than five minutes in most traffic situations, and by bike it's about twenty-five minutes. I-5 is easily accessed, as it runs directly alongside Piedmont.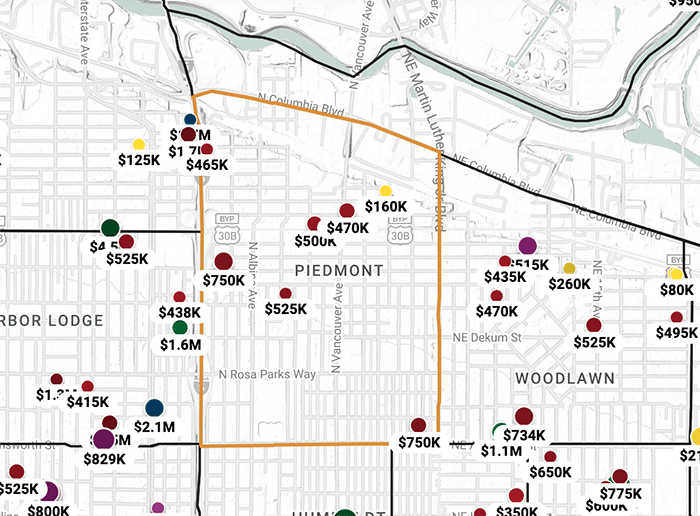 Click the image for a fully searchable Piedmont neighborhood map, including all homes for sale.
Piedmont Neighborhood Features
Back in the 1920s, Piedmont was one of the original suburbs of Portland but is definitely not considered one today. As a result of the Portland real estate market boom, Piedmont has seen an influx of new residents to the area, which has helped to create the strong community present today. As one might imagine, Piedmont has some wonderful areas with beautifully improved homes and neighborhoods, with some still in transition.
Piedmont locals enjoy easy access to New Seasons Market, what seems like their own private light rail (the Max), a half dozen coffee shops, and a slew of other independent businesses and restaurants. Portland Community College has done a great deal to revamp the area surrounding the school campus on N. Killingsworth and Albina. Likewise, area residents pride themselves on rebuilding both the homes and the community.
Peninsula Park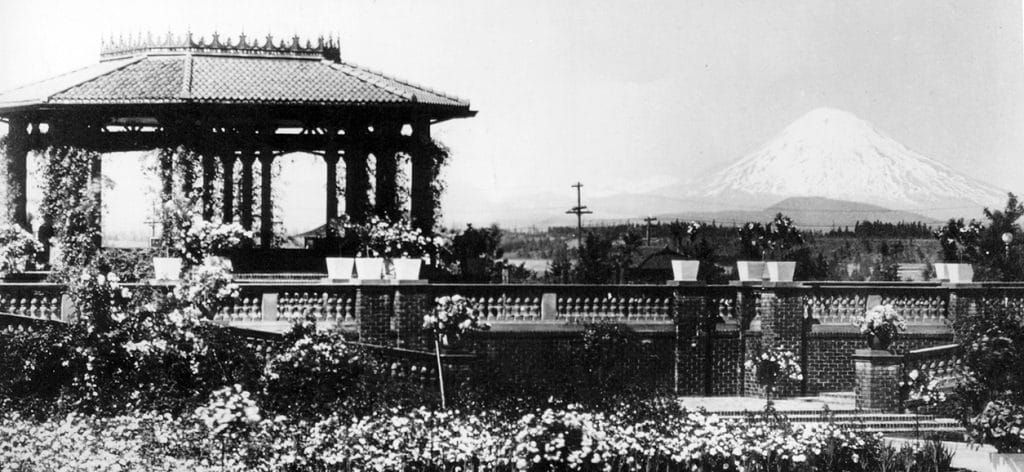 As one of the oldest neighborhood parks in Portland, Peninsula Park has plenty of historic charm. The site was originally owned by a private citizen named Liverpool Liz, who sold the plot to the city for $60,000. In addition to the park, the area also had a quarter-mile racetrack, a campground, and an auto park.
Once the city purchased the land, architects turned it into a formally designed park. Many of these elements remain today, including the stone fountain in the center, the antique-style street lamps, and the various types of brickwork. The playground here is also the second oldest in Portland, although it's just as fun to play on today as it was back in 1916 when the park was finished.
Another highlight of Peninsula Park is its gorgeous rose garden. It was the first public garden in the city, and it was a marvel even back then. Today, residents love to spend hours wandering through the manicured flowers, as it's one of the most relaxing and picturesque green spaces in the area. The only other garden that can compare is the one at Washington Park.
Peninsula Park—700 N Rosa Parks Way
Piedmont Neighborhood Businesses of Note
Although Piedmont is close to some of the hippest areas in Portland, the neighborhood itself doesn't have an abundance of fresh and unique offerings. Most of the area is residential, with a few commercial warehouses and business parks on the Northern end. That being said, the few gems that you can find here are mostly on Lombard Street, which is always a hotspot for new and exciting places to visit. These are our top recommendations for both visitors and residents of Piedmont.
Grön CBD Cafe
These days, CBD seems to have taken over the world. As cannabis legalization continues to spread, more and more places are opting for the less controversial CBD oil. If you're unfamiliar with the difference between CBD and cannabis, here's a quick crash course. All marijuana plants have two primary elements called cannabinoids. The first is cannabidiol, which is called CBD, and the other is tetrahydrocannabinol or THC. The latter gets you high, while the former offers a variety of health benefits.
As more and more research is done on CBD, scientists are figuring out new ways that it can help individuals. While it's not quite a "cure-all," it can aid with various health problems, including insomnia, appetite, depression, anxiety, and even seizures. Because of these benefits, places like Grön serve CBD-infused products like chocolate and candy pearls. You can also buy topical ointments and tinctures if you want a more direct method of ingesting cannabidiol. Also, don't worry—CBD products can't get you high. If you want the full experience, we suggest buying edibles from a licensed dispensary.
Grön is also a tasting room, so feel free to come in and sample the many flavors they offer. The CBD does add a bit of an aftertaste, but the silky-smooth chocolate is too delicious to pass up. The candy pearls are also a delight if you're into gummy snacks. The cafe also serves coffee and tea to create a more full-service experience.
Grön CBD Cafe—100 NE Farragut St, #102
Swift Cider Taproom
In recent years, hard cider has taken Portland by storm. What was once considered a relative novelty, hard cider is big business in the City of Roses, with taprooms dedicated to the beverage. Swift Cider is one such option, which serves tasting flights, pints, and curated snacks to accompany your sweet beverage. Also, if you prefer beer or wine, they have you covered. The name Swift comes from the bird, which roosts in Portland during the migration season.
The taproom makes a variety of hard ciders, from the sweet to the bitter. On weekends, Swift Cider also hosts tours of its brewing facilities, so if you want to see how they make such delicious drinks, be sure to sign up. The taproom also has a cider club, which introduces new flavors as they come out. Hard cider purists will love the opportunity to sample drinks before everyone else, and the club is an excellent way to meet other like-minded enthusiasts.
Swift Cider Taproom—100 NE Farragut St, #101
Mi Burrito Mexican Food
Depending on where you go in Portland, Mexican food can take on various qualities. In some parts of the city, restaurants cater to the health-conscious crowd by featuring fresh ingredients, plenty of veggies, and locally-sourced meats. Other places, you get a more "authentic" experience, with lots of spice, garlic, and simple dishes. Mi Burrito is kind of a blend between the two, making it an ideal choice for everyone.
Since 2015, this place has focused mostly on burritos, which means that you can find way more varieties here than you would elsewhere. In addition to the standard favorites like Carne Asada and chicken, Mi Burrito also serves delicious options like steak fajitas, chile Rellenos, steak picado, mole, and even a surf-n-turf burrito. The restaurant also has the Oregon Burrito, which comes with bacon, potatoes, steak, and cheese. No matter what you're in the mood for, you can find it wrapped in a burrito.
Since this is a Mexican restaurant, it also serves other dishes like tacos, sopes, tostadas, and ceviche. We particularly like the fresh fish and shrimp options, as they add a bit of flair to the dining experience. Also, considering that most Mexican places don't serve seafood outside of a shrimp cocktail, we appreciate the variety.
Mi Burrito Mexican—819 N Lombard St
Casa Zoraya
Just down the street from Mi Burrito is a place called Casa Zoraya. At first glance, it might seem to be another high-end Mexican eatery, but once you look at the menu, you'll notice that the two places are remarkably different. Zoraya is a Peruvian restaurant, which makes it a much more unique experience. If you haven't had Peruvian dishes before, you're in for a treat.
Highlights from the menu include pork belly and scallops in rice, shredded chicken empanadas, lamb with rice and beans, fresh ceviche with fish and/or calamari, and Peruvian-style top sirloin. Each item is more mouthwatering than the last, so you'll want to come back again and again to try something new.
Beyond the food, another reason to add Casa Zoraya to your favorites list is its celebration of Peruvian culture. The restaurant hosts many events and live music acts to help you get the full Peruvian experience. Also, if you're feeling adventurous, be sure to try a pisco sour while you're here. The traditional drink comes with bitters, egg white, and simple syrup, and Peruvian alcohol called pisco. Casa Zoraya has a variety of options for this cocktail, so feel free to sample different ones to see what sparks your tastebuds the most.
Casa Zoraya—841 N Lombard St
Park the Carts
Another diverse Portland food cart pod lives in the Piedmont neighborhood right near the busy intersection of N.E. MLK Blvd and N. Lombard. Loaded with a wide variety of delicious food from a variety of cuisines, Park the Carts is a great spot to grab something whether you're on the go or want to take a break from your busy day and savor your selection in the covered seating area. Vendors here include Ja'Das Soulful Eatz, 2 Bowls, K Pub Grill & Beer Tap Room, Union Burger PDX, Amico Chef, Gourmet Brothers BBQ, Gourmet Brothers Grill, Brothers Sushi Burritos and Bowls, Taquero Mucho, Omar's Gyro, Pinto Thai PDX, Reef Kitchens, Taj Indian Cuisine, and The Pink Drink.
Park the Carts—7339 NE Martin Luther King Jr Blvd
Piedmont Neighborhood Parks
Peninsula Park—Basketball and tennis courts, gymnasium, paved paths, gorgeous old rose garden, play structures, and outdoor swimming pool.
Matt Dishman Community Center and Pool—Indoor swimming pool, fitness center and movement classes
Farragut Park—Green area with plans for construction of a toddler play area and ADA improvements.
Piedmont Neighborhood Community Resources
Piedmont Neighborhood Association
Piedmont Neighborhood Schools
K-5—Woodlawn Elementary School
Middle School—Ockley Green Middle School
High School—Jefferson High School and Roosevelt High School
Piedmont Neighborhood Vibe
Dynamic. Community-conscious. A good mix of young families, singles, and local old-timers create a nest of pride and regeneration in Piedmont. Neighbors bond and look out for one another. Block parties, dog walkers, joggers, bicyclists, and babes in strollers are Piedmont staples.
Piedmont Neighborhood Stats
Piedmont Zip Code 97217
Piedmont Neighborhood History
Piedmont neighborhood, believed to be one of Portland's first planned communities, began as a streetcar suburb and was promoted as Portland's first high-quality, residential-only neighborhood.
Around 1885, the U.S. Government granted a quarter of the land that would become Piedmont to Henry Walsh for his military service in the Mexican American War. Upon receiving the grant, Walsh passed it on to George and Elizabeth Smith who had been living on the land since before 1950.
The land was sold in 1888 to The Investment Company for $24,000 after changing hands many times between 1870 and 1888, causing many legal questions above ownership. The company was created by Edward Quackenbush, William M. Ladd, William Wadhams, and S. P. Lee for the purpose of real estate development. They deeded a 20-ft. strip to the land on Piedmont's eastern edge (now Union Ave.) to the Portland and Vancouver Railway Company with the stipulation that they build and maintain a railway line within the strip.
How Did Piedmont Neighborhood Get its Name?
The Investment Company named this tract of land based on its topography and mountain views. While the story behind the naming isn't clear, it translates to "at the foot of the mountains," coming either from the medieval Latin Pedemontis or the Italian "pied" (foot) and "monte" (hill.) Regardless of its beginnings, the idea behind the neighborhood and its name was to represent the vision for a whole new kind of neighborhood.
Transportation in Piedmont Neighborhood
Railway service began as soon as the Portland and Vancouver Railway Company laid rails after the above-mentioned agreement was made.
Streetcar systems were constructed throughout Portland to serve all developing neighborhoods. By 1891, over thirty trains transported residents to and from Piedmont. The construction and opening of Portland's bridges also added to the development of the subdivision. In 1905, the Williams Avenue streetcar line began service, then extended to Union Ave. by 1909.
Today the MAX Yellow light rail line and Trimet busses 4, 6, and 75 service Piedmont.
Housing and Real Estate Development
Piedmont was officially platted, with deed restrictions and conditions put in place, in October, 1889. The design for the neighborhood included 60 ft.-wide streets, 15 ft.-wide north/south alleys, with almost all blocks split lengthwise. While steam-powered vehicles were prohibited, horse, cable, and electric cars were allowed on any thoroughfare with consent from two-thirds of the street's property owners. All utilities—water, gas, electric, telephone and telegraph lines, and sewer pipes—were allowed only in alleyways. The exception to this was streets that had streetlights.
With strict building codes that would become commonplace in other developing Portland neighborhoods with the Ladd family at the helm, home construction began in earnest. A Philadelphia architect named A. H. Faber was one of the first to build in Piedmont, known for his unusual designs.
Development of Piedmont moved quickly. Streets were extended between 1891 and 1907, and by 1909, over 140 homes had been built. Most residents of the new and booming neighborhood were upper-middle class who owned their homes and commuted across the river to work in Portland, with some employed by Swift Meat Packing Company and Monarch Lumber Mill in Kenton neighborhood.
World War II changed the face and vibe of Piedmont, frequently referred to as "the town of narrow streets and narrow minds," until workers moved to the area to be near their jobs at Kaiser Shipbuilding Corporation on Swan Island. Piedmont quickly became a renters' neighborhood.
Many of the early upscale, Edwardian single-family homes in Piedmont are still standing and remain well-kept. The neighborhood maintains much of its original charm and character with home values remaining strong.
Business and Commerce
Because Piedmont didn't allow businesses within its boundaries, any commerce happened in nearby Albina or Woodlawn neighborhoods, then later, along Union Avenue. While the neighborhood does have a few businesses within its boundaries today, it remains mostly a residential community.
Piedmont Neighborhood Real Estate and Homes for Sale
The neighborhood consists of mostly older style homes, with a few turn-of-the-century apartment buildings here and there. Homes run the gamut of 20th-century architecture, from classic Bungalow to Old Portland, to Cape Cod, Four Square, and more. Piedmont was developed in 1895 as an upper-middle-class suburb (not considered a suburb today), which was quickly dubbed as "The Emerald, Portland's evergreen suburb."
Piedmont means "foot of the mountain." A drive through the streets reveals many striking homes with vibrant color schemes and innovative landscaping. The area prides itself on the old-growth trees which are found on nearly every street.
Click here to see all current Piedmont homes for sale.
To learn about the Portland real estate market, we recommend this local Portland-based, top 100 real estate blog in the world.
If you are interested in buying a home in Portland, we recommend meeting up with these top 1% Portland buyer's agents, or if you are considering selling a home, we recommend these top 1% Portland seller's agents. Visit our Portland Real Estate Page for more information.
North Portland Neighborhood Map
Click any neighborhood.
Check out More Portland Neighborhoods
Visit the full list of neighborhoods in our Portland Neighborhood Guide.
Sources
Loveportland.com. Exploring the Piedmont Neighborhood. Blog post, March 27, 2018.
Portland Historic Landmarks Commission. Potential Historic Conservation Districts. October, 1978.