Portland Light Rail – Also known as the "Max" the PDX Light
Rail is operated by TriMet and is a hugely popular, cost friendly commuter
option in the metropolitan Portland area. Connecting urban Portland to many
of her suburbs, the light rail is a relatively fast and safe way to get
around the city. The light rail has been a near three billion dollar
investment with over 52 miles of track laid and 85 commuter rail stations.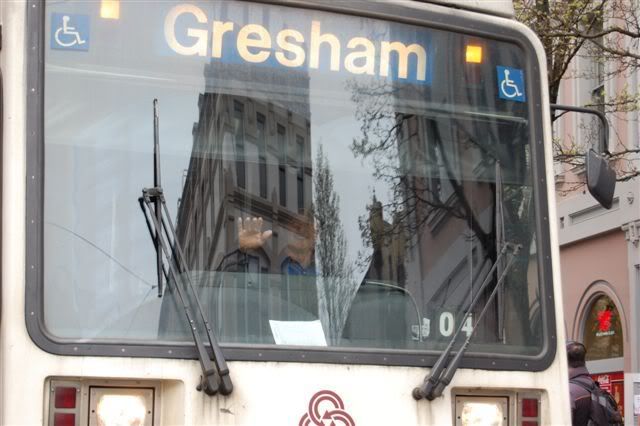 On weekdays, over 120,000 Portlanders routinely use the light rail to get to
and from work. Some people will park and ride – leaving their gas chugging
vehicle at a TriMet designated park and ride- and take a ride on the Max for a
few dollars allowing them to save on gas and avoid steep parking fees in
downtown
Portland.


There are currently 85
train stations. 51 stations
are served by the Blue Line, 28 stations by the Green Line, 29 by the Red Line,
and 22 by the Yellow Line, with 38 stations served by two or more lines and 8 by
three. The system's central stations are at Pioneer
Courthouse Square, on the Portland Transit Mall. These stops, on three sides
of the square, are near the center of the Free
Rail Zone (formerly known as
Fareless Square), a section in and around downtown Portland in which all MAX and
Portland Streetcar rides are zero-fare (free).
All trains also connect at the Rose
Quarter. Source: Wikipedia
Portland Light Rail – Overview of transit services in and around
Portland
Bus – Buses service the whole Portland metro area and many bus lines
intersect with the Portland Light Rail, the WES Commuter Rail and the Portland
Streetcar. Hours of operation vary by day and season so please check the TriMet
website for current hours. For commuter transit on week day mornings and for
afternoon rush hour the buses run every 15 minutes.
Portland Light Rail (MAX) – The MAX (Metropolitan Area Express)
connects downtown Portland with the following suburbs: Beaverton, Clackamas,
Gresham, Hillsboro and other urban areas in the North and Northeast Portland and
the Portland International Airport. Light rail trains run approximately every 15
minutes daily with service becoming less frequent during non-peak periods such
as early mornings, mid-day and evening.
WES Commuter Rail – The WES (Westside Express Service) is a commuter
rail line serving Portland suburbs Beaverton, Tigard, Tualatin and Wilsonville.
The WES runs every 30 minutes during the weekday morning and afternoon rush
hour. WES does not run on weekends.
The Portland Streetcar – The Portland streetcar connects Northwest
Portland, the Pearl District, Portland City Center, Portland State University,
The Willamette River Place and the South Waterfront District. The streetcars run
approximately every 15 minutes during the day  and less frequently during
non-peak periods. While the streetcar is owned and operated by the City of
Portland, it is integrated with the TriMet service lines.
Portland Light Rail – Fares
The Portland Light rail -the MAX- relies on a "proof of payment" system which
means you must carry your receipt or pre-paid pass with you at all times. A
single use receipt is good for riding two hours after purchase, for an unlimited
number of rides in any direction on the following transit systems: Portland
light rail/Max, bus, portland
streetcar, and the C-Tran.
Fares (as of September 1, 2010) are:
All-Zone or 3-zone: $2.35
2-Zone: $2.05
Honored Citizen: $1.00 disabled and
elderly passengers
Youth: $1.50 ages 7–17 and students in
high school or pursuing a GED; all zones valid. *Must show proof of age or
student ID upon request.
LIFT Paratransit All-Zone: $1.85

Children under 7: Free when accompanied by someone with valid fare

Day Pass: $4.75 Valid all day and for any
and all zones
Valid fare receipts that have not expired can be reused interchangeably on any
of the transit systems — you can use a bus receipt for the Max, a streetcar
receipt for the Portland light rail, a Max receipt for the bus and streetcar and
so forth.
TriMet offers single use tickets, day tickets, monthly tickets and yearly
passes. Check here for fares and
current rates.
Riding is FREE in the Free Rail Zone (formerly
referred to as "Fareless Square") which includes all of
downtown
Portland and part of the Lloyd Center area.
Portland Light Rail – From A to Z
New to our Portland light rail system and need some help?
No need to fret as TriMet offers a very excellent service for new folks to
PDX or those visiting PDX: a trip planner. Like an online concierge, this
service will help you map your destination from start to finish, telling you
what transit system to take and how long each leg of the trip is in minutes.
Need help? Call 503-238-RIDE