Sellwood-Moreland Neighborhood Guide
The Sellwood-Moreland neighborhood is located in Southeast Portland. On its western border is the Willamette River, and it's flanked by the Brooklyn, Ardenwald-Johnson Creek and Eastmoreland neighborhoods.

Click the image for a fully searchable Sellwood Moreland neighborhood map that includes all homes for sale.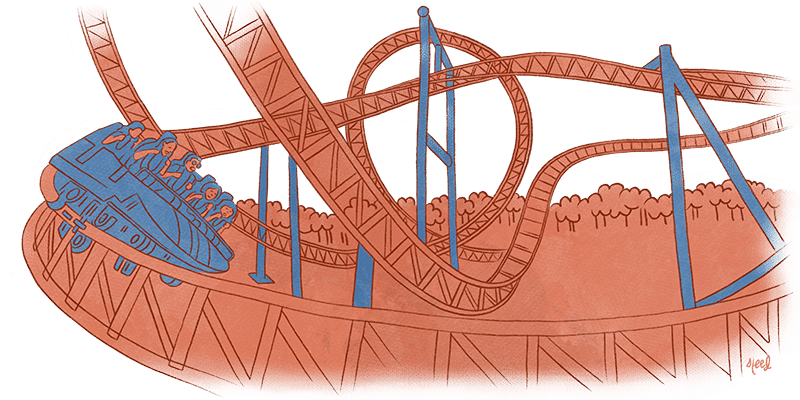 Oaks Amusement Park along the Willamette River
Features of the Sellwood-Moreland Neighborhood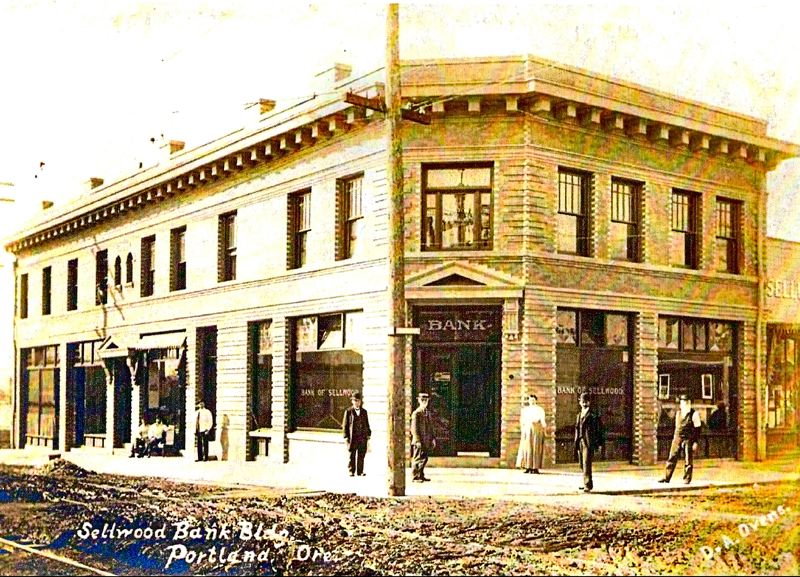 Sellwood feels much less hipster and chic than say, Mississippi Ave, Alberta Arts, or the Pearl District. However, it has a definite, at ease kind of "anything goes, all are welcome" type of feeling. Like most Portland neighborhoods, Sellwood-Moreland is quite self-sustaining. You have local grocery stores like New Seasons, many coffee shops (even a few local roasters), bars, restaurants, and even a theme park. Sellwood-Moreland is also home to many antique stores, so if you love to hunt for rare and unique items, this is the place to be. This neighborhood really has its own small-town feel to it – walking the streets invokes a "good old days" vibe. This area is very family-friendly, walkable, and comes with a robust sense of community pride.
Technically speaking, the Moreland neighborhood is divided into Westmoreland and Eastmoreland. While that may seem like splitting hairs, there is a distinct difference between them. Eastmoreland is where homeowners have someone else cut their lawn, while Westmorelanders will do it themselves. Beyond yard work, Westmoreland has all the hustle and bustle of a small city, while Eastmoreland is almost purely residential with some of the best homes in Portland. While each neighborhood has its charm, you certainly want to explore Westmoreland for its commerce and drive through Eastmoreland to see how the other half lives. On this page, we'll include Westmoreland businesses, since Eastmoreland is its own unique neighborhood.
Some great Portland eateries are found in this quaint community, including some of the best bakeries and coffeehouses. Blue Kangaroo Coffee Roasters is a local favorite, and if you're into sweet treats, you have to check out Grand Central Bakery and Marsee Baking. Both of these places are packed most days, so be sure to plan accordingly.
As with other parts of Portland, Sellwood-Moreland is getting in on the food cart trend. You'll want to be on the lookout for new carts as they arrive so that you can get some incredible food without having to walk far.
Sellwood also seems to be synonymous with antiques. We dare say we've never seen so many antique stores packed into one area. If you're an antique or craft lover, this is your place. These are typically the kind of establishments that were born in passion and nurtured however the proprietors wanted. They're not open late. For the most part, you can't find them online. These are businesses that tend to be run in a manner appropriate for their inventory – the old-fashioned way. It should be mentioned that when you're talking antiques in Sellwood-Moreland, you're really walking the talk as there are literally blocks and blocks of stores within the neighborhood, so be sure to spend most or all of your day going in and out of them.
Sellwood-Moreland Neighborhood Businesses of Note
Since this neighborhood is home to so many families and young couples, it makes sense that is has been up-and-coming with the New Portland vibe. Many businesses here are still original, though, so you get a blend of historic and urban-chic shops and restaurants. Sellwood-Moreland is highly walkable too, so feel free to take a stroll down Milwaukie Ave – you never know what you might find.
Stars Antique Malls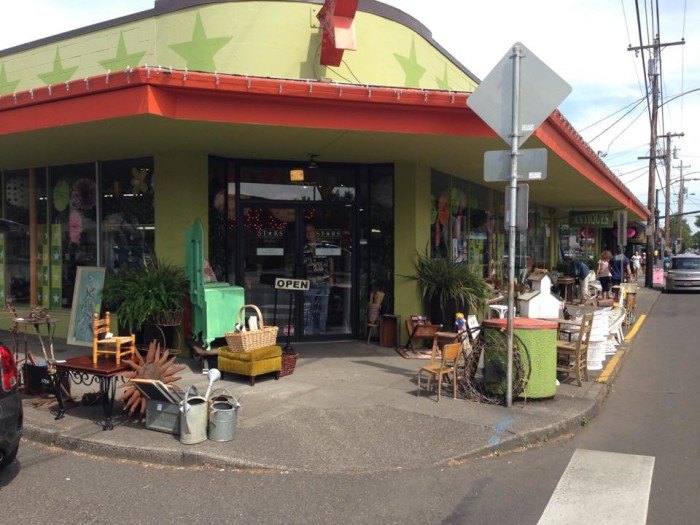 If you walk along Westmoreland's main drag – Milwaukie Ave – you'll see that they've rolled out the red carpet. Stars literally line the street (so to speak). With over 300 antique dealers filling over 30,000 square feet in three different locations, variety is more than just a word – it's a lifestyle. Trying to take stock of everything they offer is an exercise in futility.
The Antique mall is run by Gayle, Darwin, and Brent – three lifelong friends with a passion for collecting and decorating. They opened the first location in 1990. Four years later, they opened the second Stars and Splendid Antiques Mall across the street. Finally, in 1998, the third location opened down the road, completing Stars' takeover of the neighborhood. Who knew that antiques were such a high-demand business?
Fortunately, even though the space is overwhelming, each location still feels intimate and welcoming. The staff members are easy-going and more than willing to help you find what you need. They're also knowledgeable about everything, so if you have a question about one of the gems you discover, feel free to ask away.
Stars Antique Mall – 7027 SE Milwaukie Ave
Stars and Splendid Antique Mall – 7030 SE Milwaukie Ave
Stars Too – 7011 SE Milwaukie Ave
Moreland Theater
If you want to get a sense of Sellwood-Moreland's past, look no further than the Moreland Theater. Portland is really excellent about preserving its historic theater venues (Hollywood and Laurelhurst come to mind), and the Moreland is no exception. This single-screen establishment opened in 1926, and it still maintains that old Hollywood charm and elegance. Sure, it may be more financially responsible to have multiple screens, but sometimes, you just have to maintain traditions.
The seats are extra plush and comfy, and there are still vintage balcony sections, although they are closed to the public. Sellwood-Moreland residents take pride in this theater, which is why it's still going strong despite not being able to compete with modern cinema chains. Also, due to its centralized location, the Moreland acts as a hub for the neighborhood.
Moreland Theater – 6712 SE Milwaukie Ave
Oaks Amusement Park
Although Portland may not seem big enough to have its own theme park, you'd be mistaken. Oaks Amusement Park certainly isn't as grandiose as Six Flags or Disneyland, but it's more than enough for the locals who enjoy rides, attractions, and midway games. Best of all, it's a Portland institution, having been around since 1905. Almost all of the original structures have been replaced, but Oaks Park still maintains some of that historic vibe.
In recent years, thanks to the influx of new people to Sellwood-Moreland and the surrounding area, Oaks Park has been transformed into a sleek, modern amusement playground. Most of the rides are kid-friendly, but for those who want extra thrills, the new Adrenaline Peak coaster is sure to excite your senses. There are also all of the favorites, including a vintage carousel, bumper cars, a Ferris wheel, and go-carts. There's also an updated mini golf course if you want to test your skills.
Oaks Amusement Park – 7805 SE Oaks Park Way
Papa Haydn
For those who want to experience eating in a classic European-style cafe, Papa Haydn (formerly Hadyn's) is the best place in Sellwood-Moreland. Since 1978, this establishment has been one of the highlights of the neighborhood, both for its fine dining and exquisite dessert offerings. The restaurant was started by couple Heidi and Jeff, who wanted a place to hone their skills and become part of a community. Jeff does the food, while Heidi bakes the confections.
In recent years, Papa Haydn has evolved with the rest of Portland, becoming a premier chocolatier and bakery. The food still remains incredible, using fresh and local ingredients. Highlights from the menu include the Hunter's Stew and Pasta, short ribs, Manila clams, and a smoked trout Nicoise salad. The desserts rotate regularly and seasonally, so you have to check in to see what's new. They also do whole cakes to order, just in case you want to upgrade your next event.
Papa Haydn – 5829 SE Milwaukie Ave
Saburo's Sushi
If you're a true sushi lover, then you know that Portland has more than its fair share of high-quality restaurants. However, none of them have the same appeal as Saburo's – a hole in the wall that gets packed fast. In fact, on some nights, you can expect to wait in a line around the building just to get a taste.
What's even more remarkable is that the appeal of Saburo's has been around almost since the beginning. When the place opened in 1988, sushi was still relatively exotic, but the restaurant experienced a boom in the late '90s and early 2000s. Since then, it has become a mainstay of the Sellwood-Moreland neighborhood, and it's a Mecca for any sushi connoisseurs in the area. Part of its appeal is its authentic Japanese vibe – the tiny accommodations make you feel like you're eating off the street in Tokyo.
Saburo's Sushi House – 1667 SE Bybee Blvd
Portofino Italian Cuisine
One reason why Sellwood-Moreland is such a desirable neighborhood is that it's home to some of the best restaurants and fine dining in the city. Case in point is Portofino – a longstanding trattoria that has made a name for itself among the greats in the area. Since 1990, Portofino has grown and evolved, moving from an old-world seafood-focused ristorante into a more intimate, chic establishment.
The menu here is simple and streamlined. Rather than scanning through pages of various dishes, the selection is deliberate and focused. Highlights include Scampi ravioli, sweet pea caramelle, pan-seared scallops, and a traditional Osso Bucco. Also, Portofino wouldn't live up to its namesake without an incredible wine list, so be sure to get a bottle of red to compliment your meal.
Portofino Ristorante and Delicatessen – 8075 SE 13th ave
Kay's Bar
The corner of Milwaukie Ave and Bybee Blvd is home to many original Sellwood-Moreland businesses, and one of the oldest is Kay's Bar. As they're happy to tell you, the bar and grill have been open since 1934, meaning that it has seen and experienced all of Portland's transformations over the years. Fortunately, unlike some other businesses in the vicinity, Kay's has been able to adapt to the New Portland wave, becoming one of the better dive bars in the city. How can you tell it's a dive bar? Because there are no windows.
These days, Kay's draws in a younger and more hipster-friendly crowd, meaning that you can find plenty of high-quality drinks mixed in with PBRs and Blue Moons. Since Kay's is also a grill, you can get the standard bar fare, as well as delectable burgers and other semi-gourmet options. Best of all, happy hour is daily during the week, so be sure to come with friends and enjoy it.
Kay's Bar – 6903 SE Milwaukie Ave
Sellwood-Moreland Neighborhood Resources
Sellwood Moreland Improvement League (SMILE)
Southeast Uplift Neighborhood Program
Sellwood-Moreland Parks
Part of the family-friendly appeal of Sellwood-Moreland is that there are some of the best green spaces in the whole city. Oaks Bottom Wildlife Refuge is a particular highlight, as it's one of the best places to see birds and other animals in their natural habitat. Plenty of trails and hiking opportunities around here, especially as you get close to the Willamette River. Also, thanks to Sellwood's close-knit community, places like the Sellwood Pool and Community Center are perfect for summer activities. Westmoreland Park is another incredible outdoor space, complete with sports fields, a lake with a stream (perfect for boat races), and a golf course. Sellwood-Moreland residents take their nature seriously.
Crystal Springs Rhododendron Garden
Sellwood-Moreland Schools
Stats
Zip Code 97202
Sellwood-Moreland Neighborhood Vibe
Some parts of Portland feel very disconnected – the hustle and bustle of everyday life prevent people from getting to know their neighbors. That's not really the case in Sellwood-Moreland. Even though the neighborhood has been transformed by the New Portland wave, it still retains much of that old-fashioned way of life. Families, retirees, and young couples all live together and help make this area feel more inclusive and welcoming. Sellwood-Moreland is the perfect place to get both the old and new Portland experience.
Sellwood-Moreland: Friend's We've Lost
The Ugly Mug Coffeehouse – Local Coffee Shop
The Ugly Mug Coffeehouse has a great vibe and awesome coffee. Kid-friendly. Movie nights. Open late, and serves beer and wine.
The Looking Glass Bookstore – Antique Bookstore
If you read this book by its cover, you can't help but get drawn inside. A bright red caboose – an actual caboose, full-size – sits near the street and claims to have books. Hmm, actively seeking a downside here. This place is great! Four walls and some inventory do not a bookstore make. Nor do corporate architecture and a requisite coffee chain housed within for that matter. But what does work is coziness, a staff that makes you feel warm and welcome. That fireplace doesn't hurt, and neither does the outdoor patio complete with comfy-looking lawn chairs to read fountain side. And that caboose? What else could be more adorable – or welcoming? It's a children's book section with small rocking chairs, caboose-style seats for kids to climb up to and read, and loveable, old stuffed toys like Curious George and Cat in the Hat, which used to belong to the owner's children.
The Looking Glass has been in business for over 30 years, and Karin Anna's bookstore sells a broad range of new books and specializes in international literature, politics, children's books, environmental issues, and poetry.
The Silver Lining Company – Clothing Consignment Store
Here is where you can find high-end consignment at low prices. Just because the clothing is ultra-chic doesn't mean that the staff isn't local and down-to-earth. Since 1983, The Silver Lining has been buying and selling top-of-the-line women's clothing, shoes, and accessories. They carry brands like White House Black Market, Coach, Ann Taylor, Tommy Hilfiger, and Chico. So, if you want to flex your style without breaking the bank, here is the place to visit.
The best thing about The Silver Lining is that the owner and staff are so helpful. They're less like proprietors and more like best friends that want to help you look amazing. They will provide insight and offer suggestions, as well as assist in picking out some incredible finds. Shopping here is a friendly experience, which keeps customers coming back for more.
A locals review of the Grand Central Bakery in Sellwood:  Delicious!
If you haven't tried the wonderful goodies at Grand Central Bakery, stop by on your way downtown and grab something better than a doughnut. Located at 7987 SE 13th Street in Sellwood, it is just two blocks north of Tacoma Street. The Sellwood location has been open since May 2004 and is one of our favorite places to have breakfast. It has the delicious breads, cinnamon rolls, jammers (a biscuit with the jam built-in), coffee cake and croissants of their other locations. Hidden in the back is a kid-friendly room with a low table for the young and two regular tables for adults. Toys, books and a chalkboard are available for the children's entertainment while you sip on a latte and read the paper. Chalk isn't always available, so you might want to bring your own colored chalk, and if you are like me, leave some behind! Don't forget to grab a loaf of bread to take home. Try their olive, como or any of the other delicious varieties. You can get the loaf whole for a fancy dinner, or have them slice it for easy toasting and sandwich making.
The employees at the bakery are friendly and wonderful, and while I don't know the official policy, you regularly see people with their favorite 'brand' of coffee eating the baked goods. Don't let that dissuade you from trying their coffee or espresso as it is all excellent. The bakery is open for lunch and has a variety of sandwiches. Combine lunch with a trip to the Sellwood-Moreland Library down a block and you have an excellent afternoon.
Sellwood-Moreland Real Estate
Sellwood-Moreland neighborhood features older East Portland homes that have been well-maintained and updated. You'll find architectural styles including Victorians, cottages, and many gorgeous Crafstman bungalows. The streets are quiet and lined with mature trees. This is an excellent family neighborhood where people hang out at the coffee shops on the weekend. You'll also see couples pushing strollers and walking their dogs. The community features many locally-owned shops and restaurants, and Sellwood is well-known for its array of antique stores.
Click here to see all Sellwood Moreland Homes for Sale.
To learn about the Portland real estate market, we recommend this local Portland-based, top 100 real estate blog in the world.
If you are interested in buying a home in Portland, we recommend meeting up with these top 1% Portland buyer's agents, or if you are considering selling a home we recommend these top 1% Portland seller's agents. Visit our Portland Real Estate Page for more information.
Southeast Portland Neighborhood Map
Click any neighborhood

Check out more Portland Neighborhoods
Go back to the full list of Portland neighborhoods.