St. Johns Neighborhood Guide
St. Johns is located in North Portland and is bordered by Linnton, Cathedral Park, University Park, Portsmouth, and Kenton neighborhoods.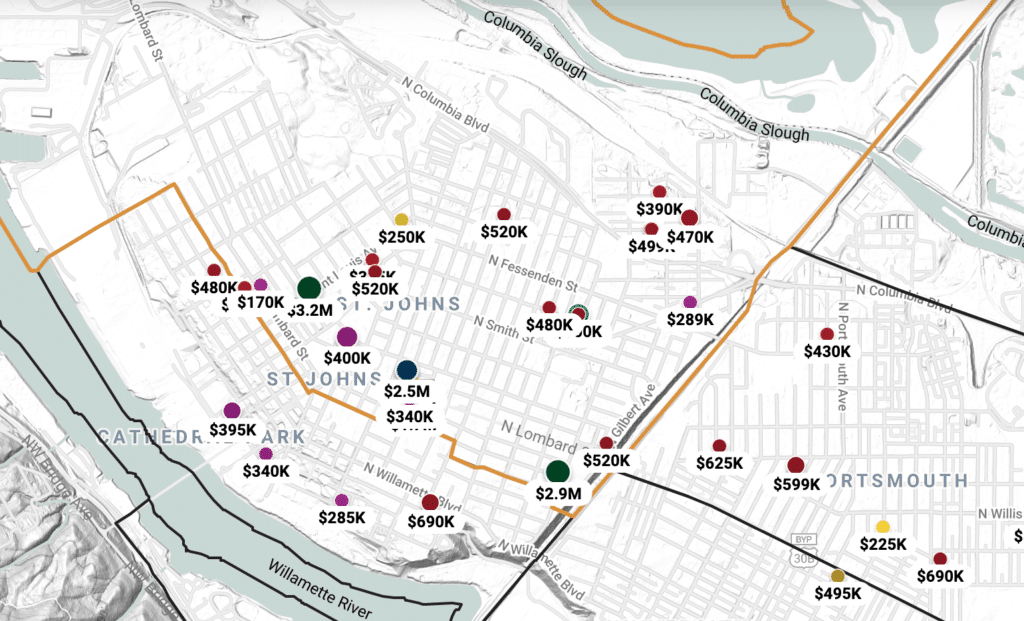 Click the image for a fully searchable St. Johns neighborhood map, which includes all homes for sale.
St. Johns Guide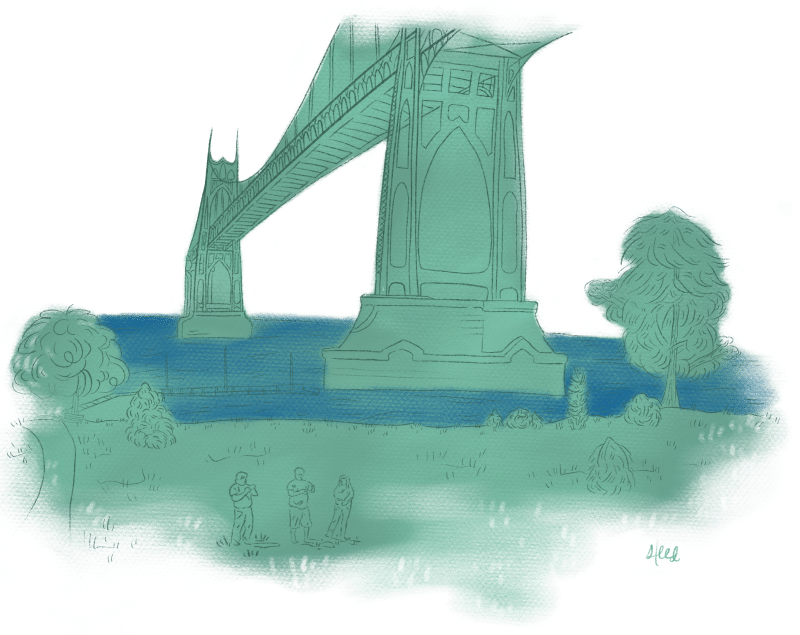 One virtue of St. Johns Bridge (also known as the Grand Lady of Portland) that is often overlooked by much of Portland is the 12-minute commute to downtown Portland and the 15- to 20-minute commute to Beaverton or Hillsboro. Highway 30, the road connecting the other side of the bridge to downtown Portland, sees very little traffic during the 8-5 or 9-6 commute hours (although, anecdotally, it's busier during earlier hours (5-7am and 2:30-4:30pm). Germantown Road to Skyline or Cornelius Pass have light traffic during banker's hour's commuting.
St. Johns Portland Podcast
Features of St. Johns Neighborhood
St. Johns Parade
St. Johns has had an annual parade for more than 50 years, since 1962, with homemade floats. It is a free, family-friendly celebration and a great way to get to know your neighbors and local businesses.
St. Johns Farmers Market
Saturdays, 9am to 2pm
May – October
St. Johns Neighborhood Vibe
St. Johns is described by locals as "extremely friendly", "A town within a city…," and "There seems to be quite an underground of artists and fellow travelers in these parts." Some parts of St. Johns feel new and others gritty and perhaps not so safe, especially at night.
St. Johns Businesses of Note
Originally settled independently of Portland, St. Johns used to be its own city, complete with a City Hall. Now, that building houses the police station, and the two towns are one. Or are they?
Of course, legally, the two cities are one. But if you walk the streets of St. Johns, you'll definitely catch a different vibe than when you're in Portland proper. Somewhere between the architecture that marks different moments in Main Street Americana and the fiercely proud neighbors and proprietors, is a sense of community that is different and special—even self-reflective. Being able to live and work in the neighborhood feels like a privilege to most.
Some of the satisfaction they experience has to do with history, which equals roots, which equals pride. And in St. Johns, you can't throw a rock and not hit something historic. Some of the oldest buildings in all of Portland are in St. Johns. You can chomp on pizza at a gas station that goes back to the 1930s with a soda fountain that flowed in the 1950s.
Most of the proprietors live nearby, and their sense of community weighs in far stronger than any feelings of competition. When you talk to shop owners in St. Johns, they can't wait to recommend several other shops on the block. They'll tell you who owns them, how long they've been around, and the quality work they're up to.
Taking their lead, here's what we found.
Rockabilly Cafe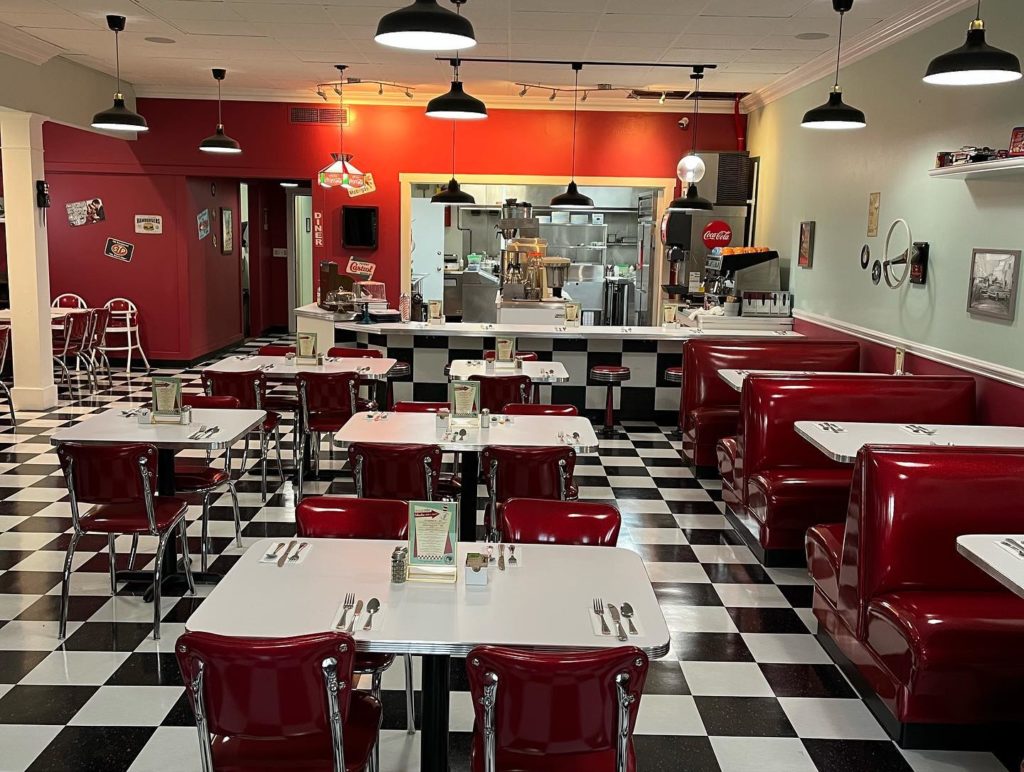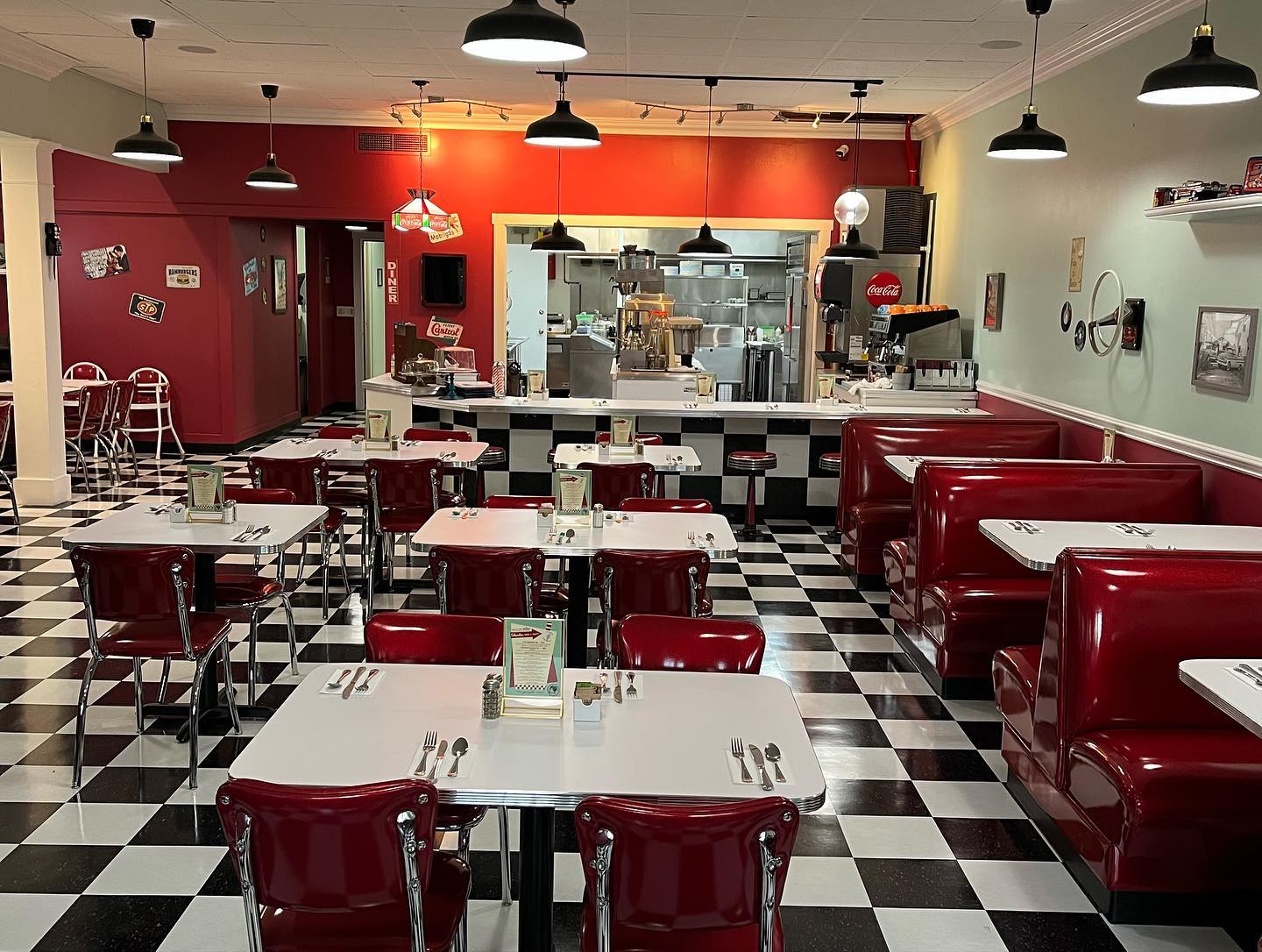 Their breakfast menu offers fluffy flap jacks, fat waffles, omelets, and a solid list of sides. If the first meal of the day is too early for you, come by for brunch and savor some huevos rancheros, country biscuits and gravy, french crepes, or cheese blintzes. Wash it all down with a mimosa, bloody Mary, or bellini!
Rockabilly Cafe—8537 N Lombard St

Mikasa Sushi & Ramen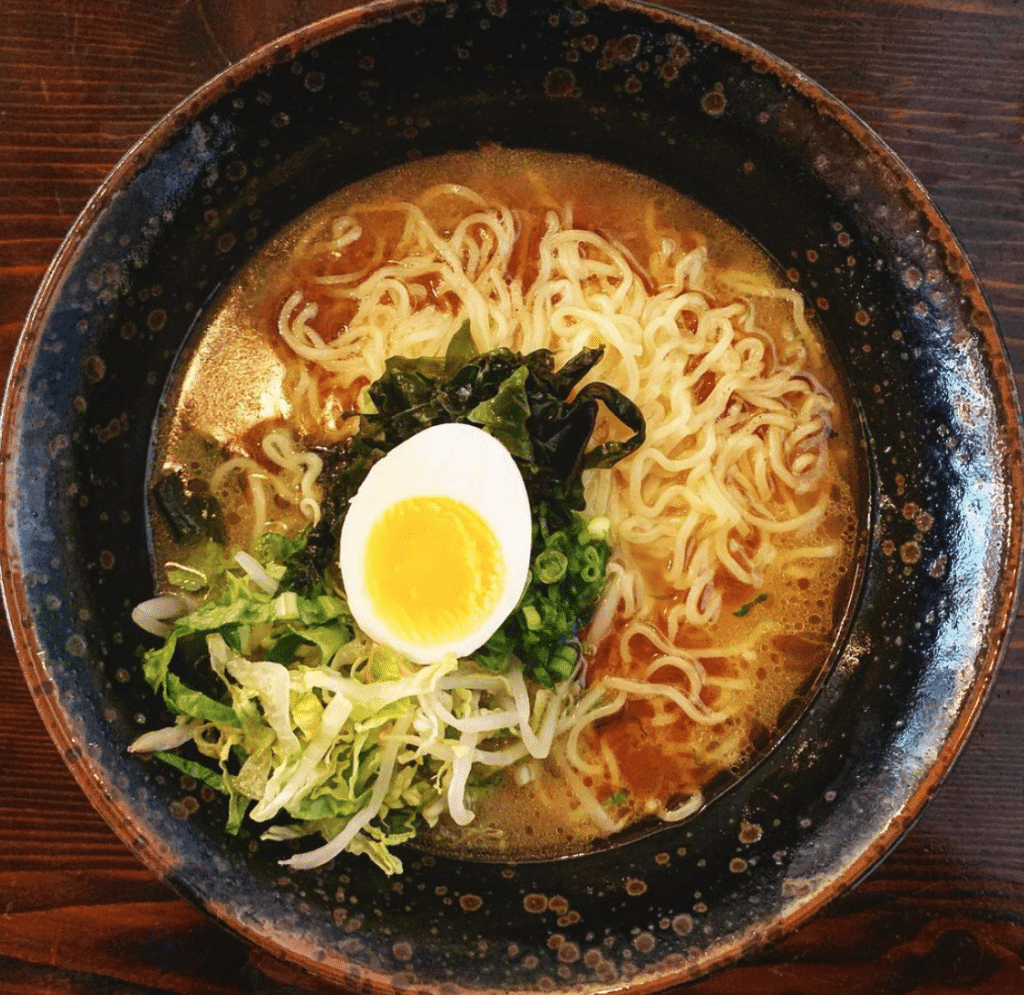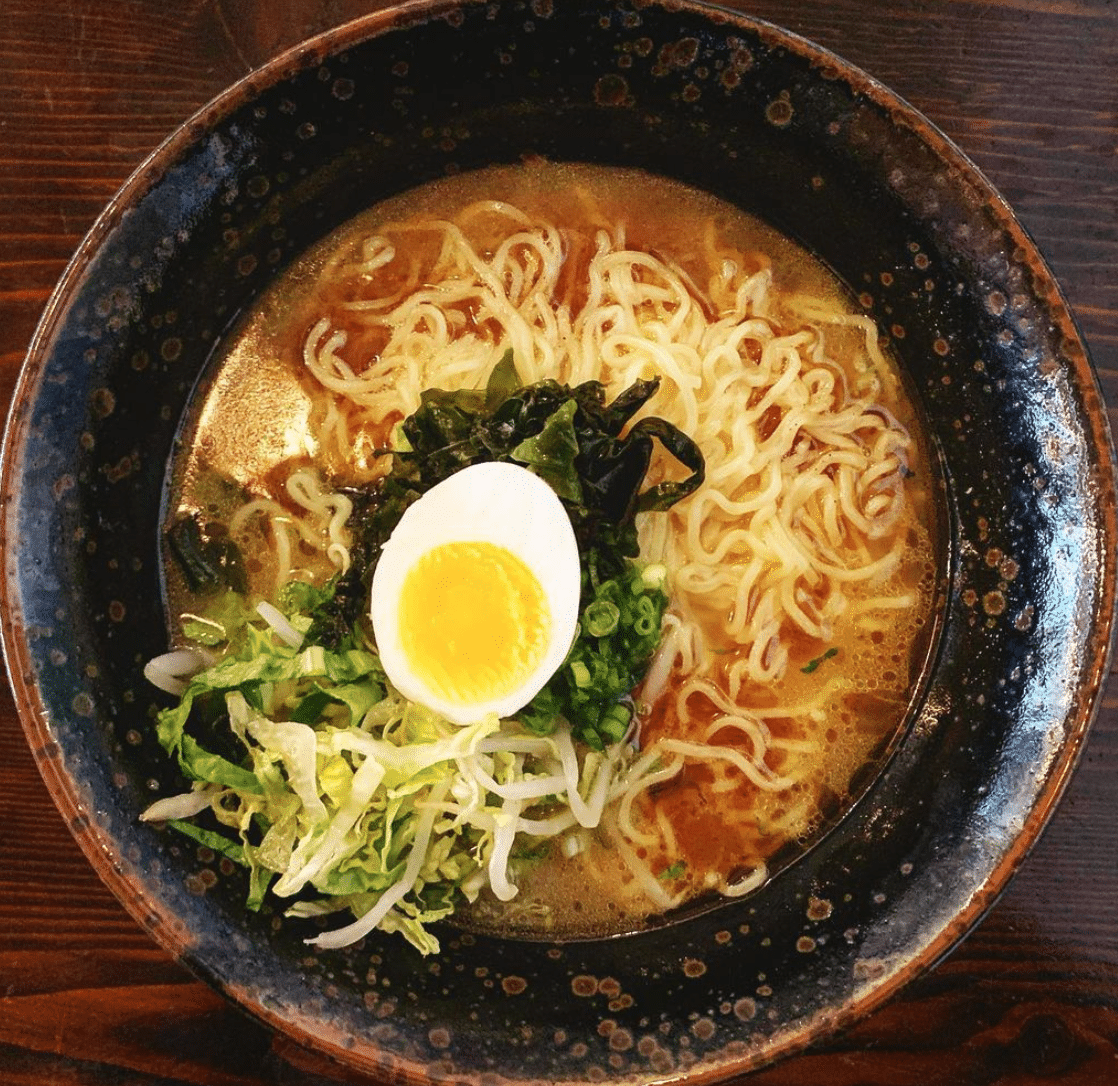 If you're a sushi lover, you'll want to check out the relative new (as of 2019) Mikasa Sushi & Ramen. Start with some salmon poke or the spicy bean sprouts salad, and munch on a few sushi while you wait for your rolls (like the Mango Tango or the Mother of Dragon) and piping hot ramen (like the Chasiu with fried pork belly or the super veggie). You're sure to leave with a full belly and satisfied taste buds!
Mikasa Sushi & Ramen—8777 N Lombard St

Paiku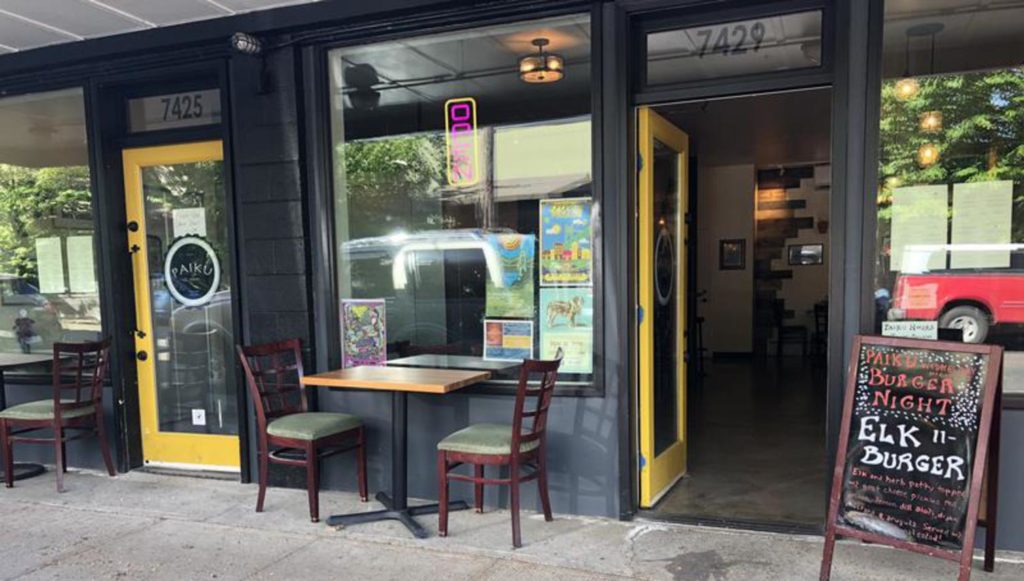 Paiku makes mouthwatering savory and sweet pies. Gorge on a Chicken Pot, Vegan Pot, or Spinach and Feta Pie, then follow it up with a Lemon Chess or Honey Almond Pie. Paiku also sells whole cakes and bulk bread pudding, buiscuits and cookies.
Their brunch menu will make your eyes widen. So many selections! Like Easter Pie, Honey Sage French Toast, and Vegan Hash.
One of the eatery's highlights is the Friday Picnic, a dinner package that serves 2-4 people, complete with one of their luscious savory pies, crispy salad, delicious soup, bread, and several desserts. Order online, pick up, and head home to get your weekend off to a good start with your private, indoor picnic!
Paiku—7425 North Leavitt Ave


Big Kahuna Barbecue & Catering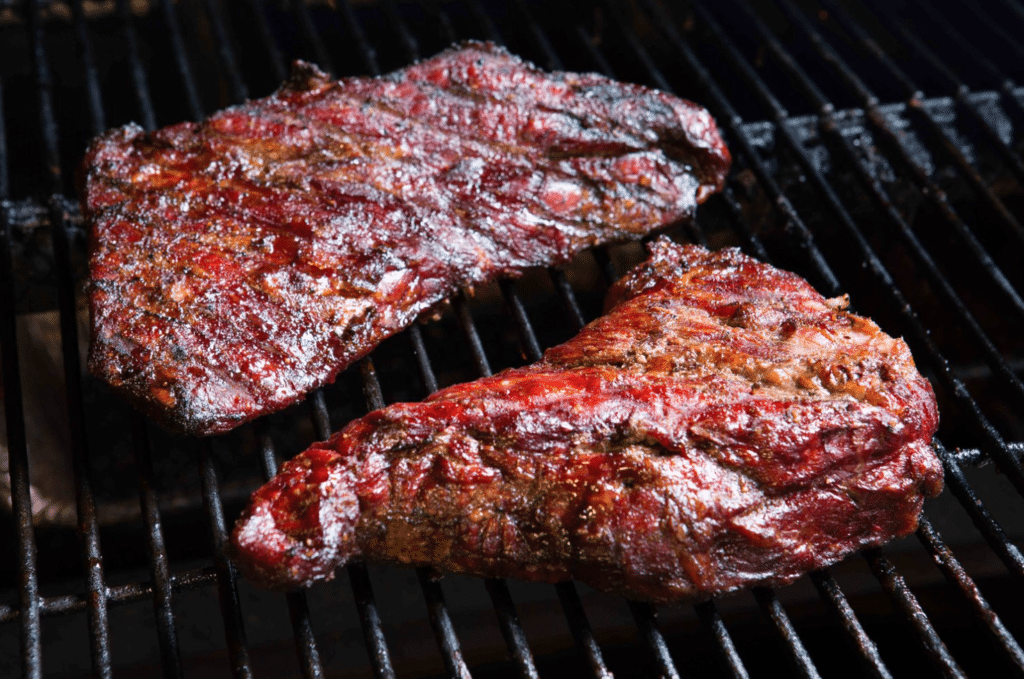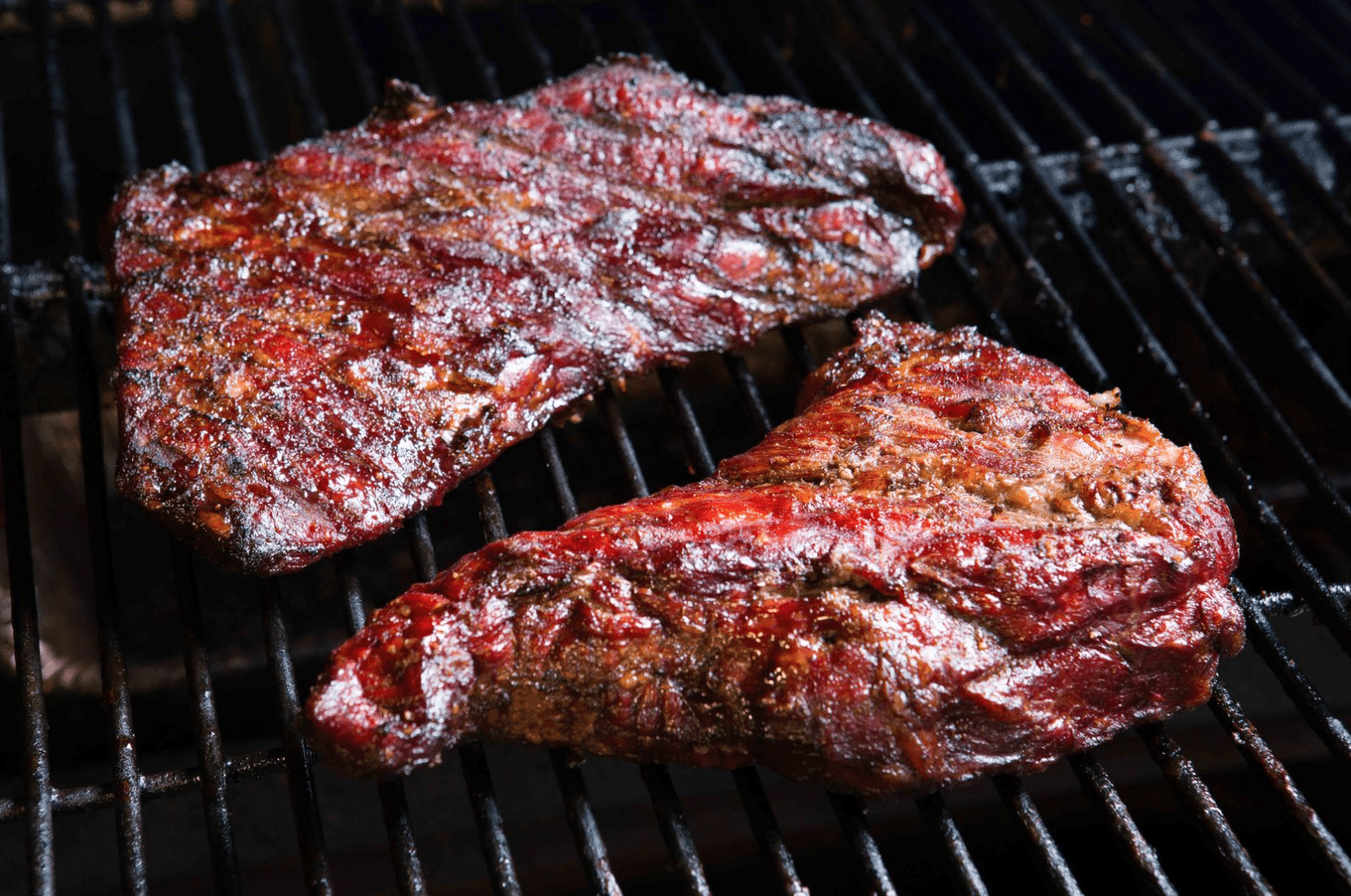 No matter where you're from, once you try barbecue from Big Kahuna's, you'll agree that it rivals any you've had before. They serve BBQ and side dishes made from generations of recipes from three families with solid Maui roots.
Whether you dine in at their brick-and-mortar restaurant or hire them to satisfy guests at your next big event with their signature tri-tip, spare ribs, smoked sausage, grilled chicken, and all the delicious sides you can eat: tropical fruit salad, chili beans, island slaw, Hawaiian mac salad, and more.
Big Kahuna Barbecue & Catering—8221 N. Lombard Street

Lombard House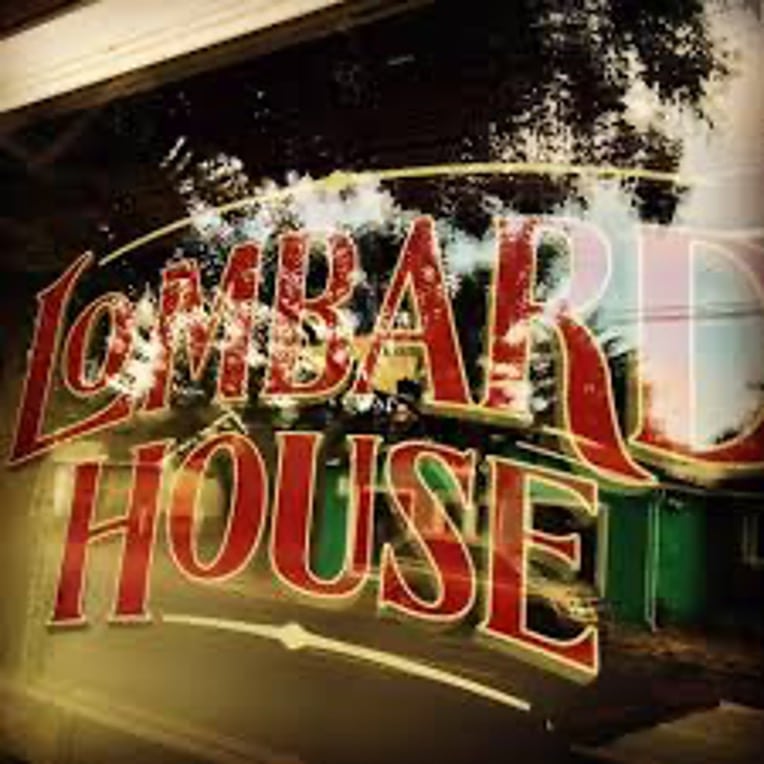 When it comes to beverages, Portland offers some of the best coffee and beer in the world. There is a plethora of both coffee houses and craft breweries, meaning that you can wet your whistle at any time of day. For those that prefer drinking in the evening, Lombard House is one of the most intimate places to buy a pint.
We're not kidding when we say intimate; Lombard House is not just a clever name – it's an actual house. The seating inside is limited and the tap list is only 10 beers long. However, you'll enjoy every minute you're here, particularly if you come with friends (no more than three if you value personal space).
As you can imagine, such a small venue doesn't have food. Fortunately, there are plenty of carts nearby, each with their own flavor to accommodate your drink. The atmosphere and vibe of Lombard House is both distinctly Portland and uniquely St. John's. You won't find another place like it.
Lombard House—7337 N Lombard St

3 Tracks Music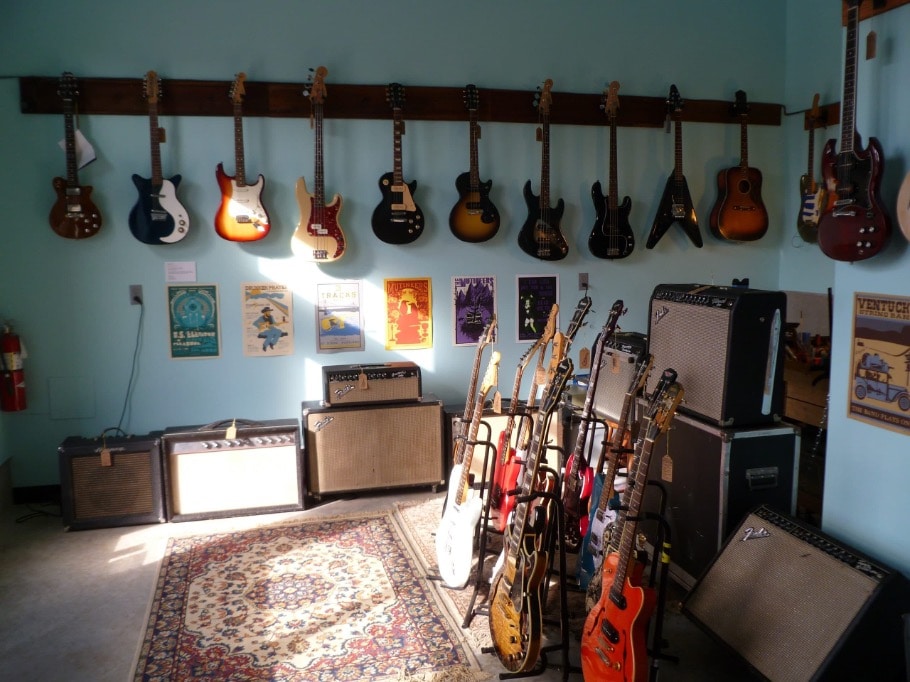 It's no secret that Portland is home to a vibrant local music scene. For artists looking for a vintage vibe to their equipment, 3 Tracks is the place to shop. The retailer specializes in vintage guitars, amps, and acoustic instruments. The place is relatively small, but it has a lot of personality, all thanks to the owner, Keith Kurczewski.
According to Keith, the name doesn't refer to tracks like you'd find at a recording studio. Instead, it refers to 3-track railroad signs scattered across the landscape in and around St. John's. Apparently, the name sounded good enough for the business, so it stuck. However, even though everyone gets the origin wrong, Keith is much too nice to get annoyed about it.
Overall, if you want anything to do with guitars, you need to check this place out. They also do consignment and will buy instruments to fix or resell in the shop. Anyone who appreciates classic guitars will want to browse the selection, even if they aren't interested in buying anything.
3 Tracks Music—7429 N Lombard St

Leisure Public House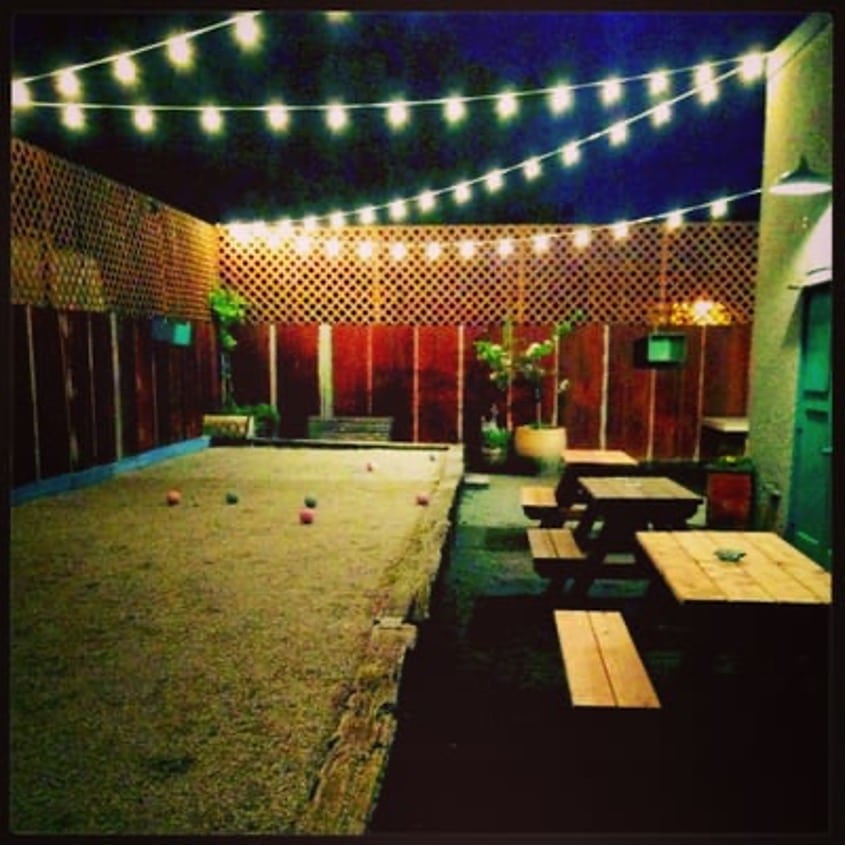 St. Johns is one of the better places in Portland to do a pub crawl. Walking down Lombard St, you'll come across a wide array of pubs and bars, each with its own personality and flair. Leisure Public House is one of the more open and friendly places, making it an excellent stop to enjoy with friends. Partake in some ping pong or bocce ball to pass the time as you browse through their rotating tap selection.
When it comes to food, Leisure is mostly known for hot sandwiches. You can get classics like a Pastrami Reuben or Caprese, but they also offer a few unique options, like the Parmesan-Breaded Eggplant. For dessert, you can get either a root beer float or a Guinness float, if you want to keep the party rolling.
Tuesdays are particularly fun at Leisure, thanks to its weekly trivia night. Test your knowledge against your fellow bar patrons and see who comes out on top. In case of a tie, winning teams may have to dance to see which one will be crowned champion for the evening. Brush up on your general knowledge skills and see if a pint or two will sharpen your wits.
Leisure Public House—8002 N Lombard St

Blue Moon Camera and Machine
In the market for that latest digital SLR? Or maybe you're just in the mood to talk megapixels? Not in St. Johns you're not and certainly not at Blue Moon. Purists down to their last shutter, each and every Blue Moon staff member is a photographer first, clerk second, and they do traditional film the traditional way.
On the equipment sales side of the business, they carry the best vintage: '60s, '70s, and early '80s. And processing Blue Moon style means high-quality optical printing that requires hands-on, one-negative-at-a-time attention, focusing optical light through each individual frame.
In addition to keeping the tradition, Blue Moon has also made one in these parts. As they see literally every exposure their customers submit, the staff sets aside a few favorites for an annual customer show that has become so popular they've been known to do an encore presentation.
Blue Moon Camera and Machine—8417 N. Lombard St

Signal Station Pizza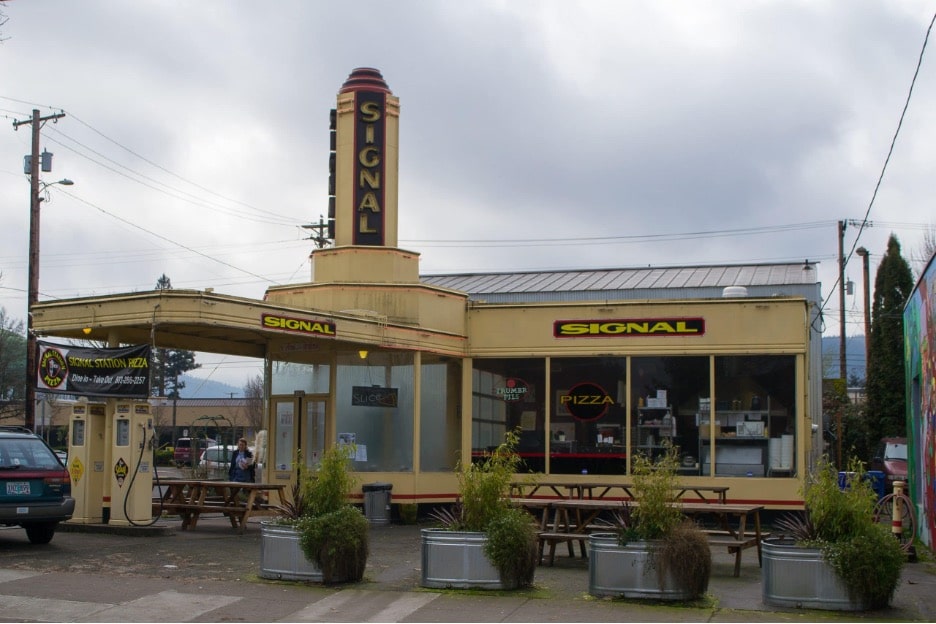 When most people think of pizza, they don't usually imagine eating it at a gas station. Fortunately, Signal Station has long abandoned its original purpose as a fueling depot and instead turned itself into one of the premier spots in Portland. At first, the decor and building facade can be a little odd, but once you're inside, you'll be delighted by both the food and the service.
The antique gas pumps are still out front. The service bay door into the garage still rolls up. You can enjoy the warmer months inside the "garage" or at tables set up just outside. Word on the street is that they've got a good rep. Part of that reputation comes from the fact that the owners locally source the ingredients and use all-natural recipes for every one of their pies.
Serving pizza by the slice or whole pie, each one is made with care and delicious ingredients. Even the names of the pizzas are inherent to the area, with options like The Willamette, Lombard Deluxe, and the No. Portland Special. You can also get personal sizes if you want more than a slice but don't feel like sharing. In addition to pizza, Signal Station also dishes up calzones and subs for your enjoyment, as well as scoops of Blue Bunny Ice Cream for dessert.
Signal Station Pizza—8302 N. Lombard St

McMenamin's St. John's Theater and Pub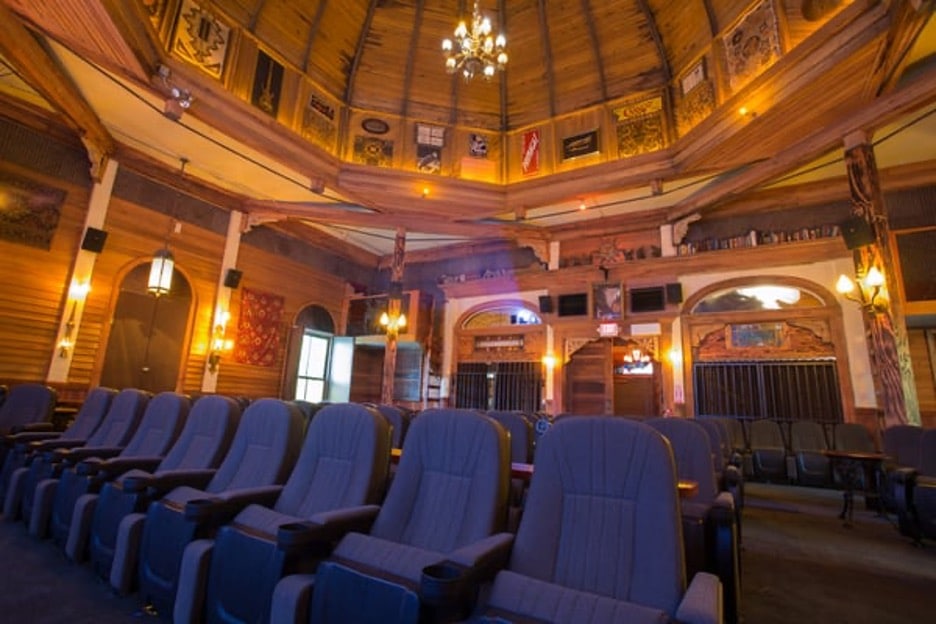 For those who aren't native to Portland, the McMenamin's name is as synonymous with the city (and Oregon in general) as roses or the Willamette River. Most of the top neighborhoods in the city have a McMenamin's to call their own, and St. John's is no exception. If you're unfamiliar with how these places operate, no two are alike. Part of the charm comes from the fact that every McMenamin's is built into a historic building.
In St. John's, the building was part of the Lewis and Clark Exposition (a World's Fair) in 1905. The theater was the crown jewel of the exhibit, although it was only built to last about six months. The ornate domed structure was quite impressive, and much of that historical significance is still present to this day.
The highlight of the theater is cheap second-run movies, but you can also partake in a pint or two while you wait for your showtime. Also, the theater has a sampling of locally-sourced pub snacks and food in case you want something to eat with your beer or cider.
McMenamin's St. John's Theater and Pub—8203 N Ivanhoe St

Vinyl Resting Place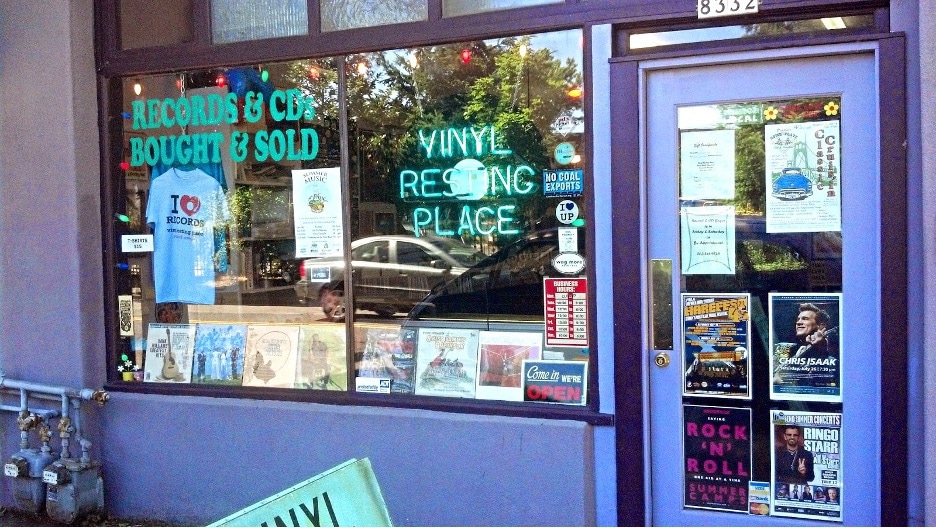 Vintage vinyl + historic St. Johns = no brainer. Owners Toby Tobiason and Pat Smith, Vinyl Magnate and Vinyl Design respectively, specialize in jazz, folk, and blues records but also carry much more. Simply stated, they "buy and sell interesting records."
They like the old sound, and they like the old way. Pat likens their store to any mom 'n pop shop you'd find in the 50s. And why shouldn't she? Doing it the vintage way, her commute consists of walking and waving to the neighbors who frequent the shop so often they have their pictures, like family, hung in a collage on the wall.
Vinyl Resting Place—8332 N. Lombard St

Fencing Center – Salle Trois Armes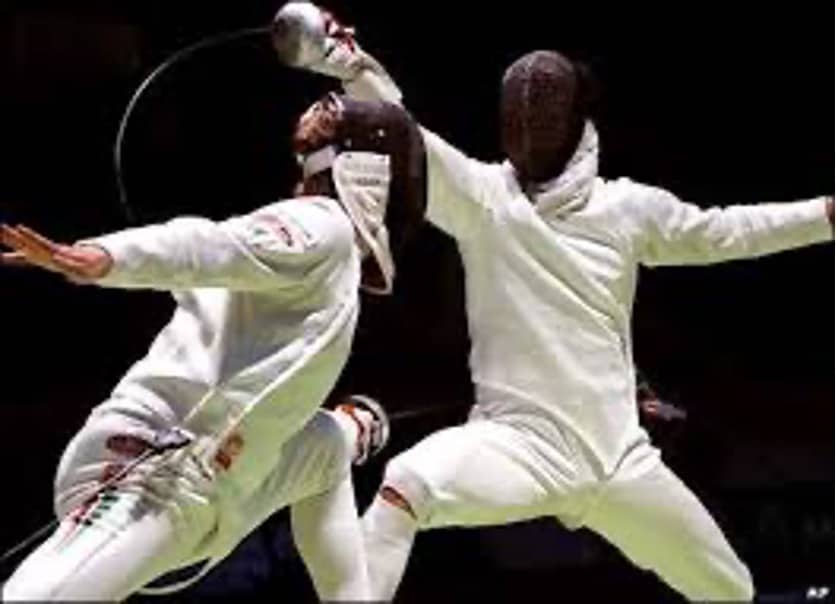 A classic sport for a classic neighborhood—it's a classic fit. Coach Rocky Beach and Maitre d'Armes, Delmar Calvert, who received his first fencing master's degree while serving in the French Foreign Legion, offer traditional as well as Olympic-style sport fencing training for all genders, all ages.
The story goes that Coach Beach used to live in St. Johns in its earlier heyday and believed it would be the right spot to return to and establish his beloved fencing center. At that time, however, the area had suffered a few setbacks, and his shop lights were the only ones on the street still bright come nighttime. But Rocky believed if he just kept those bulbs burning, other proprietors would eventually come. Suffice to say that Kevin Costner and a cornfield have nothing on Rocky Beach and Portland's St.Johns neighborhood.
Fencing Center–Salle Trois Armes—8517 N. Lombard St

Homegrown Smoker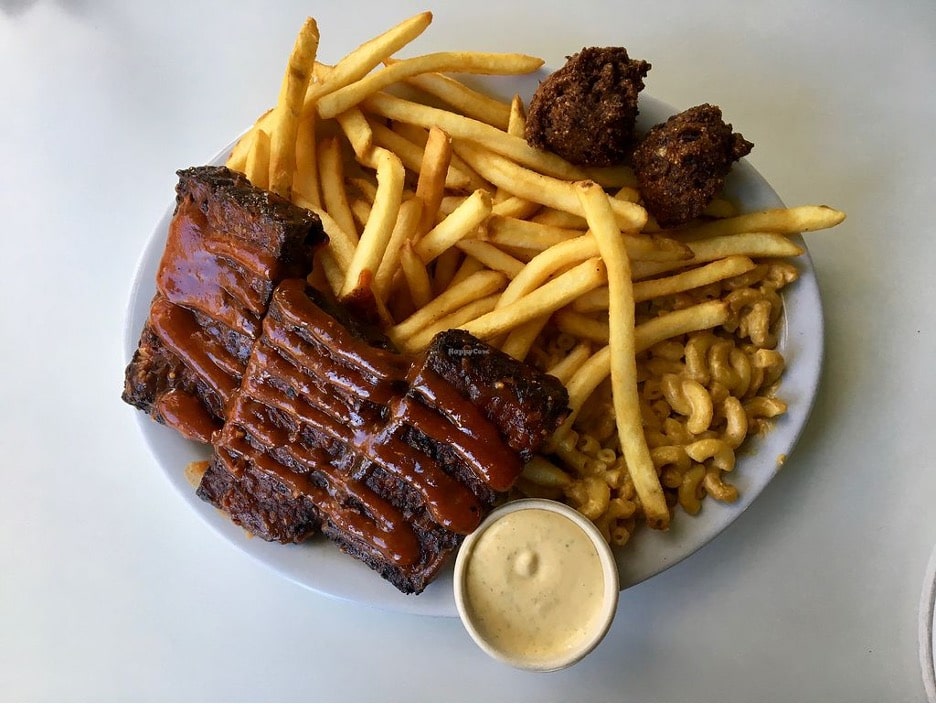 When you think of barbecue, chances are that you imagine hunks of meat roasting on a grill. Beef brisket, pork spareribs, barbecued chicken—these are all staples of the traditional barbecue experience. However, what if you could have the same dishes, only made with meatless substitutes?
It may sound bizarre, but the fact is that Homegrown Smoker has seemingly done the impossible. You can get a wide array of barbecued favorites, only they are all either vegetarian or full vegan (mostly vegan). Instead of regular ribs, fish, and wings, you get soy and tofu substitutes. Another option is seitan (wheat gluten), which replaces beef in many of the dishes.
Every element of Homegrown Smoker is vegan-friendly, with no animal parts or by-products to worry about whatsoever. Meat eaters will also be impressed by the visual and tactile quality of the "meats." Although you can certainly tell that you're not eating the real deal, the delicious barbecue sauce can almost make you forget that.
Homegrown Smoker—8638 N Lombard St

St. Johns Twin Cinema and Pub
Not to be confused with the McMenamin's Theater and Pub, this awesome old movie house serves pizza, beer, good coffee, and standard movie snacks all for prices you won't find in other movie theaters. There are theaters upstairs and downstairs, but potential patrons should take note that the top theater screen is much smaller and the seating a little awkward. The bottom theater is stunning and every seat is a good one.
St. Johns Twin Cinema and Pub—8704 N Lombard St

St. Johns Parks
St. Johns is home to beautiful Cathedral Park. The aptly named park, directly below the bridge is home to not only the cathedral-like arches of the bridge piers, but also to a boat ramp, a dog off-leash area, and a hiking trail. The park itself was created from what was essentially wasteland under the bridge in the early 70s by St. Johns honorary mayor Howard Galbraith (per Portland Parks and Recreation). There is a water pollution control lab that has a charming natural habitat wetland sanctuary where you may spot nutria and red-winged blackbirds. The yearly St. Johns Jazz Festival is also held in Cathedral Park.
Forest Park has a trailhead on the west side of the St. Johns Bridge. You can walk across the bridge and be right in the forest. Forest Park is the largest old-growth urban forest in the United States. This trail area of the park features the most wildlife—you may even spot some deer and other animals foraging quietly in the forest.
The Smith and Bybee Wetlands Natural Area wildlife sanctuary is tucked away in St. Johns, also. It's a protected wetland scenic area that is unique and beautiful—and a bird watcher's delight! The Portland Parks website indicates that most visitors to the lakes can find beaver, river otter, black-tailed deer, osprey, bald eagles, and one of the largest remaining populations of Western painted turtles in Oregon. The Columbia Slough has boat ramps where people take canoes and rafts for a relaxing ride. Public art adorns the restored trail.
Pier Park is a forest-like park with a play area, a skateboard park, a disc golf course, and an outdoor public pool. It also sometimes hosts classical music performances. On it far southeast corner is Pier Community Garden is .98-acre community garden space.
On Pier Park's north end is Chimney Park, a 18.39-acre area with a dog off-leash area that acquired its name from the city's incinerator chimney, previously located on the site and removed in 1990.
St. Johns City Park is located in the center of the neighborhood and is home to a play area and the St. Johns Community Center offering before- and after-school activities for kids, as well as classes and events for kids and adults alike.
St. Johns Community Resources
St. Johns Neighborhood Association
St. Johns Neighborhood Schools
Elementary school: James John Elementary School
Middle school: George Middle School
High school: Roosevelt High School
St. Johns Neighborhood Stats
Zip Code—97203
St. Johns Neighborhood History
How St. Johns Got its Name
"St. John" was the nickname of a man named James John who was responsible for building a home and a store at the foot of north Burlingame Ave. after living in Portland's Linnton neighborhood briefly. John operated a ferry between the now St. Johns and Linnton neighborhoods. He acquired the area in a 320-acre donation land claim in 1846 and platted the land in the early 1850's, recorded at the Multnomah County Courthouse in 1865. Story has it that due to an error in recording the name—the error being an extra "s"—it was deemed St. Johns from then on. Other sources claim that the "s" was intention, meant to be possessive—St. John's—and that the apostrophe and "s" were dropped for ease of reference.
St. Johns was officially recognized by Oregon State Legislature as a municipality on January 5, 1902. In 1915, St. Johns residents merge with the City of Portland, giving up their charter.
The Early Days
In addition to being one of St. Johns' earliest settlers, James John, who self-identified as "Jimmy John," is said to have been a quiet, modest man. He left his estate to contribute to the education of all the neighborhood's children, regardless of their religious denominations with the hope that they would learn the importance of civic engagement.
Another prominent contributor to the establishment of St. Johns was Lewis Love who, along with his wife, donated a land claim of over 630 acres on the Columbia Slough. Love was active in real estate at the time, farmed in the area, and built steamboats. Love's grave is located in the historic Columbian Cemetery, land he donated for cemetery use.
The Gaston family—William, his wife, Nancy, and their 11 children—farmed a 320-acre donation land claim from the time they arrived in St. Johns in 1852. Terminal 4, a 262-acre facility with four ship berths that handle a variety of cargoes, sits on a portion of Gaston's original land. The Gaston family's home remains today in St. Johns, although it was moved in the 1940s and has undergone significant remodeling.
Amos L. Miner came to St. Johns with his wife, Sarah, in the mid-1880s from Minneapolis. He turned the 57 acres he bought into farmland and a housing addition.
Even with all this activity, St. Johns was slow to become established. In 1904, the St. Johns Civic Improvement League was created to, among other things, name streets and number houses, making postal service possible.
Business Growth and Commerce
In 1865, Benamin O. Severance, started the Pacific Barrel Company, which manufactured barrels primarily for sugar, and also for liquor, fish, and pork, and were sent to Hawaii for filling. When sugar companies converted to sugar sacks, the company started making woodenware.
M. B. Rankin built the first electric sawmill in the country in St. Johns in 1903. But the business—Electric Sawmill—didn't flourish because it changed hands soon after it was built and investors let production stall. The electric saw, however, was a great success.
Other early big business in the area included Oregon Railroad and Navigation Company in 1902, St. Johns Shipbuilding Plant in 1904, Marine Iron Works (later called American Iron Works) around 1910 and located at the end of Richmond Avenue, Western Cooperate Company, a barrel manufacturer that thrived until the 1950s, and J. Crouchley Plumbing Company (1906).
Central Hotel was built in 1904 in the Cochran Block on the corner of N. Philadelphia and N. Lombard Sts. It later housed the Surber & Cochran card room and beer parlor on the first floor, along with St. Johns Cash Grocery. The upper floor was removed in 1939 because the building was in bad condition, and after being called Dad's, then Brad's, and was ultimately renamed Central Hotel again, the building was torn down in 2018 with plans to replace the structure with a three-story boutique hotel. This did not come to pass, and new building plans are currently in the works.
Another early hotel, St. Johns Hotel, opened in 1906 and was located at N. Baltimore Ave. and N. Ivanhoe St. It was touted for its up-scale offerings, "equipped in every way," with excellent cuisine, and a grill room and bar. The structure has been remodeled significantly but still stands in the same location, now called the Sentry Building.
Early St. Johns also had an herbal medicine doctor named Chequong Gee Leo Wo. He constructed a brick building, that also housed a furniture store (Calef Bros.) on N. Lombard St. and N. Chicago Ave. in 1906 and called the area the Leo Block.
A man named Alex Scales owned a couple of grocery stores in St. Johns, the second of which was opened in the 1930s in the same building as his previous one and combined it with a beer parlor named the Six Point Inn. He sold it in the 1940s and opened Jack & Terry's Tavern at 5903 N. Lombard, which is now the The Sundown Pub. The Six Point Inn was renamed after a renovation in 2015 and is now known as Over Easy Bar and Breakfast, located at 6801 N. Columbia Way.
A combination grocery store, candy shop, and gas station, first operated by George and Myrtle Roberts, was named Portway Grocery after changing management in 1938. The business was listed as a grocery and beer parlor in 1944 and later became Portway Tavern, still standing at 7601 N. Willamette Blvd. The business, a neighborhood favorite, was closed down in September, 2021, after an internal fire caused extensive damage.
The Man's Shop, a St. John's institution that opened in the 1940s offering "everything a man could want" in terms of attire and alternations, held steady in the neighborhood for 79 years before closing in late 2019, marking the end of an era. Patties's Home Plate, a couple of doors down also closed in 2019 after many years of operation, run by the cafe's namesake who grew up in St. Johns. The space is now being redeveloped in 2022 for retail space with a plan to maintain the historic awnings, signage, and storefront.
While not so much commerce-focused but community-focused, the St. Johns Library was built in 1913 when St. Johns was its own city. It still stands on N. Charleston Ave. and operates as a branch of Portland's Multnomah County Library.
The coffee and gelato shop we know as Affogato on N. Lombard in St. Johns is the previous location of the Venetian Sandwich Shop, opened in 1933 and owned by Luella Hoes. She sold chili for 15 cents and "The New Hamburger" for 10 cents. The sandwich shop was located next to the Venetian Theater, now McMenamins St. Johns Theater & Pub, still in operation today.
Likewise, today's Moonstruck Chocolate now lives in the building previously occupied by Columbia Sportswear and built in 1930 for the Hood River Canning Company.
Transportation
In the late 1800s, if passengers wanted to travel from Portland to St. Johns, their only option was a steam streetcar from Killingsworth and Williams. In 1902, a petitioned was presented for an electric streetcar line to connect Albina and Portland, with work beginning the middle of the same year. The resulting City and Suburban line began operations in 1903.
Streetcar waiting rooms were common during this time. They had open storefronts and sold postcards, magazines, and cigars, as well as ice cream during the summer.
For a time, jitney busses—shuttles that ran as-needed, rather than on a schedule—competed with the streetcar system but never took hold.
In 1937, trackless trolleys—electric-powered, rubber-tired busses—replaced St. Johns street cars, owned by Portland Traction Company. Gasoline-powered busses took over in 1958 and eventually became the TriMet system we use today, founded in 1969.
St. John's: Friends We've Lost
(Out of Business)
In Memory Of
Chop—Deli
Known for its signature Italian-American deli sandwiches with names like the Italian Stallion and Sofia Loren, Chop (a butcher counter-turned-deli establishment) closed its doors on December 24, 2021.
The Man's Shop—Men's clothing store
The Man's Shop, an iconic fixture in St. John's for 79 years, closed its doors in late 2019. The shop offered men a wide variety of attire, along with an alterations service, and was far more to the neighborhood than a clothing store. Since its beginnings in the 1940s, it helped shape the character and foundation of St. Johns. But their clientele didn't only consist of neighborhood locals. The shop served all of Portland and even some from out of state.
Pattie's Home Plate—1950s-style diner
After 21 years in business, Pattie's Home Plate, another St. Johns icon, closed its doors in October, 2020. Pattie's served traditional diner fare and was hailed as a local hangout to congregate, build community connections, and talk about whatever came up. They also held sock hops every first and third Saturday of each month.
Pattie's namesake proprietor grew up in St. John's and spent her typical Saturday in the 1950s sitting at the fountain here slurping Orange Julius when it was just a deli. Pattie and her husband, Gene, bought the business expanded the deli into a café.
Greg's—Local Store
The name doesn't give away much, but a simple title would have its hands full trying to nail down this store's contents. Instead of slinging the shopping "E" word—"eclectic"—manager Michael Talley refers to the establishment as an "all-inclusive gift shop." Cards to fountains, the inventory boasted a nursery with garden supplies and garden art.
Tulip Pastry Shop—Confectionary
Making St. Johns smell good since 1950, Tulip Pastry Shop, baked every last morsel as they made for 57 years from scratch. Melodie Presler, the shop's third-generation owner wowed the neighborhood's residents with her cakes, custard, and marionberry-stuffed cookies, all so legendary, eating them demanded your complete attention.
Weir's Cyclery—Bicycle Shop
Before biking was Portland chic, there was Weir's Cyclery. Saddling bipeds on two wheels since 1925, Weir's was the oldest in the city. Passed from father to son a couple of times, Weir's was in its third generation with Steve, who specialized in Raleigh, and of course, the traditional Red Line for the BMX crowd.
Heaven's Archives & Po'Shettes—Antique/Collectible Shop & Cafe
Heaven's Archives offered antiques and collectibles, glass, rugs and furniture, antique restoration and repair, and redesign services. Community-minded, the business partnered with the Teach Me to Fish program (also closed), which offered at-risk youth and adults training and job skills.
Po'Shettes, a coffee and pastry shop, shared the space housed by Heaven's Archives. The cafe served tea sandwiches, specialty pastries, coffee, and tea. It was also an expansion Heaven's Archives training and job skills program.
St. Johns Real Estate and Homes
St. Johns features all styles of Portland architecture, from ranches and cape cods, to the occasional Victorian home. St. Johns is an older Portland community.
Click here to see all current St. Johns homes for sale.
To learn about the Portland real estate market, we recommend this local Portland-based, top 100 real estate blog in the world.
If you are interested in buying a home in Portland, we recommend meeting up with these top 1% Portland buyer's agents, or if you are considering selling a home we recommend these top 1% Portland seller's agents. Visit our Portland Real Estate Page for more information.
North Portland Neighborhood Map
Click any neighborhood.

See the full list of Portland neighborhoods in our Portland Neighborhood Guide.
Sources
Nelson, Donald R. St. Johns and the North Portland Peninsula.
Stjohnspdx.org. St. Johns PDX.
Vintage Portland. City Incinerator, 1940, May 23, 2012.
Wikipedia. St. Johns.