Sullivan's Gulch Neighborhood Portland
Location
Sullivan's Gulch is located in Northeast Portland. It is bordered by the Lloyd, Kerns, Hollywood, Grant Park, Laurelhurst, and Irvington neighborhoods. Sullivan's Gulch is conveniently located on bus lines, and within a short distance to the MAX light rail station at Lloyd Center.
Click the image for a searchable map of Sullivan's Gulch neighborhood, including all homes for sale.
Features of Sullivan's Gulch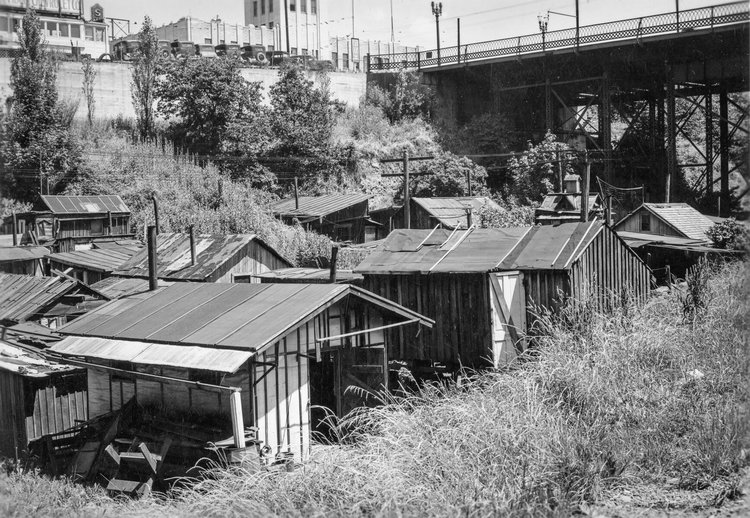 It is quite hard to imagine now, but there was a time when Sullivan's Gulch was overgrown and wild. As the name suggests, this neighborhood is named after an actual Gulch, which is located off the banks of the nearby Willamette River.
As recently as the late 1800s, the area was home to a forest of fir trees, a naturally-occurring stream, and plenty of wildlife, including cougars and bears (oh my).
An Irishman named Timothy Sullivan owned much of the land surrounding the gulch and lived in a small cabin by the stream. Every year, the area would flood, which made it hard for development.
Sullivan died in 1865, but the land stayed in his family. By 1881, the city covered the gulch to stop the flooding to allow for new railroad tracks. Businesses started coming into the area, including Doernbecker's Furniture Factory.
By the 1930s, the gulch was overrun by "Hoovervilles," shantytowns named after the president who oversaw the beginning of the Great Depression. It wasn't until 1980 that the neighborhood was incorporated and the name Sullivan's Gulch was chosen. Today, this is one of the busiest and most eclectic neighborhoods in Northeast Portland.
Sullivan's Gulch Businesses of Note
There are quite a few gems scattered throughout the Gulch, although most of them are located on Broadway Avenue. Many of these places are within walking distance of each other, so feel free to start at one end and work your way down. We're moving West to East, starting at Broadway and 15th.
McMenamins Broadway Pub
Given the McMenamins brand's proclivity for housing its restaurants and resorts in historical buildings, one might assume that that is the case with this vintage-style pub. The atmosphere calls to mind a turn-of-the-century vibe, complete with hushed lighting (at night anyway), plenty of wood, and high vaulted ceilings.
In reality, however, the Broadway Pub came into existence in the distant past of 1990. The pub is located on the second floor of the building, and it offers sublime views of Broadway and the neighboring businesses. Because it is a bar, the menu consists of pub favorites like pizza, garlic fries, burgers, and more. We highly recommend coming for happy hour, as the deals are excellent.
McMenamins Broadway Pub – 1504 NE Broadway
The Nightwood Society
With a name like the Nightwood Society, you might expect this business to be a funky, quirky community theater or apothecary. However, it is a women-owned collective that centers around a passion for food.
The Society mostly specializes in event planning and coordinating, from weddings to festivals to private dinner parties. You can also take food classes at the Nightwood, including an introduction to butchering.
Recently, the Society partnered with nearby venue Cooper's Hall to make it easier to host events. Be sure to check in regularly to see what tasty treats are in store next.
The Nightwood Society – 2218 NE Broadway
Costello's Travel Caffe
Have you ever wanted to travel the world, but didn't have the resources to do so? Well, while Costello's might not be able to bring the experience of overseas travel to you, it can deliver taste sensations from every corner of the globe.
This café is so named because of its broad selections of sandwiches, each named after a notable city. Examples include the Manchester (with roast beef and horseradish), the Miami Melt (with tuna and hot ciabatta bread), the Barcelona (with chicken, pesto, and provolone), and the Athenian (a vegan sandwich). There are plenty more to choose from, so hop a flight and get transported to the flavor destination of your dreams.
Although sandwiches are Costello's bread and butter, the café is also a great spot for breakfast. Stop in for some house-made quiches, crepes, croissant sandwiches, and waffles. No matter your mood, you're sure to find something you'll love.
Costello's Travel Caffe – 2222 NE Broadway
Rose and Thistle
Reading the name of this bar may give you Old World vibes, like it belongs on a cobblestone street in London or Dublin. If you did conjure that image, you're not too far off. The "Thistle" part is a reference to original owner Bobby Sutherland, a proud Scotsman who opened the place with his wife in 1991.
Although Bobby and Sandra no longer own the Rose and Thistle, the new owners maintain the Scottish atmosphere with a Portland twist. Not only is this an excellent hangout spot, but you can find some awesome items on the menu.
Highlights include a traditional Scotch egg (a sausage-wrapped hard-boiled egg with mustard), Korean-style cauliflower, old-fashioned meatloaf, fish and chips, and a Rueben. The RAT also serves some mean tacos, available with chicken, pulled pork, or fish. Be sure to wash them down with a pint from the rotating tap list of local beers and ciders.
Rose and Thistle Public House – 2314 NE Broadway
Udom Somboon
If you're in Sullivan's Gulch and you have a hankering for some fresh, delicious Asian food, you'll want to make the trek to Udom Somboon. This restaurant fuses a blend of spices and styles, including Japanese, Thai, and Vietnamese. Because Udom uses local ingredients, each dish is bursting with flavor.
Highlights from the menu include tamarind chicken wings, crab and fruit salad, curry fish balls, Thai egg noodles, and braised Thai pork shoulder. You can also choose from various fruit drinks, including lychee, mango, strawberry, and even brown sugar hot tea.
Udom Somboon – 2512 NE Broadway
Point of View Tattoo School
If you've ever entertained the idea of becoming a tattoo artist, then you need to come to Point of View. This is one of the top tattoo schools in the Northwest, thanks to its accommodating and flexible schedule and comprehensive training.
According to their website, POV Tattoo provides more than double the amount of training necessary to become a licensed artist in Oregon. With so much knowledge and expertise at your (literal) fingertips, opening your own parlor has never been more within reach. You can attend classes full or part-time, depending on your schedule.
Point of View Tattoo School – 2538 NE Broadway
Sullivan's Gulch Parks
Sullivan's Gulch Community Resources
Sullivan's Gulch Neighborhood Association
Schools
Sullivan's Gulch Neighborhood Vibe
Because this area has so much going on, it is a vibrant and lively neighborhood. Some areas are nicer than others, as many people like to stroll along Broadway at all hours of the night. Overall, the Gulch is an excellent spot for young professionals and couples who want a taste of what Portland has to offer.
Stats
Zip Code 97232
Sullivan's Gulch Real Estate
This well-established community has a mix of older East Portland homes, usually mid-sized to larger family homes located on streets with mature trees. There are also some lovely vintage apartments, and plexes for rent, as well as some newly developed condominiums for a more urban lifestyle.
Click here to search all Sullivan's Gulch Neighborhood homes for sale.
To learn about the Portland real estate market, we recommend this local Portland-based, top 100 real estate blog in the world.
If you are interested in buying a home in Portland, we recommend meeting up with these top 1% Portland buyer's agents, or if you are considering selling a home we recommend these top 1% Portland seller's agents. Visit our Portland Real Estate Page for more information.
Northeast Portland Neighborhood Map
Click any neighborhood.

Check Out More Portland Neighborhoods
Go back to the full list of neighborhoods in our Portland Neighborhood Guide