Sunnyside Neighborhood Guide
The Sunnyside neighborhood is located in Southeast Portland and is bordered by the Buckman, Kerns, Laurelhurst, Mount Tabor, and Richmond neighborhoods. This area also encompasses the Belmont District, which you can find here, and the northern half of the Hawthorne District, which you can find here.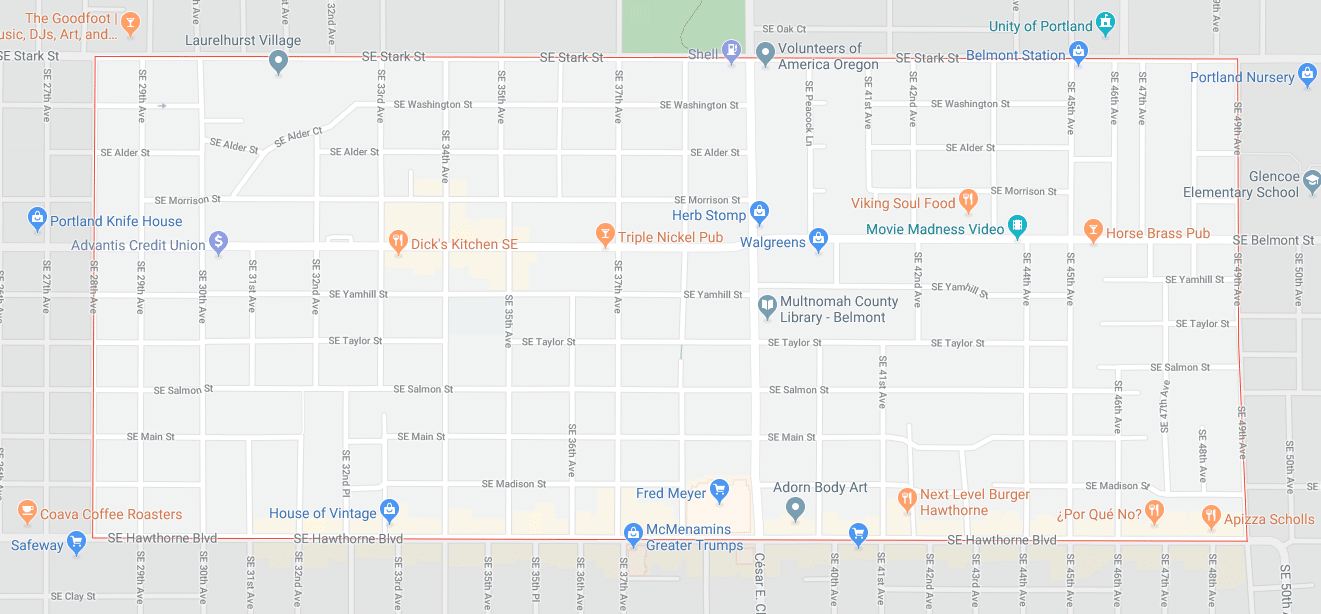 Click the image for a fully searchable Sunnyside neighborhood map including all homes for sale.
Historic Belmont Library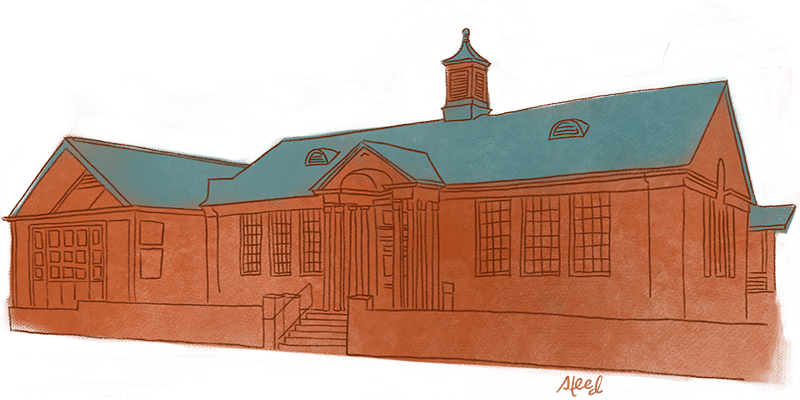 1038 SE Cesar Chavez Blvd
Sunnyside Neighborhood Podcast

Prefer to listen? We've got you covered. The Portland Neighborhood Podcast will cover every single Portland neighborhood, one neighborhood per episode. Join us on this exclusive audio journey and discover each 95+ colorful and unique Portland 'hoods.
Sunnyside Neighborhood Streets
This neighborhood is quite unique, even by Portland standards. The primary reason why Sunnyside is such a remarkable area is that it encompasses two of the most vibrant and well-known streets (also known as Districts) in the city – Belmont and Hawthorne. In fact, these streets have so much to offer that we've dedicated entire pages to them. So, if you're planning on either visiting or moving to Sunnyside, be sure to check them out first.
Belmont District
If you really wanted to dive into the heart of Sunnyside, Belmont is the place to do it. This street is covered with an eclectic blend of shops, restaurants, theaters, and oddities. There's no way that we can cover them all here, which is why you should visit our Belmont District page instead. From a long running nickel arcade to the largest video rental store in the country, Belmont has a culture all its own.
Hawthorne District
Technically speaking, Sunnyside Neighborhood covers the northern half of Hawthorne Blvd. However, it's not fair to split that street down the middle, so we've decided to keep it all in one place. Check out our Hawthorne Blvd. District page here to find out what's in store. Like Belmont, the street is full of life, with so many varied shops and boutiques. Highlights include the Baghdad Theater (a McMenamin's joint), as well as vintage shops and some of the best restaurants in the city.
Peacock Lane
Although it only spans a few blocks, this street in the heart of Sunnyside is a major tourist attraction during the holiday season. Why? Because the residents here take Christmas seriously. Like, really seriously. Horse-drawn carriages and throngs of walkers crowd the street every night to get a glimpse of the brilliant pageantry on display.
According to locals, the art of putting up Christmas lights either began in the 1920s or the 1940s. Regardless of when or how it began, it remains as one of the oldest Portland traditions. There are 35 homes along the three-block stretch, and each one is decked out for the season. Residents take it so seriously, in fact, that new home buyers often inherit old decorations from previous owners.
That being said, if you want to live on Peacock lane, there is no bylaw that states you have to be festive. However, if you violate the unwritten rules, expect to hear a word or two from your neighbors. Thankfully, the comraderie brought on by the street's decorations ensures that it remains a tight-knit community.
As far as visitors go, you can't see the lights in full splendor until December 15th. The residents have made that the hard and fast rule, so as to give everyone time to get everything in place. The lights run until the end of the year.
Sunnyside Neighborhood Businesses of Note
Although much of the neighborhood is tied to Belmont and Hawthorne, there are still plenty of other sights to see while you're here. Most of the rest of the neighborhood is residential, with a few apartment buildings scattered throughout. Sunnyside is one of Portland's older neighborhoods, so there is a lot of history along its streets. During your visit, be sure to stop by these Sunnyside businesses.
Canteen
There is no shortage of healthy eating options in Portland, and Canteen is one of the simplest selections available. The creators of Canteen have an honorable goal – to make the best organic dishes possible. Each item is fresh and local, so you can feel good about getting anything on the menu.
Speaking of the menu, it's about as simple as the ingredients. For breakfast, you get a choice of oatmeal, parfait, or a "Sunrise Bowl" with fruits and granola. Lunch offerings are three unique bowls with plenty of veggies and either quinoa or rice. Also, in true Portland fashion, you can get a side of steamed kale or broccoli.
They also have a rotating selection of cheesecakes made locally. Be aware that they use raw ingredients, so the consistency is different than what you'd find elsewhere.
Canteen – 2816 SE Stark st
Hobnob Grille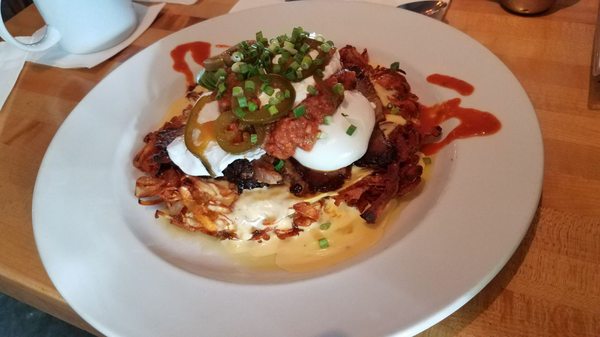 This eclectic bar and grill is located just off of Belmont Street, so if you're walking down the main drag and want a delicious burger or brew, be sure to check it out. What makes this place unique is that it offers diverse specials every week. Best of all, these specials cover everything, from cocktails to burgers to vegan entrees. In theory, you could come every week and get something different, making it a popular attraction for locals.
Happy hour is another reason to visit, as the Grille offers a wide selection of discounted menu items and cheap well drinks and wine. If you're looking for a down-home spot to chill with friends, knock a few back, and eat well, this is the place. Also, every night is a themed night, so make your arrangements accordingly. For example, Monday is wing night, while Thursday is burger night. You may assume that Tuesdays are reserved for tacos, but that day is actually for the vegans. Yes, you can celebrate vegan night every Tuesday if you wish (the regular menu is still available, though).
Hobnob Grille – 3350 SE Morrison st
Belmont Station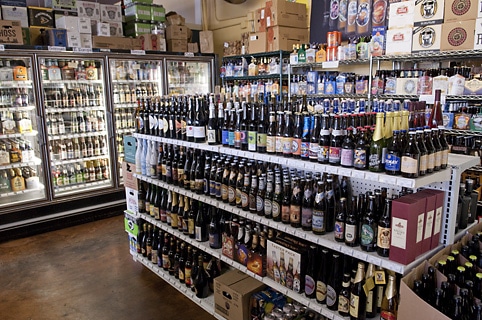 It seems a bit odd that a place called Belmont Station is actually on Stark instead of Belmont, but that's not the reason we're discussing it. Portland is home to many microbreweries and pubs, which means that you're never too far from a crisp pint of beer. However, if you want the ultimate selection of local, domestic, and exotic beverages, look no further than Belmont Station.
With over 1400 different items in stock at any given time, you'll never want for another drink in your life. Not only that, but the proprietors at Belmont Station are serious about storing and maintaining their selection. UV-filtered light shines down on each bottle, ensuring that they don't spoil before their time.
Beer lovers can also rejoice at the fact that Belmont Station serves beer as well. This way, you can try a pint of something that catches your eye, and then go into the store to pick up a six-pack (or a case, depending on how good it is). Both the bottle shop and the Biercafe are open daily, so you can make this your premier destination for cracking open a cold one.
Belmont Station – 4500 SE Stark
Sunnyside Neighborhood Parks
The only park located within Sunnyside's borders is the Sunnyside School Park. Laurelhurst Park is just across its northern border, Stark st., and the rest are close by in adjacent neighborhoods. Mt. Tabor is perfect for many outdoor activities, making it a family-friendly destination.
Sunnyside Neighborhood Schools
Sunnyside Community Resources
Sunnyside Neighborhood Association
Sunnyside Neighborhood Vibe
With two distinct streets within its borders, Sunnyside is one of the most fascinating neighborhoods in all of Portland. You can find virtually everything you want (and a few things you didn't know you wanted), all without leaving the area. Outside of Belmont and Hawthorne, Sunnyside is a fairly quiet and residential area. It attracts families, hippies, and eco-enthusiasts, making it a microcosm of Portland at large.
Sunnyside Neighborhood Stats
Zip Code 97214
Sunnyside Neighborhood Real Estate
Although several businesses within Sunnyside are run out of Victorian-style homes, most of the housing within this neighborhood are less fancy. Most places here are multi-story, either ascending to a second floor or coming with a basement. There is a mix of old and new construction, depending on where you're looking. Some streets are highly competitive, such as Peacock lane or those adjacent to Belmont. You need to act fast when a home lists here, or you'll wind up missing out.
Click here to search all Sunnyside Neighborhood homes for sale.
To learn about the Portland real estate market, we recommend this local Portland-based, top 100 real estate blog in the world.
If you are interested in buying a home in Portland, we recommend meeting up with these top 1% Portland buyer's agents, or if you are considering selling a home we recommend these top 1% Portland seller's agents. Visit our Portland Real Estate Page for more information.
Sunnyside Neighborhood: Friends We've Lost
Theater! Theater! – Community Theater Stage
Shared space seems to be the norm on Belmont Street. As the name implies, Theater! Theatre! is home to two distinct theatres or stages as well as three different theatre companies. In addition, The Tao of Tea, a wellness clinic, Sister Spirit, and a lawyer occupy this same building. So it only seems appropriate when greeted by the artwork in the lobby – several human hands reaching as if through the wall – since this operation appears to be a fine example of classic Sunnysideian, combined individual effort.
 Theater Noir – Community Theater Stage
Theatre Noir, at 95 seats, is home year-round to Profile Theatre, one of only two theatre companies in the entire country that showcases one playwright per season. In that ongoing spirit of the building, and the neighborhood, the Arena Stage at Theater! Theatre! is likewise shared during the year between two different theatre companies. The first, Theatre Vertigo, is a not-for-profit ensemble of theatre artists, and the second, Integrity Productions, emphasizes the feminine perspective.
Southeast Portland Neighborhood Map
Click any neighborhood.

Check out more Portland Neighborhoods
Go back to the full list of Portland neighborhoods.