Sylvan Highlands Neighborhood Guide
Sylvan-Highlands is located in Southwest Portland. It is bordered by the Forest Park, Arlington Heights, and Southwest Hills neighborhoods. A quiet, mostly residential neighborhood, it's particularly attractive for bordering Washington Park, which encompasses everything from the zoo to the Japanese gardens.
Click the image for a searchable Sylvan Highlands neighborhood map, including homes for sale.
Features of the Sylvan-Highlands Neighborhood
Sylvan-Highlands is like living in a forested city park. Beautiful homes offer stunning views and you'll feel secluded and set apart from the rest of Portland. Nearby you'll find the lovely Forest Park. One of the most beautiful parks in the country, Forest Park offers miles of hiking trails through lush green woodland. But while Forest Park may be the Portland's most famous park, it's far from the only attraction to be found in Sylvan-Highlands.
Washington Park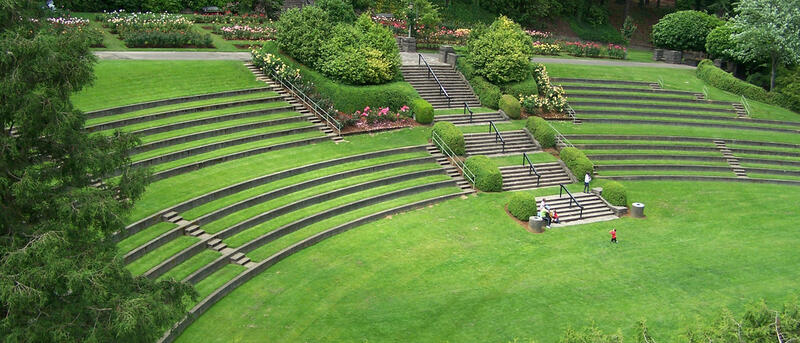 The western-most portion of the enormous Washington Park falls just within Sylvan-Highlands' boundaries. But this small slice of the park hosts some its most interesting and beautiful attractions. The Hoyt Arboretum, a self-described "living museum," is a destination for any lover of trees and Pacific Northwest native flora.
And while you're in the area, don't miss the World Forestry Center, which promotes sustainable forestry practices locally and worldwide. Don't miss their Discovery Museum to learn more about the history (and the future) of forestry.
For those more in the mood for human history, the Vietnam Veterans of Oregon Memorial sits just in Sylvan-Highlands' southwest corner. This memorial came about when a group of Oregon Vietnam vets found themselves inspired by the 1982 dedication of the Vietnam Veteran's Memorial in Washington, DC. They were moved enough to raise funds for Oregon's own place to remember those fallen or missing in action.
The Aubrey Watzek House
For any architecture buffs in the house, one of the downright neatest landmarks in quiet Sylvan-Highlands is a must-see. The Aubrey Watzek House, built in the 1930's for the lumber baron Watzek, holds a place as one of the nation's most notable homes of the era. And it's easy to see why. At only the tender age of 26, the now-famed architect John Yeon designed this home in the vein of Frank Lloyd Wright. The philosophy behind the design asks that the structure work with, not against, the natural landscape.
Not sure what that entails? Take a tour and find out! The University of Oregon's John Yeon Center for Architecture and the Landscape offers daily tours of the interior and exterior of this remarkable home. They also host lectures for anyone even more curious about Yeon and his design philosophy.
Sylvan-Highlands Businesses of Note
The Sylvan-Highlands neighborhood may be mostly trees and quiet homes. But that doesn't mean it doesn't play host to some fantastic local restaurants and shops. Keep reading to find out more about some of Portland's best kept secrets.
Clift House Ceramics & Claystation Studio
At Clift House Ceramics, you'll find some of the most elegant and creative hand-made bowls, vases, etc. in all of Portland. And that's saying a lot! The artist, Andy Clift, takes his craft seriously. His artist statement, for example, demonstrates his dedication to connecting with his clients. Inspired by nature, he seeks to "give the viewer a child-like sense of wonder about the natural world, as when noticing a flower for the first time."
Feel like doing more than viewing? Get your hands dirty by signing up for a one-on-one clay throwing lesson with Clift. Or, check out the online Claystation Studio to learn more and watch live-streamed pottery making.
Bikini Hut
Anyone who's ever been intimidated by shopping for a bikini will find solace in Bikini Hut, an all women-run bathing suit store. With a focus on body positivity, they pride themselves on finding the right suit for your individual body. And it shows in their level of service. You can book a private shopping experience to enhance your privacy and your level of personal attention! Not feeling like a bikini? They have you covered. Bikini Hut also offers a range of styles and cuts, as well as cover ups.
For the environmentally conscious, check out their Pacific Ocean Swimmie collection, which they design and fabricate themselves. Made from locally recycled fabrics, these suits are friendly to both your body and the environment.
Pizzicato
A local darling for artisanal pizza, Pizzicato has expanded to locations across the Portland area. But those who've been around a while may remember that owners Marc and Tracy Frankel opened the first Pizzicato right here in Sylvan-Highlands over 30 years ago! Come for the pizza and stay for the history. Whether you opt for a classic Margherita or chow down on the ol' Canadian Bacon & Pineapple, Pizzicato offers something for everyone. And that includes some more adventurous toppings like lamb sausage or wild mushrooms. Count us in!
Sandoval's Cafe & Cantina
Craving some quality Mexican food in Portland? Cross over the western boundary of Sylvan-Highlands and you'll stumble on Sandoval's Cafe & Cantina. With pluck and enthusiasm, owners Cathy and Danny Sandoval are hands-on with their work and passionate about fresh ingredients.
What else are they passionate about? Tequila! And not just to get sloshed on – to taste and appreciate. At first glance, a small Mexican joint in a sleepier Portland neighborhood might sound like nothing so special. But Sandoval's hosts the most in-house Tequila barrels in the Pacific Northwest. No less than twenty of their tequilas come from boutique distilleries. And Danny Sandoval often hosts Tequila pairing dinners for those eager to learn more.
Cornell Farm Nursery & Cafe
Also just west of Sylvan-Highlands' border you'll find possibly the best local nursery in west of the Willamette. Cornell Farm was founded in 1921 as a dairy farm. But over the years, the family made incremental adjustments. They started experimenting with strawberries. Then flowers. It turned out that there was a demand in the area, populated by many avid gardeners. Now, 100 years later, Cornell Farm boasts over 800 varietals of annuals and perennials.
The farm also has a delightful cafe. So make a day of it! Get lunch and your gardening needs in one afternoon.
Sylvan-Highlands Parks
Washington Park, including the World Forestry Center, Hoyt Arboretum, and Vietnam Veterans of Oregon Memorial
Willamette Stone State Heritage Site
Sylvan-Highlands Community Resources
Sylvan Highlands Neighborhood Association
Sylvan-Highlands Schools:
Sylvan-Highlands Neighborhood Vibe
Much of the Sylvan-Highlands neighborhood has a rural, rather than urban residential, look. Narrow lanes wind through the community, and often when you find a broader street with a line of homes side by side, you'll soon find that it ends in a cul-de-sac. No matter, since the greenery and the beautiful homes make a little fussy navigation an easy price to pay.
Just a few miles from downtown Portland, Sylvan Highlands will feel upscale, family-focused and community-conscious. Dog walkers and babes in strollers abound.
Sylvan-Highlands Stats
Zip Code 97221
Sylvan-Highlands Real Estate
Homes in the Sylvan-Highlands neighborhood run the gamut of 20th century architecture. From classic bungalow, to Old Portland, to Cape Cod, Foursquare and more – you'll see it all. You'll also find new construction condos spattered about the area.
Click here to search all Sylvan-Highlands neighborhood homes for sale.
To learn about the Portland real estate market, we recommend this local Portland-based, top 100 real estate blog in the world.
If you are interested in buying a home in Portland, we recommend meeting up with these top 1% Portland buyer's agents, or if you are considering selling a home we recommend these top 1% Portland seller's agents. Visit our Portland Real Estate Page for more information.
Southwest Portland Neighborhood Map
Click any neighborhood.