Your Guide to Portland's Food Cart Scene
Looking for the best Portland Food Carts? Portland is renowned for its extensive list of portable eateries known as food carts! At last count we had over 500+ licensed food carts in Portland. That's 500 tiny little restaurants serving up every manner of cuisine through their windows. Everywhere you look, Portland is mentioned in the press for great food, and lately it is all about the food cart explosion and our mobile cuisine. BudgetTravel.com recently listed Portland Oregon as the #1 destination for the World's Best Street Food. But, we've taken regular street food and given it our local Portland touch, raising it to an art form that even die-hard foodies will recognize and appreciate. Yes, you can get fried fast food at some food carts, but you can also find high quality healthy cuisine made with the finest local ingredients.
Locals know that some of the best food in Portland can be had at our food carts, including every type of ethnic food, burgers and fries (Big Ass Sandwiches, Potato Champion), pizza (Wy'East), breakfast or dinner. We've got sweet or savory delights (Whiffies Fried Pies and Flavour Spot), appetizers, main courses and desserts, and traditional comfort food with a local twist (Portland Grilled Cheese Grill and Portland Soup Company). Let's not forget our Portland vegan food carts, and vegetarian food carts, and of course we have taco trucks galore in Portland. Really, we're not joking when we say there is something for everyone. And one of our favorite things about food cart eating? They're usually pretty cheap!
The list of food carts is ever growing and changing, but we've tried to include some of the most beloved Portland food carts in town. There are pockets of food carts all over Pdx, but some of the most frequented are huddled in and around downtown Portland and in other food cart "pods" in popular neighborhoods, so you can grab a quick cheap lunch while you are on the go wherever you are: North Portland, SE Portland, SW Portland, and everyplace in between. Even the chi-chi Pearl District is getting into the food cart action. Other nearby towns such as Hillsboro and Aloha have their own food cart scene.
Destination Food Cart Pods in Portland
Many food carts are located in groupings called "pods", although the occasional destination food cart may be found standing alone just about anywhere in Portland. New ones are springing up all the time. Because keeping up with the Portland food cart scene can be a full-time job, we also recommend you check out niche sites like the www.PortlandFoodCarts.com blog for the latest reviews and new food carts in Portland.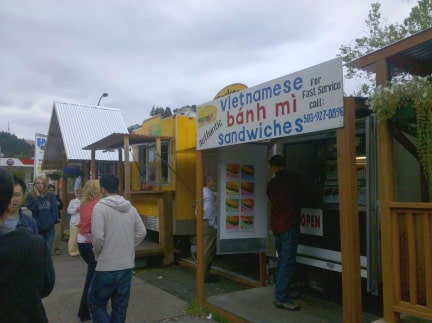 Because food carts can be temporary by nature (and might change their hours or location depending on the season), you might want to check to see if your food cart is open before you go. For roving food carts, follow your favorites on Twitter to find out where they will be parked each day. Or, better yet–just go exploring one of our food cart pods and see what you're in the mood to sample once you stroll around and take in the sights and smells of freshly made food. No place else will you find such a diverse and affordable sampling of cuisines all packed together in amazing tiny spaces. The food cart trailers themselves are often a creative work of art!
Tip: Some food carts only accept cash, so be prepared with some bills in your pocket, otherwise you may be disappointed when you arrive.
Sandwish from Kate Reynolds on Vimeo.
Downtown Portland Food Carts and Northwest Food Carts
10th Avenue & Alder Street Downtown
PSU at 4th Avenue (between College and Hall)
North and Northeast Portland Food Cart Pods
Mississippi Marketplace – N. Mississippi Ave Food Carts
Area23 – 23rd and Alberta Street
North Station at N. Killingsworth and Greeley
Real Good Food Here – Belmont and 43rd
MLK and Russell St. "Dreamer's Market"
East and Southeast Portland Food Cart Pods
Cartopia
This food cart pavilion is one of the original pods that formed during the emergence of the Portland street food scene we enjoy today. Cartopia is a collection of some of Portland's most popular food carts, neatly arranged around a central tent surrounded by three firepits and set under twinkling lights. On our visit to Potato Champion, we tried the Satay Poutine with their signature hearty fries and creamy house-made Thai peanut sauce with a hint of sweetness that complemented the dense, slightly salty curds (jalapeños can be added for an extra .50). Our bacon cheeseburger at Bottle Rocket was juicy and slightly charred around the edges with perfectly cooked bacon, and their flash fried brussels sprouts with their sweet and smoky flavor and topped with sesame seeds were one of our very favorite things we tried. We couldn't resist their tater tots with fish sauce, which were greasy and addictive with their complex sweet-and-saltiness. BKK Pad Thai's namesake dish was presented with shredded carrot and purple cabbage, crushed peanuts and a sweet and pourable peanut sauce good for dipping the satay skewers we opted to add. With a mild and slightly tangy flavor, this is a great go-to pad thai that includes chunks of tofu whether or not you add chicken. At Chicken and Guns, the smoky mesquite flavors of their roasted chicken paired perfectly with the herby Peruvian aji sauce (jalapeños, cilantro, garlic and lime). The yummy green sauce was equally delicious with the rustic potato "guns", which were perfectly crispy on the outside, yet creamy on the inside. Each cart offers a small buzzer to take with you as you browse the neighboring carts so you know the moment your food is ready. With Cartopia's welcoming atmosphere and reliably delicious food, this established foodie destination is definitely worth a visit or three.
Cartopia, 12th and Hawthorne. Carts: BKK Pad Thai, Bottle Rocket, Chicken and Guns, El Brasero, Krazy Kups, Potato Champion, Pyro Pizza, Tahrir Square. Amenities: fire pits, buzzers, outhouse.
Hawthorne Asylum (10th and Madison)
Portland Food Carts
Some of our Portland food carts were featured in a recent edition of Gourmet magazine, "Portland Street Food". Then there was the Oregon Live "Top 10 Portland Food Carts" list. The NY Times makes mention of our love affair with food carts in a recent Frugal Portland travel blog article. If you want to take your food cart home, Sunset Magazine recently did a feature on "Portland Food Cart Recipes". New mobile cuisine websites sites are springing up, dedicated to the street food scene. Pretty much every place you look in the media you will find mention of the growing street food scene in Portland. Portland Food Stands are a great peek into the culture of Portland.
Above, Portland Soup Company – a popular PSU Food Cart in Portland
Best Individual Portland Food Carts
We all have our personal favorites, and with 500 carts growing, and moving, and changing constantly–we just couldn't list 'em all, but here are some of the most recognized stands on the Best Portland Food Carts list. Honestly, our top ten Portland food carts list could change pretty much any given month. So, be sure to check local reviewer's comments on Yelp.com Portland food stands pages for more insight and current buzz on the latest new carts. (Also check their Facebook page). Visit PDXStump's Food Cart listings page, or one of Portland's popular food blogs, ExtraMSG or PortlandFoodandDrink. You can also search Twitter for "food carts" to get up to the minute news. And there are tons of local blogs that mention our food stands as well. Or, just ask a Portland local: we're fanatical about our food carts and we've all got a favorite!
East/Southeast Portland Food Carts


Potato Champion Food Cart – Potatoes
SE Hawthorne Blvd & SE 12th Ave, Portland, OR 97214
(503) 505-7086
www.potatochampion.com

Sip Juice Cart – Juices and Smoothies SE 21st and Tibbetts
3029 SE 21ST Ave
Portland, OR 97202
http://www.sipjuicecart.com/


Whiffies Fried Pies – Savory and Sweet Pies SE 12th and Hawthorne, Portland, OR
503-946-6544
http://whiffies.com/index.html


Waffle Window – Waffles 3610 SE Hawthorne Blvd
Portland, Oregon 97214
(503) 239-4757
http://wafflewindow.com/


Wy'East Pizza – Pizza – Cash Only 3131 SE 50th Ave., Portland, OR
(3 blocks north of Powell
in the WEAVE parking lot)
503-701-5149
http://wyeastpizza.com/
Leroy's Familiar Vittles – BBQSE 48th and Division
Portland, OR 97202


Wolf and Bear's – Vegan Food Cart/Vegetarian
SE 20th and Morrison, Portland, OR
http://www.myspace.com/wolfandbearskitchen

Garden State – Italian Street Food Sellwood
7875 Southeast 13th Avenue, Portland, OR 97202
(503) 705-5273
and
Mississippi
4237 N Mississippi St., Portland, OR
503-962-9265
http://gardenstatecart.com/
Central and Downtown Portland Food Carts
Built to Grill – Sandwiches SW 3rd and Washington
Portland, OR 97204
(503) 789-3767


Nong's Khao Man Gai – Thai-style Hainan Chicken and Rice
SW 10th & Alder St.
Portland, OR 97209
971-255-3480
http://www.khaomangai.com/

Big Ass Sandwiches – Sandwiches (and big ones, at that) SW 3rd & Ash St., Portland, OR
http://www.bigasssandwiches.com/


Samurai Bento – Japanese 950 SW. Alder St. Portland, OR 97205
(503) 757-8802



Aybla Grill – Mediterranean 925 SW Alder, Portland OR
http://www.ayblagrill.com/


Portland Soup Company – Soup, Sandwiches and Salads SW Fourth and College
(541) 968-1230
http://www.portlandsoupco.com/




The Frying Scotsman – British Fish n Chips
SW 9th and Alder Street
Portland, OR 97205
(503) 706-3841
http://www.thefryingscotsmanpdx.com/

Brunchbox – Breakfast and Burgers
SW 5th Ave & Stark St
Portland, OR 97204
(503) 477-3286
http://www.brunchboxpdx.com/


The Whole Bowl – Rice, Beans, and Magic Sauce SW 9th and Alder
and
1100 NW Glisan Street, in the heart of the Pearl District
and
4411 SE Hawthorne
(503) 757-BOWL
http://www.thewholebowl.com/


Savor Soup House – Soup/Stew 1003 Southwest Alder Street
Portland, OR 97205
(503) 750-5634
http://www.savorsouphouse.com/



Taste of Poland – Polish
SW 5th & SW Stark
Portland, OR 97204


Bombay Chaat House – Cash Only – Indian 804 SW 12th Ave and Yamhill
Portland, OR 97205, USA
(503) 380-3087
http://bombaychaathouse.org/



KOi Fusion – Korean Fusion/BBQ Mobile Trucks may Travel, check Twitter for Updates:
http://twitter.com/koifusionpdx
4th and Ankeny
6th and College
PGE Park
Various Locations
http://koifusionpdx.com/


Sonny Bowl – Vegan Bowls SW 3rd and Washington, Portland, OR


DC Vegetarian Cart – Vegetarian SW 3rd Ave between Stark and Washington Streets, Portland, OR
(503) 317-4448
http://dcvegetarian.com/


Addy's Sandwich Bar – Sandwiches and Soup 521 SW 10th Ave and Alder, Portland, Oregon 97205
(503) 267-0994
http://addyssandwichbar.com/


Tabor – Czech/Schnitzelwich SW 5th and Stark, Portland, OR
http://www.schnitzelwich.com/


La Jarochita – Mexican 500 SW Oak St SW 5th Ave Portland, OR
(503) 421-9838
Bloop Oatmeal Cart – Oatmeal
3rd Ave between Stark & Washington Portland, OR
http://bloopoatmeal.blogspot.com/

North and Northeast Portland Food Carts


The Sugar Cube – Desserts 4237 N. Mississippi Ave. Portland, OR
(503) 890-2825
http://www.thesugarcubepdx.com



The Big Egg – Breakfast 4233 N. Mississippi Ave (at Skidmore) "Mississippi Marketplace"
Portland, OR
http://thebigeggfoodcart.blogspot.com/2009/09/big-egg-has-landed.html
Flavour Spot – Waffle Sandwiches (Dutch Tacos)
2310 North Lombard Street
Portland, OR 97217-5740
(503) 289-9866
and Mississippi and NE Fremont
and SW Third and Ash (Oldtown)
http://flavourspot.com/

Moxie RX – Juice Bar/Cafe N. Mississippi Ave. & Shaver, Portland OR
http://www.moxierx.com



Native Bowl – Vegan/ bowls Mississippi Ave and Skidmore, Portland, OR
http://nativebowl.blogspot.com/


Grilled Cheese Grill – Grilled Cheese and Sammies 1027 Northeast Alberta Street
Portland, OR 97211
(503) 206-8959
http://www.grilledcheesegrill.com/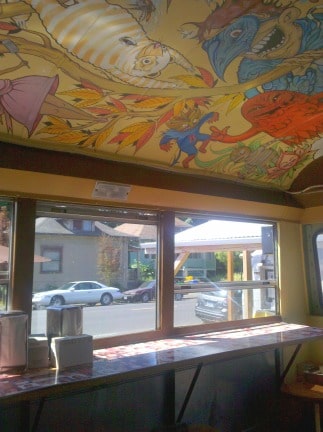 Above, inside the bus "dining room" at Portland Grilled Cheese Grill Food Cart.
If we missed your favorite Portland food cart, feel free to reach out and let us know!