Things to Do in Portland Oregon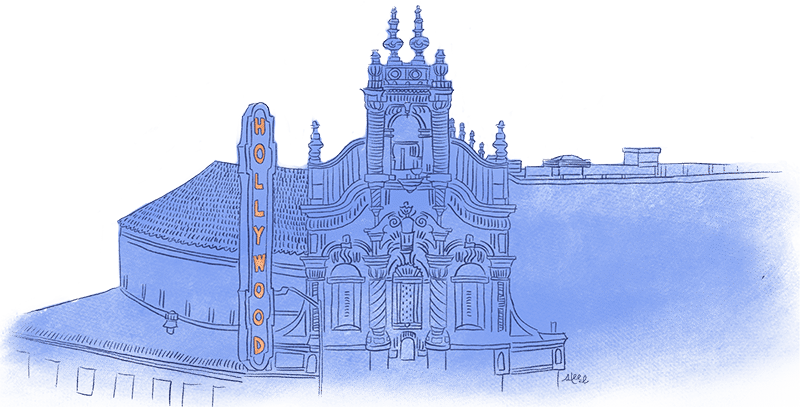 There are so many
things to do in Portland
that it is hard to know where to start.  Portland is known for it's accessibility with amazing bike lanes, and the TriMet public transportation system, so it is easy to get around.  We are famous for coffee, our roses, fantastic micro breweries, sustainability and green-living.  Add to that a constant list of great Portland events, and there's never a dull moment in Portland.  Even in the dead of winter, when our skies are grey and the ground is wet, you will still find plenty of things to do in Portland.  Also visit our
Portland Music Venues
page if you are looking for clubs with Portland live music.Visit our
 Portland Events Calendar
or the
Portland Oregon Events
page for tons of ideas
on things to do in Portland right now!  If you have questions about visiting Portland, or if you want some help from the locals in putting together the perfect Portland itinerary, just post your question here on the Portland community forum.If you're visiting Portland, don't miss our
Portland Attractions page
for a huge list of local attractions and even more things to do.
While visiting Portland, check out our Portland Hotels summary to find the best hotel in Portland for your stay.
Popular Things to Do in Portland
Portland coffee shops are wonderful, so you will not want to miss a tour of some of our most popular local Portland coffee shops.  We are known for our fine coffee and you won't taste better anywhere, plus each Portland coffee house is unique and worth a visit while pouring over a magazine or local paper, or just people watching.
Another wonderful pastime in Portland is visiting Powell's book store.  As the largest used and new bookstore in the world, Powell's City of Books has been owing locals and visitors alike since 1971. This store spans an entire city block, guaranteeing it will take you hours to traverse the nooks and crannies and color coded sections but we know you will love every minute of it!
Visit the Portland Japanese Garden For a touch of serene beauty, this garden is popular in the spring, summer, and autumn, when the Japanese maple trees are in their full glory.
If you want to visit a garden that is tucked neatly into a city block Downtown, then try The Classical Chinese Garden. This little gem can be found in downtown Portland in the Old Town China Town neighborhood. This authentic Suzhou-style garden is simply breathtaking.

The
Oregon Museum of Science and Industry (OMSI)
is a fantastic place to visit if you are looking for things to do in Portland that are family oriented.  features a planetarium, laser shows, submarine and the OMNIMAX Dome Theater.
The Oregon Historical Society is an excellent way to learn the rich history of the Pacific Northwest. Permanent exhibits include: Battleship Oregon: Bulldog of the Navy, Oregon Art and Oregon My Oregon.
Oregon Coast Travel Guide Well, you've come this far– just head a few hours west and you will experience the gorgeous Oregon coastline.
Mt. Hood Meadows Ski Resort For snowboarding, skiing, tubing, snowshoeing (and more)…Current weather conditions on Mt. Hood, as well as lift information and passes.
During the summer months, The Portland Farmers Market at PSU (downtown Portland)  is a wonderful way to spend a morning stocking up on  local organic produce, fresh flower, freshly baked breads, locally cultivated livestock, fish, plants, honey and more.
Located in Portland's Old Town China Town, the Portland Saturday Market is a
must see and one of the most popular things to do in Portland for visitors and locals, alike. Stands of handcrafted, unique gift items and food carts make this a fun outing, and it's also a great place for people watching.  Now located along the waterfront in Old Town.
Nestled right above downtown Portland, the Oregon Zoo is an easy trip via the Max light rail. Delightful old-style trains are a favorite zoo-transport option offering amazing views and relief for your tired feet. We love the elephants, the African rainforest and well, all of it! The kids (big and small) will be in heaven.
Don't miss the Portland Arts and Culture Art galleries in Portland, the Portland Art Museum, Oregon Historical Society, NW Film Center, shopping in the Pearl District, Alberta Arts District and more…
Of course one of the best things to do in Portland is to go to a major show or event.  Rose Quarter Sports and Entertainment.
Also, this is where you can catch popular Portland sports events like the Portland Trailblazers and Winterhawks.
Planning a ladies night out?  Check our best places in Portland for ladies night out.
Of course we have tons of fine dining, so visit our Best Portland Restaurants page for some ideas.

Most Popular Portland Neighborhoods when Visiting Portland Oregon
The top neighborhoods that visitors enjoy are listed below.  Of course we think all of our neighborhoods are special, so this list is by no means inclusive–there are wonderful things to do in Portland in every neighborhood.  Visit each neighborhood page to view maps and get some more ideas of things to do in Portland.
Downtown – The museums, theater district, Farmer's Market, Saturday Market, Powell's Bookstore, summer festivals on the Portland Waterfront (Rose Festival, Blues Festival, etc.), and easy transportation along the TriMet MAX light rail line.
Old Town China Town – Classical Chinese Garden and the Portland Saturday Market, as well as lots of late night clubs and dining.  Don't miss a visit to Portland's VooDoo Doughnut.
NW Portland – Nob Hill – Trendy little shops, boutiques, and good restaurants located along the popular strip of 23rd Ave and 21st Ave.  Accessible along the street car line.
Pearl District – Coffee shops, restaurants, upscale shopping, trendy home furnishings, this is a city lover's dream.
Alberta Arts District – Indie shops, unique restaurants, bars, art, and a fun
creative vibe.  East of the river.
Lloyd Center – Home of the Rose Quarter with tons of great Portland events year round.
Sellwood– Cute neighborhood features shops, antique shops, and independent
restaurants.
Hawthorne – Fun Southeast Portland neighborhood with fun shops, restaurants, and the Bagdad Theater.
Don't forget to check our Portland Events Calendar for more ideas on things to do in Portland.