Kenton Neighborhood Guide
The Kenton neighborhood is located in North Portland and is bordered by Arbor Lodge, St. Johns, and Piedmont neighborhoods. Kenton is also in close proximity to other popular neighborhoods via the Max light rail, which is located on nearby Interstate Avenue. A drive to downtown Portland is a mere 7-8 minutes away in good traffic conditions, and a bike ride on mostly designated bike lanes is about 25 minutes away.

Click the image for a fully searchable Kenton neighborhood map, including all homes for sale.
Kenton Statue
The Paul Bunyan Statue is a 31-foot-tall (9.4 m) concrete and metal sculpture of mythical logger Paul Bunyan in the Kenton neighborhood. It was built in 1959 to commemorate the centennial of Oregon's statehood during the Centennial Exposition and International Trade Fair, which was held in the Kenton area.
Kenton Neighborhood Features
Like many of the surrounding Portland neighborhoods, Kenton has been evolving but on a slower scale. The streets have new life and many of the vacant buildings have been rented with great local businesses emerging. Locals enjoy the many indie businesses listed below, as well as their very own library.
The Bunyan statue on the corner of Denver and Interstate Aves. is one of the neighborhood's stand-out features. Considering that Denver Ave. is one of the main thoroughfares of the area, it's fitting that you're greeted by such a vibrant local landmark. Be sure to get your picture with Paul whenever you're in town!
Kenton has some wonderful areas with beautifully improved homes and streets yet some are still in transition. Denver Ave. is the main drag and feels like the downtown of a very tiny city.
Kenton Neighborhood Businesses of Note
The experience you'll get when visiting the Kenton neighborhood will depend on which street you're traveling. Main thoroughfares like Denver Ave. and Lombard St. are full of shops and interesting finds, but the entire northern section of the neighborhood is home to massive green areas, including the Heron Lake Golf Course and Portland Raceway. Kenton is a delightful mix of residential streets and busy city streets, so be sure to explore as much as possible. Fortunately, we've done most of the hard work for you by distilling the best that Kenton has to offer below.
Posies Bakery and Cafe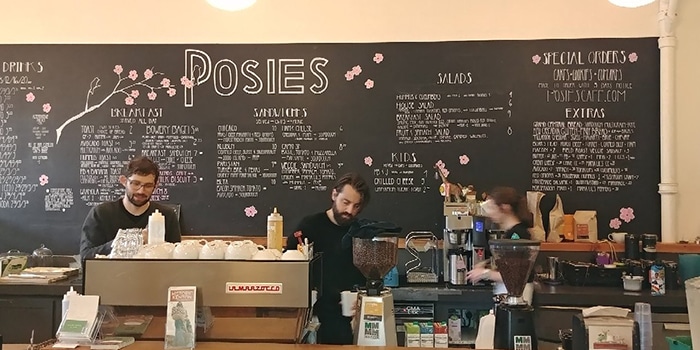 Posies is a Kenton staple, offering made-to-order cakes and sandwiches, and of course, locally-roasted coffee in a charming, open space. They even have a playroom for the kids!
Check out their breakfast menu and give the hummus and cucumber toast a try. Or come enjoy a Rueben, caprese, or Parisian sandwich for lunch, all on Grand Central bread. Pair with a fresh salad and a cold brew or a latte. This one is a great local hang.
Posies Bakery and Cafe—8208 N Denver Ave
Fino Bistro Bar and Pizzeria
If scratch Italian is your thing, Fino is your place. House-made, handcrafted pastas grace the menu at this 14-year Kenton icon. The dinner menu features mouthwatering starters, salads, and main dishes. Sink your teeth into a batch of fresh garlic knots and a refreshing Cesar while you wait for your bucatini or rigatoni. Or come with a group of friends and share a hand-tossed Roscoe or Mr. Green Gene's pizza. Enjoy your meal with a cocktail, glass of wine, or a brew, then treat yourself to a tiramisu or chocolate torte.
No matter what you choose, you can't go wrong at Kenton's unforgettable New York pizzeria!
Fino Bistro Bar and Pizzeria—8225 N Denver Ave
Kenton Station Restaurant & Pub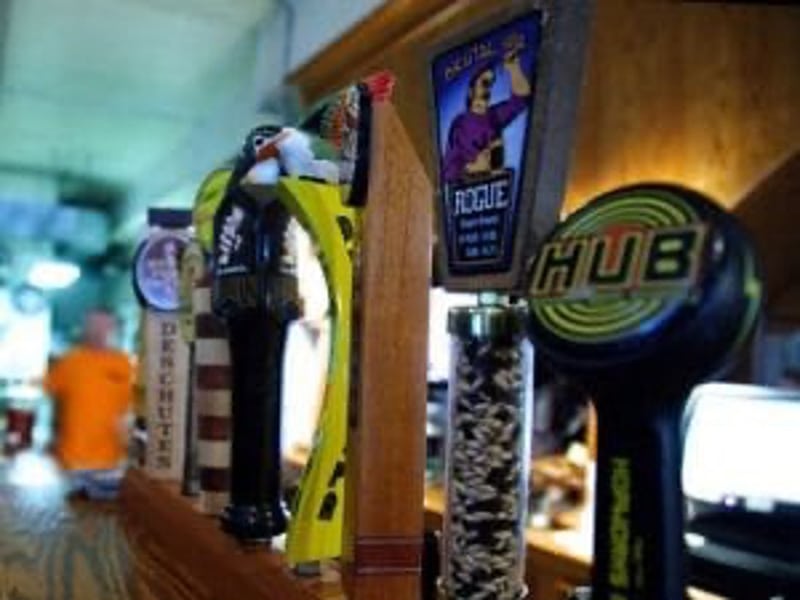 One of the best things about living in Portland is that there is so much history behind some of its finest establishments. Kenton Station is a must-visit for those who want to experience a living piece of Portland's past. The building was erected in 1909 by the Swift Meat Packing Company. At the time, it was called the Kenton Hotel, and it was the crown jewel of the town. Kenton itself was developed as an easy way for meatpackers to meet with cattle ranchers to buy and sell stock.
The building has its own sordid history, most of it lying below the surface in the legendary basement. During Prohibition, it served as a speakeasy, and it also connected to a series of underground tunnels that led out into the city. One of the highlights in the basement was a boxer named "Mysterious" Billy Smith, who attracted crowds whenever he sparred.
Today, the building reminds visitors of its history with a haunted basement tour. The hotel fell into disrepair in the 1960s and 1970s but was refurbished in the early 1990s to stave off a demolition order. Numerous ghosts have been spotted on the property, so guests are forewarned if they happen to spot any apparitions. For those who aren't interested in ghost hunting, Kenton Station is fantastic for getting delicious bites and tasty brews.
Kenton Station Restaurant and Pub—8303 N Denver Ave.
Kenton Club
Although the name may elicit images of a members-only club that caters to the elite residents of Portland's upper crust, the fact is that the Kenton Club is one of the best dive bars in town. Considering that we're talking about Portland, Oregon here, that distinction really means something. While true "dive" bars are becoming less and less frequent these days, it's not hard to walk into a place that has cheap drinks and a questionable vibe (in a good way). Fortunately, Kenton residents don't have to look far for an underground Portland nightlife experience.
The primary reason to visit the "World Famous" Kenton Club is that it hosts live music every Thursday, Friday, and Saturday night. That, and the modestly priced drinks. However, if you want somewhere to celebrate the meal of brunch, The Kenton Club has you covered there as well. This fabulous meal is served every Saturday and Sunday, so be sure to book a date with your squad and see what a KC brunch is all about.
Kenton Club—2025 N Kilpatrick St
Mock Crest Tavern
Kenton neighborhood is unique in that many of the businesses here have a long and compelling history. In the case of the Mock Crest Tavern, it was built in 1947 and named after local icon John Mock. Originally, the space was a meat market and ice cream vendor, but over the years, it transformed into one of the best live music pubs in the city. While The Kenton Club is perfect for those who want a "dive bar" vibe, Mock Crest is a little more upscale. Not only that, but the music selection is more along the jazz and blues side of things.
Another reason to stop by Mock Crest is the excellent food and beer menu. The tavern has eight rotating taps and a vast selection of locally sourced brews. When it comes to eats, you can find typical bar food alongside more interesting fare like the habanero bacon blue burger and the fish burger. Also, happy hour happens twice per day, so you can eat, drink, and be merry on a budget.
Mock Crest Tavern—3435 N Lombard St
Mayfly Taproom and Bottle Shop
At Mayfly, you'll find a rotating list of ciders, beers, and wines plus a well-stocked cooler of bottles and cans to keep you satiated and curious to see what's up next. They also offer non-alcoholic drinks and tasty nibbles, like big, baked pretzels, olives, and nuts.
Mayfly also hosts Untapped Trivia every Thursday night. So, come test your knowledge on general and themed trivia while you start making your way through their extensive beer list.
Mayfly Taproom and Bottle Shop—8350 N Fenwick Ave
Tiny Bubble Room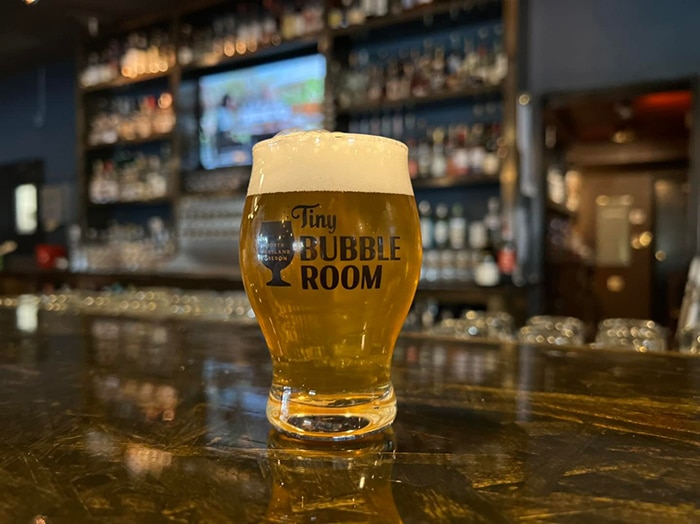 Offering Kentonians "craft beer" and "chill vibes," Tiny Bubble Room has an extensive beer menu and delicious snacks, sandwiches and burgers, salads, plates, and more. Treat yourself to some gumbo or jumbalaya, mac and cheese or chicken and waffles. The catfish po-boy and pulled pork sandwich are essentials for a night out in this comfortable, laid back neighborhood hangout.
They also have a long list of hand-crafted cocktails and a nice wine and spirit selection, not to mention key lime pie or chocolate lava cake for dessert. Make the Tiny Bubble Room your destination for tasty fare and drinks in this welcoming vintage space with one of Portland's best outdoor patios.
Tiny Bubble Room—2025 N Lombard St
Mousetrap Tavern
The menu has all the bar standards, like onion rings, tots, and chicken wings, as well as three kinds of fries. Give the dive bar charcuterie board a try, and wash down the mozzarella sticks and corn dogs with a couple bottles of dive bar champagne. Satiate your appetite with one of their thick burgers loaded with toppings, or really commit and get the Hungary Man TV Dinner. Watch sports, play the lottery, and enjoy weekend brunch all in one fell swoop.
With all it has to offer, Mousetrap just might be NoPo's #1 favorite dive bar.
Mousetrap Tavern—2305 N Lombard St
Swift and Union
Swift and Union, a casual pub-style eatery, is another tried-and-true Kenton favorite. Hit them up for breakfast if you love waffles—sweet (coconut caramel glaze and sliced apples) or savory (crispy fried chicken). Hearty soups, salads, small plates, burgers, and sandwiches are great for lunch. For dinner, treat yourself to seared salmon, clams, or Pasta Bolognese.
If you're a drink aficionado, you'll be coming back again and again. Craft cocktails (like the Swift Kick), a nice list of craft beers, and regional wines will compliment any of the delicious, inspired pub fare on Swift's menu.
Swift and Union—8103 N Denver Ave
Kenton Antiques & Collectibles
As you may have already surmised, many of the businesses within this area like to showcase neighborhood pride. Located just south of the Kenton Club (and Kenton Station) is this funky and eclectic antique shop. There are plenty of vintage-centric boutiques in Portland, but this place is just a step above the rest. Treasure hunters can spend hours browsing through the rotating selection, and true aficionados know to come back regularly to see what's new on the shelves.
Kenton Antiques is the perfect place to find everything from vintage metal signs to antique toys to retro pop-culture references. No matter what you're into, chances are that you'll discover something incredible on your visit. Even if you're not particularly in the mood to find anything, you'll likely walk out with a package under your arm.
Kenton Antiques and Collectibles—8112 N Denver Ave
The Victorian Belle Mansion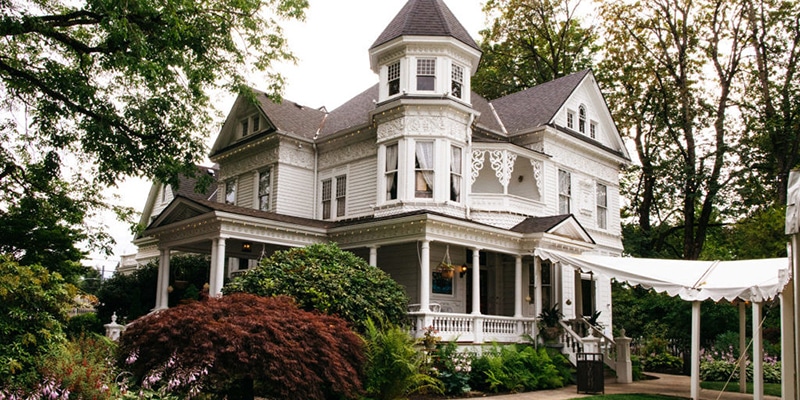 For those looking to tie the knot in Portland, there are some incredible wedding venues available. However, if you want historic luxury, one of the best options is the Victorian Belle Mansion. What separates this space from others (i.e., Pittock Mansion) is that it was built out of love. The house was erected in 1885 as a wedding gift from local magnate David Cole to his new wife Amanda Laura Boone (of Daniel Boone fame). So, couples can experience just a taste of the magic that was imbued into these walls, most of which are still original.
What also makes the Victorian Belle more captivating is that the house was ahead of its time when it was constructed. Nowadays, central heating, running water, voice-powered intercoms, and indoor electricity seem commonplace. However, when the property was built, they were cutting edge. Now you can experience the wonder for yourself.
The Victorian Belle Mansion—1441 N McClellan St
Portland Expo Center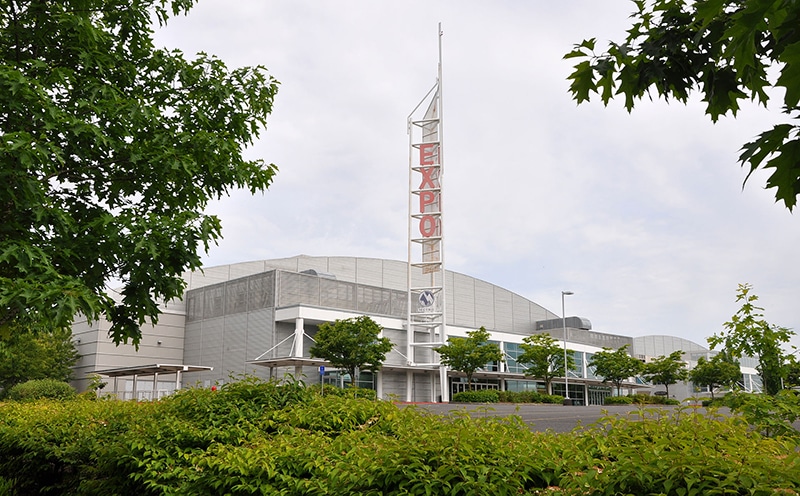 If you ever want to attend a trade show in Portland, one of the best venues for that is the Expo Center. There are several massive event spaces within the city (the Oregon Convention Center comes to mind), but Kenton is home to the largest. All told, this campus encompasses 53 acres and has 33,000 square feet of vendor space across five exhibit halls.
This place always has something going on, so no matter what time of year it is, you can find an event show to attend. Some examples include the sportsmen's show, the family show, and numerous gun shows that pass through. Whatever your interests are, be sure to check out the Center's calendar to see what's coming up.
Portland Metro Expo Center—2060 N Marine Dr
Kenton Neighborhood Parks, Green Spaces, and Gardens
Kenton Park—Basketball courts, soccer field, paved paths, playground and water feature.
Trenton Park—Basketball court, picnic tables and playground
Heron Lakes Golf Club—340 acres of pristine grounds. This is one of the only 36-hole courses in the Pacific Northwest, and it's been around for over 60 years.
Arbor Lodge Park—Dog off-leash area, horseshoe pit, paved paths, picnic tables, playground, soccer field, softball field, and lighted tennis courts.
Farragut Park—Basketball courts, soccer field, paved paths and playground
Kenton Community Garden—Funded in part by the Portland Development Commission's Community Livability Initiative and City Commissioner Nick Fish's Community Gardens Initiative, the garden assigns plots each year February through May, space available.
Kenton Community Resources
Kenton Neighborhood Association
North Portland Tool Library—Offers free tool loans to community members to help reduce the cost of maintaining and improving their homes and building community.
Kenton Area Schools
Elementary School—Peninsula Elementary School
Middle School—Ockley Green Middle School
High Schools—Roosevelt High School and Jefferson High School
Kenton Neighborhood Vibe
Evolving. On the cusp of something special… something fantastic. Neighborhood locals are extremely down-home and very approachable. Walking through the commercial district of Kenton will spark entrepreneurial thoughts of opening your own cute storefront. For those of you that remember Mississippi Ave. before it was a hip, thriving district, you'll know that just a decade ago, the area was basically abandoned and largely unsafe. All it took was a few brave entrepreneurs to come in and begin to fill the void.
We predict that Kenton is one of the next up and coming neighborhood in North Portland.
Kenton Stats
Kenton Zip Code 97217
Kenton Neighborhood History
Kenton started as a company town centered around the Chicago-based meat packing plant, Swift & Company, located on the Columbia Slough, then called the North Portland Harbor.
Marketing at the time pointed to the new town's positioning to the meat packing plant: on a high point to prevent bad odors that wafted downriver from infiltrating residential areas. The intention was to shape the town as a model place for Swift's employees to live.
The land Kenton rests on went through multiple sales. Initially a land claim to Charles Vincent, who passed it on to Robert S. Maxy, ownership then passed to William Love in 1860 and then to George J. Ainsworth after Love died. History has it that "several confusing transactions" happened in May of 1893 involving the Gilfrys, the McDonalds, the Whites, and L. L. Hawkins with a portion of the land designated as Greybrook Addition. The land was sold again a month later to Associated Banking & Trust, created in 1892 for the sole purpose of developing real estate. To cover its debts to Ainsworth Bank, the land was sold yet again to J. C. Ainsworth, Multnomah County Sheriff, for $15,000. The land remained mostly unimproved for years until the independently operated meat industry transformed the area.
People from other parts of Portland could also work at Swift, thanks to a trolley service that ran along N. Denver and Derby Aves., in 1909. Because of this, Kenton's initial growth was slow.
Commercial construction in Kenton started to boom around the same time, with the opening of the Kenton Hotel that summer, followed by the Kenton Bank and ten new buildings, two of which were cement block commercial buildings, still occupying part of the block at N. Denver and Kilpatrick. The rest of the buildings were wooden residential construction, each averaging about $2,000.
Rather than follow the norm at the time to create rowhouses, wood-framed homes were meant for laborers (located west of N. Denver Ave.), and cement block structures were meant for executives (on or east of N. Denver Ave.). One such structure—a six-room bungalow—is located at 7807 N. Denver Ave.
Public improvements—like electricity, the expansion of Lombard St., and the installation of paved streets—came next in anticipation for population growth in Kenton, which also led to the growth of nearby Kenview and Swinton subdivisions. The United Presbyterian Church on Lombard St. soon followed. Next came the fire station (now the Kenton Tool Library on N. Brandon and Schofield) and Kenton School, originally called the Stockyard School.
Kenton being a product of Swift and Company, the company held financial and aesthetic sway over the community. One example of the latter is the artificial stone (cement blocks), which became popular after the Lewis and Clark World's Fair and served as the primary material for much of the early construction in Kenton. To this day, the neighborhood has the highest number of buildings constructed with this method.
Business and Commerce
When Kenton was coming into its own, the solo butcher in the individual neighborhood was commonplace. One such business in Kenton was the American Dressed Meat Company, located in the New Market Theater. However, this started to change when four butchers consolidated their businesses in 1893. The consolidation became known as Union Meat Company. Even bigger change was to come in 1906 when Swift bought out Union Meat Company.
Factories sprung up along the Slough and the area boomed, resulting in the North Bank Railroad Bridge across the Columbia in 1907. In 1908, a man named C. C. Colt was sent to Portland from Chicago, Swift's headquarters, for further development. What followed was the purchase of 3,400 acres on the Columbia River for Union Stockyards and a new meat packing plant. Swift also bought neighboring land that would serve as another company town.
The area was second only to St. Johns in its industrialization with twelve major manufacturing firms, some of which were: North Portland Box Company, National Wood Pipe Company North Portland Lumber, and Aladdin Company, a manufacturer of pre-made homes.
The meat packing industry, the Kenton Hotel, and Kenton Bank, were the beginnings of a growing business and commerce in Kenton. Others followed.
The first movie theater in Kenton came in 1911, located in the back of Berg's (northeast corner of N Kilpatrick and Denver), then later moved to N Denver and Schofield in 1925 to the new Chaldean Theater. This addition to the neighborhood and its new electric sign gave the neighborhood a big city vibe. The theater also included a glassed-in "cry room" for parents to sit with their babies and still enjoy a view of the screen.
Kenton also became a liquor outlet. Near Vancouver, Washington, which had a "blue law"—no liquor to be sold on Sundays—the Kenton community pushed for liquor licenses for Kenton taverns. The purpose of this move was to try and capture business from the Vanport community, which was located within Kenton at the time.
Ultimately, the meat packing industry was adversely affected by the advent of refrigeration and a decline in railway systems. A recession in the area followed. The construction of a new, nearby highway—Interstate Ave.—didn't help either, as it cut off traffic from N. Denver Ave, the location of most of Kenton's businesses.
Since that time, Kenton has been revived and sits as one of Portland's up-and-coming neighborhoods with a nice, flourishing pocket of businesses, including shops and restaurants.
As a reminder of the community's strength and stamina, the 31-foot statue of Paul Bunyan stands tall and strong, welcoming residents and visitors at Kenton's north end. Just across from the statue is the Max light rail stop, built in 2004, which can likely be attributed to the neighborhood's revitalization.
How Kenton Got its Name
The story behind Kenton's name isn't as showy as some. When it came time to name the community, developers wanted "Kenwood," but the name was already taken for another area in Portland. So, Kenton it was.
Friends We've Lost
Cultured Caveman
Sad but true, this much-loved Kenton food cart turned full-scale dining establishment closed its doors in June, 2020 after nine years of serving the neighborhood vegan, keto, paleo, and gluten-free fare.
While this simple but inspired little eatery catered to those on special diets, it went a long way to please everyone who crossed its threshold with dishes like pork carnitas tacos, bacon almond dates, and lamb liver pate. If you dined within Cultured Caveman walls, it's no doubt your tastebuds were pleasantly surprised.
Cultured Caveman—8233 N Denver Ave.
Kenton Real Estate
Kenton is comprised of mostly modest homes with architectural styles such as Portland's Craftsman-style Bungalow, Cottages, Old Portland, Victorian, Foursquare and other mid-sized, one- and two-story homes.
There are some amazing old homes in Kenton, especially on Denver Ave., which is the start of the commercial district. True to Portland style, this neighborhood will reveal creative paint schemes, innovative landscaping, and attention-to-detail restoration efforts. This lovely neighborhood is truly a gem, given some still-affordable home prices and a neighborhood community that truly cares about the growth and overall livability of the area.
Click here to see all current Kenton homes for sale.
To learn about the Portland real estate market, we recommend this local Portland-based, top 100 real estate blog in the world.
If you are interested in buying a home in Portland, we recommend meeting up with these top 1% Portland buyer's agents, or if you are considering selling a home we recommend these top 1% Portland seller's agents. Visit our Portland Real Estate Page for more information.
North Portland Neighborhood Map
Click any neighborhood.

Check out More Portland Neighborhoods
Visit the full list of neighborhoods in our Portland Neighborhood Guide.
Sources
Potential Historic Conservation Districts. Portland Historical Landmarks Commission. October, 1978.
Wikipedia. Kenton, Portland, Oregon