Hayhurst Neighborhood Guide
Hayhurst is located in Southwest Portland. It is bordered by the Maplewood, Bridlemile, Hillsdale, and Multnomah Neighborhoods.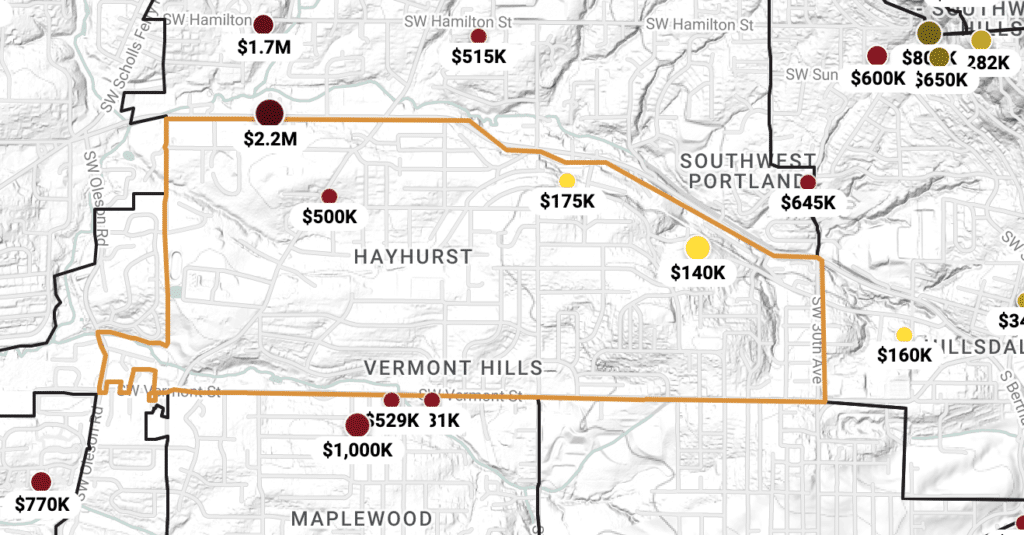 Features of the Hayhurst Neighborhood
The Hayhurst area is a pleasant, suburban-feeling neighborhood, with lovely views and mature trees. This neighborhood contains the affluent community of Vermont Hills, which offers some nice views, larger lots, and a wide range of home styles.
Alpenrose Dairy
Long a fixture for the Hayhurst community, the Alpenrose dairy facility was more than simply a place milk got put into bottles and cartons. It was the site of extensive grounds that the company opened to the public for a variety of community activities. The velodrome, a high speed cycling course, hosted races for cyclists from around the world. The softball field became a regular site for local families interested in sports. Alpenrose even created a faux frontier town called Dairyville, which wouldn't have been out of place at Disney World.
However, in 2019 Alpenrose sold to Smith Brothers Farms, from outside Seattle. The sale, which was hotly contested within the family, did not include this property, though Smith Brothers continued leasing it. Slowly, the various parts of the property closed to the public. While many lament this loss, there's some evidence that the land will be developed for more housing. As of this writing, the only negative grade Hayhurst gets on Niche.com is for its housing options. We'll have to wait and see, but in a city with a housing shortage, this move could pay off big for Hayhurst and its residents in the long run.
Gabriel Park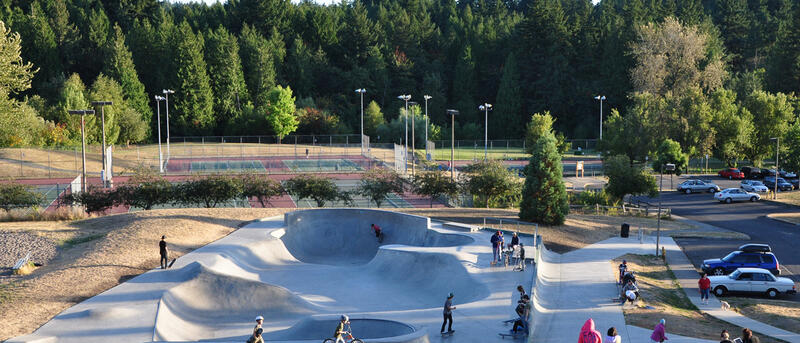 Just across the southern border of Hayhurst, you find one of Southwest Portland's best kept secrets: Gabriel Park. While not as sprawling and grand as more famous sites like Washington Park, Gabriel Park manages to hold a place in many's minds as a jack of all trades. You've got plenty of facilities, from the skate park to sports fields to an off leash area for dogs. But there's also plenty of forested trails for those who prefer a quieter, more nature-filled park experience. Whatever your recreation of choice happens to be, Gabriel Park offers a small piece of paradise.
Hayhurst Businesses of Note
Hayhurst, like much of Southwest Portland, remains a largely residential area. For the most part, you're looking at well-kept, suburban adjacent homes with mature greenery. That doesn't mean Hayhurst residents live on an island, though! Just to the west you'll stumble on a large commercial strip in Raleigh Hills, the neighborhood bordering Hayhurst and just outside city limits. You'll find your shopping needs satisfied there, especially given there's a Fred Meyer and a New Seasons just blocks apart. If you're feeling like keeping it even more local, head to the southeast towards Multnomah Village, one of the most charming strips in all of Portland. Browse the bookstore, stop in a restaurant for a snack or drink, or just enjoy the energy of this little hamlet.
Now, all that being said, a few local businesses within Hayhurst (or very close to it) stand out as ones not to miss. Let's check in on these local strongholds.
Dragon Herbarium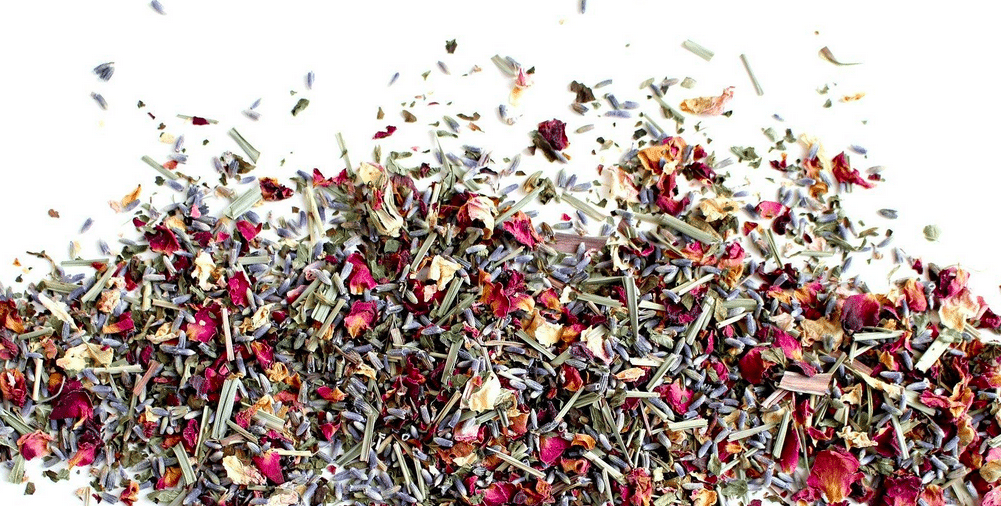 Okay, hear us out here. We are aware that the name of this little hole in the wall definitely sounds like a place to buy marijuana. And perhaps you're not too far off, in spirit! But Dragon Herbarium has much more to offer than just dried greenery. They carry a huge selection of organic herbs and spices for your teas or your cooking, for one thing. Or, if you're feeling the proverbial spiritual itch, check out their crystal collection. If you prefer to keep it a little more down to earth, not to worry. Their line of bath and body products are high end and sure to keep you pampered.
Clubhouse Bar & Grill
Now for a complete change of pace. Once you've had your relaxing, detoxifying bath session from Dragon Herbarium, head over to the Clubhouse Bar & Grill to balance things out with beer and a shot. With 18 HD TVs, this is hands down the spot in the neighborhood for sports lovers. Come for a game and relax with the regulars. Or, if you like the laid back atmosphere but your recreational interests don't include sports, check out karaoke night!
Laughing Planet
A local chain of feel-good, quick-serve restaurants, Laughing Planet has been serving up great burritos, rice bowls, and other dishes under the mantra of "local ingredients, global flavors." And when we say feel-good, we mean that they mean you'll actually feel good, body and soul. They prioritize creating healthy dishes, first. But they also take it further, always donating throughout the year to various nonprofits. They also donate $1 from every kids' smoothie sold to a charity of the employees' choice – so there's literally involvement on every front. Therefore, you can feel pretty good by supporting them in their Hayhurst location!
McMenamins Raleigh Hills
Hey, what's a neighborhood without at least one nearby McMenamins pub? Long a staple of the Portland (and wider Oregon) area, McMenamins owes a good deal of its success to not feeling like a chain. Rather, they choose their locations carefully and with an eye towards interesting aesthetics and design. Then, they make that location sing.
The same can be said of their Raleigh Hills Pub, which inhabits a beautiful building filled with rustic woodwork. Come in for their Northwest-inspired pub fare, stay for the beer and the atmosphere. This location, which sits just to the west of Hayhurst over the city line, sports a cozy, enclosed beer garden as well.
Mr. Barriga Churreria
Why not finish off your tour of the Hayhurst area with a sweet little dessert? Well, maybe not so little. Mr. Barriga Churreria is a modest food truck that serves up churros, crepes, and ice cream (and sometimes all three combined). While everything here will likely hit the mark for your sweet tooth, definitely don't skip to handcrafted churros, which are some of the best you can get in the city. And all in this quiet corner of the suburbs, just over Hayhurst's western border.
Hayhurst Neighborhood Parks
Raleighwood Wetlands Natural Area
Hayhurst Community Resources
Hayhurst Neighborhood Association
Hayhurst Schools
Elementary school: Hayhurst Elementary School
Middle school: Gray Middle School
High school: Ida B. Wells High School
Hayhurst Stats
Zip Code 97221
Hayhurst Neighborhood Vibe
Like most of the Southwest Portland neighborhoods, Hayhurst features more of a suburban feel than neighborhoods located closer into the city center. The Southwest area of Portland features more mature trees, established neighborhoods with older homes in a variety of styles, and a comfortable family friendly feel. There are several parks and nature areas in the Southwest hills, making it easy to get away from it all while still being in the city. If you enjoy a more rural feeling neighborhood, while still being located fairly close to the city, Hayhurst might be a good fit.
Hayhurst Real Estate
Most residents of Hayhurst own their single family homes, though there are plenty of apartment buildings in the are as well. The homes vary in age and style, so your options are many in this neighborhood!
Click here to search all South Burlingame neighborhood homes for sale.
To learn about the Portland real estate market, we recommend this local Portland-based, top 100 real estate blog in the world.
If you are interested in buying a home in Portland, we recommend meeting up with these top 1% Portland buyer's agents, or if you are considering selling a home we recommend these top 1% Portland seller's agents. Visit our Portland Real Estate Page for more information.
Southwest Portland Neighborhood Map
Click any neighborhood.