Nob Hill Neighborhood Guide
Nob Hill is located in the Northwest District of Portland, adjacent to Downtown Portland, a quick five-minute drive away. Nob Hill has excellent bike and mass transit options as well. The neighborhood is close to Highway 30 and the Industrial District and neighbors Linnton neighborhood and Sauvie Island to the north.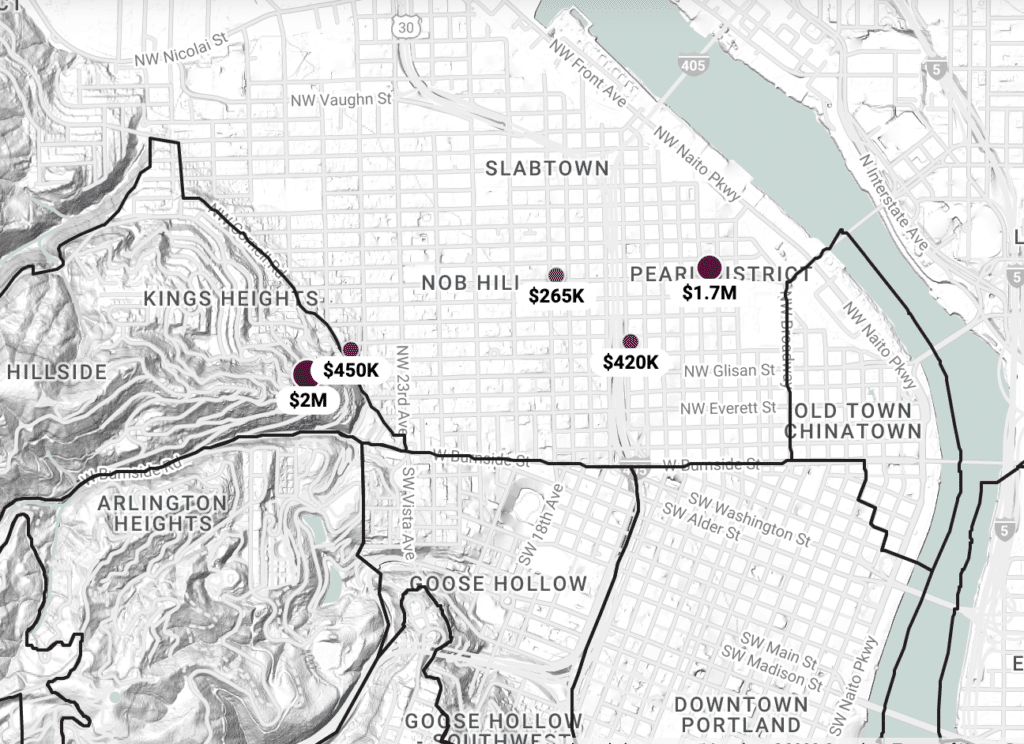 Click on the image for a fully searchable map of Nob Hill neighborhood, including all homes for sale.
Features of Nob Hill Neighborhood
Nob Hill, NW 23rd Avenue, The Alphabet District. Call it what you will, this neighborhood is a must-go, must-stop for many in Portland in the mood for shopping, people-watching, and tree-lined avenue strolling, all within flirting distance of not only one of the best downtown areas in the country, but also of the emerald treasure called Forest Park.
The neighborhood encompasses Northwest 21st and Northwest 23rd Avenues, from West Burnside Street to Northwest Thurman Street (but don't skip the mysteriously omitted Northwest 22nd, because you'll miss the excellent Elephant's Delicatessen and a very nice and shady walk among lovely houses bearing the distinctive Portland style, south of Kearney Street).
Certainly, this area boasts little of the gritty, party-colored plumage of other popular areas in the northeast and southeast quadrants of the city, and makes no apologies for its more refined commercial sensibilities. That doesn't mean it isn't a fun place to spend a day, a fact made evident by the near-impossibility of walking a straight line on the sidewalks. At peak hours and weekends it's easy to miss a shop or eatery on the first pass, due to heavy pedestrian traffic. Despite all the bustle in the neighborhood, you'll notice a distinct connection to nature: maybe it's the strong vibe from neighboring Forest Park, maybe it's the heavily planted urban gardens and mature vegetation.
Walk north on NW 23rd from Burnside on the east side of the street (NW 23rd is the demarcation between Nob Hill and Kings Heights neighborhoods) to get the full flavor of what this area has to offer. Shops and restaurants abound.
Walk all the way to Thurman Street where you can turn west to discover the natural wonder of Forest Park or go east to seek Northwest 21st for a return trip southward. If the latter, you'll no doubt skid to a stop as you pass The Freakybuttrue Peculiarium, one of the oddest shops in a city known for odd shops. Wander around and gaze at all manner of oddities and art.
Further up the street is Besaw's, a hopping spot for breakfast spot, or any meal you care to eat—the perfect place to take a first date or someone new to town. Walk (so much better than driving, yes?) further south and then pause to take in the stately grandeur of The Parish of St. Mark, one of Portland's most beautiful churches. Then continue down the avenue alternating between window-shopping and licking your chops. After a short time you'll see Cinema 21, one of the city's cherished grand old movie theaters that features both new releases and classics, as well as the offbeat and obscure (with beer and wine!).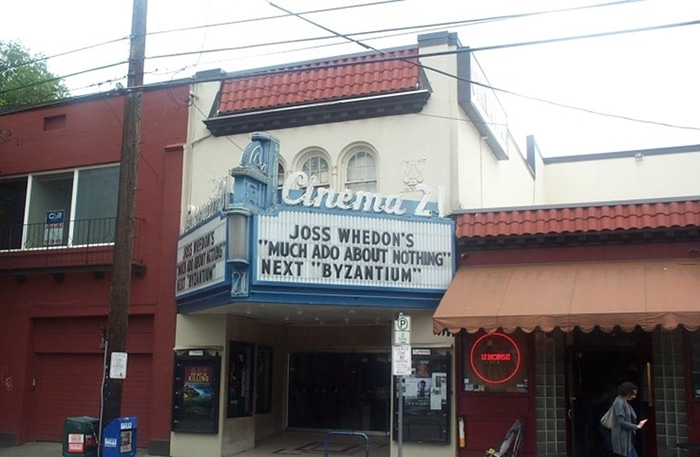 Refresh thyself at the Blue Moon Tavern & Grill, and then hit the sidewalk to hike this 'hood again. You've missed some of it. Guaranteed.
Nob Hill Restaurants of Note
21st Ave. Kitchen & Bar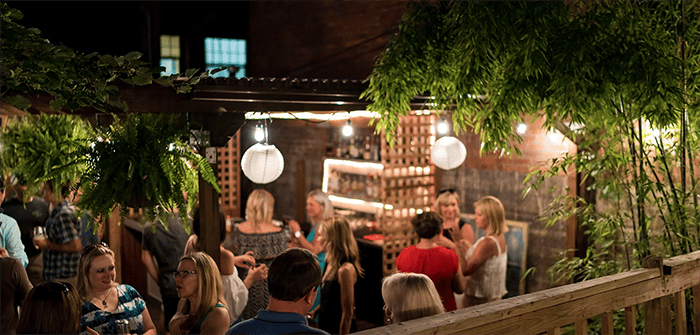 In business for well over two decades and refreshed by the current owners in 2017 and renamed 21st Ave. Kitchen & Bar, the focus here is on Oregon-based drafts, regional wines, craft cocktails, and a great selection of canned and bottled drinks, including a variety of local ciders and CBD sodas.
When it comes to food, 21st Ave. also keeps it local when possible, sourcing produce and rotating the menu to follow the seasons. You'll find the usual fare—like burgers, wraps, and fries. But take a closer look at the menu, and you'll see specials like their B.B.B. Burger, dressed with blackberry ketchup, brie, and bacon. Criss-cross sweet potato fries are available for happy hour, along with fresh, hearty sandwiches and salads. They also have a Taco Monday, and if you love karaoke, this is your place—you'll find it happening every night. When the weather's nice, pull up a chair on the charming back patio, complete with a koi pond.
21st Ave. Kitchen & Bar—721 NW 21st Ave
Marrakesh Restaurant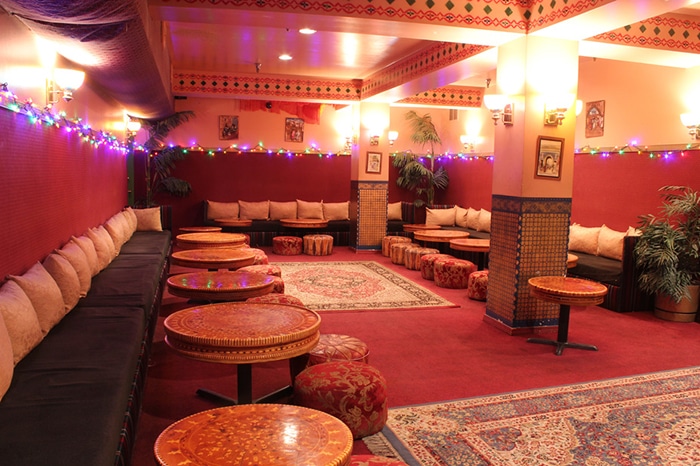 Here's looking at you, Marrakesh. After all, we don't have to go all the way to Casa Blanca for Moroccan food, now do we? Since 1989, Marrakesh has been dishing up traditional ingredients like lamb, couscous, eggplant, and chicken with olives. If you're looking for white linens, wine stewards, and candles, you're obviously not trying to visit North Africa. But if you like to sate an appetite now and then for communal hand washing, eschewing silverware and sharing baskets of homemade bread, you might want to pull up an ottoman on the floor of Marrakesh.
An a la carte menu is available on weekdays, but the way to do Marrakesh is to take advantage of their five-course meal for $28.95. This particular culinary tour starts with a yummy lentil soup that is not served with a spoon. (Sounds like a riddle, huh? Answer: you drink it.) Soup is followed by a Marrakesh salad and a dish called B'stilla Royale, a version of chicken pie. All this is followed by your entrée of choice, a dessert of either Baklava, fresh fruit salad, pudding, or pastries. Topping it all off is fresh mint tea that the server pours from a great distance above your glass.
And of course, what night at Marrakesh wouldn't be complete without bellydancing. For the show, be sure to come on a Wednesday-Sunday evening.
Marrakesh—1201 NW 21st Ave
Ken's Artisan Bakery
Ken's Artisan Bakery does all things bread and pastries: canneles, maccarons, biscotti, quiche, brioche, baguettes, ciabatta, cookies, you name it. Ken's also serves delicious sandwiches and soups for lunch. Stop in and try a Ken's Hero, packed with meats and cheeses and served on one of their ciabatta buns. Finish up with a chocolate croissant or a hazelnut butter cookie.
If you want to try the acclaimed Ken's Artisan Pizza—according to the New York Post, Sunset Magazine, Food & Wine, The Daily Meal, Mental Floss, and Mashed, who deemed the establishment one of the best bakeries in the country—you'll have to order it for takeout from their southeast location.
Ken's Artisan Bakery—338 NW 21st Ave
Coffee Time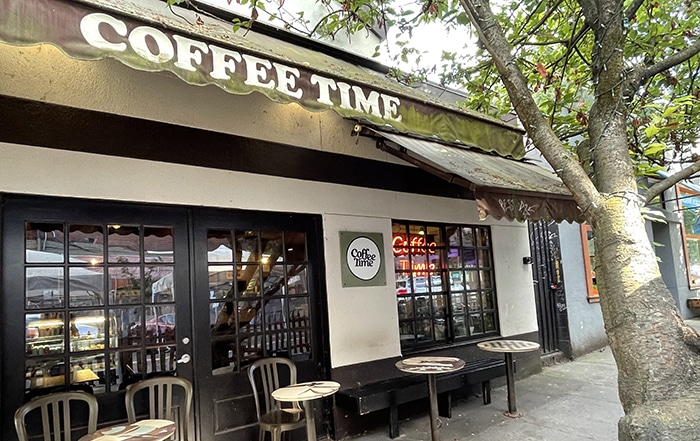 Looking for a place to hang out for hours and not feel the pinch of being rushed out the door to make room for the next customer? Coffee Time has been providing Nob Hill residents and visitors a space to kick back and relax or get a ton of work done—all on your timeline. Keep yourself satiated and awake with delicious, thoughtfully prepared hot and cold drinks and scrumptious breakfast burritos, pastries, and grilled sandwiches.
Whether you want to lounge outside and play a game of chess, meet up with friends in the front room, or disappear with your book or laptop in a quiet nook in the back room, you'll be met with top-notch service and the kindness Coffee Time is known for.
Coffee Time—712 NW 21st Ave
G-Love New American Kitchen
A relative newcomer to Nob Hill, G-Love New American Kitchen is Portland's first "reverse steakhouse." Here, the main attraction is vegetables with a few protein options as sides. Take, for instance, the Chirashi Bowl, made with rice, cucumber salad, Tokyo turnips, kimchi, egg, and optional ahi tuna. How about the Heirloom Tomato Toast, a delectable conflation of charred apricot, fresh mozzarella, tomayo, basil, and optional protein: prosciutto. Have to have your meat? Steak, trout, and chicken are also on the menu. Sweets consist of luscious options like Coconut Cloud (made with calamansi sorbet), Whip-a-Licious (made with passionfruit curd), and Peanut Butter Crunch (laced with milk chocolate and white chocolate pearls). What about drinks you ask? A solid list of beers, ciders, and wines, along with plenty of non-alcoholic options, good enough for you? You an also get a four-course, family-style meal, complete with appropriate wine pairings.
G-Love New American Kitchen—1615 NW 21st Ave
Tara Thai Northwest
Tara Thai Northwest is another Nob Hill icon, satisfying Nob Hill-ers with authentic Thai cuisine since 1985. The virtually endless menu lists everything from appetizers (rolls and wontons), soups (Tom Yum and Tom Kha), salads (papaya, larb, and beef), curries, stir fries, noodles, fried rice, and lots of specials, like Spaghetti Green Curry, Ginger Sea Bass, and Black Pepper Squid. The menu is also brimming with sides, sweets, and beverages.
Maybe the best part of dining at Tara Thai—aside from the mouthwatering fare—is that your food is cooked in and served from an exhibition kitchen. And when you're in the mood for outdoor dining, Tara Thai has a lovely garden deck—right in the heart of bustling Nob Hill.
Tara Thai Northwest—1310 NW 23rd Ave
Takibi
Brought to Portland by Snowpeak, the Japanese outdoor lifestyle brand, Takibi is inspired by "the changing seasons and the bonds built while gathering by the fire." Deemed one of Portland Monthly's Top 50 Restaurants (2022) and one of Esquire's Top 25 Bars in the U.S. (2022), Takibi is a newbie to Nob Hill but it looks like it will hold its own. True to Portland's vibe and values, Takibi boasts a produce-driven menu of small plates, shashimi, grilled entrees, and unforgettable desserts, like tofu donuts, toasted straw ice cream, and blueberry mitsumame (agar jelly cubes). And that's just the food menu!
In the bar, you can savor a Fir Coat (gin, lime cordial, fir brandy, Midori, and lime juice), a Violet Hour (bourbon, syrah piquette, haskap liqueur, lemon juice, and egg white), or a Nori Green Tea Punch (rum kabusecha, spearmint, lime juice, nori, and nutmeg). But that's not all… There's also sake, wine, beer, and cider galore. Teetotalers can enjoy special creations like the Queen Garden Swizzle, Call of the Wilderton, and Oat Matcha N/atte, as well as a selections of teas.
Come to Takibi and commune 'round the fire.
Takibi—2275 NW Flanders St
Nob Hill Shops of Note
Kiehl's
Providing skin care solutions since 1851, Kiehl's offers generations of combined experience in cosmetic, pharmaceutical, herbal, and medicinal knowledge to work with your particular family's legacy of hair, face, and body needs. With an extensive product catalog that reads like a menu—complete with ingredients like avocados, apricot kernels, and almonds—Kiehl's offers everything from firming cream, face masks, and serums to moisturizers, aftershave, and eye cream for men, and much, much more.
Kiehl's—712 NW 23rd
Roughcut Barbershop
Ice Cube wasn't the first to notice that a barbershop can be a place to treasure. Perhaps it is in the act of shearing that we are also motivated to slough off some of our protective layers and reveal something fresh and new to those within the hallowed confines of the shop. Conversations are had. An affinity for a place gets built. And the business lasts. That's if you're doing something right, which must be the case at a barbershop that's been around since Calvin Coolidge was president.
Though the original sign out front proclaims the establishment is still owned by Bert, for the last 25 years it has belonged to Mary Lee Perry. A responsible steward of the operation, Mary Lee has done the smart thing and, for the most part, not touched a hair on this establishment's head. So, when a patron sits down to have a do, he is sitting in the very same chair that generations before him received everything from a Gatsby to a Lennon to a mullet. The deco-esque wooden cabinetry at each barber station goes back to the '20's, as do the mirrors. Even several ointments and aftershaves from the ghosts of inventories past—items Mary Lee inherited with the joint—are preserved and showcased here to allow the full experience of stepping back in time for a contemporary cut.
Roughcut Barbershop—513 NW 21st Avenue
New Renaissance Bookshop
An icon in the Nob Hill neighborhood, New Renaissance Bookshop has been in business since 1987. New Renaissance offers books of all stripes—both fiction and non-fiction—with a focus on spirituality, self-awareness, world religions, and more. You'll also find jewelry, crystals, candles, statues, coloring books, to name a few of the treasures you'll find behind the maroon door.
New Renaissance also offers classes, events, and meditations at affordable rates, as well as readings—both the literary type (published authors read from their books and do signings) and the divination type (palm readers, tarot card readers, and astrologers share insights into your life journey).
New Renaissance Bookshop—1338 NW 23rd Ave
Nob Hill Neighborhood Parks
While there are no parks within the boundaries of this compact neighborhood, you'll find a few parks within walking distance: Macleay Park, Wallace Park, Couch Park, and of course, the beautiful and massive Forest Park.
Nob Hill Community Resources
Northwest District Association
Nob Hill Neighborhood Stats
Nob Hill Zip Codes 97209, 97210
Nob Hill Neighborhood Vibe
Trendy, young, unique, urban sophisticate, artsy—neighborhood hustle and bustle with all the shopping on the main drags of NW 23rd and NW 21st Aves. This is a popular tourist area for visitors due to dozens of one-of-a-kind shops and has a huge nightlife scene. The area has a ton of charm with big, old beautiful homes brimming with character. Live here if you're an extrovert and you want to be constantly surrounded by people, enjoy a strong sense of community, and live within walking distance of coffee shops, stores, and restaurants. Plenty of local parks are nearby, and due to the close proximity, this is a very easy commute into downtown.
Nob Hill Neighborhood History
In 1840, Captain John Couch sailed the Willamette for his first visit to the Portland area and returned four years later to make himself known as a settler and developer in NW Portland. Before making his way to this part of the city, however, he spent time in Oregon City and made a name for himself in both publishing and real estate.
He filed a claim in 1845 in Portland for his one-square mile patch of land in what was then known as the Lovejoy-Pettygrove townsite. Twenty years later, he filed for the first subdivision in the area and deemed it the Alphabet District, naming each street after a letter in the alphabet. The street names we know in this part of Portland, still in alphabetical order, came in 1891 when the city changed them to reflect well-known Portland pioneers.
Early residential construction in the Alphabet District consisted of Craftsman and Colonial style homes, as well as Colonial Revival and all the various Victorian era styles: Queen Anne, Italianate, and Stick-Eastlake. Much of this area's continued growth can be credited to Caroline Couch, Captain Couch's wife, who took over real estate development after his death in 1970. In fact, she is responsible for the expansion of development of what we now know as Northwest Portland, as she helped extend its reach to the north and west. Under her direction, later additions to the area caught the eye of wealthy buyers, as well as institutions (schools, etc.), because the block sizes increased in size.
While many of the original Colonial Revivals in Nob Hill remain today, many others have been demolished. Some posit that the ornate Victorians from Portland's early days fell out of favor for being too garish, however, those that still exist have been well-maintained and restored.
The area saw a massive growth spurt after the Lewis and Clark Exposition in 1905. Population rose from 90,000 to 220,000 during that decade. After the event, apartment buildings and hotels that catered to the wealthy sprung up. Many of the early apartments remain today and are sold as condos. Another growth spurt came in the 1920s with more apartments being constructed. During this time, the area started seeing smaller living spaces, like studio and one-bedroom apartments, which attracted a more diverse crowd. Many of these structures were designed by Elmer Feig and display his signature whimsical aesthetic, which consists of a wild conflation of a variety of design styles, like Mission, Moorish, Egyptian, and Art Deco.
By the time World War II occurred in the 1940s and the area was flooded with shipyard workers, many of the homes in the Nob Hill area were converted to apartments to accommodate their housing needs. This period of Nob Hill's evolution sent wealthier residents to other up-scale neighborhoods in the city. The exodus continued into the 1950s when the automobile became more and more popular.
For the next two decades, the entire NW area came to a virtual standstill, but the creation of the Northwest District Association in the 1970s banded people together who were invested in bringing back the neighborhood's original verve.
Today, it is, once again, known as one of the city's most desirable and distinguished spots for living and socializing.
How Did Nob Hill Neighborhood Get its Name?
Nob Hill is said to have been named after the wealthy neighborhood of the same name in San Francisco. And of course, it "Alphabet District" name comes from the alphabetic ordering of its east-west street names.
Transportation
The advent of the Portland streetcar system was a boon to NW Portland, especially when it expanded to shuttle people to and from Guild's Lake (now Portland's NW Industrial District north of Nob Hill) in time for the Lewis and Clark Exposition in 1905.
Today, the area is served by Trimet bus line #15 and the Portland Streetcar NS line, which stops at NW 23rd and Marshall and loops all the way down to the far south waterfront.
Friends We've Lost (business closures)
3 Monkeys—Three-level shop with new and vintage clothing, jewelry, and decor, as well as assorted bric-a-brac.
Gypsy Restaurant & Velvet Lounge—Lively bar that served well drinks and casual pub grub with pinball, pool, and karaoke.
Muu-Muu's—Diner-style eatery with comfy booth seating that served global comfort food.
Mamma Ro La Bottega Di—Distributor of Italian handmade tabletop ceramics and home accessories.
21st Ave. Bicycles—Compact, full-service bike shop and gear retailer that specialized in commuter, touring, and road models for a decade.
City Market—Upscale European-style market that featured fresh pasta, gourmet staples, produce, and seafood, plus a chop butcher stand.
Dorio Cafe & Taverna—Bright, family-owned corner cafe with a full bar and a menu featuring Greek family recipes.
Shogun's Gallery—Showroom for Asian antiques, with Japanese & Chinese art, and furnishings, plus restoration services. While Shogun's has left Nob Hill, it's still open for business several blocks away on NW Upshur.
Blake—Clothing for women and men with a focus on denim.
The Powder Room—Boutique that offered high fashion at inexpensive prices.
Stella's on 21st—Funky gift shop that sold locally made jewelry and accessories, home decor, and stationery.
Nob Hill Real Estate
The gorgeous homes and rentals in this neighborhood are stunning, uniquely Northwestern, and quite expensive compared to some other parts of the city. This area continues to be immensely popular and the prices match the demand (location, location, location). You will find some of Portland's most wonderfully restored homes lining the streets of Nob Hill. Here, you'll have a choice of stunning historic Victorians, Craftsman, and other large Portland homes with period details. You will also find many unique apartment homes, condos, and rentals. If you're thinking of living here, you should consider the constant stream of walking traffic (which could make you feel you live in a fishbowl), and the lack of available street parking. If you're more socially extroverted and don't mind lots of people, and if you're willing to sacrifice owning a car—as many true Portlander's are—and enjoy walking, biking, taking public transportation, then Nob Hill might be for you!
See all Nob Hill neighborhood homes for sale.
To learn about the Portland real estate market, we recommend this local Portland-based, top 100 real estate blog in the world.
If you are interested in buying a home in Portland, we recommend meeting up with these top 1% Portland buyer's agents, or if you are considering selling a home we recommend these top 1% Portland seller's agents. Visit our Portland Real Estate Page for more information.
Northwest Portland Map
Click any neighborhood.

Check out more Portland Neighborhoods
Go back to the full list of Portland neighborhoods.
Source
Bookwalter, Jack. Portland's Alphabet District or, Nob Hill or, the West End. Preservation Artisan's Guild. Blog. Accessed August 27, 2022.