Beaumont-Wilshire Neighborhood Portland
Beaumont-Wilshire is located in Northeast Portland. It is bordered by the Alameda, Concordia, Cully, Rose City Park, and Grant Park neighborhoods.
Click the image for a fully searchable Beaumont-Wilshire neighborhood map, which includes all homes for sale.
Features of Beaumont-Wilshire Neighborhood
Beaumont-Wilshire is an older, well-established neighborhood with a strong sense of community. It has a nice mix of residential and commercial property. The main road through Beaumont-Wilshire neighborhood is NE Fremont Street, and the primary commercial focus is Beaumont Village, between NE 33rd and NE 50th.
A prominent structure in Beaumont-Wilshire is the Barnes Mansion, built in 1913 and named after is first residents, Isabelle and Frank Barnes. When the area was first platted, mere wilderness and a few dirt roads, the Barneses set out to claim much of the area for their own, with visions of a compound—homes centered around the mansion for their family as it grew.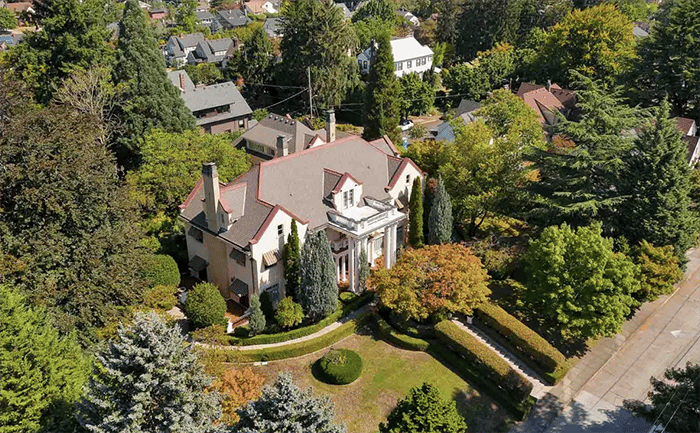 In its early days, the home was used for many holiday celebrations and other special events, like weddings, the grand staircase the perfect pathway for brides to descend, their trains trailing behind.
When Isabelle and Frank died in the home, one year apart in 1930 and 1931, their memorial services were held here. After the Barneses deaths, real estate investors Charles and Carmen Derbes bought the home. When they left a few years later, the home sat vacant. After Portland attorney Bill Illidge bought the home in 1937 and was disbarred in 1939 for questionable real estate dealings, he holed up in the home, neglecting it and its grounds, living in only a small section of the house.
The property fell into a period of demise, and after Illidge died in the home in 1958, the house sat vacant, once again for about two years, and was taken over by teenagers for partying—until they were discovered and arrested.
The house wasn't purchased again until 1960 by Carl and Deane Hutchison and their friend William McReynolds, and efforts to restore it were underway, with John Jensen joining them later on to continue the restoration. A 100-stop pipe organ and a small chapel were also added. The home was placed on the National Register of Historic Places in 1983. Learn more about the Barnes Mansion.
Beaumont-Wilshire Neighborhood Businesses of Note
Beaumont-Wilshire has a nice balance between residential areas and businesses that serve the neighborhood. Below are a few worth checking out.
Green Dog Pet Supply
Green Dog is an eco-friendly store offering holistic dog and cat items ranging from healthy, high-quality natural and organic foods, to some fun pet-themed cards, magnets, and other gifts. Green Dog focuses on "green" pet supplies, so while you are doing something good for Rover, you will be doing something nice for the planet, too.
The folks at Green Dog strive to make finding high-quality food products for their pets easy. Sustainability is at the forefront of all they do, so their non-food items are recyclable. Green Dog is not just a pet store. They're also committed to providing helpful information for their customers about their pets' nutrition, health, and behavior.
Green Dog Pet Supply—4327 NE Fremont St
Amalfi's Italian Restaurant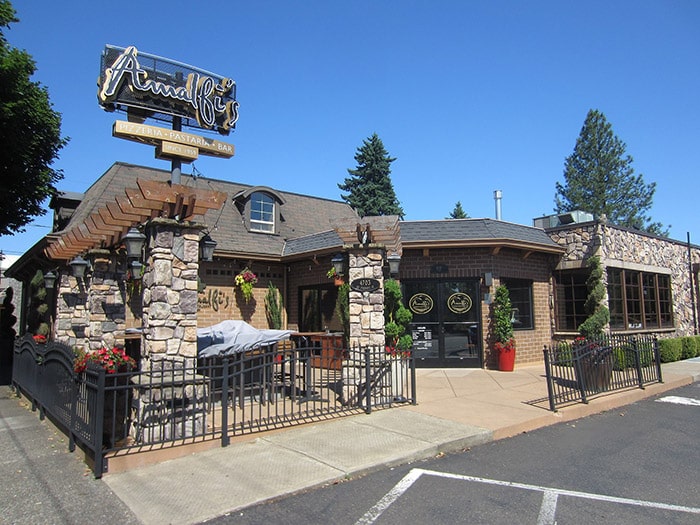 Amalfi's Italian Restaurant is a family-run Italian trattoria in business since 1959. They serve pizza, classic Italian fare, and cocktails in a warm setting. Using the same family sauce and dough recipes they started with more than sixty years ago, Amalfi's still wows customers with their delicious, authentic pizzas. You'll also find the classics on the menu here: spaghetti, lasagna, ravioli, and calzone. Finish off your meal with some tiramisu, spumoni, or Lemon Berry Mascarpone Cake.
Sangria and Bellinis are but two of the many cocktails you'll find on the drink menu. There's also wine, of course (it's an Italian restaurant, afterall!), and beer.
Amalfi's Italian Restaurant—4703 NE Fremont St
Little Griddle
Little Griddle is a cozy laid-back outlet serving breakfast and brunch standards from Benedicts (yes, that's plural… they have several), skillets (think curry hash, for one), sandwiches, and classics like eggs, roasted potatoes, and buttermilk biscuits.
Their drink menu is almost as long as their food menu with thirst-quenching options to pair with your meal. Of course, you'll find plenty of coffee and tea drinks, and when you're in the mood for spirits, give their bloody Marys or citrus cocktails a try. They also have beer, bubbles, and more coffee libations spiked with Bailey's Irish Cream, Kahlua, and bourbon. Grab take-out, dine in, or have make yourself comfortable in Happy Day's outdoor seating area.
Little Griddle—3520 NE 42nd Ave
Happy Day Juice
Happy Day proudly makes small-batch, cold-pressed, sun-powered drinks and bottles them right on the premises. While they're known for their delicious smoothies, bowls, and protein shakes—like the Pink Team, Beaumont, and ABJ, they also serve tasty food items—like the Love Waffle, avocado toast, and Chipotle Grain Bowl. They also make creamy hemp milk lattes with delicious superfood ingredients. You'll also find satisfying, healthy retail items, so no matter your what your tastebuds crave, you'll probably find it at Happy Day.
Happy Day Juice—4539 NE Fremont St
Tomorrow's Verse Taproom and Bar
Love music? Love beer? Tomorrow's Verse was made with you in mind—by other music and beer lovers. Let's start with the beer. Tomorrow's Verse has a selection of local and regional beers with cool, catchy names: Upright Engelberg Pilsner, Another Brick in the Wallonia, and Second Profession Fresh Hop IPA Soundsystem. Tomorrow's also has a fine list of wines and ciders that'll help soothe your soul while you listen to tunes—live, curated playlists, streamed concerts, and vinyl (remember those?!).
While the focus is definitely on drinks and music at Tomorrow's, they have some pretty tasty snacks to go along with your satisfying imbibing: peanut butter filled pretzels, pimento stuffed olives, and Pizza Jerk's delectable pizzas, to name a few.
Tomorrow's Verse Taproom and Bar—4605 NE Fremont St
Prince Coffee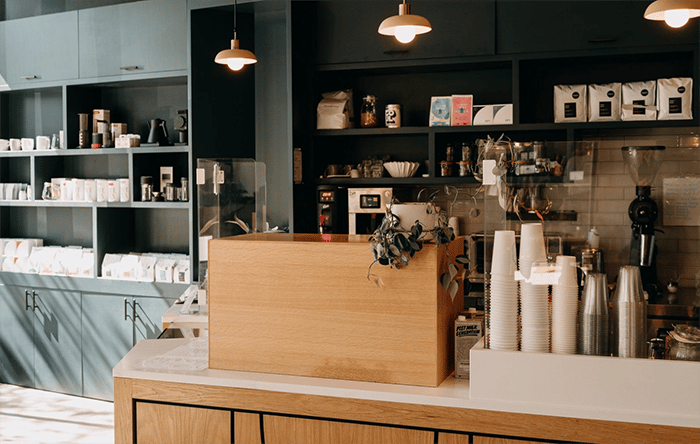 Prince Coffee has been serving Portlanders excellent coffee and breakfast sandwiches (and their famous stroopwafels on special occasions) since 2016.
Prince also sells coffee-related merch (tumblers, mugs, scoops, and carafes), as well as other accoutrements to make your coffe sipping moments more enjoyable (Magic Cocoa Hazelnut Spread, Cloudforest Chocolate, and Golden Milk). Not a coffee drinker? Prince also sells tins of tea and matcha. And if you have a coffee-loving friend, you can pick up a gift card when you stop by.
Prince Coffee—4523 NE Fremont St
Sabiang Thai
Sabiang Thai offers an authentic Thai experience through a menu that embodies the essence of Thailand served to you with excellent customer service in mind. Using the freshest ingredients and traditional Thai cooking techniques Sabiang brings you dishes like Crab Rangoon and Tulip Dumplings for appetizers; delicious soups, salads, and curries; and entrees that run the gamut of classic offerings, like Pad Thai, Spice Eggplant, Basil Fried Rice, and Orange Chicken. Specialties only add to your experience with offerings like Rainbow Soft-Shell Crab, Honey Duck, Spare Rib Noodle, and Pineapple Fried Rice.
Sabiang is the ideal spot to relax and sip tea while you browse the menu, savor your meal, then treat yourself to some Sticky Rice with Mango, Thai Donuts, or Fried Ice Cream.
Sabiang Thai—4239 NE Fremont St
Bagel Land
Bagel Land is a no-nonsense, straightforward bagel shop with an impressive menu of bagels and bagel sandwiches. Whether you're in the mood for something sweet (Cranberry-Orange, Blueberry) or savory (Pumpernickel, Kalamata Olive, Jalapeno and Swiss, Sesame), Bagel Land is the place to go.
When you're in the mood for something more substantial, their sandwiches will fill the bill. Try a Mediterranean or a Simple Lox or a Sunrise, and grab a drink while you're at it. Bagel Land serves espresso drinks, Odwalla juice, teas, and and coffee.
Bagel Land—4118 NE Fremont St
Beaux Berry
Love soft serve ice cream? At Beaux Berry, you'll yummy swirls of creamy handmade goodness blended with local, sustainable berries using a machine imported from New Zealand. You can also chose from a lengthy selection of other mix-ins and fresh herbs for a truly unique experience.
At Beaux Berry, you can be sure you're enjoying local, premium, organic, fair trade ingredients. Grab a scoop or get a blend and top it with some hot fudge or a shell made with Theo chocolate, and enjoy from a cup, cone, or homemade waffle cone. To get you in the mood, here are a few flavors you can expect at Beaux Berry: Salted Caramel, Oatmeal and Brown Sugar, Root Beer Float, Cake Batter, Local Raw Honey and Lavender, and Bourbon Butter Pecan.
Vegan and thinking Beaux Berry isn't for you? They also have refreshing sorbets with more flavors in the works!
Beaux Berry—3707 NE Fremont St
Beaumont-Wilshire Neighborhood Parks
Wilshire Park—a 14.3-acre park featuring many amenities, including paved and unpaved paths, picnic areas, a playground, a horseshoe pit, soccer and softball fields, a volleyball court, and an off-leash dog park area. The Nature Patch is located at the center of the park and has a variety of flowering native plants that support pollinators, as well as natural seating features.
Beaumont-Wilshire Neighborhood Community Resources
Beaumont-Wilshire Neighborhood Website
Beaumont-Wilshire Neighborhood Association
Beaumont-Wilshire Neighborhood Schools
Elementary school—Alameda Elementary School
Middle school—Beaumont Middle School
High school—Grant High School
Beaumont-Wilshire Neighborhood Stats
Zip Code 97211, 97212, 97218
Beaumont-Wilshire Neighborhood Vibe
Family friendly, welcoming, and with a strong sense of community. Walkable. This is a safe and cozy Portland neighborhood.
Friends We've Lost (closed businesses)
Alameda Cafe—Veteran American breakfast and lunch spot with hefty burgers and fresh flowers on every table.
Stanich's—Old-school tavern that served classics, like the signature burger with ham, bacon, and egg.
Beaumont-Wilshire Neighborhood Real Estate
An older, established neighborhood, Beaumont-Wilshire features mostly single-family homes in the Ranch, Craftsman, Bungalow, Cottage, Cape Cod and other familiar early-to-mid-century Portland home styles that are common to the East side. These homes have been well-maintained and show pride of ownership.
If you're looking for real estate and homes for sale in Beaumont-Wilshire neighborhood, visit the Beaumont-Wilshire real estate page.
If you are interested in buying a home in Portland, we recommend meeting up with these top 1% Portland buyer's agents, or if you are considering selling a home we recommend these top 1% Portland seller's agents. Visit our Portland Real Estate Page for more information.
Northeast Portland Neighborhood Map
Click any neighborhood.

Check Out More Portland Neighborhoods
Go back to the full list of neighborhoods in our Portland Neighborhood Guide.
Sources
Alameda Old House History. Blog. Access September 30, 2022.