North Tabor Neighborhood Portland
North Tabor is located in Southeast Portland. It is bordered by the Laurelhurst, Rose City Park, Montavilla, and Mount Tabor neighborhoods.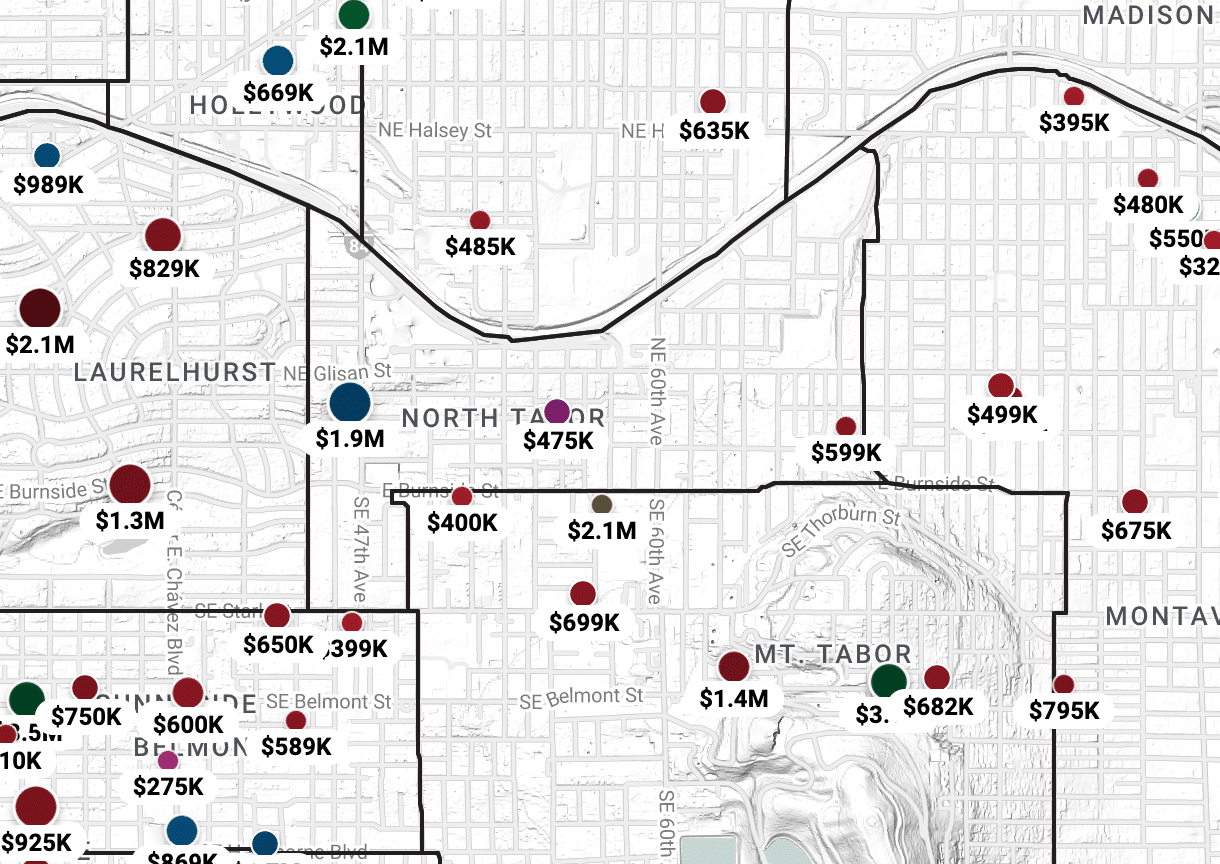 Click the image for a fully searchable North Tabor neighborhood map, including all homes for sale.
Features of North Tabor Neighborhood
North Tabor is nestled along the north side of Mount Tabor and is served by the 60th MAX station, the 50s bikeway, and bus lines along Burnside, Glisan, and 60th, offering convenient access to I-84.  NE Glisan runs through it. 
North Tabor offers easy walking distance to Mount Tabor Park, Laurelhurst Park, and Normandale Park. For good eats, check out the businesses highlighted below.
NE/SE 50s Bikeway Project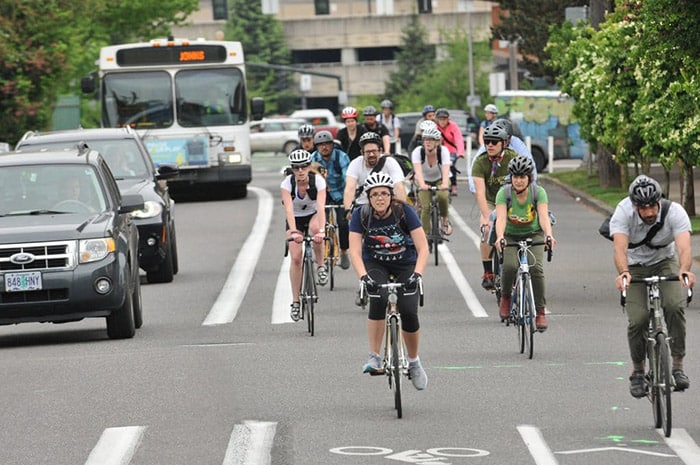 The 50s Bikeway is a 4.3-mile, next-generation bikeway project that is part of the Portland Bicycle Plan for 2030, and includes eight arterial crossing improvements to increase pedestrian safety. It will create a north-south safety corridor that connects eight east side neighborhoods from Rose City Park, through Mt. Tabor and down to Woodstock. Within a quarter mile are 19,600 residents and within a half mile are 12 schools and seven parks.
North Tabor Neighborhood Businesses of Note
Because this is one of the smaller neighborhoods in Portland, it doesn't have quite as much going on as others. Glisan street is the main drag of North Tabor, as many of the businesses are along it. If you're visiting the neighborhood, be sure to check out these gems.
Big's Chicken
Typically, when it comes to chicken restaurants, the primary specialty is either fried or grilled meat. While there's nothing wrong with a delicious plate of fried chicken, it's certainly not the only way to prepare the meat.
If you're interested in a unique and dynamite experience, we highly recommend Big's Chicken. Although this place has only been open for a few years, it has become quite the hot spot.
The secret is in the preparation. The restaurant was founded by four chefs (one of whom won Chopped Season 22), so they know what they're doing in the kitchen. Big's specializes in Alabama-style chicken, meaning that they smoke the meat before slathering it in a white barbecue sauce. Definitely unlike anything you've tried before (unless you're from Alabama).
Although the main draw here is plates of chicken, you can also find seasoned wings, sandwiches, and classic southern sides like JoJo's and coleslaw. Everything is a tasty treat.
Big's Chicken—4606 NE Glisan St
American Dream Pizza
When listing foods that are quintessentially American, we would argue that pizza belongs within the top five (along with burgers, fries, and apple pie). Portlanders are kind of spoiled because they have so many excellent pizza joints in the city. However, when it comes to OG restaurants, American Dream is one of the best.
This pizzeria started way back in 1985, and has since become an institution within the neighborhood. In the 80s, American Dream did things a little differently, using hand-rolled crusts and high-quality ingredients. Because of the founder's efforts, the place became well-known almost overnight, thanks to some free publicity on the radio.
While the pizza is certainly delicious, American Dream is also notable for its ongoing box art contest. Enterprising creatives can win free food (and cash!) by doodling on their pizza boxes, and the contest has drawn out tons of artists over the years. You can even browse a selection of top winners on the website. This is the American Dream.
American Dream Pizza—4620 NE Glisan St
Seven Virtues Coffee
If Portlanders are spoiled when it comes to pizza, that pales in comparison to the abundance of high-class locally-owned coffee shops. In some areas of the city, it seems like you can't walk more than five feet without running into a café.
Seven Virtues has been around since 2007, and has since expanded into three locations. The owners believe in infusing their virtues into every cup, and it shows. What are they, you ask? According to the website, compassion, humility, forgiveness, kindness, honesty, patience and gratitude are present in every cup. While it's hard to taste abstract concepts, the coffee is really good, so we'll take their word for it.
Another thing that sets Seven Virtues apart is that they focus on single-source coffee instead of blends. So, you get to enjoy the rich flavors and aromas from a single bean, rather than a hodgepodge of different varieties. Seven Virtues also makes their own bagels and pastries so that you have something delicious to nosh on while sipping your brew.
Better still, if you really enjoy the coffee, you can sign up for the roast subscription. This way, you can receive a bag of fresh beans every month and turn your home into a professional coffee house.
Seven Virtues Coffee Roasters—5936 NE Glisan St
Tabor Tavern
As we've covered many times, one of the highlights of living in Portland is that every neighborhood has its own local pub (or two). For North Tabor residents, that spot is Tabor Tavern, which is certainly on the upper end of the pub spectrum. This isn't a dive bar, nor is it a high-end hipster joint. Instead, it's a laid-back paradise that serves some excellent food and beverages.
Speaking of food, Tabor Tavern takes its meals seriously. Rather than a list of small eats and fried dishes, the pub kicks things up a notch by offering items like a rib plate, pulled pork and Cubano sandwiches, fried cauliflower, fish and chips, and even a burger made from ground lamb. Each dish is more mouthwatering than the last.
If you're feeling extra saucy, you can stop by for brunch on the weekends. Grab your squad and start the day off right with a batch of mimosas and some truly tasty breakfast classics. Brunch could become your new weekly tradition. You can also take home a piece of Tabor Tavern by buying a jar of bacon jam. It's the perfect accent to every meal!
Tabor Tavern—5325 E Burnside St
Wajan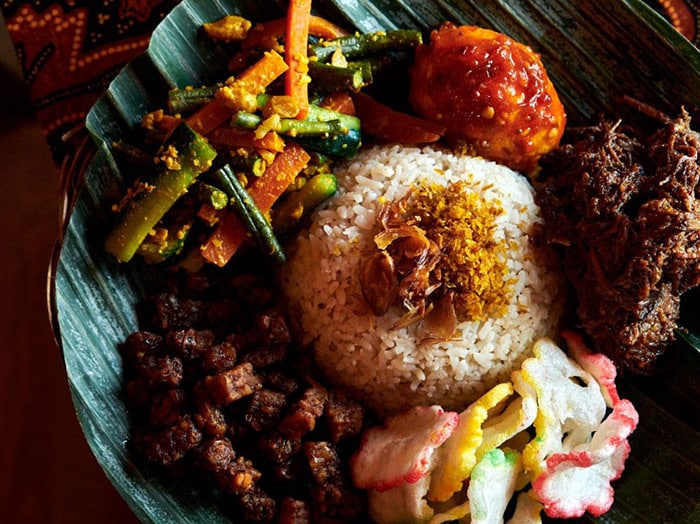 Usually, when talking about Asian restaurants in Portland, residents are referring to one of the "big three" (Chinese, Thai, and Vietnamese). However, there are gems that represent other parts of Southeast Asia, such as Wajan. This is one of the few Indonesian eateries in the city, making it a must-try spot for lovers of good food.
If you haven't had Indonesian food before, you are in for a treat. Plates are expertly seasoned and come with fresh ingredients and flavors. Some highlights include curry soup (soto ayam), stir-fried shrimp and potatoes (udang balado), Indonesian fried chicken (ayam goreng), and seasoned pork belly (babi kentang). Wajan also has plenty of sides and appetizers, from pork and chicken skewers to jackfruit curry to Es Cendol, a traditional Indonesian street food beverage (very sweet and tasty).
Beyond the delicious meals, Wajan also offers Indonesian snacks. So, if you want to sample what they're eating in Indonesia, you can browse the selection of chips, sweet tea, and puffs.
Wajan—4611 E Burnside St
Oly's Pizza
When you hear how Oly's Pizza got its name, you probably won't forget it. Jim and Nell Fisher have made a habit of rescuing and fostering dogs. The first one in a long line was Oly. With this love for canines comes a hometown vibe—it's a great family-friendly spot.
At Oly's you'll be treated to scrumptious hand-tossed pizzas, which you by whole or by the slice. Fresh, mouthwatering salads and delicious appetizers, like garlic cheese sticks, all made to order. Grab a beer or a glass of wine and enjoy indoors or outside on their—of course—dog-friendly patio while you wait for your pizza.
Oly's Pizza—5425 E Burnside St
Sahuayo Tacqueria
This under-the-radar little spot has made quite a splash, and you might miss it if you blink. Step inside J & T Market, and you'll find a small dedicated counter space where you can order delicious, authentic Michoacán specialties from Sahuayo. While the space has remained small (but includes an outdoor patio seating area), the menu has grown. Choose from their long list of burritos, tacos, plates, and a few specialties.
Whether you're one of this hopping little venue's regulars or you stumble upon it while you're making a pit stop for something at J & T's, you'll find scrumptious go-tos, like the chorizo and potato breakfast burrito; the asada, chicken, or beef taco; or the huevos rancheros plate. Sahuayo also serves quesadillas (like the fish or shrimp chavindeca), and birrias, a soup/stew with a variety of ingredients, like the Chivo Birria, a shredded goat-based dish slow-cooked in a thick chili sauce and served with toppings, refried beans, and tortillas.
Sahuayo Tacqueria—4438 NE Glisan St
A & L Sports Pub
If you like a place you can feel at home, grab some pub fare to go with your beer, and watch your favorite sports teams on TV, you should check out A & L Sports Pub. An icon in the neighborhood for decades, this spot will satisfy your needs. Come watch football, hockey, basketball, and more while you munch on a cheesesteak sandwich, gyro, chili burger or garden burger. They also have grilled ham and turkey sliders and their very own A & L Burger—a delectable combination of grilled onions, mushrooms, bacon, egg, and cheese on a half-pound ground duck patty.
A & L Sports Pub—5933 NE Glisan St
North Tabor Neighborhood Parks
Rosemont Bluff Natural Area—A small natural area with a secluded trail.
North Tabor Neighborhood Community Resources
North Tabor Neighborhood Association
North Tabor Neighborhood Schools
North Tabor Neighborhood Vibe
As with other southeast Portland neighborhoods, North Tabor is a funky blend of old and new-school vibes. However, the area has certainly come up in recent years, helping it become part of New Portland. The hospital is a major force on North Tabor, and residents appreciate having such a world-class healthcare space so close by.
North Tabor Neighborhood History
From the North Tabor Neighborhood Association
"The history of our neighborhood has its beginnings at the very earliest date of Portland's development, growing rapidly from the late 1800s and into the early 1900s. The area was originally considered part of 'North Mount Tabor' and was predominantly farmland. The second phase of development soon followed, with the construction of the Mount Tabor Villa streetcar line, which served our area and what was later renamed as the Montavilla area. This streetcar line, which ran along Glisan from about NE 28th to the east of NE 82nd, was originally constructed in 1892, and quickly triggered a lot of in-fill development, particularly in the areas closest to the streetcar line."
North Tabor Neighborhood Stats
North Tabor: Friends We've Lost (closed businesses)
As areas of Portland get developed, not everyone gets to participate in the new wave. North Tabor has changed a lot in recent years, and here are a few of the places that have been relegated to history. Onward and upward.
Bangkok Kitchen—Down-home Thai Restaurant
Biddy McGraw's, a.k.a. The O'Neill Public House—Irish Pub and Restaurant
Laurelhurst Cafe—Local diner spot
Northeast Portland Neighborhood Map
Click any neighborhood.

Check Out More Portland Neighborhoods
Go back to the full list of neighborhoods in our Portland Neighborhood Guide.