Laurelhurst Neighborhood Guide
The Laurelhurst neighborhood is located in Southeast Portland. It is bordered by the Kerns, Sullivan's Gulch, Hollywood, North Tabor, and Sunnyside neighborhoods. This is one of Portland's most popular neighborhoods because it has an older, established feel to it and it is conveniently located with an easy commute into Downtown. There is plenty to do in the area, with many restaurants and other community amenities.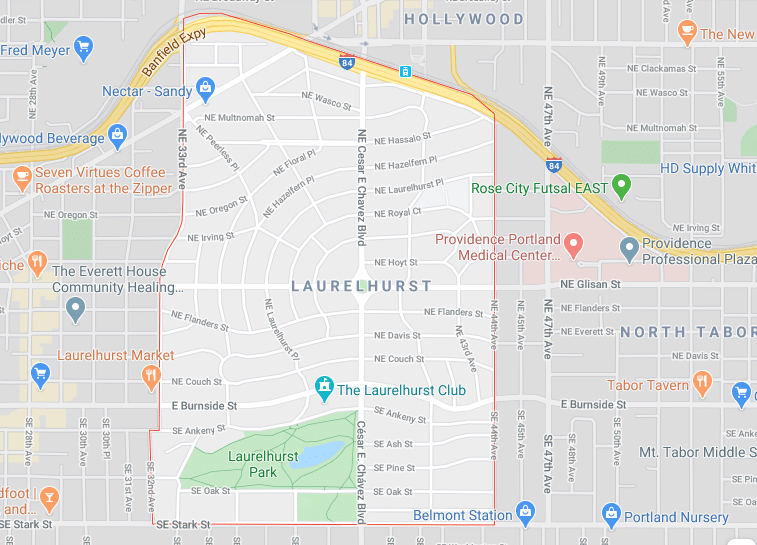 Click the image for a searchable Laurelhurst map including all homes for sale.
Laurelhurst Joan of Arc Statue
Features of the Laurelhurst Neighborhood
As one of the oldest neighborhoods in Portland, Laurelhurst has a lot of classic charm. The whole area was developed in the early 1900s by the Laurelhurst company, and it was one of the first planned neighborhoods ever. Unlike other parts of the city that grew organically, Laurelhurst was designed fairly closely to what it is today. Two elements that were incorporated in the beginning were Laurelhurst Park (originally called Ladd Park) and Coe Circle, named after Dr. Henry Coe, who donated the statue of Joan of Arc that still remains today.
Walking through Laurelhurst, you can get a sense of the history that stems from the area. Many of the homes are original, and it has a blend of stately mansion-type properties as well as more modern houses. The Laurelhurst Neighborhood Association puts on a historical home tour every year so that residents and visitors can get a better look at these gorgeous places.
Laurelhurst Businesses of Note
Although Laurelhurst is mostly residential, the northern tip of the neighborhood does encompass Sandy blvd, so there are numerous shops and places to visit. Sandy is one of the most diverse and unique boulevards in Portland, so there's no telling what you'll discover on your travels. Let's take a walk and see what we can find.
Seaworthy Jewelry Shop
The name Seaworthy may call to mind images of driftwood art, shell necklaces, and other beach-related items, but the fact is that the name simply means that each piece is "travel-ready." What makes Seaworthy such a remarkable Portland establishment, though, is that everything inside is handcrafted by artisans and jewelers on site. This means that you won't be able to find these works anywhere else, giving this jewelry even more pomp and circumstance.
Also, since the crew here is making jewelry by hand all the time, customers can request custom-made items. If you're looking for the perfect gift for that special someone in your life, you can make sure that it will be truly one-of-a-kind. Better yet, you can learn some jewelry-making skills yourself, thanks to various workshops held at the store throughout the year.
Seaworthy Jewelry – 3331 NE Sandy blvd
No Bonz About It
It's no secret that Portland is a huge dog-lover town, which means that pet parents need a place for their pups to rest and relax. Billed as the "best doggy daycare in town," No Bonz is the perfect spot for Spot to make new friends and stay active throughout the day. Whether you want your dog to do more than just laze around the house, or you need specialty services like overnight boarding, No Bonz can accommodate.
One unique feature of this doggy daycare is that parents can check in on their pups via webcam. The facility has cameras on all the time so that you can make sure Fido is having a blast. It's obvious that caretakers here love dogs, and they do a lot to provide a warm and welcoming environment of pooches of all shapes and sizes. With over 4000 square feet of daycare space, there is more than enough room for your pup to run around. They also have outdoor playgrounds and pools for those dog days of summer.
No Bonz Doggy Daycare – 3351 NE Sandy Blvd
Chopsticks
You can't walk down any major Portland street without running into some kind of bar or lounge. However, while most of these places are great for getting a few drinks and cutting loose, there are relatively few karaoke bars in the area. Fortunately, Laurelhurst residents don't have to trek downtown to practice their crooning skills.
Chopsticks has been around since 1995, making it one of the most well-known places in Portland. It's open for karaoke every day of the year (including holidays), so bring your friends and see which one of you can handle "Midnight Train to Georgia" the best. Chopsticks is perfect for individuals, couples, and groups, and they have an awesome stage to help you feel like a star. Don't worry – if you're not feeling up to it at first, you'll be ready to do after a few rounds.
Chopsticks Karaoke Bar – 3390 NE Sandy Blvd
Wasabi Sushi
Like bars, sushi restaurants are not hard to find in Portland. However, when taking a stroll down Sandy blvd, you'll want to give Wasabi Sushi a second glance. This relatively upscale place is perfect for satisfying your cravings, as well as providing a feast for the senses. Color and smell are part of the experience, as each dish is crafted to be as aesthetically pleasing as possible. You'll definitely want to share your plates on social media before digging in.
If you want something even more unique and photo-ready, Wasabi offers both a sushi burrito and sushi donut (although the donut looks more like a bundt cake). Both dishes are handcrafted with care and attention to detail, meaning that they offer a unique culinary experience that is both visually striking and exquisitely flavorful. If you're not in the mood for sushi, Wasabi also offers poke bowls.
Wasabi Sushi – 3348 NE Sandy Blvd
Pulse PDX
If you've ever gone to a dance club and partied all night long, you know that it's the perfect place to work up a sweat. However, while most people don't go clubbing for the exercise, Pulse PDX is trying to change that. This is the first-ever dance/workout club, making it one of the more notable options along Sandy Blvd.
Originally, Pulse was created in 2011 as a way to provide Zumba classes in a fun space. By 2013, the business had expanded enough to warrant a bigger space, which is when the Laurelhurst location took shape. Since then, Pulse has become the premier spot for those who want to get in shape while also getting their groove on.
Each class is designed to be as funky-fresh as possible, complete with disco balls and laser lights. You'll feel like you're out on the town, not at a workout class. This vibe helps members look forward to exercising – after all, when you're having fun, is it really a workout?
Pulse PDX – 3602 NE Sandy Blvd
Fat Fancy
Vintage and retro stylings have become in vogue in recent years, which means that you're never far from a consignment shop in Portland. However, while these boutiques have some incredible clothes, most of them are made for people on the slimmer side. Fortunately, for the rest of us, we have Fat Fancy.
While the name is a bit glib, the store itself is a paradise for vintage lovers. From clothing to hats and accessories, everything here can help you discover your style and taste, including pieces that you may not have considered in the past. Body positivity is the name of the game, so shoppers can always feel confident in their choices. If you want to feel good about how you look, Fat Fancy is a great place to visit.
Fat Fancy Boutique – 3626 NE Sandy Blvd
The Laurelhurst Club
While the northern section of Laurelhurst is much more modern and eclectic, the southern portion is full of turn-of-the-century homes and buildings. One of the most elegant spots in the neighborhood is the Laurelhurst Club. Founded in 1912, this building has seen more than its fair share of events, from weddings to birthdays to more formal gatherings.
If you're not looking for an event space, don't worry – the Laurelhurst Club is also a dance hall. Here you can take classes to learn swing, ballroom, and other dance styles. The club mostly caters to couples, but they also host individual classes if you want to meet new people and make new friends. Then, once you've mastered your moves, show them off at one of the Club's many dance events throughout the year.
The Laurelhurst Club – 3721 SE Ankeny st
Laurelhurst Neighborhood Parks
Laurelhurst Park – Laurelhurst Park is one of the most popular parks in the city of Portland.  It features beautiful mature trees, a pond, basketball court, disabled access play area, disabled access restroom, dog off-leash area, historical site, horseshoe pit, paths, paved and unpaved paths, picnic tables, playground, soccer field, stage, tennis court, and volleyball court.
In 1909, the land that is now Laurelhurst Park was purchased from the estate of William S. Ladd, who developed Ladd's Addition and twice was mayor of Portland. Ladd named his 486-acre parcel Hazel Fern Farm, after the name of one of the streets in the area. Here Ladd developed one of the most prestigious stock farms in the West. In fact, his purebred Jersey cattle probably laid the foundation for Oregon's future livestock industry. As East Portland developed, Ladd's tract of land became too valuable for agricultural use. Ladd sold his land for over $1,000,000 to the Laurelhurst Company around the turn of the century.
A spring-fed pond on the property had always been a favorite watering hole for cattle, as well as a favorite swimming hole for both children and adults. In 1911, seeing the potential for a park as part of the Olmsted Plan, the City of Portland bought 30 of the acres, including the pond." (Source: Portland Park and Recreation)
Other Laurelhurst Area Parks
Community Resources
Laurelhurst Neighborhood Association
Southeast Uplift Community Calendar
Laurelhurst Theater – Although not in the neighborhood itself, the Laurelhurst Theater became part of Portland's cultural and architectural history when it was built in 1923, one of the first art deco style buildings of the period. What was once a successful family theater lost out to the multiplexes of the late eighties. Fortunately, it's seen a resurgence in recent years, thanks to local Portlanders (and recent arrivals) digging the funky vibe and eccentric history of the building.
Portland Public School Boundaries
Laurelhurst Schools
Elementary school: Laurelhurst Elementary School
Middle school: Beverly Cleary Middle School
High school: Grant High School
Laurelhurst Neighborhood Vibe
Because this neighborhood is so old, it has a somewhat more regal vibe to it. While other parts of Portland are becoming more urban and chic, Laurelhurst has been able to remain consistent through the city's recent transformation. Residents here take great pride in maintaining their homes and yards, making this one of the most immaculate neighborhoods around. As you get closer to Sandy blvd, you'll notice that the average age starts to skew younger, but this area is perfect for working professionals, families, and retirees. Also, if you like the idea of being a neighborly community, Laurelhurst is right for you.
Laurelhurst Stats
Zip Code 97232
Laurelhurst Real Estate
Laurelhurst is a beautiful area – full of charming homes in all shapes and sizes, from the cute bungalow with a covered front porch to sprawling stone and brick homes with grand lawns. Located near the Laurelhurst park, this is a great neighborhood for families and taking a stroll along beautiful tree-lined streets. Laurelhurst is conveniently located along major East Portland streets for easy commute to popular dining and shopping locations and downtown.
Click here to search all Laurelhurst Neighborhood homes for sale.
To learn about the Portland real estate market, we recommend this local Portland-based, top 100 real estate blog in the world.
If you are interested in buying a home in Portland, we recommend meeting up with these top 1% Portland buyer's agents, or if you are considering selling a home we recommend these top 1% Portland seller's agents. Visit our Portland Real Estate Page for more information.
Northeast Portland Neighborhood Map
Click any neighborhood.