Pearl District Neighborhood Guide
The Pearl District neighborhood was listed in CNNMoney.com's "Best Places to Retire"! Read the article, with neighborhood photos courtesy of your own PortlandNeighborhood.com. Portland's Goose Hollow neighborhood is also listed in the article.
Pearl District Reviews
[wp-review]
Want to add your voice to the reviews? Leave a review.
Location
The Pearl District is located in Central Portland. It is bordered by the Old Town, China Town, Downtown, Goose Hollow, and Northwest neighborhoods, and the Willamette River.
Features of the Pearl District Neighborhood
The Pearl District offers urban living at its finest. If you work downtown and enjoy city living, this is the place to be for an easy commute (walk or take the Portland Streetcar, light rail MAX train, or Tri Met bus to work and play). Located along the Willamette River downtown in an old warehouse district, the neighborhood offers a feeling of urban historic charm.
The bustling streets are lined with upscale shopping boutiques, art galleries, unique antique and home interior stores, and the requisite coffee shops and restaurants. There are urban parks and green spaces tucked amidst all this city bustle, and you'll see children playing in the fountains, and little city dogs scampering through their concrete jungle. The neighborhood is certainly thriving.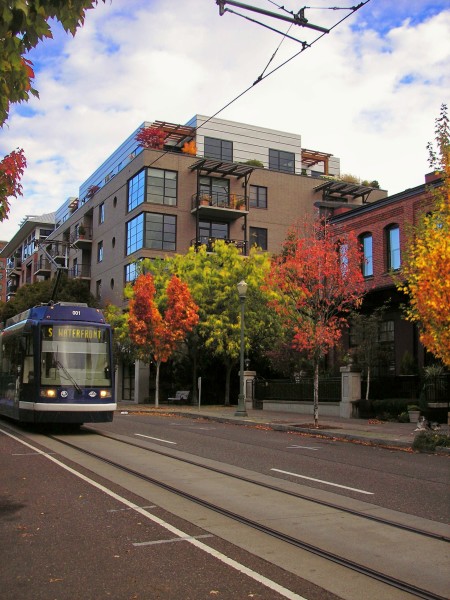 The urban landscape is ever changing. Nearby of course, is Portland Downtown, Old Town and Chinatown, just over the river from the Broadway bridge is the Eliot neighborhood, Lloyd District and Rose Garden arena, and the Pearl is only minutes from the popular Northwest Nob Hill neighborhood and the lush green Forest Park.
The Pearl District, much like Nob Hill, has more in common with downtown Portland than areas outside of the city center. There's a glossy refinement evident in its storefront demeanor. There's high living, both virtual and literal, in this neighborhood. It's best known for the number of high-rise and loft residences available to discerning tenants, its bustling sidewalk culture, and its convenient proximity to the downtown core.

Find more photos like this on PortlandNeighborhood.com

There are so many people out and about in The Pearl on weekends that the sidewalks are lonely for direct sunlight, and you'll have to step nimbly to avoid passers-by and their attendant bags full of recent acquisitions from the many shops in this area. Really, when visiting from outside the neighborhood you should opt for using the streetcars or the Max, because traffic is thick and insistent.

What's your pleasure? If you intend to shop here you better limber up. Maybe pay Circle Studio a visit. Pilates is good for your body and your head, so they say. Or loosen up the other way – your belt, too – next door at Streetcar Bistro & Taproom. Show of hands, who would go to pilates and then hit the taproom? Probably not recommended that you do it the other way 'round. Heck, just get on the Brewcycle to get your exercise, a pint or three, and a tour to boot. It'll all balance out (if you pedal really hard).

Star attractions are the district's salons, spas, and clothiers. Elements Therapeutic Massage will unkink you nicely, and Foot Bar offers you the opportunity to have strangers touch your feet (if you're into that). Guys can get smartly clad at The Haberdashery while their lady friends may prefer Mabel & Zora. You're in the Great Northwest, though, so you'll need the outdoor duds and gear too. She might like to peruse Title Nine, and both will love Patagonia. And of course Yoga Pearl will help you be ready for the outward-bound pursuits (and fitting into those new togs).

Some of the finest restaurants in Portland are in the Pearl. Fratelli serves up rustic Italian cuisine, and ¡Oba! is all about South American delicacies. Want simpler fare? Brix Tavern should do the trick, as will Deschutes Brewery & Public House (ask for the Obsidian Stout!).

Although almost all of the living spaces are above the street, there's still quite a lot of greenspace to be enjoyed at ground level even in this bustling urban scape (and don't feel bad for the cliff-dwellers; many of them take foliage upstairs with them, to plant in their rooftop gardens and arbors). On the northern border of the district lies The Fields Neighborhood Park, where you can walk your dog, or sit (or lie) with a book and a great view of the Fremont Bridge…

(But hey, take a few minutes and walk west on Quimby Street, then turn right onto NW 14th. That's Ramona Apartments you're standing in front of. "Ramona", see? And "Quimby"? C'mon, you get this, right?)

Straight south from The Fields and separated by a mere block is Tanner Springs Park, where adults and children alike love the energy of water and art combined in an urban setting. Keep walking south, and in another couple of blocks you'll find Jamison Square, a very popular place to cool off in the pools and the fountain. The water cascades down the steps into the basin, and then drains and recycles to begin all over again. Kids and their attendant grups flock to this park on warm days.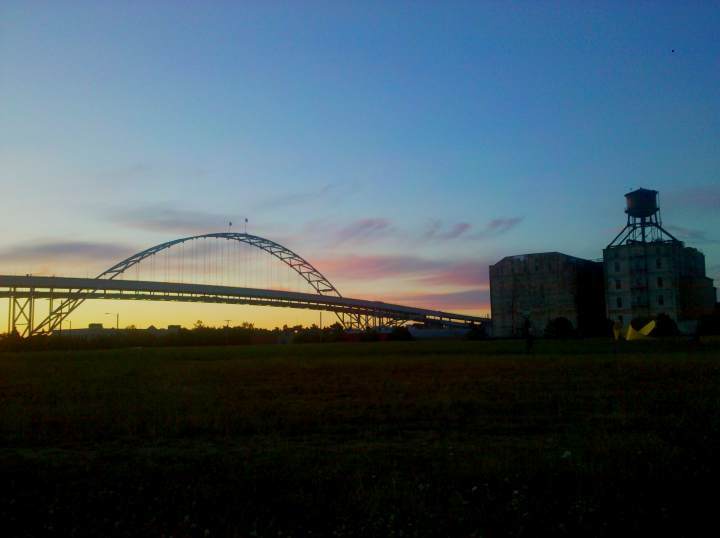 Three more blocks south and then a zag eastward and you'll come upon the North Park Blocks. Find a park bench and rest a while.

This is an optimum spot from which to watch Portland pulse and flow.


One of the most stunning examples of urban renaissance, Portland's Pearl District has been nationally recognized. And it seems the nation has returned the favor. Now you can walk through the Pearl and recognize the country. Star studded national brands dot the Pearl landscape from West Elm (pronounced Williams-Sonoma) to Chipotle (pronounced McDonald's.) Like most of Portland, the "Keep Portland Weird" commercial worldview is intact in the Pearl, and you will find many Mom n' Pops. But you'll also find several places that "have to check with corporate" before they can change an end cap.
Still, the Pearl is an important destination if you really want to see and do Portland. And really, there's not much you could hope to occupy your time – or mouth – with that you won't find there. A comprehensive list of everything the Pearl District has to offer might actually slow your machine (kidding, sort of) but we've included (on our list below) some standouts.

Pearl District, Photo by PDX Nature Nut

---
Neighborhood Parks
The Fields Neighborhood Park in Portland

Jamison Square

North Park Blocks

---
Community Resources
Pearl District
Walker's Paradise
Walk Score®
95
out of 100
Pearl District is the 3rd most walkable neighborhood in Portland.
Find Pearl District apartments on Walk Score

---
Neighborhood Schools
Elementary school: Chapman Elementary School
Middle school: West Sylvan Middle School
High school: Lincoln High School

Portland schoolsOregon schoolsI want this widget for my site
---
Upcoming Neighborhood Events
Feel free to post your Pearl District neighborhood events directly to the Portland Events Calendar on our community site. We regularly feature member-added Portland events in our weekly Portland events blog newsletter and feature your events on Twitter and Facebook. Get more coverage for your local events: it's free and easy to use. Just join our Portland community site, and click the +Add button under Events. You can also post questions about Portland or share information about your neighborhood on the community forum.

---
Pearl District Neighborhood Vibe
Upscale. As close to urban city living as it gets in Portland. Concrete, modern, clean, bright, and sophisticated. Borders Downtown Portland, for even more city living: everything you need is a short walk or ride on public transit.


---
Pearl District Shopping

Cargo
Location, location meets made-for-success moniker in the Pearl District treasure, Cargo. Housed in one of the Pearl's many now chic warehouses, Cargo offers boatloads of choices literally handpicked from around the globe for your home and garden. Owner Patty Merrill shops the world over and then imports directly from such regulars as India, Indonesia, Vietnam, China, and the Philippines. Trusted local traders also send inventory her way from Africa, and her super friendly staff claims that a new container packed with different imports arrives every month.

Shopping at Cargo with its carved Indonesian gates, Russian icons, rickshaws, gongs – it's endless – all amazingly well organized in a cavernous, two-story warehouse, is something like arriving at the dock on shipment day and shouldn't be missed.
Cargo
Hours: Daily 11:00-6:00
380 NW 13th
Portland, OR 97209
(503) 209-8349
www.cargoinc.com


City Flowers
Corporate events, grand openings, weddings – City Flowers provides a metropolitan range of services demanded of a downtown florist. With over 20 years of experience, 8 in the Pearl, owner Sara Youngbar has assembled a team of designers who are "over-the-top creative." And the inventive aspect of the business doesn't stop with those parts that are organic either. Understanding the "industrial-chic" ethos of their immediate environment, City Flowers goes to lengths to offer to frame their masterpieces in, for example, iron vases and concrete cache pots that are nearly as outstanding as the arrangements and certainly destined to remind customers of the unique and friendly service at City Flowers for seasons to come.

City Flowers
Hours: Mon-Fri 10:00-5:00, Sat 11:00-3:00
824 NW Davis
Portland, OR 97209
(503) 228-4700
www.cityflowerspdx.com


Dig
If you get right down to it, Dig is a garden shop, but this unique store has mined an array that makes it a great place to shop even if all you've got is a balcony. Owner Tom Adkisson is a landscape architect whose enterprise resonates with urban, contemporary Pearl and, as he says, skews masculine. Plowing deeper into possibility than just the planter boxes and lawn furniture available at a faceless big box garden store, Dig is a venue for Northwest artists and recycled artwork like reclaimed, hanging fixture art perfect for a patio, gigantic planters that he makes himself, and several other home and garden items that you won't unearth anywhere else.
Dig
Hours: Mon-Sat 11:00-6:00, Sun 12:00-5:00
425 NW 11th Avenue
Portland, OR 97209
(503) 223-4443
www.diggardenshop.com


Dress Code
Uniformly chic, this men's clothing store will fit the uber hip Pearl loft dweller like a relaxed pair of imported Swedish twill chinos. Offering suits to jeans, sweaters to belts, Dress Code travels in international and domestic fashion runway designer circles like J. Lindeberg, Filipa K, Duckie Brown, Hanro, Jack Spade, Allegri, and Oliver Spencer in a showroom that literally glows with minimalist class.

Dress Code
Hours: Mon-Thurs 10:30-8:00, Fri-Sat 10:30-9:00, Sun 12:00-6:00
216 NW 13th Avenue
Portland, OR 97209
(971) 544-0902
www.dresscodemensclothing.com


Finn
"Classically inspired with a distinctive twist," this men's store offers designs and labels such as Scott Barber, Ike Behar, and Gant with, dare I say it, a splash of color and casual that "most guys just get." The atmosphere is warm and inviting and becoming even girl-friendly now that they're branching into women's lines as well.
Finn
Hours: Mon-Sat 10:00-6:00, Sun 12:00-5:00 (and anytime by appointment)
132 NW 12th Avenue
Portland, OR 97209
(503) 467-4660
www.finnclothing.com



In Good Taste
Extremely difficult to categorize because they do it all, In Good Taste is a cooking school, a gourmet market, a cookware supply store, and all-in-all foodie dream come true. Sit around the kitchen's large block table and either watch the chef work his or her cooking mojo in a demo, or demonstrate some of your own skills in one of their many hands-on cooking classes.

Celebrity chefs, Hurley to Schreiber, heat it up in an intimate setting that hosts everything from an Oregon Bounty series, which incorporates much of the glorious fresh, local foods available to us like salmon, shellfish, and berries to the Taste Of series that brings the dishes of India, Mexico, and Italy literally to your table.

In Good Taste
Store Hours: Mon-Sat 10:00-6:00, Sun 11:00-6:00
Classes offered on weekends and following store closing during the week
231 NW 11th Avenue
Portland, OR 97209
(503) 248-2015
www.ingoodtastestore.com


Knit Knot Studio
Proprietress Elizabeth Prusiewicz has been knitting and crocheting since she was a small girl in her native Poland, and she claims that she is the fastest knitter in her adopted Northwest. One look inside her cozy Pearl shop, and you can see why no one has ever dared to call her boast. Several of her lovely handmade designs – sweaters, scarves – dot the walls and are for sale, and you can easily imagine that her passion remains no less palpable than when she was a child.

In this adorable little space, you'll find yarn from all over the planet, knitting and crocheting supplies plus the opportunity to knit like Elizabeth in Continental style during the personalized instruction she offers for individuals, groups, and special occasion parties.

Knit Knot Studio
Hours: Mon 12:00-5:00, Tues-Fri 11:00-6:00, Sat 11:00-5:00, Sun 12:00-6:00
1238 NW Glisan
Portland, OR 97209
www.knitknotstudio.com


Lexi Dog Boutique & Social Club
If Portland dogs were to have their own version of a Pearl District hip martini bar, this "Social Club" would be it. Once a dog has qualified, based on its social graces, age, shots, and spayed or neutered status, then he or she is invited to join the exclusive guest list. (Hmm, maybe we could learn something.) Then for a fee the dog can drop by, hang out, even all day, enjoy a play group with his pals and master, or shop in the truly fabulous boutique for a pink Cadillac bed, a ladies' fine dress complete with matching pearls, or a tuxedo. Or further still, the pampered one might prefer just to enjoy the day spa facilities and get its hair and nails done by the onsite D'tails in the Pearl (503-243-6200; www.Dtailsdogsalon.com) where their policy is strictly, "No Fur. No paws. No service."

Lexi Dog Boutique & Social Club
Daycare Hours: Mon-Fri 6:30-7:00, Sat 9:00-6:00
Boutique Hours: Mon-Fri 10:00-7:00, Sat 10:00-6:00, Sun 10:00-5:00
416 NW 10th Avenue
Portland, OR 97209
(503) 243-6200
www.LexiDog.com


Lumen Essence
An actual bright spot on the North Park Blocks, Lumen Essence isn't your grandmother's lighting store. It could be even older. Larry Shifrin, CIO, Chief Illumination Officer, carries lighting at Lumen Essence that may look like beautiful reproductions, but it's the real deal – original, classical period lighting. There are a few pieces that they've hand-built themselves, but almost everything else is lighting it up old school from art deco to neo-classical, American to European.



Monique's Boutique
Catering to the "mature but modern thinking woman," Monique's Boutique offers 20 years of experience as well as high-style clothing that is, get this, travel friendly. So most items in the store actually pack well, from dresses to hats, making Monique's Boutique the official retail resource for the Pearl jet set.



Possession
Possession defies categorization. Taken out of context, the previous statement sounds like some truism worthy of Confucius. And if the old sage himself had ever shopped at Possession, he would have come to the same simple conclusion. 'Cause, sure, they've got antiques. But they've also got new. Sure, they've got lots of beads. But they've also got furniture. Sure, they've got candles. But they've also got chandeliers. Sure, Possession can't be pigeonholed. But it should be shopped.
Possession
Hours: Mon-Sat 11:00-6:00, Sun 11:00-5:00
1204 NW Glisan
Portland, OR 97209
(503) 224-0220
www.possessiononline.com

Relish
Relish is a Pearl District destination you can share with your friends, men and women, again and again and still see something new. Relish claims that it is "the zone between individuality and mass production." What does that mean? It means "a carefully curated collection of emerging designers from around the globe." It means home décor, textiles, jewelry, handbags, dishes – so unique that much of the stock requires an inquiry with the sales staff as to exactly what the item is and does. And that's when you've gotta have it.
Relish
Hours: Mon-Sat 11:00-6:00, Sun 12:00-5:00
433 NW 10th Avenue
Portland, OR 97209
(503) 227-3779
www.relishstyle.com


Richard Calhoun Old Town Florist
Making the Pearl smell nice for over 20 years, Old Town Florist was there back when the Pearl really was an old town. They've been culling the freshest from around the world as well as in their own Northwest backyard and managed to make a name for themselves long before the Pearl itself was ever so christened.
Richard Calhoun Old Town Florist
Hours: Mon-Fri 8:00-5:00, Sat 9:00-2:00
404 NW 10th Avenue
Portland, OR 97209
(503) 223-1646
www.oldtownflorist.com


Sole
If you're looking to avoid corporate-apparel-in-the-box, you might walk right by Sole, but that would be a big mistake. Locally owned, woman owned, Sole began as a small gift shop inside The Heathman Hotel ten years ago. Since then, Kim Lane has built an operation that includes a clothing store and a clearance store (The Bee and Thistle and The Bargain Bee respectively) and of course Sole.

As you might imagine, Sole carries shoes, ladies shoes that are unique and likely not to be found anywhere else. And most pairs check in at under $100.00. She also carries handbags and jewelry, the latter will run you anywhere from $19.00 to $500.00. With prices that typically skew reasonable and super friendly service from staff members like Iris, Sole is one of those places that seems to remember that, though they compete in the trendy and expensive market that is the Pearl District, they are first and foremost Portland.
Sole
Hours: Mon-Sat 10:00-7:00, Sun 11:00-6:00
1033 NW Couch
Portland, OR 97209
(503) 222-SOLE
www.4mysole.com


Swahili
"Like slavery and apartheid, poverty is not natural. It is man-made and it can be overcome and eradicated by the actions of human beings." This quote from Nelson Mandela is printed on the business card of Swahili, an import outlet located in the Pearl. Their mission is to collaborate "with skilled artisans in developing countries to cultivate profitable endeavors." To this end, they help to bring workshops and training to the artisans, increasing an otherwise inaccessible knowledge about markets and their products within them. In addition, when you purchase an item at Swahili, you get to choose from their list of hand-in-hand relief/development organizations which one will get your dollar.

What began as a door-to-door attempt to help now supplies over 2,000 retail operations and educational facilities all the way up to the Smithsonian Museum. In their Pearl location, you'll find stunning handmade woodcarvings, pottery, baskets and so much more at prices that are equally stunning in their affordability.

Swahili
Hours: Sun-Tues 10:00-8:00, Wed-Sat 10:00-10:00
128 NW 12th Avenue
Portland, OR 97209
(503) 295-1225
www.swahili-imports.com



Verdun Fine Chocolate & Gifts
If love is the universal language, then chocolate is its ambassador. You know they don't call it a sweetheart for nothing. And now, direct from Beirut, Lebanon are the little envoys of pleasure themselves, each individually wrapped and reaching out to offer you a little inner peace.
Verdun Fine Chocolate & Gifts
Hours: Mon-Sat 10:00-6:00, Sun 11:00-5:00
421 NW 10th Avenue
Portland, OR 97209
(503) 525-9400
www.verdunchocolates.com


William Roy Designer Kitchens
Like PB&J, William Roy Designer Kitchens and the Pearl just go together. After all, what levelheaded loft dweller wouldn't want to pimp their kitchen? But William Roy offers that and more since this isn't just a modern kitchen showroom. This is a studio where artful kitchens are conceived and created with over 30 years of kitchen design experience, exemplary materials, and a commitment to "Form = Function."
William Roy Designer Kitchens
Hours: Mon-Fri 10:00-5:00, Sat 11:00-3:00 and by appointment
347 NW 9th Avenue
Portland, OR 97209
(503) 778-1010
www.williamroydk.com


Pearl District Restaurants & Bars
The Pearl District is absolutely full of wonderful restaurants. You have to be unique and offer a good menu and solid service to survive in this town of foodies. Here are just a couple of local favorites:
The Sungari Pearl was recently rated by Portland Monthly magazine as one of the best Chinese restaurants in Portland. They offer classic favorites as well as some more unique dishes in an elegant setting suitable for the Pearl.
For Italian food, there's no beating the cozy little Fratelli's for simple, rustic food that warms the soul.
How can you not like the Byways Café for breakfast? A favorite weekend hangout, the fun ambience offers travel-related Americana kitsch and the food is hearty, fresh and delicious!
Oba has been around for a while, and continues to be a favorite hangout for either tasty margaritas and other cocktails, or the yummy New Latin cuisine.
"See and be seen…" If you're looking for a dramatic urban environment to dine in, then you must check out the elegant digs at Bluehour. An imaginative, creative menu in equally luscious surroundings never fails to please our Portland palate. Read on for more details on the Pearl Dining Scene…
Andina
Andina is the Pearl's taste of Peru served as small, medium, and large plates or as entrees in a lively, convivial atmosphere that has become one of the warmest culinary hotspots of the district. Inventive and delicious, the menu holds its own even when thrown in the ring with Andina's impressive "Wine Program."

Sommelier Ken Collura used to be Head Sommelier at Bern's Steakhouse in Tampa, which is considered to have the largest wine list of any stand-alone restaurant in the world, and he is a syndicated wine columnist. Not only does Ken shepherd a wine program that allows for the regions that influenced Peruvian cuisine, he is Wine Director of Andina's companion business…
…The Pearl Wine Shop
Located beneath Andina and visible from its mezzanine-style floor, The Pearl Wine Shop functions as Andina's wine playground. Offering daily afternoon tastings for a nominal fee returnable upon purchase, The Pearl Wine Shop stocks exactly 21 different handcrafted boutique wines representing seven rotating regions of the world, at least a few of which change monthly.

All this and not an ounce of elitism or snobbery. Bottles will run you approximately $24.00 to $50.00, cases $130.00 to $500.00. And if salesman, Charles Walsh, is any indication, the shop is staffed by passion and down-to-earth kindness, not pomp and affectation.
Andina
Hours: Lunch Mon-Sat 11:30-2:30
Dinner Sun-Thurs 5:00-9:30, Fri-Sat 5:00-10:30
Bar/Tapas Sun-Thurs 4:00-11:00, Fri-Sat 4:00-12:00
1314 NW Glisan
Portland, OR 97209
(503) 228-9535
www.andinarestaurant.com

The Pearl Wine Shop
Hours: Daily 11:00-9:00
1314 NW Glisan
Portland, OR 97209
(877) 732-7555
www.thepearlwineshop.com

Blitz Pearl
Family and food is the focus on two floors of fun for just about anyone in your party without feeling like you've stepped into kid mayhem or pool hall den. They've got pool, and they've got a kid or two, but neither defines them. And check out The Big Rack, St. Louis style ribs with fries for $10.00 or the chicken breast stuffed with ricotta, spinach, and red peppers for $9.00! Blitz Pearl is a Pearl District counter programming Blitz-krieg for those who just want a casual atmosphere and unbelievably low prices.
Blitz Pearl
Hours: Daily 11:00-2:00
110 NW 10th Avenue
Portland, OR 97209
www.blitzbar.net


Bluehour
If sophistication and sex were to have a love child, its name would be Bluehour. The dining room, with its billowy green curtains hung at odd angles, white bar and hardwood floor, is one of the most stunning – yet simple – ever. Inherently surreal, Bluehour's dining and bar areas seem to carry you aloft to a tingly-hot, French version of your own sultry dreamscape. And then once you're in the mood, dishes like the potato gnocchi with Italian black truffles and smoked bacon wrapped sea scallops with celery root puree and caper dressing seal the deal.
Bluehour
Hours: Sun-Thurs 11:00-9:00, Fri-Sat 11:30-12:00
(bar menu only following lunch and dinner/late night)
250 NW 13th Avenue
Portland, OR 97209
(503) 226-3394
www.bluehouronline.com

District
Intimate low lighting, a lounge area bathed in rich color, the owner's paintings hung lovingly, and plates like the tasty Yogurt Harissa Chicken and the Cuban sandwich with braised pork, all for $8.00, $5.00 during happy hour and super yummy – looks like a match made in the middle of the perennial Pearl mating season scene.

Fuller's Coffee Shop
This might just be the gem inside the Pearl. These places just don't exist anymore. If you've got an ounce of Rockwellian American flowing through your veins, Fuller's will tug at you. It offers no tables, just two counters with stationary, swivel stools and dishes like pigs in a blanket and "Meat & Cheese Salad." You can guess at much of the rest of the menu because once upon a time you ate at a place like this, and there have been plenty of knockoffs since then. But Fuller's has been dishing up fresh pie, malts, and root beer floats as the real deal since 1944 and in its current location since 1966.
Fuller's Coffee Shop
Hours: Mon-Fri 6:00-3:00, Sat 7:00-2:00, Sun 8:00-2:00
136 NW 9th Avenue
Portland, OR 97209
(503) 222-5608
big surprise, no website

Henry's 12th Street Tavern
What began in 1980 as an attempt to save a failing restaurant in Washington Square Mall has become an ever growing Portland restaurant empire. Eleven Newport Bay Restaurants later, the company called Pacific Coast Restaurants has thrived, and their ranks have been joined by Portland City Grill, Manzana, Newport Seafood Grill, Billy's Heartbeats, Portland Steak & Chophouse, and now Henry's.

Considered by the company to embody their "most diverse and ambitious concept," Henry's Tavern boasts an 85-plus-item menu as well as 100 beers and ciders on tap in a 14,500 square foot multi-tiered space that has been practically standing room only since day one.
Henry's 12th Street Tavern
Hours: Sun-Thurs 11:00-11:00, Fri-Sat 11:00-12:00
Happy Hour Sun-Thurs 3:00-6:00 and 9:00-Close, Fri-Sat 10:30-Close
10 NW 12th Avenue
Portland, OR 97209
(503) 227-5320
www.henrystavern.com

Life of Riley
Laws of physics teach us that for every action there is an equal and opposite reaction. And so it appears that the same Portlanders who gripped mightily onto frosty mugs of Pabst Blue Ribbon in the face of boutique beer vogue have spoken again, and they want their bars comfy, unpretentious, reasonable, a little smoky, and of course friendly.

Taking over the old Jimmy Mak digs before he moved across the street in '06, Life of Riley is a very appealing spot with pool and smoking available downstairs, high tables and a small lounge-like area upstairs, patio seating, drinks, and eats from Chef Christopher. Word has spread, and many Pearl freedom fighters have already been spotted in this new encampment actively quenching their thirst for revolution.
Life of Riley
Hours: Daily 11:30-2:00
Happy Hour: Daily 4:00-7:00
300 NW 10th Avenue
Portland, OR 97209

Madena of the Pearl
Small place with a big menu, Madena offers all the standard Middle Eastern fare any self-respecting, culinary co-opting foodie has come to expect. However, in addition to the more familiar falafel, hummus, and shawarma, owner Ali Houdroge mixes it up with a less familiar Coco Curry sauce that they'll serve with prawns, salmon, lamb, chicken, and kafta as well as a very popular dish in the Middle East with fava beans called Ful that we almost never see stateside.
Madena of the Pearl
Hours: Mon-Sat 11:00-9:00
432 NW 11th Avenue
Portland, OR 97209
(503) 231-1000


Park Kitchen
Dishing itself firmly into the competitive Portland culinary landscape, Park Kitchen has quickly become a North Park Blocks' dining destination. With items on their regular menu like pulled pork and sweet pea ravioli and Carpaccio of halibut, zucchini and basil, it's not hard to find a level of trust to take on the chef's tasting menu offered here which can be a fun way to experience this cuisine.

For $25.00 for lunch and $45.00 per dinner mouth, chef Scott Dolich and his staff will carefully select for you four fabulous courses from their menu including dessert. The staff is also used to working with vegetarian options and food allergy issues should you have a food sensitivity need. Or just work your way through the menu the old fashioned way. But as soon as you do, they'll just change it again. They're like that.
Park Kitchen
Hours: Lunch Mon-Fri 11:30-2:00
Dinner Mon-Sat 5:00-Close
422 NW 8th Avenue
Portland, OR 97209
503-223-PARK
www.parkkitchen.com

Rogue Ales Public House
Complete with its own Lego table and talking dog mascot, Rogue Ales Public House is yet another succinct counterbalance to urbane Pearl. Not that this operation is low scale by any means. First tapped in 1989 in Newport, Oregon, Rogue now has over a half-dozen locations, including a Bed & Beer operation where, on one site, they can pour you to your heart's content and then you can pour yourself into bed.

The food here is nothing to turn your nose up at either with gator gumbo to crab melts to burgers with a pizza or two thrown in between. And they might wear t-shirts instead of starched collars, but the wait staff is friendly and will welcome you as a citizen into their Rogue Nation as long as you're "located to the left of boredom and to the right of irresponsibility."
Rogue
Hours: Mon-Thurs 11:00-11:30, Fri-Sat 11:00-12:30, Sun 11:00-10:30
1339 NW Flanders
Portland, OR 97209
(503) 222-5910
www.rogue.com

Silk
The popular Vietnamese restaurant, Pho Van, closed this Pearl location, one of four in Portland, remodeled and reopened in '06 as Silk. Dining room and bar pure Pearl, the menu remains Vietnamese inspired, yet bistroed. That is to say, this menu will likely not be as disorienting for those not wishing to dive into cultural immersion and who could do with a little less mung beans, la lot leaves, and tripe in their diet.
Silk
Hours: Lunch: Mon-Sat 11:00-3:00
Dinner: Mon-Sat 5:00-10:00
Happy Hour: Mon-Sat 4:00-6:30
1012 NW Glisan
Portland, OR 97209
(503) 248-2172
www.phovanrestaurant/silk.com



Sushi Land
It's fishing for those who don't want sunburns and smelly fingers. At Sushi Land, you just sit back, watch for your particular sushi favorite to swim by on the conveyer belt and reel it in. It's that simple. And with nine locations in Oregon and Washington, it's also catching on.
Sushi Land
Hours: Daily 11:00-9:00,
Bar: Sun-Thurs 4:00-10:00, Fri-Sat 4:00-12:00
138 NW 10th Avenue
Portland, OR 97209
(503) 546-9933
www.sushilandusa.com

Vault Martini
Ultra hip and trendy or comfy casual, you get the feeling that you can play it your way at Vault Martini. Their drink menu comes with a table of contents, including such chapters as "Seven Deadly Sins," "Drops," "Chocolates" (still talking drinks here) and "Mojitos." There are yet more, and, yes, they have a chapter just devoted to mojitos.

And in case you think that the only story they know involves alcohol, The Vault, as most Pearlyites call it, also does absolutely delish dining such as the Spaniard pizza with quince paste, Serrano, chevre, and manchego and desserts like the s'more fondue.
Vault Martini
Hours: Daily open at 4:00
226 NW 12th Avenue
Portland, OR 97209
(503) 224-4909
www.vaultmartini.com


Vino Paradiso
As one might suspect from an establishment owned by Bill Les and Tim Nishimoto, who is the lead vocalist for Pink Martini, there is a strong emphasis on art and music as well as wine and food. A registered gallery in addition to being a wine bar and restaurant, Vino Paradiso hosts monthly art shows and live music regularly and was conceived as a cultural center plus fun, relaxed, non-stuffy joint to hang out in the Pearl.
Vino Paradiso
Hours: Tues-Sat 4:00-11:00, Sun 3:00-9:00
417 NW 10th Avenue
Portland, OR 97209
(503) 295-9536
www.vinoparadiso.com
Pearl District Galleries, Art & Antiques
Bernadette Breu Antiques & Ornament
Versus Pearl high style, Bernadette Breu and her passionate staff love to provide "high bohemia in the Pearl." They stock and sell just about anything – from folk art, finishings, and lighting to jewelry and architectural elements – as long as they fit the bill of being interesting, unusual, beautiful, continental, and one-of-a-kind.


Blackfish Gallery
One of the oldest galleries in an area self-defined by art, Blackfish Gallery has been owned and operated by a co-op of artists since 1979 and features the work of such local luminaries as Karen Ehlers.
Blackfish Gallery
Hours: Tues-Sat 11:00-5:00
420 NW 9th Avenue
Portland, OR 97209
(503) 224-2634
www.blackfish.com

The Bullseye Connection Gallery
In association with the Bullseye Glass Company, a colored glass manufacturer for art and architecture since 1974, the Bullseye Connection Gallery exhibits international kilnformed glass artists.


Eastwest Fusion
Another one of those lucky women who travels around the world and goes shopping, Renee Russo has been supplying Portland with Asian antique furnishings as well as modern, exotic accessories since 2002. She and her staff stock hand carved soapstone, dishes, artwork, jewelry, and they are the only retail operation in Portland dealing in original silk Fortuny lamps.

And not all, Renee has opened a companion operation located around the corner but, likewise, still straddling multiple time zones…

EWF Modern
The star of this show is 100-year-old Brazilian timbers that have been organically incorporated into modern furniture for an effect that does not do justice to describe. Taking great pains to adhere to sustainable methods and materials, EWF Modern offers dining, bedroom, and living room sets or individuals.
Eastwest Fusion
Hours: Tues-Sat 11:00-6:00, Sun 12:00-5:00
408 NW 11th Avenue
Portland, OR 97209
(503) 248-6806
www.ewfusion.com

EWF Modern
Hours: Same
1122 NW Glisan
Portland, OR 97209
(503) 295-7336
www.ewfmodern.com

Elizabeth Leach Gallery
With over a quarter century's experience in advising art collection on corporate and institutional levels as well as private, the Elizabeth Leach Gallery exhibits Northwest and international artists and multiple media.

Elizabeth Leach Gallery
Hours: Tues-Sat 10:30-5:30 and by appointment
417 NW 9th Avenue
Portland, OR 97209
(503) 224-0521
www.elizabethleach.com

Lawrence Gallery
An extremely high-end, two-story operation, the Lawrence Gallery is where you may pick up an original Salvador Dali for $12,000.00 or a Picasso for $50,000.00. plus a host of other artists in varying price ranges.
Lawrence Gallery
Hours: Mon-Sat 10:00-5:30, Sun 12:00-5:00
903 NW Davis
Portland, OR 97209
(503) 228-1776
www.lawrencegallery.net


La Zhu Pearl of the Orient
Specializing in arts and antiques from all regions of China, La Zhu carries furniture, décor items, wooden picnic baskets – let's just say the range – in a lovely store that, around since '98, has witnessed a great deal of the Pearl's transformation. Seth Watson, who runs the show since his mother, Gail, retired three years ago, comes off more like a welcoming, soft-spoken, non-pushy curator than a salesman and even went to lengths to recommend his direct competitors right in the Pearl such as Lotus (938 NW Everett; 503-417-1888; www.lotusantiques.com.)

With a comprehensive inventory and class act, it's not hard to see why La Zhu was voted the "Best Asian Antiques" in the city.
La Zhu
Hours: Mon-Sat 11:00-5:00, Sun 1:00-5:00
221 NW 11th Avenue
Portland, OR 97209
www.lazhu.com
Pearl District Theater
Portland Center Stage
Quintessential Pearl – this is where you'll find an ancient armory structure literally a skinny child's reach from an ultra modern condo building. Take it step further and outfit that armory with one of the more prestigious theatre companies in the country, and you've got Portland Center Stage.
Formally part of the Portland Center for the Performing Arts before branching off on its own and moving into the Gerding Theater, itself located inside the historic Armory Building dating back to 1891, Portland Center Stage is one of the 25 largest theater companies in the United States.
Portland Center Stage
128 NW 11th Avenue
Portland, OR 97209
www.pcs.org
---
Pearl District Real Estate and Homes for Sale
If you are interested in buying or selling a home in this Portland neighborhood, visit our Portland Real Estate Page for more information, or visit our Portland Real Estate Map to search the RMLS for neighborhood homes for sale.


| | |
| --- | --- |
| | Homes Loft living in the Pearl offers gorgeous city and riverscape views. There are a slew of new loft style developments underway all over the Pearl and the North Portland Waterfront near the Fremont Bridge. Of course, a room with a view will come with a steep price tag. Pearl District Portland is an urban neighborhood, with many older buildings, apartments, and loft style condominiums. This continues to be seen as a trendy and upscale urban locale for hip urbanites who want to live in the center of it all. The higher you go, the better the view…and the steeper the price. Views include an urban landscape of old and new buildings, the Willamette River, Downtown Portland and the West Hills, and the railroad system along the waterfront. If you are interested in buying or selling a home in Portland's Pearl District neighborhood, visit our Portland Real Estate Page for more information, or visit our Portland Real Estate Map to search the RMLS for Pearl District homes for sale. |