Pleasant Valley Neighborhood Guide
The Pleasant Valley neighborhood is located in East Portland. It is bordered by the Lents, Powellhurst-Gilbert, and Centennial Neighborhoods. This neighborhood marks both the Southern and Eastern borders of Portland, with the city of Gresham next door. Pleasant Valley is notable for its abundance of green spaces, high-end houses, and gorgeous views of the city.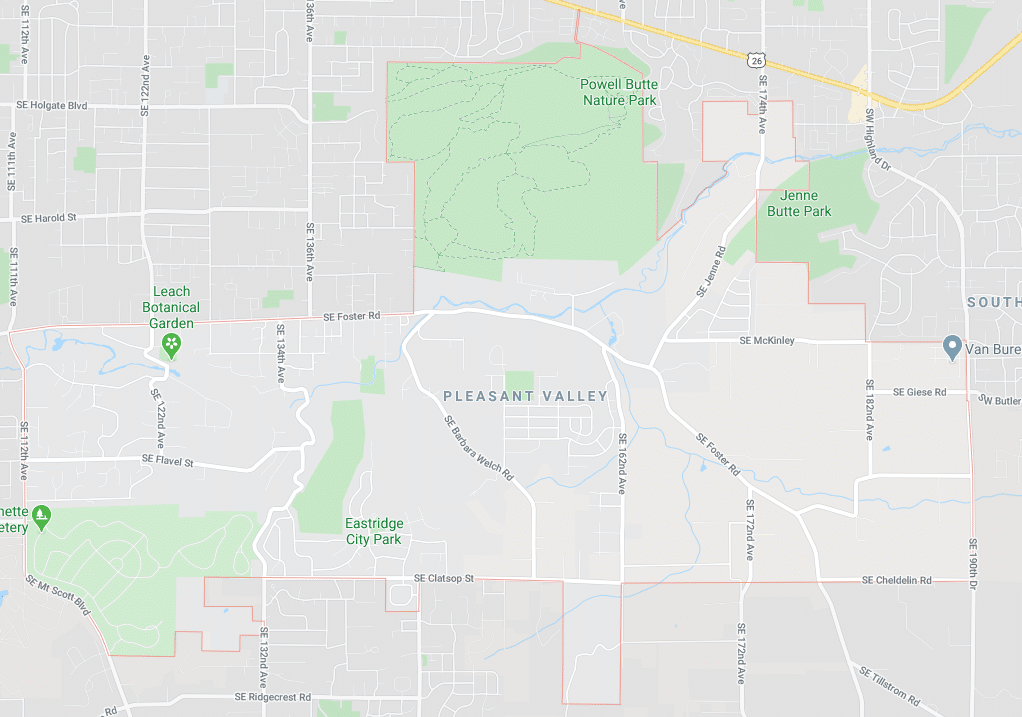 Features of the Pleasant Valley Neighborhood
This area offers a nice mix of suburban residential living while being conveniently located near some great parks such as Powell Butte and the Springwater Corridor. Pleasant Valley is close to major thoroughfares like Highway 26 (Powell Blvd.), Foster Rd., and I-205.
Typically, East Portland is not quite as nice and secluded as Southwestern neighborhoods, but Pleasant Valley is the exception. The name of the neighborhood is a bit of a misnomer, as much of the area is actually elevated from the rest of the city. Pleasant Valley is one of the nicer parts of Portland, complete with massive homes, tree-lined quiet streets, and plenty of green spaces. Compared to most other neighborhoods, Pleasant Valley has far more parks and natural areas. So, if you love nature and walking around outside, you'll love living here.
Powell Butte Nature Park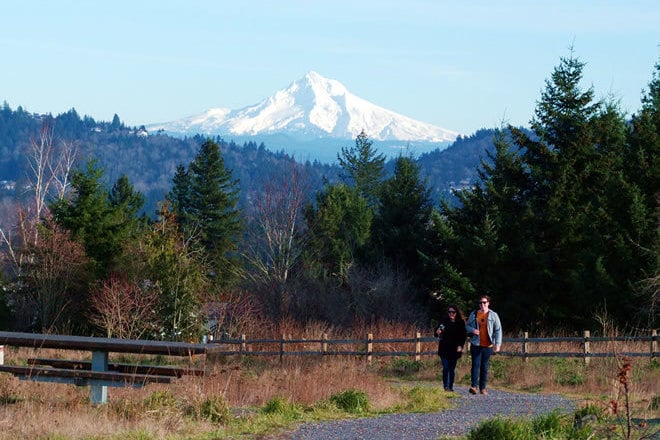 With over 600 acres of trails and trees, Powell Butte is one of the largest parks in all of Portland. The trails criss-cross throughout the area, giving hikers plenty to see and explore. The park actually sits atop an extinct cinder cone volcano, which is why it has some steep climbs. Originally, this whole area belonged to the Grand Ronde Tribe, who settled most of Oregon.
Portland purchased the land in 1925 but didn't turn it into a city park until 1987. For the first 20 years, parts of Powell Butte were used for dairy farming, until operations ceased in 1948. During the 1970s, the city decided to build underground water reservoirs to serve the surrounding communities. Originally, the plan called for four 50-million-gallon tanks to be built, but only two were completed.
Powell Butte Nature Park – 16160 SE Powell Blvd.
Willamette National Cemetary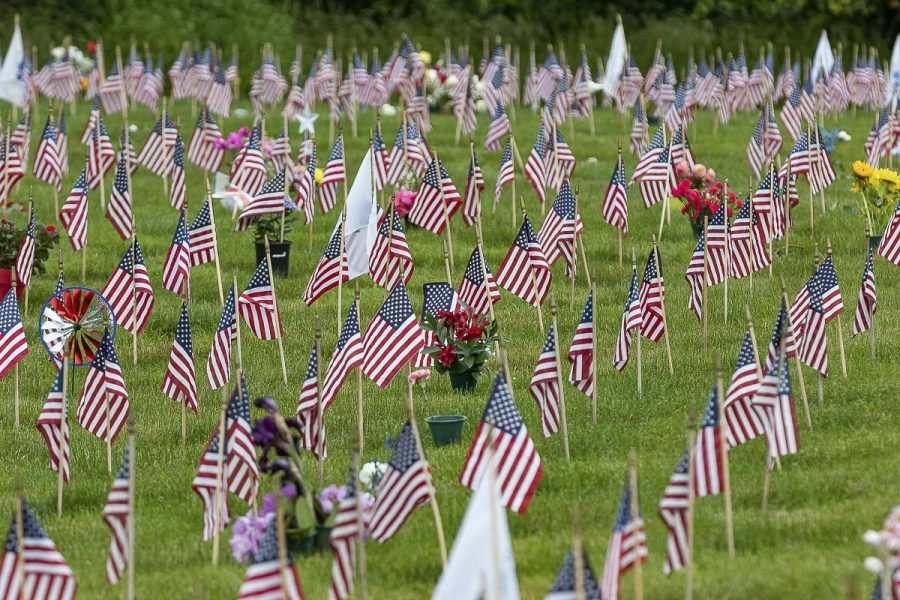 Oregon has three national cemeteries – one in Roseburg, another at Eagle Point, and this one in Pleasant Valley. The Willamette location was completed in 1950, although President Franklin D. Roosevelt had signed a bill to create a cemetery back in 1941. Lack of funding was the primary reason the site wasn't built initially. In 1949, the state donated roughly 100 acres so that construction and landscaping could begin. The first interment was in 1951, and today, there are over 164,000. In 1952, another 100+ acres were donated to the cemetery. Currently, it spans almost 270 acres.
Willamette National Cemetary – 11800 SE Mt. Scott Blvd.
Springwater Corridor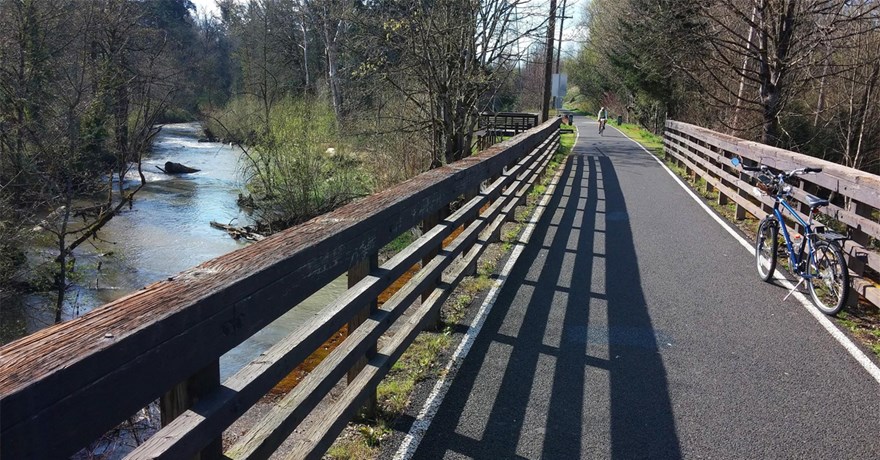 Because Portlanders love their parks and green spaces, the city started building a trail to connect them and provide a safe method of travel for walkers and bikers. The Corridor actually began as a rail line, called the Springwater Line. The railroad was first built in 1903, and connected many of the Southeast neighborhoods, including Woodstock, Sellwood, Eastmoreland, and others. To help entice riders to use the train, the railroad company decided to create city parks along the tracks.
After service discontinued in 1958, the railway sat unused for over 30 years. Then, in 1990, the city acquired the line and started developing it into the walkway/trail we know today. After the tracks were removed, the city paved much of the Corridor to make it easier for bicyclists, and to ensure that the trail would stay in use.
In Pleasant Valley, the Springwater Corridor runs along Johnson Creek and the base of Powell Butte Park, which offers plenty of stunning scenery. Walkers can sometimes spot various wildlife along the trail, including birds, raccoons, and sometimes deer. The Corridor is still being developed by the city, which in 2019 added a bridge near 45th ave. Once complete, the Corridor will span 21 miles.
Pleasant Valley Businesses of Note
The vast majority of Pleasant Valley is residential or parkland, which means that residents have to explore outside the neighborhood to do their shopping and other business. Foster Road is the main thoroughfare cutting through the area, but once it crosses 122nd, it's no longer as much of a hotspot for dining and retail. However, while Pleasant Valley doesn't have many high-profile businesses, it does offer a few unique gems that you can't find anywhere else.
Leach Botanical Garden
One of the best places to see both flora and fauna is at the Leach Botanical Garden. Located just off Foster Road, this garden spans 16 acres and comes up to the edge of Johnson Creek. Many of the flowers here can't be found anywhere else in the state, making the garden an even more unique experience. It's open six days a week and is perfect for nature lovers and families. It's also a popular wedding venue, as the natural area provides a stunning backdrop for marriage vows.
The Botanical Garden was founded by John and Lillia Leach, who settled in the area in the early 1900s. They built a small stone cabin on the property in 1932, which still stands today. The Leaches owned and operated a popular drugstore, which helped them become involved with the community. John was particularly civic-minded and had a hand in getting Foster Road paved and the Ross Island Bridge built. Both Leaches loved nature, and Lillia even discovered multiple flower species that had never been seen before. She received an American Award for Botany in the late 1940s for her work.
Leach Botanical Garden – 6704 SE 122nd Ave.
Lakeside Gardens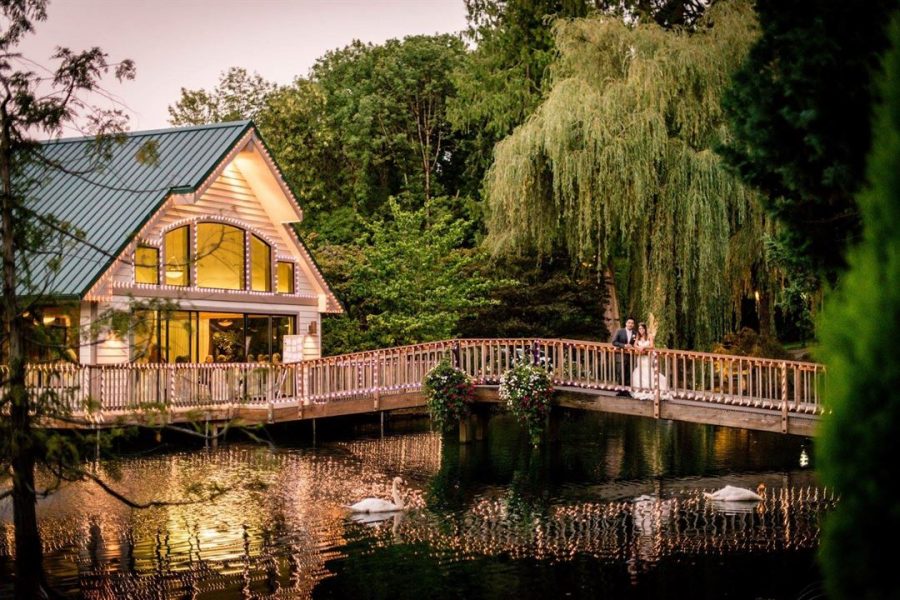 As far as wedding venues go, Lakeside Gardens is one of the most picturesque locales in the city. Technically speaking, the venue sits against Kelly Creek, although the water has been sectioned off to create a sizeable lake. Lakeside Gardens is a full-service wedding venue, offering amenities like catering, on-site bartending, and decor. The lake is stunningly gorgeous and comes complete with swans to help add to its romantic flair. The venue hosts dozens of weddings throughout the year, making it one of the most popular options in Portland. Newlyweds can even stay in the honeymoon suite, which sits on the Northern end of the property.
Lakeside Gardens – 16211 SE Foster Rd.
One Green World Nursery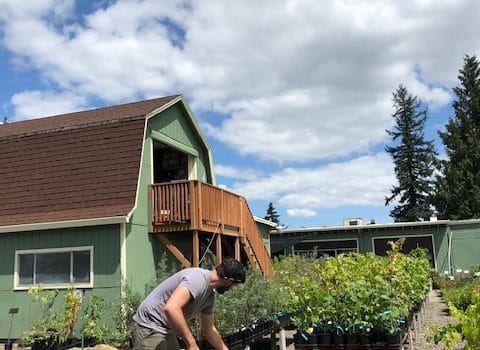 Although there are many nurseries in Portland, One Green World is unique because it specializes mostly in fruiting plants. So, if you're interested in growing a small orchard on your property, you'll want to visit this nursery. One Green World offers many different options, including elderberries, blueberries, mint, kiwi, limes, grapefruits, oranges, and more.
Best of all, the staff on-site can help you understand the particular needs of each plant so that you can ensure a bountiful harvest. The nursery sells all of the equipment you'll need, as well as books to do your own research. Those in favor of locally-produced foods will appreciate how easy One Green World makes it to become a little more self-sustaining.
One Green World Nursery – 6469 SE 134th Ave.
Parks of Pleasant Valley
Pleasant Valley has one of the highest concentrations of parks in the city. While Powell Butte is a commanding presence, there are several smaller green spaces within the neighborhood. Residents appreciate the abundance of nature, as these parks offer various accommodations and amenities. If you love walking and hiking, Pleasant Valley is one of the best places to live in Portland.
Community Resources
Pleasant Valley Neighborhood Association
Schools
Pleasant Valley Elementary School
Neighborhood Vibe
Pleasant Valley is mostly quiet and residential, so you'll see a lot of families and retirees around here. Since most of the neighborhood is covered by trees and parks, it's one of the most beautiful areas in Portland. Neighbors tend to keep to themselves, and you won't find much traffic on the streets, even on Foster Road.
Stats
Zip Code 97236
Pleasant Valley Real Estate
This neighborhood has a mix of old and new homes, including some elegant multi-story houses. Depending on the exact location within the neighborhood, homes can be ranch-style or gorgeous mini-mansions. Most units have plenty of yard space for kids or pets to run around.
Click here to see all current Pleasant Valley homes for sale.
To learn about the Portland real estate market, we recommend this local Portland-based, top 100 real estate blog in the world.
If you are interested in buying a home in Portland, we recommend meeting up with these top 1% Portland buyer's agents, or if you are considering selling a home we recommend these top 1% Portland seller's agents. Visit our Portland Real Estate Page for more information.
Southeast Portland Neighborhood Map
Click any neighborhood.