South Burlingame Neighborhood Guide
South Burlingame is located in Southwest Portland. It is bordered by the Hillsdale, Corbett-Terwilliger, Collins View, Marshall Park, Marquam, and Multnomah Neighborhoods. This neighborhood is located fairly close in, for an easy commute to downtown Portland.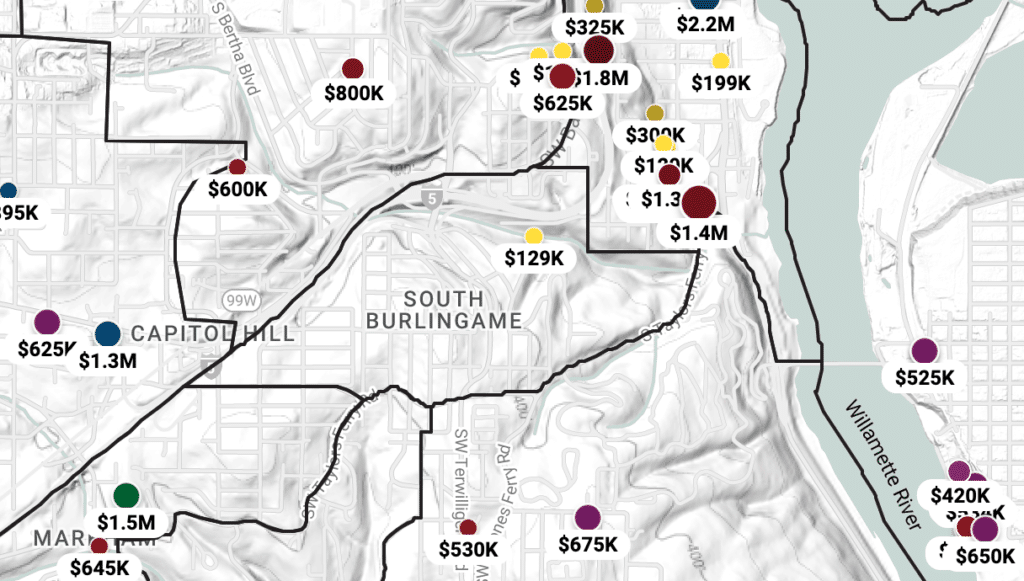 Click on link for a fully searchable South Burlingame neighborhood map, including all homes for sale.
Features of South Burlingame
Described as "small but mighty" by their neighborhood association, South Burlingame is an old and established neighborhood. Officially founded in 1910, it was once known as Carson Heights. (And you might hear some of the neighborhood's longstanding residents still refer to it as such.) On the other hand, you might hear someone cite an old nickname, Hummingbird Hill, so named because of how many hummingbirds are to be found in the area.
Like most Southwest neighborhoods, this is a charming area with a mix of residential and business areas with a strong sense of local community. Southwest neighborhoods are less urban and more suburban in feel. So you won't find a "downtown" in South Burlingame so much as a smattering of charming local businesses. But if a more extensive commercial strip is more your cup of tea, not to worry. The small town charm of Multnomah Village, for one, is a short drive over the interstate. Or, if you're more in the mood for a big city feel, Pioneer Courthouse Square downtown is only a ten minute drive away. Bonus points: It's a very scenic drive up I-5 with views of Mt. Hood.
Burlingame Park and Fulton Park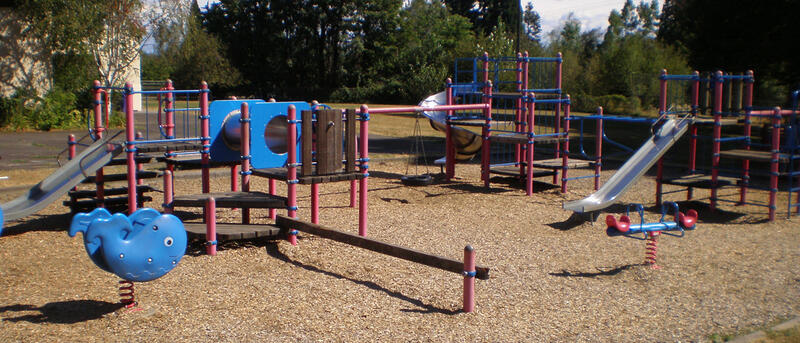 South Burlingame is a fantastic place for anyone who enjoys a good neighborhood park. Burlingame Park spans nearly 5 acres – what a luxury to have in the city! This park features plenty of open green space as well as playground areas.
Fulton Park has a long history, and even more space if you can believe it: 8.5 acres. The original Fulton Park, though, was 411 acres! And it came from land sold by Marquam – yes, that Marquam – that was later developed into what we know as South Burlingame today. Today you'll find trails that lead to a riverside path, a community center, and a community garden.
South Burlingame Businesses of Note
South Burlingame is a small and highly residential neighborhood, but it also homes some beloved local businesses.
Tyron Creek Bar & Grill
A popular neighborhood spot for Lewis & Clark students is the Tryon Creek Bar & Grill with its specials, such as an affordable burger & brew night. Featuring pool tables, loads of TV's, reasonable food, and an entertaining bar staff, you may find it a place worth trying.
Market of Choice
Also very good is the Market of Choice at 8502 Terwilliger (on the corner of SW Terwilliger & Taylors Ferry). This neighborhood market is a step up from Zupan's. You are immediately warmed by the smells of the deli with it's pizza oven, salad bar, olive bar, desserts, and breads. Expensive, but with a nice selection and high quality.
Trampoline Town
There's no two ways about it, this is just fun. Trampoline town offers classes for adults and kids in dance, circus arts, and trampoline. Tony and Tia Palomino became performers at at young age, and now they want to share their gifts with the South Burlingame community. We're not ashamed to admit it; we'd be all in for a grown up trampoline adventure. But this is also a great space for kids to get some exercise, learn new tricks, or have the coolest party in school. (Yes, they do private parties.)
Chez Jose
Don't let the name fool you – this isn't some kind of fusion place. You're looking at straight up, satisfyingly decadent Mexican fare at this local hole in the wall. Come for the enchiladas, stay for the excellent margaritas. Chez Jose has been around for many years now, and is a beloved neighborhood fixture.
Moonlight Grill
And now for an exciting newcomer to the South Burlingame scene! This elegant little spot quietly offers some of the best Middle Eastern fare in town. After moving from Iraq, where they opened their first restaurant, the owners first established themselves in Tigard. But in 2020 (of all years), they moved their operations to a nice spot in South Burlingame, and the neighborhood has been showing their love ever since.
Multnomah Village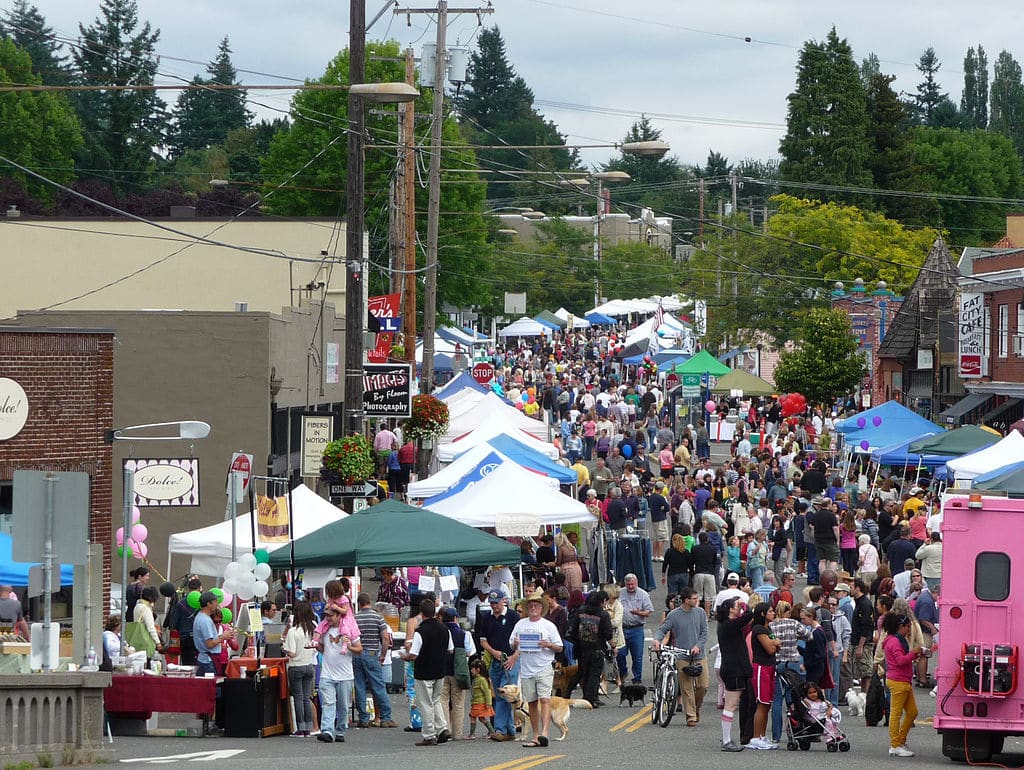 While South Burlingame is its own entity, we'd be remiss not to mention that Multnomah Village lies close by. This is a popular neighborhood gathering place, with locally owned restaurants, bars, and shops, giving this area a strong sense of community and central gathering place. Multnomah Village has the feel of a small mountain town, despite its proximity to the big city. It's a great space for South Burlingame to get together for a drink or to peruse a local bookstore.
South Burlingame Parks
Gabriel Community Garden and Orchard
---
South Burlingame Community Resources
South Burlingame Neighborhood Information
Neighborhood Association Website
South Burlingame Schools:
Elementary school: Capitol Hill Elementary School
Middle school: Jackson Middle School
High school: Ida B. Wells High School
South Burlingame Neighborhood Vibe
Laid back with a more residential and relaxed feel than more urban neighborhoods. Located relatively close in, with a variety of home styles, this is a neighborhood that will appeal to families and others who prefer a less urban and more rural feeling neighborhood.
South Burlingame Stats
Zip Code 97219
South Burlingame Real Estate
South Burlingame features quiet residential streets and a mix of older to more modern Portland home styles.
Click here to search all South Burlingame neighborhood homes for sale.
To learn about the Portland real estate market, we recommend this local Portland-based, top 100 real estate blog in the world.
If you are interested in buying a home in Portland, we recommend meeting up with these top 1% Portland buyer's agents, or if you are considering selling a home we recommend these top 1% Portland seller's agents. Visit our Portland Real Estate Page for more information.
Southwest Portland Neighborhood Map
Click any neighborhood.