Wilkes Neighborhood Guide
The Wilkes Neighborhood is the Easternmost neighborhood in Portland, with Gresham as its neighbor and the next city over. To the North, there is the Columbia River. Wilkes is a mostly residential neighborhood, expanding as far South as Glisan St., and bordering the Glendover Golf Course to the West.
Wilkes is also bordered by the neighborhoods Russell and Argay to the West, and Glenfair to the South. Interstate I-84 runs smack dab through the neighborhood, making it easily accessible to both residents and visitors alike.
Click the image a full searchable map that includes all Wilkes neighborhood homes for sale.
Features of Wilkes Neighborhood
Wilkes is almost like a tale of two neighborhoods. Although I-84 is a much bolder dividing line, Sandy Blvd. is actually what separates Northern Wilkes from Southern. On the South side of the street, this neighborhood is teeming with a variety of old and new homes, as well as an abundance of apartment buildings, assisted living centers, and churches. To the North, the area is mostly industrial, thanks to the sprawling business parks along Airport Way and bordering the Columbia River.
Because of this blend of residential and industrial, Wilkes is not quite as "trendy" as other neighborhoods in Portland. Nonetheless, it has a distinct charm, mostly thanks to its high diversity rate. Compared to some of the other spots in Portland, Wilkes is much more diverse and blended. You'll find families of many different backgrounds, ethnicities, and nationalities.
Nowhere is this diversity more apparent than when comparing churches. Within this one neighborhood, you can find Latter-Day Saints (Mormons), Greek Orthodox Antiochians, and Romanian Seventh-day Adventists. Quite a mixture, and all within the same borders.
Wilkes Podcast
Prefer to listen? We've got you covered. The Portland Neighborhood Podcast will cover every single Portland neighborhood, one neighborhood per episode, until we have covered all 95+ colorful and unique Portland 'hoods. Join us on this exclusive audio journey and discover all that Rose City has to offer!
Wilkes Neighborhood Floating Homes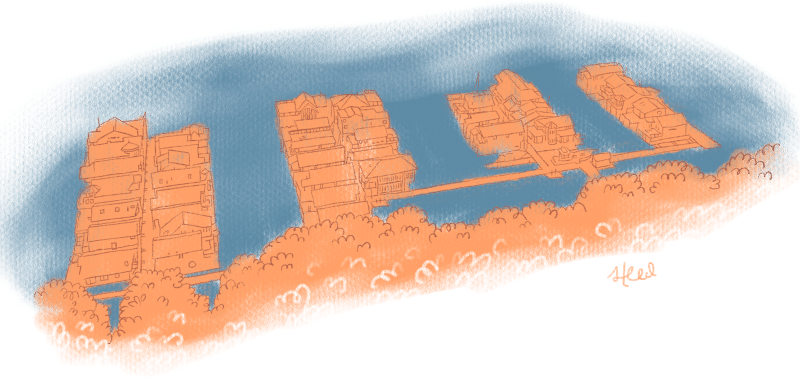 Meet the illustrator.
Wilkes neighborhood contains one Columbia River floating home community – McGuire Point Marina on 18475 NE Marine Drive. The Marina has nearly 40 floating homes docked there and is directly south of McGuire Island.
Wilkes Neighborhood Businesses of Note
Grant's Philly Cheesesteaks
Just so you know, there are two variations of this restaurant. There is the Original Grant's Philly Cheesesteaks in NW Portland, and there's this location on Sandy Blvd. While the former gets all of the attention, this spot is just as delicious with smaller crowds. Whether you're a Philadelphia native or you're just looking for a delicious sandwich, Grant's is a worthy stop.
One thing to keep in mind about this place, though, is that it's closed on the weekends. Both locations are the same, so you'll have to plan your visit accordingly. As the name implies, Grant's specializes in the traditional Philly Cheesesteak, which comes with peppers, onions, and a sweet Amoroso Roll. Best of all, the potato chips are made in-house for an extra authentic touch. Alternatively, you can get a burger or hot dog.
Grant's Philly Cheesesteaks – 15350 NE Sandy Blvd
Red Apple Bar & Grill
Dive bars are plentiful in Portland if you know where to look. Red Apple is a modest place that doesn't attract much of a hipster crowd, so if you're looking for an authentic dive bar experience, this is an excellent choice. Not only is the bar itself both laid-back and accommodating, but the grill has quite the menu selection.
Typically, you'd expect a bar to serve the usual bar food – fries, wings, and sandwiches. However, at Red Apple, you can get a taste of the gourmet, thanks to specials like prime rib and deluxe burgers with steak fries. They also have some of the best fish and chips in Portland. Be sure to come hungry, as your appetite won't be left wanting.
As far as entertainment, Red Apple has you covered. Televisions line the walls, and there are several lottery machines (if you're into that kind of thing). They also have a pool table and dartboard if you want a classic pub experience.
Red Apple Bar & Grill – 16126 NE Sandy Blvd.
Daily Double Sports Bar
If you're looking for a more traditional dive bar experience – meaning one that doesn't serve food – then Daily Double may be your preference. As a sports bar, it's a relaxing place to catch a couple of games and knock back a few pints. As with most of the dive bars in the Portland area, this one has multiple Lottery machines, so you can try your luck during halftime.
There is a small outdoor patio in case you need to take a smoke break. There, you'll likely run into one of the bar's regulars, where you can shoot the breeze and talk about sports and local politics.
If you do get hungry while you're here, there is a Mexican food cart in the parking lot. It serves tacos and other favorites, which pair perfectly with a good brew or two. The cart isn't always open, but you can talk to the bartender to see when they will be showing up next.
Daily Double Sports Bar – 1607 NE 162nd ave.

Grower's Outlet
One of the great things about living in Portland is that you're always close to a farmer's market or locally-sourced grocery store. In the case of Grower's Outlet, you get both businesses in one. This is one of the only year-round farmer's markets in the city, making it a must-stop for anyone who loves fresh, organic produce.
Grower's Outlet started in 1977, and since then has become a Portland landmark. Although the specialty is locally-grown produce and products, the market also imports items from around the world. Some of these imported goods include Vermont maple syrup and Amish popcorn. Everything is hand-selected and guaranteed to make you feel good about what you're eating.
The best part about Grower's Outlet is that the stock changes with the season. So, be sure to come back over and over again to see what's new in the aisles. In addition to fresh produce, you can find a variety of local and imported nuts, granola bars, and honey (both raw and otherwise). It's always a treat to see what they have in stock.
Grower's Outlet – 16145 NE Glisan st.
Wilkes Neighborhood Parks and Trails
Unlike other Portland-area neighborhoods, there is only one park in all of Wilkes. Wilkes Park was originally owned by the Van Alstyne Family, who operated a plant nursery from the mid-1970s until the city acquired the land in 1998. In the early 2000s, the park was completed, thanks to funding in part by Nike and Portland Parks and Recreation.
Wilkes Park features a playground, a basketball court, and walking trails. One of the most notable elements of Wilkes Park is that it's the site of a Portland Loo – a state-of-the-art co-ed bathroom first implemented in Chinatown in 2008.
If you're looking for something a bit more athletic, the Columbia Slough Trail cuts through much of Northern Wilkes. The trail is perfect for biking or walking, as you get an excellent look at the different waterways cutting through the area, as well as a taste of the Columbia River. Overall, the Columbia Slough Trail covers about 40 miles total, making it one of the most impressive in the Northwest.
Wilkes Community Resources
Wilkes Neighborhood Information including neighborhood association and census data.
Neighborhood Association Website
Wilkes Schools:
Wilkes Neighborhood Vibe
As we mentioned, the vibe of Wilkes can depend on whether you're North of Sandy Blvd. or South. The industrial area of Wilkes is excellent for businesses of all sizes, thanks to the various warehouses and office spaces for rent. Working next to the river is a transcendent experience, and it makes Wilkes appealing for many different industries.
The residential side of Wilkes is very family-friendly. The diversity on display means that you'll run into a wide array of families and kids, each creating a unique niche within the neighborhood. The area is also relatively quiet, with not much of a nightlife. Wilkes is a great place to grow up, but not ideal if you're looking for a trendy Portland experience. Overall, this neighborhood generates an "Old Portland" vibe, rather than the up-and-coming "New Portland."
Wilkes Neighborhood Stats
Zip Code: 97230

Local Crime Stats

Wilkes Neighborhood Census
Wilkes Neighborhood Real Estate
Wilkes neighborhood often ranks as one of the most affordable neighborhoods in Portland.
Click here to see all current Wilkes homes for sale.
To learn about the Portland real estate market, we recommend this local Portland-based, top 100 real estate blog in the world.
If you are interested in buying a home in Portland, we recommend meeting up with these top 1% Portland buyer's agents, or if you are considering selling a home we recommend these top 1% Portland seller's agents. Visit our Portland Real Estate Page for more information.
Northeast Portland Neighborhood Map
Click any neighborhood.

Check out more Portland Neighborhoods
Go back to the full list of neighborhoods in our Portland Neighborhood Guide.