Buckman Neighborhood Guide
The Buckman neighborhood is located in Southeast Portland. It is bordered by the Willamette River, Kerns, Sunnyside, and Hosford-Abernathy neighborhoods. The popular Hawthorne District along Hawthorne Boulevard is also located partially in Buckman along the southern boundary.  The northern boundary along Burnside Street is home to the adjoining Kerns neighborhood. Buckman-Kerns is a popular area for dining in East Portland.

Click the image for a fully searchable Buckman neighborhood map, including all homes for sale.
The Tree Farm building on SE 3rd and Morrison.
Buckman Neighborhood Podcast

Prefer to listen? We've got you covered. The Portland Neighborhood Podcast will cover every single Portland neighborhood, one neighborhood per episode. Join us on this exclusive audio journey and discover each 95+ colorful and unique Portland 'hoods.
Features of the Buckman Neighborhood
The Buckman neighborhood is in a great location as it is in close proximity to some of Portland's most hip and popular neighborhoods such as Kerns, Laurelhurst, and Belmont. Residents have plenty of independent retail, coffee, pub, and dining options just a stone's throw away in most cases across several adjoining neighborhoods.
Buckman's Hawthorne District is one of the most unique, and most popular areas in Southeast Portland. The area is known for its wonderfully restored Old Portland homes, liberal residents, and fun and funky feel. The street is lined with unique restaurants and shops and has a definite Portland-local flair.  Local area standouts are Slow Bar, Rontoms, My Father's Place, and the Lucky Labrador Brew Pub.
Compared to most other areas of Portland, there is so much to eat and drink in Buckman that you can spend every day trying a new place and it will take you over a year to get to them all. Buckman is a foodie's paradise, but it's also home to a wide array of local microbreweries. In case you weren't aware, Portland has more microbreweries per capita than any other city in the world, and it seems that almost all of them call Buckman home. Let's take a quick pub crawl through some of the top highlights in this neighborhood.
Buckman Beer Crawl – a Street Guide
Beer lovers already flock to Portland to sample some of the best brews in the world, but if you want to hit up multiple breweries in a single day, Buckman is the place to visit. Let's begin our tour on the intersection of Burnside and 13th ave with Natian Brewery. This simple yet elegant spot won Bronze in the 2018 Best of Craft Beer Awards, so we're off to a good start. You can sample over a dozen rotating beers throughout the year, making return visits a must.
From there, we'll snake along Sandy Blvd, as there are breweries stacked on top of each other. Next, we have Mt. Tabor Brewing, which actually has two locations – one in Vancouver and one in Portland. The Portland spot is just a taproom, so like Natian, you can only grab a pint and not a bite to eat. Just down the street is Base Camp Brewing Co., which has specialized in ales and lagers since 2012. While the taproom doesn't have a kitchen, there are several food carts out front so that you can soak up all of your drinks so far. We still have a ways to go, so make sure to pace yourself.
If you head West across Martin Luther King Jr. Blvd., you'll run into Wayfinder Beer, a relative newcomer that has already made waves. Wayfinder has won a slew of awards, including Best Brewery 2018, Best Brewpub 2018, and their Terrifica beer was rated as one of the top 11 in the country. The building is also a massive beer hall for events, and they specialize in vegan ales and lagers, making Wayfinder a peak Portland location.
Getting back over to Sandy, we have Cascade Brewing Barrel House, which has been in the area since 1998, making it one of the oldest options in Buckman. Cascade also serves food, just in case you're feeling a bit peckish after your trek over to Wayfinder. Almost next door is Rogue Eastside Pub and Pilot Brewery. If you're familiar at all with Portland's beer scene, you know Rogue. The company was established in 1988 in Ashland, OR, and has since become one of the premier spots for all beer lovers. The Eastside Pub has over 30 beers available at any time, with 19 taps total. Sampling is highly encouraged.
Modern Times Beer – Belmont Fermentorium is our second to last stop on the beer crawl. What makes this place a good penultimate spot is that they craft both kinds of brew: coffee and beer. So, if you're looking for a little pick-me-up, now is a perfect time before we hit our last location – The Hair of the Dog Brewery. Hair of the Dog serves up both beers and ciders, and they offer a minimal food selection, including succulent (and spicy) wings. They're almost next to the river, so after you're done, head on down to the Esplanade to see the twinkling lights of the big city.
Buckman Neighborhood Businesses of Note
Although we've covered most of the breweries in the area, and mentioned a few of the pubs, we've barely scratched the surface of everything there is to experience in Buckman. Let's take a deep dive into some of the businesses that help make this neighborhood so eclectic and inviting.
Fire on the Mountain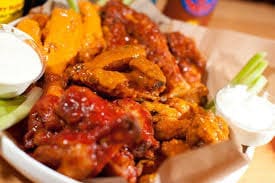 Hey, what goes really well with beer? Wings, of course! One of the best spots in Portland (or anywhere, really) for wings is Fire on the Mountain. There are three locations, including this one on Burnside street. This place is definitely for wing lovers, considering that you can get as many as you want, from six to 250. Whether you decide to share your gigantic pile is up to you. Fire on the Mountain also serves other things on the menu, like sandwiches, salads, and burgers. For dessert, be sure to sample some fried Twinkies or fried Oreos, if you have the room.
In case you were wondering, the name Fire on the Mountain is relevant to what they serve. The industrious wing lovers may try the "El Jefe Challenge." It works like this – you get a batch of 15 wings slathered in their spiciest sauce. All you get is a single napkin and three minutes to finish them all. If you can survive, you get a t-shirt commemorating your achievement. it's not for the faint of heart, trust us.
Fire on the Mountain – 1708 E Burnside st
Rimsky-Korsakoffee House
Although there is no shortage of coffee houses in Portland, Rimksy's (as the locals call it) is the only one of its kind. Since 1980, this "haunted" establishment has grown quite a loyal following. The place doesn't advertise, and the hours can change on a whim, thanks to the eccentric owner and proprietor, Goody Cable.
What makes Rimsky's such a treat is the atmosphere and funky decorations. Like other businesses in Portland, this place operates out of an old Victorian-style house, further adding to its charm. Also, we weren't kidding when we said the place was haunted. Each table is named after a dead composer, and some of them will move of their own volition. One table rises and shrinks, while the other spins around slowly enough to make you think you're going mad. Just make sure you pay attention to your mug and don't drink from a neighbor's by accident. Also, the spirits at Rimsky's don't seem to appreciate credit cards, so you will want to bring cash when you visit (and tipping is a surefire way to appease them).
Rimsky-Korsakoffee House – 707 SE 12th ave
Imago Theatre
Portland is an excellent place to take in some local culture, thanks to the abundance of theaters and playhouses. One of the oldest in operation is Imago, which was founded in 1979. As the name implies, this theater likes to produce plays that push boundaries and offer imaginative takes on classical works. One of the most well-known (although now-shuttered) productions was Frogz, which had performers illustrating what life is like as the titular animals (among other creatures).
Because of its age, Imago is not the fanciest theater in Portland, but it does have heart and character. If you feel like seeing a play that will give you life and make you think, Imago is the place to be.
Imago Theatre – 17 SE 8th ave
Tony Starlight Showroom
Sometimes, you just want dinner and a show. Fortunately, Tony Starlight has you covered with his band and his irreverent sense of humor. The Starlight Lounge is a classy joint that offers great entertainment for all ages. The Showroom bills itself as a "Vegas-Style" experience, complete with blue curtains, a big band on the stage, and a host with the most.
What makes the Starlight even better is that it's a relatively intimate space. Rather than struggling to get a look at the big man himself, you'll be up close and personal, especially when he works the crowd. He does shows all year round, including holiday specials for the whole family. You can even host events here, making the performance even more personal.
Tony Starlight Showroom – 1125 SE Madison St.
Pips and Bounce Pub
With so many pubs and breweries in Buckman, it's impossible to pick your favorites. However, if you want one that offers a unique spin on the bar experience, then you'll want to visit Pips and Bounce. This place is perfect for hanging with friends, thanks to its 10 ping pong tables.
You can either play for fun when you're out on the town, or you can join one of Pips' leagues. They offer a membership so you can practice your skills (while knocking back a few) and become a champion. Pips and Bounce is also perfect for parties, as everyone loves a little bit of table tennis. The bar even offers cosmic pong for those who want some extra flair in their game.
Pips and Bounce – 833 SE Belmont St

Buckman Neighborhood Parks
Ladd Circle Park and Rose Gardens
Community Resources
Buckman Neighborhood Schools
Buckman Neighborhood Vibe
Buckman is an urban area that is located very close in on the East side of the river and surrounded by several other popular Portland neighborhoods.  If you like urban living and easy access to bars, restaurants, shops and a short commute to Downtown, Buckman might be your neighborhood.  From traditional old East Portland style homes and classic old apartment buildings to funky and fun infill housing; the Buckman character is evident nearly everywhere you look.
Stats
Buckman Zip Code 97214
Buckman Real Estate
Buckman features classic older East Portland home styles with Old Portland Foursquare, Craftsman, Victorian, and other wonderful designs.  Older classic buildings offer some apartment rental and condo living.
Click here to search all Buckman Neighborhood homes for sale.
To learn about the Portland real estate market, we recommend this local Portland-based, top 100 real estate blog in the world.
If you are interested in buying a home in Portland, we recommend meeting up with these top 1% Portland buyer's agents, or if you are considering selling a home we recommend these top 1% Portland seller's agents. Visit our Portland Real Estate Page for more information.
Buckman Neighborhood: Friends We've Lost
Since this area is becoming so hip and trendy, not everyone can keep up with the times. Pubs come and go, and we're taking the time to honor some of the watering holes that used to call Buckman home.
Buckman Botanical Brewing – Microbrewery
Coalition Brewing – Microbrewery
Wild Abandon Restaurant – Lounge and Eatery
The East Bank Saloon – Bar and Grill
The Red Velvet Bar – Bar and Lounge
Southeast Portland Neighborhood Map
Click any neighborhood.

Check out more Portland Neighborhoods
Go back to the full list of neighborhoods in our Portland Neighborhood Guide.