Alberta Arts District
The Alberta Arts District in Northeast Portland is located along NE Alberta Street, within the Vernon, Concordia, and King neighborhoods. "Alberta" by name, is not technically recognized as a standalone neighborhood, so check out the surrounding neighborhood web pages for additional information. Concordia neighborhood is bordered by the Alameda, Sabin, King, Vernon, Woodlawn, Sunderland, Cully, and Beaumont-Wilshire neighborhoods.

Features of Alberta Street
Northeast Alberta Street is largely residential until it crosses Northeast 14th Avenue and becomes what is known informally as the Alberta Arts District. Although not considered a neighborhood in its own right, it's a unique and dynamic area that attracts people from all over the city.
The Alberta Arts District presents itself in earth-tones and motifs quite distinct from other areas and reflects Latino, Asian, and African-American sensibilities. That's not surprising, given its history as one of the oldest sections of Portland. Nor should it be surprising that the street and surrounding neighborhood has had its share of growing pains. Over the decades, it has morphed from a poor area populated by immigrants and disenfranchised citizens to a thriving and industrious haven for the creative artisans and business owners who work and live there. Although the effects of gentrification are still debated in some quarters, Alberta seems to have become a stable, welcoming environment for most residents and visitors. This is never more apparent than on Last Thursday, a street festival celebrating art, food, and community that takes place on the last Thursday of every month when businesses and establishments along Alberta stay open late, transformed into artists' opening night receptions.
Alberta Street, the main drag through the neighborhood, has many newly renovated retail storefronts and restaurant spaces. These are mixed in with older businesses that have been there forever. The shopping area can now only be considered trendy. There is a strong focus on indie designers, handcrafted items, and boutique shops.
Most of the shops lining Alberta Street highlight handmade local designer clothing, paper mache' lamps, and imported gifts from afar. Alberta art galleries and shops showcase some fine local work. Smattered throughout are the requisite Portland coffee houses, seemingly one for each counter culture—there are no rules in Portland about having too many coffee shops on one street, and Alberta is no exception. You won't find a Starbucks on Alberta, though, as it just wouldn't fit the quirky individuality of the place.
At first glance, the name "Alberta Arts District" may seem a little overstated when taking into account the number of galleries on the street. But when one discovers that nearly every business—from restaurants and bars to the finest in dress shops, with very little exception—functions as a gallery with a rotating roster of artists represented on their walls, one begins to understand the full nature of this community's devotion to art.
Regardless of its moniker, Portland's Alberta Arts District remains a focal point of high-octane change. It's morphing at a rate you can almost hear. There yet remain forces that attempt to counter the growth, but one gets the sense that the gang tagging and intermittent vandalism that occurs resembles flailing death throes more than any real threat to the impending gentrification takeover. Many of the area's proprietors are also its neighbors, and they have a vested interest in making this district work. They are aware of their role as settlers claiming what was once wild country. And they know that success in adventure comes with strength in numbers, so they take care of one another. They are patrons of each others' establishments, and they recommend one another. In Portland's Alberta Arts District, businesses clustered together means the opportunity to thrive, not cut throats.
Alberta Street Tour—Recommended
To explore the Alberta Arts District, it's best to wear comfortable shoes (or straddle a comfortable bicycle saddle) rather than drive to appreciate all it has to offer. Start off on an empty stomach, too, because you'll find plenty of diverse and delicious options along the way to fill it. Tin Shed is a popular eating attraction, a great spot for breakfast or brunch or what have you (but you might want to wait until after you try on some cool duds at Frock across the street, thus to avoid post-prandial bulging). Or there's Fuel Cafe a couple of strides down the walk, favored by many for the coffee and breakfast nomz.
On the corner at NE 15th is the Alberta Co-Op Grocery where you can buy locally produced foods and homeopathic items (and beer and wine!) and support the local economy.
If you brought some avid young readers along for your urban hike, they'll love it when you stop in at Green Bean Books for a riffle through new and used children's books. You'll love it too when you see what else this great book shop has in store. Books (natch), comix, crafts, storytime for the tykes, author readings, and even a deck and garden where you may relax while the youngsters explore. It's not just a kid's place, it's a family place.
For the artsy-craftsy set, nothing beats Collage, a shop where you can find everything your sewing, gluing, pasting, painting, etching, scissor-snipping heart could crave. There are even classes and workshops offered, and nationally-known artists are hosted often.
Turn around, and your eyes are instantly drawn to the mural that covers the entire west-facing side of Community Cycling Center, a cycling mainstay in Portland since 1994. For many Portland cyclists, this is the reason to visit the district. The center stocks great refurbished bikes and frames, and offers repair facilities along with new and used parts and accessories. It's much more than just a bike shop, though. Community Cycling Center provides programs and outreach for both adults and youth, and advocates for the ever-growing cycling community. The volunteer opportunities for both the seasoned cyclist and the neophyte are second to none. Grab a wrench (well, ask politely for one), help build or fix a bike, and delight a kid or grown-up in need.
When you're done salivating over a refurb'd Bianchi or tuning a wheel, cross the street for (yet one more) coffee at Barista. These folks know coffee. And taxidermy. Odd combination, but you're in Portland. Or perhaps you'd rather take several more steps down the walk to Salt & Straw. Or maybe Petite Provence, for banana French toast? The rest of this urban hike is going to be a waddle.
Should you be looking for a string for your ukelele, a stop at Trade Up Music Co. is recommended before making your way down to The Hilt for cocktails and Mediterranean noshes.
Binks is a real favorite in the neighborhood for people who like good food and just-right cocktails. It's the hangout of preference for many loyal patrons.
Not last and far from least is the Alberta Rose Theatre, a historic movie house built in 1927 and closed in 1978, then renovated and re-opened as a beautiful entertainment venue where patrons may wine and dine and see local and international musicians. Nothing beats an evening of music and comestibles at the Alberta Rose.
Beyond this point lie even more restaurants and art galleries, but you've got the idea. It's a pretty sure bet that as you leave the Alberta Arts District, you'll already be planning to come back.
Alberta Street Art Galleries
Antler and Talon Galleries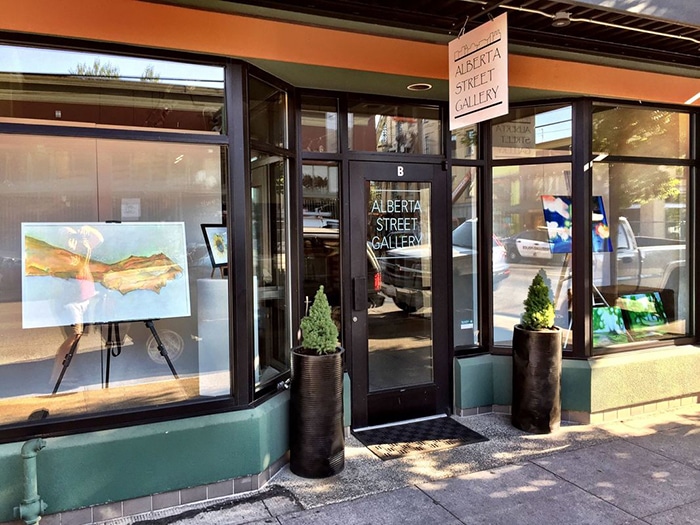 Previously known as Six Days Art Gallery Co-op, Alberta Street Art Gallery is an art collective of diverse, local artists that sells original paintings, prints, handmade jewelry, and other unique artworks. You just can't miss Alberta's "Last Thursday," which seems a combination art gallery "hop" and neighborhood street fair all rolled into one. It is every last Thursday of the month during the summer. If nothing else, enjoy the swarming crowds, and have fun people watching. You'll also have the opportunity to pick up some local arts (and crafts) work at great prices. Support your neighborhood arts! Don't forget to check our Portland Arts page for the latest event, exhibits, and more information.
Alberta Street Art Gallery—1829 NE Alberta St., Unit B
Alberta Street Businesses of Note
Bonne Chance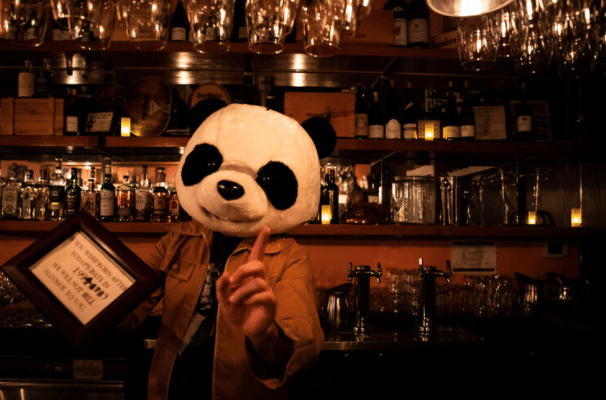 Check out this newcomer to the Alberta District! Owned by two brothers who love wine, Bonne Chance is an elegant yet fun and lively wine-focused bar with a full liquor list and beer. Mark bartended at Ciao Vito, the previous establishment in the space. James is a sommelier who's spent time sampling, selecting, and selling wines in San Francisco and New York. He has a fantastic pallet and is far from pretentious in his approach and presentation. Bonne Chance's food highlights are a cheese plate, appetizer steak, chef's burger, and savory waffle. They are also a wine shop for retail sales.
Bonne Chance—2203 NE Alberta
Fuel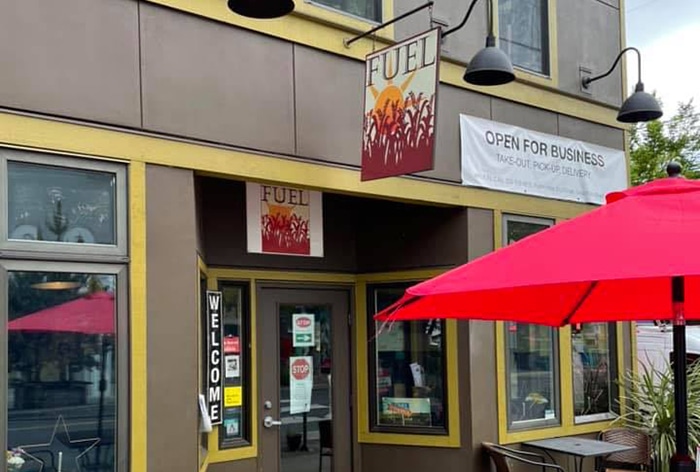 "For the body, mind, and spirit." Offering a holistic approach to keeping your engine running, Fuel fires up dishes with an emphasis on nutrition and no artificial preservatives as well as several vegan-friendly options. Their entire coffee inventory is 100% organic, fair trade, and locally sourced. Fuel's also got books, chess boards, two computers for public use, and WI-FI for all those other cylinders you might be running on.
Fuel—1452 NE Alberta
Salt and Straw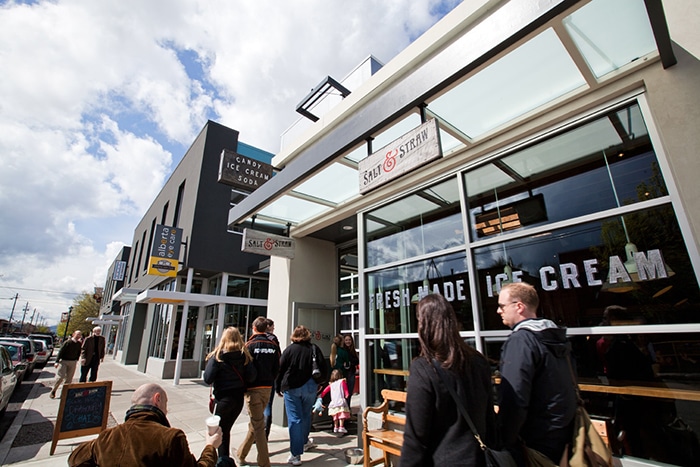 If you're like most people, you love ice cream. While there are plenty of sweet shops around the Portland area, none have made quite as big an impression as Salt & Straw. With a bevy of highly unique flavors like Spiked Goat Cheese Pumpkin Pie and Cheese with Apple Pie Cinnamon Roll or Strawberry Honey Balsamic with Black Pepper, this confectionary is a delicious adventure in every cone.
This ice cream shop is well-known for having long lines of people eager to get a taste of the new batches that the owners concoct on a regular basis. Since 2011, Salt & Straw has become one of a growing number of shining tourist attractions that draw visitors in droves. If you can beat the crowds, you'll be rewarded with a one-of-a-kind frozen treat.
Salt and Straw—2035 NE Alberta St
El Nutri Taco
When most people think of Mexican food, they imagine greasy items full of meat, cheese, and salsa. While there's nothing wrong with that per se, Portland is home to a growing number of vegetarians and vegans. Fortunately, they don't have to miss out on their Mexi-fix, all thanks to El Nutri Taco.
There are two locations in the greater Portland area, but the Alberta spot is much more accommodating with open-air seating and plenty of room to enjoy your healthy eats. Although the primary draw for this place is the vegetarian and vegan food, those who prefer their burritos and tacos a little more bloody can add meat as well. Don't worry, you don't have to skip your diet to enjoy these exquisite dishes.
El Nutri Taco—2124 NE Alberta St
Pine State Biscuits
Pine State Biscuits, the area's premiere breakfast stop, is a breakfast lover's dream. Technically speaking, biscuits are more of a Southern tradition, but once you try one of their signature sandwiches, you'll be hooked. Some of the menu favorites include The Reggie (with fried chicken and bacon), The Club (fried chicken or brisket), and the BBQ Biscuit, which comes with Carolina-style pulled pork.
Pine State Biscuits isn't only famous for its sandwiches, though. Here you can also find a chicken pot pie, blueberry cornmeal pancakes, hash, and shrimp-n-grits. They also make a mean pie. Be sure to come early, as they open at 7am and close at three. Lines start forming as soon as the doors open, so plan accordingly.
Pine State Biscuits—2204 NE Alberta St
Alberta Cooperative Grocery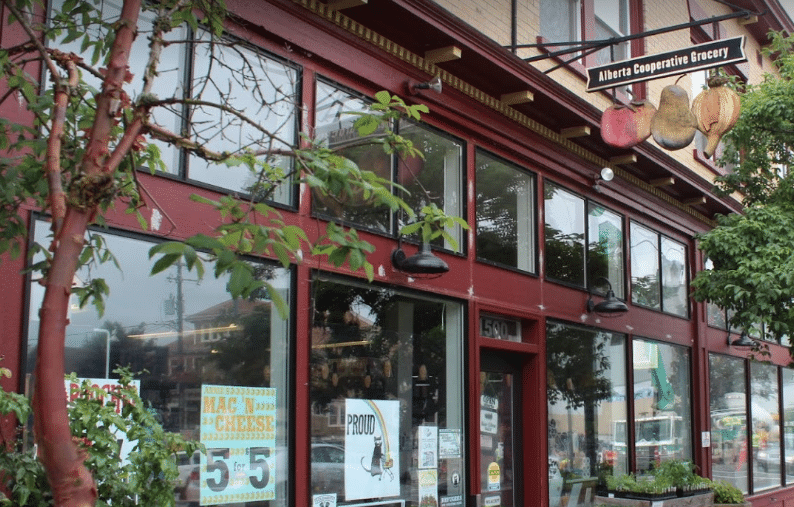 Clearing shelves of big brands and paving the way for a well-nourished neighborhood, Alberta Co-op Grocery is meticulous about their inventory. If a smaller brand is bought out by its larger competitor, it's outta there. If a soda contains high-fructose syrup, it's not allowed to darken the doorway. Stocking "high quality, affordable, and responsibly-produced food," Alberta Co-op cares about what they sell because they are, "owned by our neighbors," and are, "serving our neighbors."
Alberta Cooperative Grocery—1500 NE Alberta St
The Alberta Petite Hotel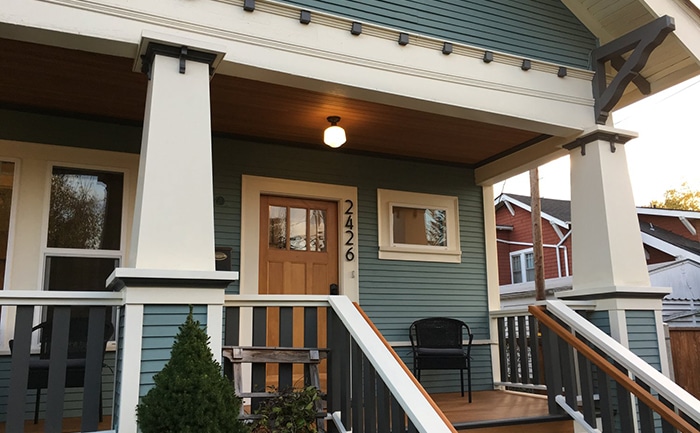 Boutique hotels are becoming much more popular these days, and they don't get any more boutique than this. The Alberta Petite Hotel lives up to its name with only three rooms, each one sharing accommodations. It's a bed and breakfast with a distinctly Portland atmosphere. You feel like you're staying with friends, only they are technically strangers (at first, that is).
Although there are larger hotels nearby, the Petite Hotel allows visitors to get the full Alberta Arts District experience, since you're right on the main drag. If you're planning a multi-night stay, you can partake in most of the excellent places we've discussed so far. In fact, you may not even have to leave the neighborhood until you head back home.
The Alberta Petite Hotel—2426 NE Alberta St
Gumba Pasta Parlor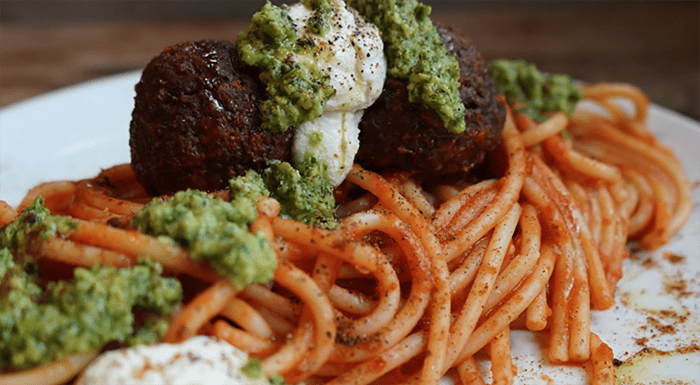 Gumba Pasta Parlor—1733 NE Alberta St
Ben & Esther's Vegan Jewish Deli
Ben & Esther's Vegan Jewish Deli—1800 NE Alberta St
Thai Noon Restaurant
Thai Noon serves vegan and gluten-free dishes in a cozy atmosphere. Start your meal off with delicious appetizers like satay, wonton, potstickers, and salad rolls. Then move on to scrumptious curries, stir fries, noodles, and chef's choices, like shrimp tempura, spicy eggplant, Panang salmon, and lemongrass chicken. The menu has lots of sides, too, and tasty desserts like sweet sticky rice and ice cream.
Keep an eye out for specials, too, like pumpkin tempura, crab fried rice, mango curry, and honey bbq pork ribs. They're too good to pass up!
Thai Noon Restaurant—2635 NE Alberta St
Clary Sage Herbarium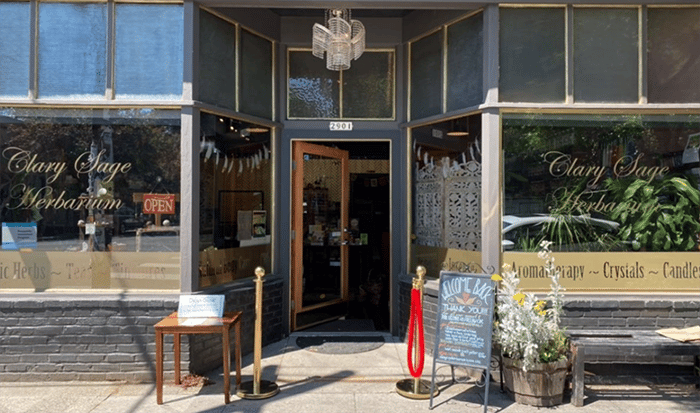 If you're into the healing qualities of herbs, or even if you're herb-curious, a trip to Clary Sage will quench your needs. With everything from an entire floor-to-ceiling wall of dried herbs to tinctures, teas to honey and elixirs, candles to incense, and much more, this compact little shop is brimming with all things earthy and healing.
Owned and operated by a Boricua woman, Clary Sage, sells only organic herbs and and other products from companies who don't appropriate from other cultures, so the healing the shop puts out into the world goes far beyond its products.
Visit in person or order online. Clary Sage makes it so easy!
Clary Sage Herbarium—2901 NE Alberta St
The Knock Back
Looking for a trendy, low-key spot with live music and a heated, dog-friendly patio to knock back a few with some delicious upscale pub fare? The Knock Back is your spot. Serving Alberta Arts District since 2013, the venue closed during the pandemic, then reopened under new ownership (the same folks who own Donny Vegas), in the summer of 2022.
With the new opening came the resurrection of The Grilled Cheese Grill, offering far more than your standard grilled cheese sandwich, like soups (vegan and gluten-free options), patty melts, breakfast sandwiches, fresh-baked cookies, and a rotating menu of house-made ice cream. Unpretentious yet satisfying cocktails include the Blackberry Mojito, the MSG Martini (a concoction of vodka or gin and Chinese wine), the Black Old Fashioned (made with Old Grandad 100), and the Through the Looking Glass (a tasty creation involving gentian flower and rhubarb liqueur), to name a few.
True to the artistic spirit of the district, art is incorporated into the design and decor of the newly updated space, featuring a "living wall" and interior and exterior murals. To truly appreciate, make a visit in person.
The Knock Back—2315 NE Alberta St
Bye and Bye
Unassuming from the outside, the Bye and Bye is a dimly lit hipster bar with Southern-inspired vegan fare, open late and with a spacious patio. From delicious breakfast sandwiches, scrambles, and wraps to yummy bowls, subs, and sides, Bye and Bye has a full range of scrumptious options fit to satisfy even non-vegans.
Tasty cocktails—like the Bye and Bye (made with peach vodka), Lefty's Prayer (made with infused beet vodka), and the Hot Mess (made with watermelon vodka)—are plentiful on the menu, so plan to visit and come back often to make your way through the offerings.
Bye and Bye—1011 NE Alberta St
Urdaneta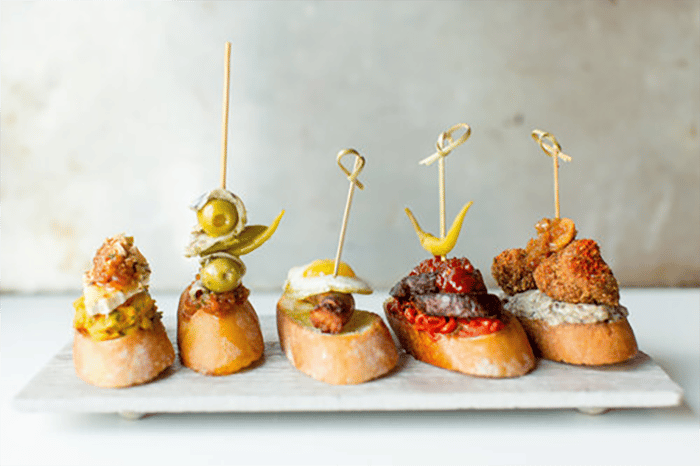 Urdaneta is the perfect blend of so many things… Comfortable and chic atmosphere, inspired Spanish tapas and craft cocktails, and intimate and communal dining. Look at the menu, and you'll see that creative pairings don't stop there. Take, for instance, the Foie Flan—foie gras ganache, fermented garlic honey, lemon bubbles, greens, and flowers—or the Bikini—jamon serrano (a dry, cured Spanish ham), American cheese, sofrito bechamel, toasted brioche, and truffle honey.
Entrees expand to whole baked trout, grilled Spanish octopus, and New York steak, to name a few. And cocktails…? Sangria, Long Walk Home, and Negroni Espanol. There's also a long list of wine, beer, vermouth, and sherry to choose from. And for folks who don't drink alcohol, they offer plenty of other options, as well.
Urdaneta—3033 NE Alberta St
T.C. O'Learys
T.C. O'Leary's offers a taste of Ireland in a warm environment that will make you feel like you belong, thanks to their friendly staff and Irish-inspired food and drinks, not to mention all the enticing and fun events they hold on a regular basis. But first… the food and drinks.
Of course, you'll find fish and chips on the menu. Add to that mouthwatering items like Forager's Fries (Irish-style chips covered in lentil and mushroom coconut curry), salads (Roasted Beet, O'Leary's Pub Salad), and specialities (Beef Hand Pie, Fillet O'Leary Sandwich, Portobello Mushroom Burger). For dessert, how about a Guinness Brownie or Bread Pudding. As you might guess, many of O'Leary's cocktails feature a range of whiskeys, like the Kinnegad Sour, the O'Leary Old Fashioned, and the Bizzy Izzy.
Now the events… Oh, the events! First off, there's live music four days each week. There's also the Fenway Rooters, a fan club for supporters of the Boston Red Sox. Other special days include Whiskey Wednesdays, and karaoke. The T.C. O'Leary's Literary Society meets once each week and always features a book written by an Irish author.
T.C. O'Learys—2926 NE Alberta St
More Alberta Arts District Business of Note
Alberta Arts District Parks
While there is only one park—King School Park—within the tight boundaries of Alberta Arts District, there are several immediately surrounding the area.
King School Park—a 2.64 park named after Martin Luther King Jr. on the grounds of the elementary school of the same name with a playground, paved and unpaved paths, a track, soccer and softball fields, basketball court, and tennis backboard.
Alberta Park—a 16-acre park featuring a basketball court, an off-leash dog area, paths, picnic tables, a playground, as well as a softball field, tennis court, and water feature.
Wilshire Park—a 14.3-acre park with a playground, sports courts and fields, paved and unpaved paths, and a nature patch with flowering native plants to support pollinators.
Alberta Arts District Community Resources
Arts Resources
Neighborhood Resources
NE Coalition of Neighborhoods (NECN)
Concordia Neighborhood Friends of Trees
Alberta Arts District Neighborhood Schools
Elementary School—Dr. Martin Luther King Jr. School
K-8—Vernon Elementary School and Faubion School
High School—Jefferson High School and Leodis V. McDaniel High School
Alberta Arts District Vibe
Artsy, fun, funky, quirky. The multi-cultural diversity creates an interesting mix. A great older Portland community: gentrification is always controversial, and you'll catch some of the good and bad undertones, as in any neighborhood going through change. This area has a strong community feel, and the local business owners along the street respect and look out for each other.
Alberta Arts District History
The Alberta District, not officially deemed as such until the late 1900s / early 2000s, has always been a street of innovators. From the first immigrants who called the area home in the 1800s to the brave activists and creatives who came along much later to save the area from urban blight, Alberta is what it is because of them.
Streetcars Increased Commerce
After being established by its first residents in the 1800s and named after Princess Alberta, the area started to take off when streetcars came in 1903, with businesses opening along the main drag shortly thereafter. The streetcars brought more pedestrian traffic, a boon for Alberta businesses. As businesses grew and flourished, a housing boom brought plentiful residential construction surrounding Alberta St. between 1905-1913 and 1922-1928.
The neighborhoods that grew during these times housed many Russian and German immigrants and others with moderate income levels, changing the area from a collection of small "suburbs" to full-fledged neighborhoods and nearly becoming a city on its own.
The (Temporary) Demise of Alberta St.
The area thrived until the 1940s when Interstate Ave. became a major thoroughfare to Vancouver, reducing Alberta's customer base. The area took another blow when buses replaced streetcars in the area in 1948 and supermarkets and other larger stores took business away from the area's local, smaller businesses.
Many of Portland's African-American residents who were displaced by the Vanport flood in 1948 moved to neighborhoods surrounding Alberta St. The area quickly became a refuge for them and other working-class people looking for affordable housing. However, many of these same residents were once again displaced in the 1960s due to the construction of Interstate 5, which started the erosion of the area.
More displacement came when Emanuel Hospital and the Memorial Coliseum construction projects led to the demolition of many homes. Eventually, violence, vandalism, and gangs started to overtake and with the frequent shifting of demographics, poverty also became prevalent in the area.
This created an unfortunate Catch-22 effect with banks refusing to grant loans for homes in surrounding Alberta neighborhoods, claiming low value and perpetuating the deterioration of the community. Businesses sat vacant and were boarded up, and the area became known as unsafe. With the lack of activity and commerce, crime increased. A sure sign of the diminished state of Alberta St. came in 1981 with the permanent closing of the neighborhood Rexall Pharmacy, which had been an icon for sixty-six years. The 1980s brought gang activity to the area, which lasted well into the 1990s.
The Revitalization of Albert St. / Alberta Arts District
Concern for the community won out eventually when some of its concerned members banded together and formed the Sabin Community Development Corporation (SCDC) and North/Northeast Economic Development Task Force (NNEDTF). SCDC was responsible for helping provide affordable housing, and NNEDTF created an action plan, which was the foundation for the Albina Community Plan adopted by the City of Portland in 1993, deeming Alberta St. as an important corridor that should develop local business.
Two other entities were integral in the revitalization of Alberta—the Oregon Association of Minority Entrepreneurs (OAME) and Oregon Convention Center Urban Renewal Area (OCCURA). Together, these two organizations established the area for revitalization—all of Alberta from NE 15th all the way to the west end of the district (OCCURA)—and made redevelopment possible by allowing tax increment funds that came from increasing property values (OAME), which were used to support local businesses in the area through the Storefront Improvement Program.
Roslyn Hill—"The Queen of Alberta Street"
Without a doubt, these efforts had a positive impact on improvement. However, one woman is credited with being the most influential in the turnaround the Alberta District saw. Her name: Roslyn Hill, known as "The Queen of Alberta Street."
Hill, a community activist and artist (interior and landscape designer), was one of the few to open a new business on Alberta in 1993. Her goals: to put down roots for herself in the community, where she saw a lot of potential, and to not allow black business ownership to diminish. She bought a building on 14th Pl. and Alberta and turned it into Roslyn's Coffee House, a garden café.
Others followed Hill's lead. The old Rexall Pharmacy building became a coffee shop with an artists' space overhead (Magnus Johannesson). A small taqueria opened behind a Mexican grocery at 28th and Alberta (both owned by Richard Sanchez). Chez What?, a bar, opened across the street from Sanchez's businesses, then moved to 22nd and Alberta in 1996, with Bernie's Southern Bistro moving into the old Chez What? space. A new gallery opened at NE 30th the following year, owned by Sal and Donna Guardino. Within three years' time, local businesses sprung up along Alberta and nearly doubled in number.
Hill's vision and efforts created a cascade effect along the Alberta corridor, buying and renovating other building, and, as a result, residents started feeling safe to come out of their homes again to spend time at her café and become patrons of other new, nearby businesses.
Alberta Becomes an Arts District
Then came the Streetscape Project in the late 1990s, comprised of concerned community members, with the intent to make sure public art, including murals, and other beautification projects were incorporated into a plan to continue to improve the area. In 1997, things started to change on Alberta yet again, for the better.
After many business owners in the area routinely displayed the work of local artists, those concerned with the continued revitalization of Alberta St. set out to initiate an event that would liven up the community and bring people together. With First Thursday, which happened on the west side of the city, in mind, Last Thursday, created specifically for Alberta St., was unveiled.
Called "Art on Alberta" from the beginning, to distinguish it from other similar events in the city, interest and attendance grew (but not without fluctuations) to include musicians, street theater, and street vendors. The area continued to flourish and grow with new businesses, art galleries, and studios opening in renovated buildings.
In time, Alberta became known as an "Arts District," vibrant and multi-cultural, and eventually the title stuck and has become the established and lasting identity of the area.
Alberta Arts District Stats
Alberta Area Zip Code 97211
Alberta Real District Estate
In Alberta, you will typically find modest homes with older East Portland architectural styles such as Craftsman-style bungalow, cottages, Old Portland foursquare style, and other mid-sized, one and two-story homes. The neighborhood has a lot of personality and unique charm.
Click here to search all Alberta Arts District homes for sale.
To learn about the Portland real estate market, we recommend this local Portland-based, top 100 real estate blog in the world.
If you are interested in buying a home in Portland, we recommend meeting up with these top 1% Portland buyer's agents, or if you are considering selling a home we recommend these top 1% Portland seller's agents. Visit our Portland Real Estate Page for more information.
Alberta Arts: Friends We've Lost (Closed Businesses)
The Know—Local live music bar that served beer and wine.
The Original Halibuts—Seafood eatery serving fish and chips, chowder, and live music. Now located at 625 NE Killingsworth St.
Screaming Sky Gallery—Boutique art gallery.
Halo Thai—Local Thai restaurant.
Taqueria Don Pancho—Mexican restaurant that served authentic, traditional Mexican fare, like sopes and mojarra, along with more Americanized dishes like fajitas and nachos.
Every Day Wine—Wine bar
Waffle Window—Laid-back cafe specializing in sweet & savory Belgian-style waffles plus seasonal creations.
Townsend's Tea Company—Teahouse serving a huge menu of teas and other tasty drinks in a cozy two-level space with comfy couches and an outdoor seating area.
Helser's—Neighborhood brunch cafe that served delicious food and cocktails.
Random Order Pie Bar—Scratch cafe, bakery, and bar with vegan options on a full menu of paninis, soups, salads, muffins, apple pie by the slice, whole pies, local and homemade sodas, and and coffee and teas available with plant milks.
Cruz Room—Pop art bar that served creative tacos, cocktails, and special events, from knitting to trivia.
Northeast Portland Neighborhood Map
Click any neighborhood.

Check out more Portland Neighborhoods
Go back to the full list of neighborhoods in our Portland Neighborhood Guide.
Sources
Alberta Main Street. "The History of Alberta Street." Accessed September 27, 2022.
Wikipedia. Alberta Arts District. Accessed September 27, 2022
Wikipedia. Roslyn Hill. Accessed September 27, 2022.