King Neighborhood Portland
The King neighborhood is located in Northeast Portland. It is bordered by the Boise-Eliot, Humboldt, Piedmont, Woodlawn, Vernon, Sabin, and Irvington neighborhoods.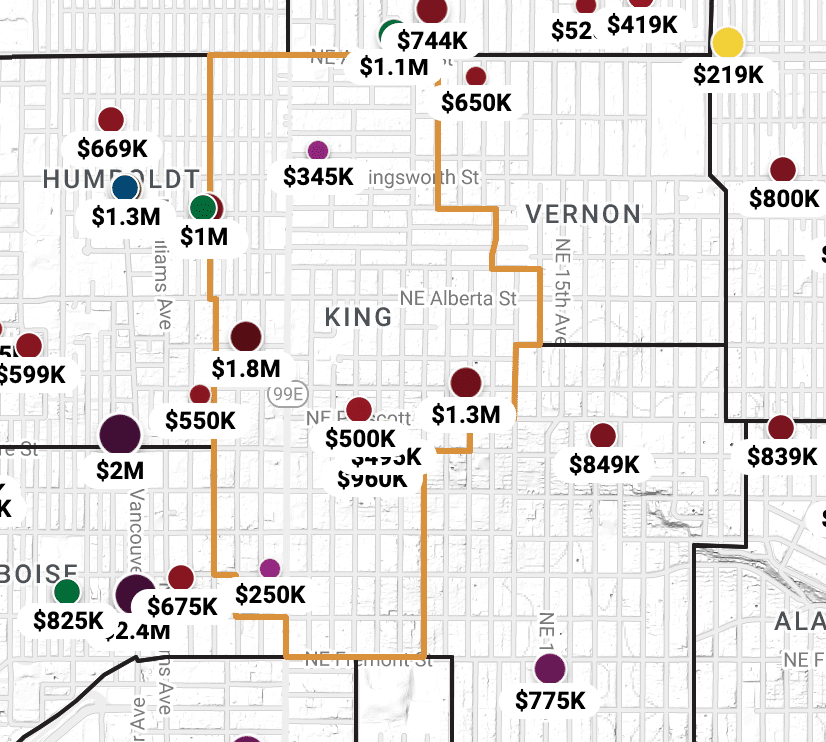 Click the image for a searchable King neighborhood map, including all homes for sale.
Features of the King Neighborhood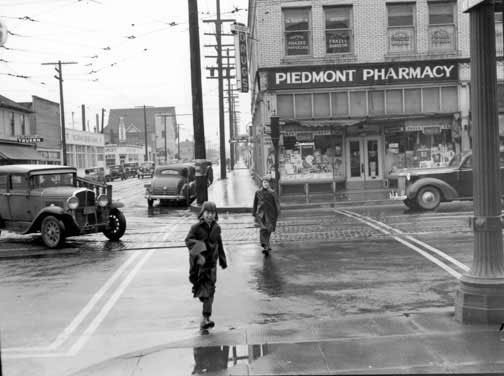 This area of Portland has experienced a lot of growth and development in recent years. Back in the 80s, the neighborhood was experiencing a downturn (like much of Portland), but it has been making a comeback. 
This area was originally the city of Albina, but Portland annexed it back in 1891. For much of its history, the neighborhood was called Highland, until the main thoroughfare (originally Union Ave.) was renamed after Dr. Martin Luther King Jr. in 1989. Once that happened, the area followed suit and renamed itself King. 
King is one of the most diverse neighborhoods in Portland, which shows in its eclectic mixture of restaurants and businesses. Being so close to other up-and-coming areas like Alberta and Boise-Eliot, there is a lot to do here, if you know where to look. 
Portland Farmer's Market – King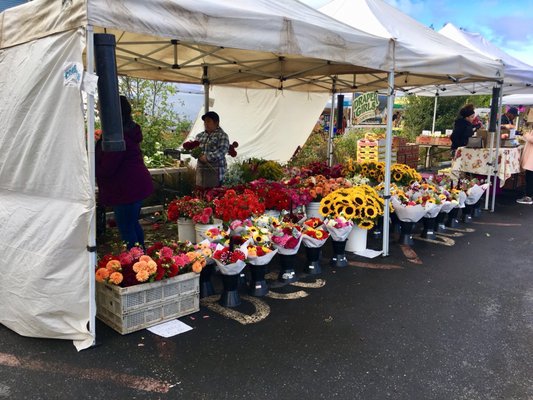 It's no secret that Portlanders love fresh, locally-sourced food. Thankfully, King residents don't have to travel far to get some of the best meats and produce in town. Instead, they can hop on down to the Portland Farmer's Market. 
There are multiple market locations throughout the city, but this one was established back in 2009. It currently features over 25 different vendors and operates Sundays from May to November. Since its inception, the market has become a hub for the neighborhood, making it something of a local landmark. 
Portland Farmer's Market – King – NE 7th and Wygant Ave
Alberta Arts District
The Alberta Arts District in Northeast Portland is located along NE Alberta Street and runs through the King neighborhood as well as Concordia and Vernon neighborhoods. "Alberta" by name, is not technically recognized as a standalone neighborhood but is often considered a district. To check out the wonderful shops and restaurants the Alberta Arts District has to offer, visit our district page by clicking the image.


King Neighborhood Businesses of Note
If you love to eat, you will appreciate the abundance of food options in this neighborhood. What makes King even better is that it contains so many vibrant cultures and flavors in a relatively small area. Whether you love pub food, pastor tacos, or Ethiopian injera, you can find what you need. Here are some of the top highlights. Don't forget to check out Alberta Street while you're here.
Pig Patas Tacos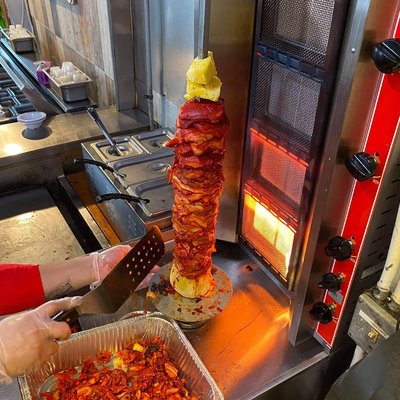 No matter where you live, authentic Mexican dishes are always a treat. However, if you want the real taco experience, we can't recommend Pig Patas enough. The main highlight here is the "Pastor Trompo," which is a sizzling tower of marinated pork. They cut your meat fresh off the rack, making it one of the best taco experiences you can find.
While this type of meat preparation is common in Mexico (or SoCal), it is very hard to find in Portland. Yes, you can get tacos al pastor at plenty of restaurants, but few of them utilize the trompo method.
Beyond tacos, Pig Patas delivers big flavor across the board. You can get all the favorites, including dishes that may not be as familiar. For example, you can find alambres, which are meat and veggie skewers. They are perfect for a night out, as they are easy to eat on the go. No matter what you get, though, it is muy sabroso.
Pig Patas Tacos – 445 NE Killingsworth St
Piedmont Station Food Carts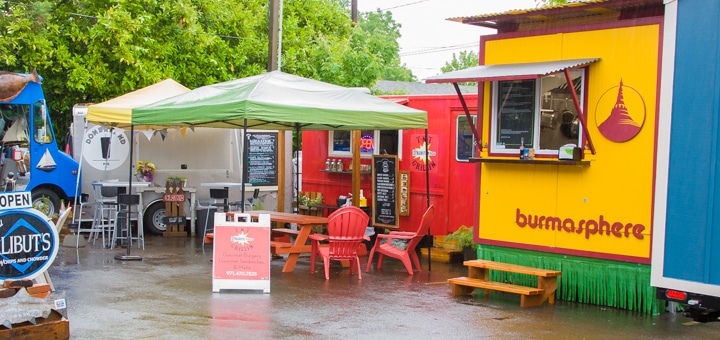 One of the problems of living in such a food-rich city is that it can be overwhelming to try as many restaurants as possible. Fortunately, you can sample many of the best flavors in Portland right here, at the Piedmont Station cart pod. Although there are many pods throughout the city, Piedmont has some of the top options, including:
The station also has a beer cart so that you can imbibe while noshing on different plates. We highly recommend coming with friends and family, as long as they are willing to share.
Curious Comedy Theater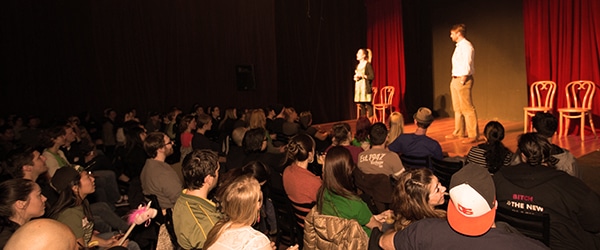 If you love to laugh, then you will want to head on down to the Curious Comedy Theater. This is one of the few improv-centric theaters in Portland, making it a must-visit for all comedy lovers.
For those who would rather be on stage than in the audience, Curious offers improv and writing classes. You can learn how to be funny on the fly and improve your skills as you go. There are three levels – beginner, intermediate, and advanced, and the theater offers a free intro class.
Curious hosts many different improv shows, including the PDX Improv All-Stars, Friday Night Fights, Game Face, Late Night Special, and more. You can even volunteer at the theater to see these shows for free.
Curious Comedy Theater – 5225 NE MLK Jr. Blvd.
Old Town Brewing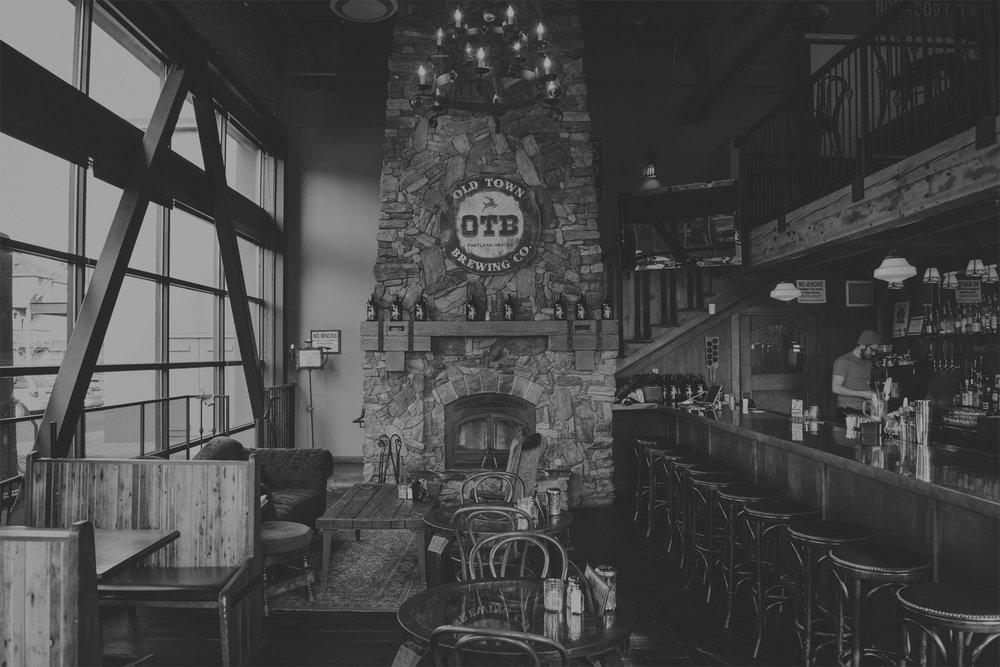 Although this brewpub is not in Old Town, it got its start there. The owner of this restaurant, Adam Milne, visited Old Town Pizza as a child and instantly fell in love with the building and its atmosphere. Milne purchased Old Town Pizza in 2003 and built this brewpub shortly thereafter. Why in Northeast Portland? Because that's where he grew up.
Since 2011, Old Town Brewing has become a fixture on MLK Jr. Blvd, drawing crowds of locals and visitors alike. The menu here is classic pub fare, such as subs, meatballs, and pastas. Pizza is the main course, though, for an obvious reason. The draft menu changes, and many of the beers are made in-house. A perfect hangout spot for King residents.
Old Town Brewing – 5201 NE MLK Jr. Blvd.
Ned Ludd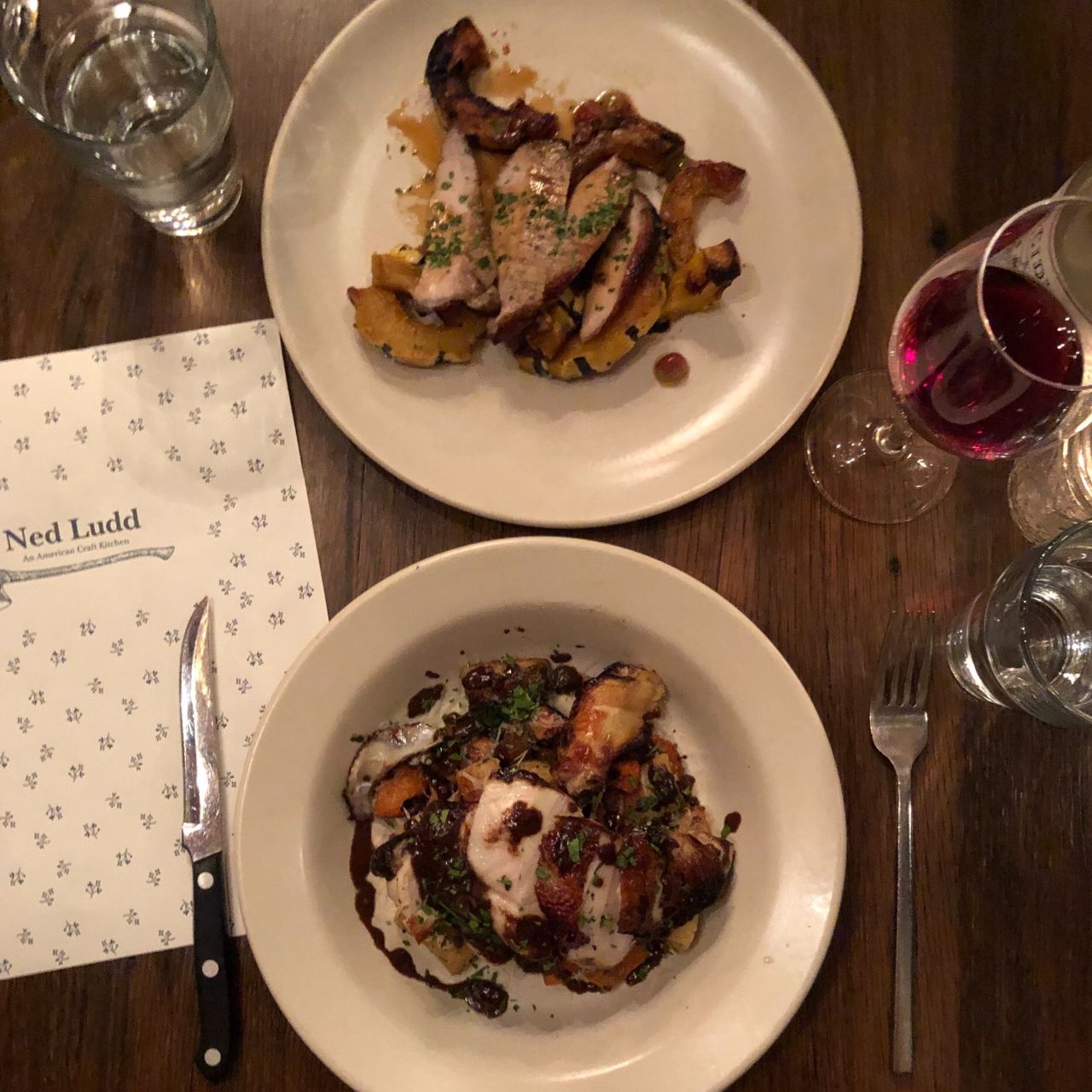 As we mentioned, Portlanders love fresh, sustainable, locally-sourced food. However, while the Farmer's Market is an excellent place to shop for groceries, you still have to make the dish yourself. For the less gourmet-inclined, Ned Ludd offers craft-made eats that are sure to tantalize your tastebuds. Named after the founder of the Luddites, this restaurant harkens back to a simpler time when Portland was a frontier town.
The menu rotates seasonally, meaning that you get to experience the best flavors that the Pacific Northwest has to offer. You can also get a four-course meal for your table, which takes you on a culinary tour of Portland. Whether you're a carnivore, a vegetarian, or a blend of both, you will love everything you taste here.
Ned Ludd – 3925 NE MLK Jr. Blvd.
Sengatera
King has a sizeable Ethiopian population, which is why you can find multiple Ethiopian and African restaurants in the area. There is even an African market just up the road from this place.
Sengatera is actually a neighborhood in the city of Addis Abba, which is where the owners are from. So, the menu is about as authentic as you can find outside of the country.
The menu is a delight, full of traditional dishes like kitfo, sambusa, and tibbs. Even if you're not familiar with Ethiopian food, you will appreciate the flavors and spices present in each bite. While you're here, be sure to sample some Ethiopian honey wine, which is lightly sweet and unlike anything else you've tried. Sengatera is also perfect for vegetarians, as the restaurant has an extensive list of meat-free options.
Sengatera Ethiopian Restaurant – 3833 NE MLK Jr. Blvd.
Yaad Style Jamaican Cuisine
From Ethiopia to Jamaica! This place is just down the street from Sengatera, meaning that you can sample world cuisines without having to get inside your car.
Yaad is a perfect hangout spot, thanks to its live music and extensive cocktail list. However, be sure to come hungry, as the menu is full of delicious Jamaican dishes, including jerk chicken, wings, oxtail, curry goat (very tasty), island shrimp, and brown stew fish.
Whether you're a fan of Jamaican food or are trying it for the first time, the menu here is divine. You can even find vegan versions of your favorites, making this an ideal spot for all Portlanders.
Yaad Style Jamaican Cuisine – 3532 NE MLK Jr. Blvd.
King Neighborhood Parks
King Community Resources
Schools
Dr. Martin Luther King Elementary School
King Neighborhood Vibe
Being in North Portland, this area is a blend of both old and new development. The neighborhood is very tight-knit, with residents looking out for each other. There is always activity and something to do in King.
King Neighborhood Stats
Zip Code 97211, 97212
King Neighborhood Real Estate
Many of the homes here are original, including craftsman and bungalow-style properties. However, since the area has undergone development in recent years, home prices are rising steadily. This is a very up-and-coming neighborhood.
Click here to see all current King homes for sale.
To learn about the Portland real estate market, we recommend this local Portland-based, top 100 real estate blog in the world.
If you are interested in buying a home in Portland, we recommend meeting up with these top 1% Portland buyer's agents, or if you are considering selling a home we recommend these top 1% Portland seller's agents. Visit our Portland Real Estate Page for more information.
Northeast Portland Neighborhood Map
Click any neighborhood.

Check Out More Portland Neighborhoods
Go back to the full list of neighborhoods in our Portland Neighborhood Guide